It may seem like local cuisine is under threat when you find a McDonald's or Kentucky Fried Chicken outside the United States, but the truth is more complicated than that. While American fast food franchises undoubtedly spread American culture, they also try to adapt to the tastes of new markets by combining their menus with the foods of their host countries, and the results can be bafflingly delicious. Read on to find out how strange yet tasty it can get.
Chizza
KFC is a big deal in Japan, in part because of the introduction of American culture to the country after World War II. In fact, KFC is a part of now-traditional Christmas celebrations there even though Christianity itself isn't a popular religion in Japan. It's so popular that you often need to order the stuff months in advance if you want to participate in the holiday tradition.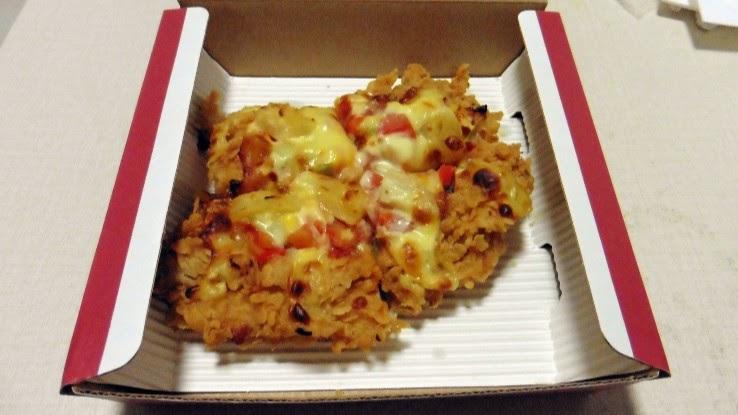 One strange outcome of the fusion of Japanese and American food preferences is the Chizza. KFC took its signature fried chicken breast and turned it into the crust for a pizza. Each Chizza is a single chicken breast layered with traditional pizza toppings and sauce. If anything, it's even more American than anything served at KFCs in the United States.
Doritos Crunchy Crust Pizza
What could be better than a fresh, hot pizza with your favorite toppings piled high? How about a pizza made with Doritos? It took Aussie ingenuity to dream up this crunchy delight. The Pizza Hut team there decided to make this food available in 2014.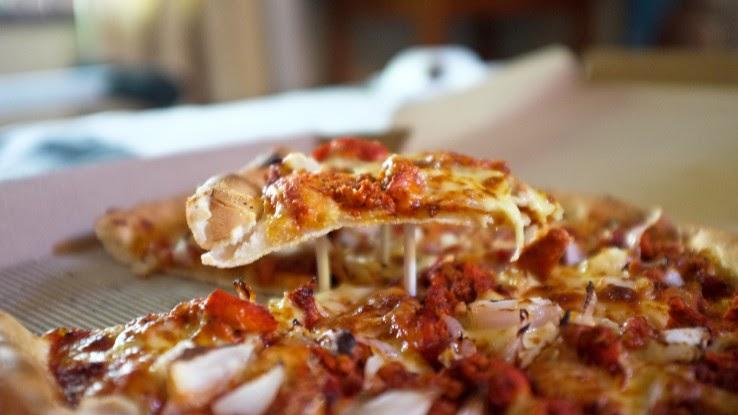 Made like a standard pizza, this beauty has mozzarella cheese layered with Doritos and then topped with cheddar cheese. Of course, you can choose your toppings. It was only offered for a limited time, but maybe they'll bring it back if you ask nicely.
Nutella Burgers
Nutella, that delectably sweet chocolate hazelnut spread, sounds great on toast or pretzels, but not burgers so much. Nonetheless, some restaurants took the bold step of combining the two, and by all reports, it tastes delicious.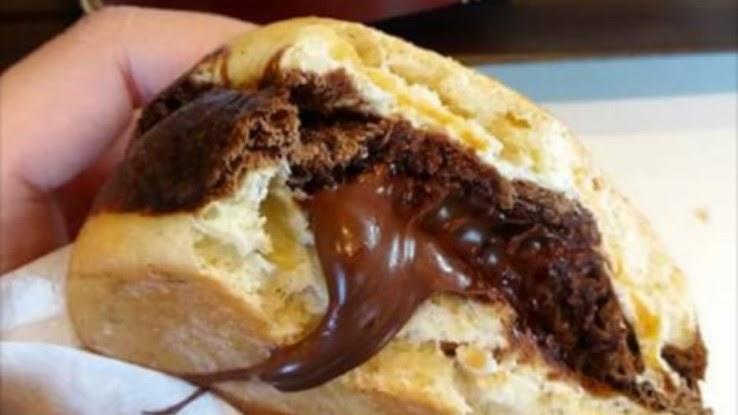 Granted, it's probably wildly unhealthy, but given how good the sweet taste of nutella and the savory goodness of beef are together, it's probably worth at least one burger. It's no doubt a great treat while enjoying the Swiss Alps.
"Meatatarian" Burgers
You've heard of vegetarians. You've maybe heard of pescatarians. But have you heard of the meatatarian? Apparently, Burger King New Zealand didn't want to leave out this crowd of people who prize meat above all else, so they came up with the monstrous burger called the Meatatarian.
This thing is loaded with protein and fat in the form of two beef patties, a chicken patty, six bacon strips, two slices of cheese, barbecue sauce and onions. The Half Meaty sandwich cuts back to one slice of cheese and one beef patty, while the Bacon Meaty focuses on chicken and bacon instead of beef.
Black Burgers
Chicken isn't the only thing done differently in Japan. Burger King restaurants there decided to get traditional in the most bizarre way by adapting Japanese ingredients to decidedly American fare..
The Kuro, Burger King's black burger in Japan, uses black cheese made from bamboo charcoal and black sauce made with black squid ink. However, they didn't stop there. They even serve the meaty meal on a charred black bun. The burger is topped with onion, tomato, mushrooms, red wine sauce, deep-fried eggplant and crushed garlic.
Chicken-Flavored Chocolate Truffles
This is one food that you'd probably only try because it's so strange. In New Zealand, KFC decided to expand its selection by making these strange chocolate truffles. Peanut butter and jelly go together. Salt and pepper are almost always spotted on tables together. Chicken and chocolate? Well, it worked for the Swiss.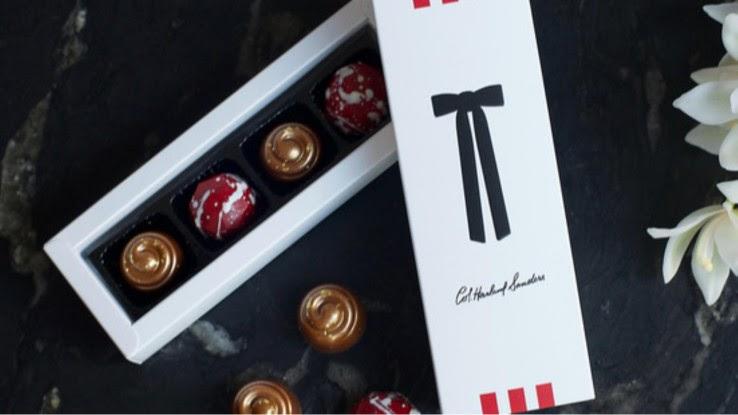 The limited-edition desserts were, yes, chicken flavored. Only KFC would be bold enough to offer this bizarre item, and only someplace as unique as New Zealand. They were released just in time for Mother's Day, too, because, what Mom wouldn't want chocolate that tastes like fried chicken?
Tofu-Fish McNuggets
This one definitely won't appeal to everyone, but for those who love fish and tofu, it could be a real treat. Tofu, fish, onions and carrots combine to make these unique snacks from tofu- and seafood-loving Japan.
These ingredients are mixed together and then battered for a tasty, fishy treat. They look like chicken nuggets, too, but they come with a ginger-flavored dipping sauce for an extra zing. You might like them with ketchup, barbecue, or tartar sauce, too. Speaking of zing …
Zinger Double Down King
If the Meatarian burger doesn't quite get it done for you in the meat department, you'll want to make your way to South Korea where you can get the Zinger Double Down King. This burger skipped the bread entirely to keep those pesky carbs away.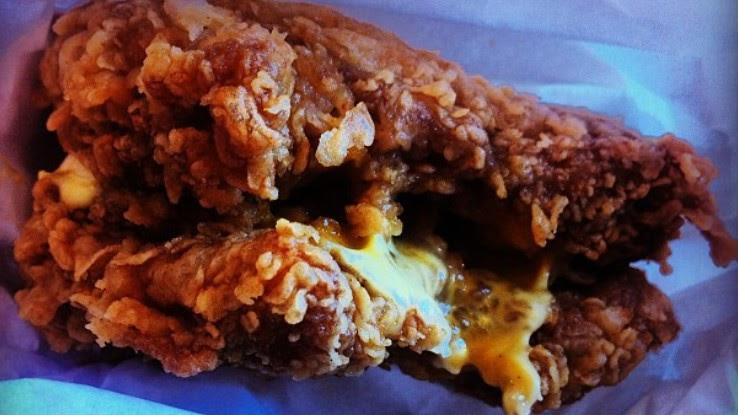 The beef patty is topped with bacon, barbecue and white pepper sauce. Instead of that famous sesame seed bun, however, the beefy burger is nestled between two fried spicy chicken fillets. Just be sure to grab lots of napkins.
The McKroket
If you think Japan has a monopoly on unusual fast food, the Netherlands would like to have a word with you. The country spawned the McKroket, a fried patty that's loaded with beef and cheesy filling for a delicious taste.
It's high in fat, protein and sodium. A single McKroket packs an entire day's worth of salt into a single meal, and that's without the fries. Consider that the next time someone says Americans have cornered the market on unhealthy fast food.
Berry Burger
On second thought, maybe Japan has cornered the market on strangely amazing fast food after all. Consider the Berry Burger from Burger King. It's not a burger made out of burgers — although that would certainly be weird in its own way — but rather a beef burger that uses berries as the main condiment.
The meal featured a bacon-topped burger with black pepper mixed into the burger. So far, so good. But then the restaurant tops all of this with raspberries, cranberries, blueberries, and red wine sauce. Sweet and savory, beefy and berry – they've included it all in this strange holiday meal.
Spinach and Parmesan Nuggets
This one isn't really strange, per se, just not something you'd likely find on a menu at an American fast food joint. In fact, they sound pretty darn good. Spinach and parmesan cheese blended into a gooey filling for a nugget that's deep-fried? Yes, please, Italy McDonald's!
Just don't be fooled into thinking this meal with spinach is somehow becomes healthier than the chicken nuggets we're more familiar with. The deep-fried outer layer and thick parmesan filling just add fat and calories in place of leaner chicken. Oh, well. They still sound amazing.
Pizza Quesadillas
When it comes to dinner, it can be hard to pick between your favorite pizza joint or your favorite Tex-Mex place. Pizza Hut in New Zealand understood that dilemma and put out a flavorful product that means you don't have to decide: the pizza quesadilla.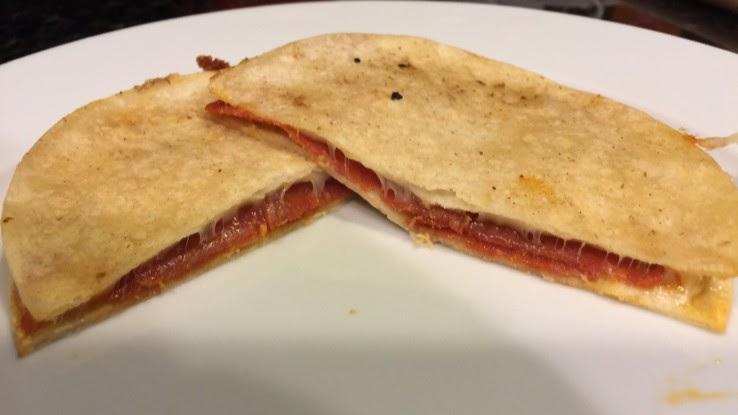 It's a pizza pie that's with crust on both sides. Stuffed between the two crusts is your choice of beef and jalapenos or nachos. Grab a side of mashed beans, chili flakes and amazing burrito sauce to top it off. Just expect a load of heartburn you do.
Kimchi Quesadillas
If you're torn between two cuisines for dinner, you might find this option from the South Korean Taco Bell menu to be helpful. Kimchi, a fermented cabbage, is a staple in the country's kitchens. Meanwhile, quesadillas are a solid choice from any Tex-Mex restaurant. Why not mix the two?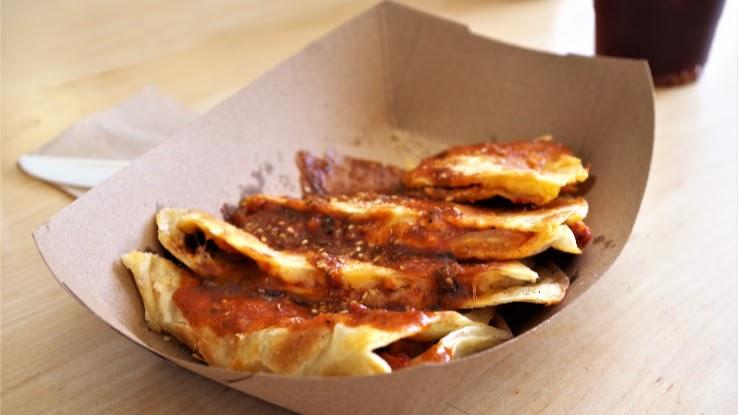 This culinary delight was first offered in 2016 and has made up 10 percent of all Taco Bell sales in the country ever since. The quesadillas are loaded with kimchi, cheese and chicken, and though you'd never think of traditional Taco Bell as healthy, at least the fermentation of the cabbage is good for your gut.
BBQ Frankfurter Pizza
Still can't decide on one meal choice? If you love hotdogs and pizza, this one might finally help you decide, at least if you can make it to a Pizza Hut in Indonesia. This strange dish combines several American classics in ways you probably haven't considered before.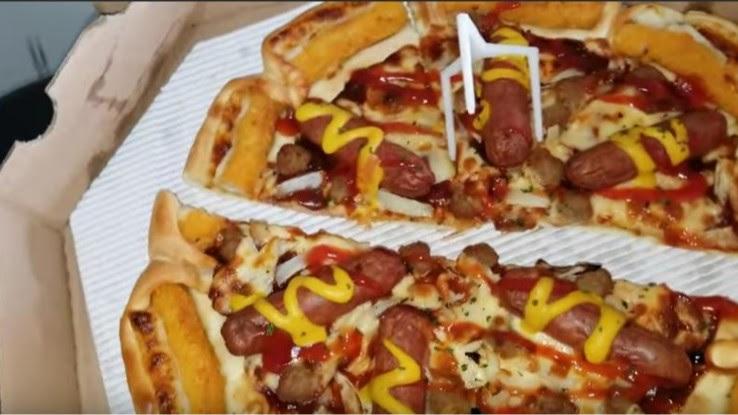 This calorie-heavy dish takes a traditional pizza and fills the crust and tops it off with chunks of hotdogs, cheese, barbecue sauce and much more. Add slices of frankfurters and your other favorite toppings, and voila. You've got a feast fit for a couch potato.
Beef Poutine
For Americans, Canada might not seem like such a different country, but if you've ever popped into a local Burger King, you'll realize that you aren't in Kansas anymore. One of the amazing offerings on the menu there is beef poutine. If you don't know poutine, you should. It's traditionally made with fries, cheese curds, and gravy.
Burger King in Canada decided to up the ante on the simple dish that visitors have come to love nearly as much as locals. They added chopped beef, ketchup, mustard and pickles and called it a day.
Rice Porridge
When traveling through Asia, you can find something special on the McDonald's menus in Malaysia and Indonesia. This traditional rice porridge is called Bubur Ayam, and it's made in just about every kitchen in the country.
The dish is a thick, rich, chicken and rice porridge topped with crispy fried shallots and scallions. The dish is warm, comforting and delicious, though it does have a fast-food higher amounts of sodium and fat than you'd find elsewhere like most fast food. Even so, it comes with different veggie toppings, such as corn or beans.
Buffalo Latte
Sometimes foreign chains come to the United States with equally unexpected results. This latte from Tim Horton's is named for both the town in which it was a specialty and for its unique special ingredient. It was briefly available in only two locations in, you guessed it, Buffalo, New York.
This strange coffee drink consisted of freshly brewed espresso, mocha, steamed milk and a strong Buffalo sauce flavoring. It was topped off with whipped cream and a dusting of tangy Buffalo seasoning. It no doubt wasn't for everyone, but buffalo sauce fans no doubt loved it.
Pumpkin Spice French Fries
Each and every year for the past decade or more, autumn has brought with it an influx of pumpkin-spice everything — literally everything. From coffee to muffins to chewing gum, it's all covered. In Japan, however, McDonald's took things one step further, because of course they did.
The restaurant load up a paper bowl full of fries and layered on chocolate and pumpkin spice sauce. The strange dessert is available for around a month or so leading up to Halloween.
Dry Pork and Seaweed Doughnuts
Doughnuts are amazing. Whether you're nibbling on a Bavarian creme, jelly-filled or plain glazed, they simply cannot be beaten. But Dunkin Donuts China decided they wanted to up the ordinary by offering a truly unique doughnut with a culturally appropriate taste.
Dry pork and seaweed are often combined in Chinese cuisine. When you combine those things with a doughnut, however, you get something completely unknown to the Western palate. Luckily, the doughnut dough for these savory treats isn't as sweet as the standard option.
Chocolate Butternut Squash Donut
If that Chinese doughnut twist wasn't enough for you, check out these sweet treats from Dunkin' Donuts in Singapore. It's certainly unexpected for Western diners, but once you realize that squash and pumpkin aren't so different, everything falls into place.
The New England restaurant chain combined savory squash with sweet chocolate to create a unique and tasty breakfast item. Other exotic offerings from the chain in Singapore include seaweed cheese and wasabi cheese donuts. Are you brave enough to try one?
McCurry Pan
If you've ever eaten Indian food, you probably know that curry is a staple flavoring in the cuisine. McDonald's realized that as well, so they decided to create the McCurry Pan, a savory pie loaded with curry and all kinds of goodies.
This appetizer is filled with mushrooms, broccoli, corn, peppers and a delicious, creamy sauce with that famous curry flavor. Like all fast food, however, it's still an unhealthy meal choice, so don't let the veggies trick you into thinking it's nutritious.
Deep Fried Salmon
Fresh salmon is an important ingredient in many Japanese dishes, including everything from sushi to many soups. Because of that, it's not surprising that Japan's KFC restaurants dipped this staple in breading and fried it up.
ThIS fried salmon was only available for a brief period, but those who got to try it seemed to have loved it — and what fish lover wouldn't? — thanks to the rich basil flavoring, tartar sauce, lettuce and roll paired with savory salmon.
Flying Fish Roe Salmon Cream Cheese Pizza
Want something really unique on your pizza during your next trip to Hong Kong? You could always try one with flying fish roe and salmon-flavored cream cheese should it become available again. This strange pizza pie was released in 2014 when Pizza Hut got a little crazy with the ingredients.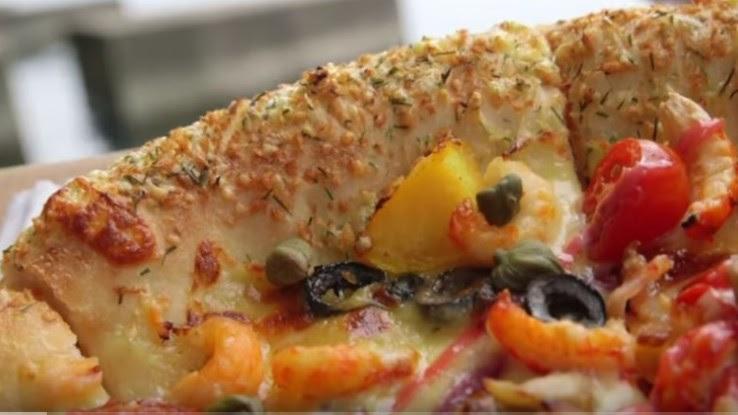 Of course, they also offered the Crayfish Seafood Deluxe pizza if you'd rather have crayfish, scallops, clams, shrimp, peppers, red onions, tomatoes and Thousand Island dressing instead of fish eggs and cream cheese. They certainly had some fun with their seafood offerings that year.
Donut Burger
Whenever Hanukkah comes around, there's a traditional food that's served: SufganiKing, which is a jam- or jelly-filled donut. Naturally, what else could Burger King do but take on this tradition and offer something strangely amazing for the holiday?
Burger King in Israel decided to skip the hamburger buns that come with their signature Whopper and instead slap the beef patty between — you guessed it — two donuts. It came with a special ketchup jam as the condiment topping, too. If you can't decide how this sounds, you could always try it on your next trip to the Holy Land.
Cheetos Quesadillas
A Taco Bell item that's both available for both a limited time and at a limited location is the Cheetos Quesadilla. This exclusive entree is only available in the Philippines. This dish follows Taco Bell's tradition of fusing popular snack items with Mexican-American fare to make things like Doritos Tacos.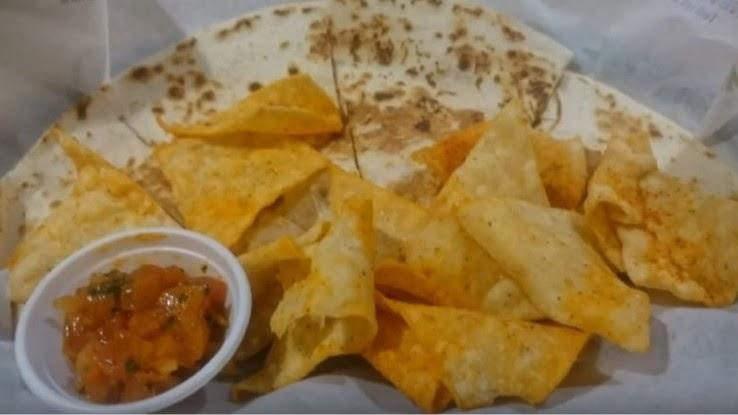 Those who got to experience this dish enjoyed a quesadilla stuffed to the brim with three-cheese and jalapeno Cheetos. For those unable to afford a flight to sample this culinary delight, it shouldn't be too hard to recreate it at home.
Greek Mac
For those who are in love with McDonald's Big Mac, you should pay attention to the menu in Cyprus and Greece. These two locations offer a unique twist on the familiar formula made famous here in America. The delicious beef is the same, but everything else has a Mediterranean twist.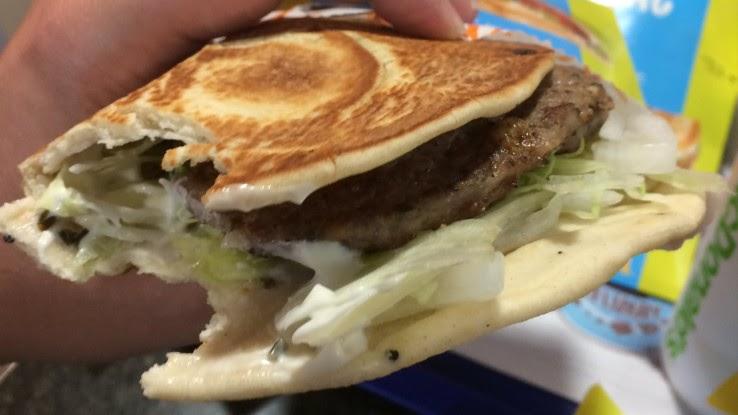 The Greek Mac is made using two 100 percent pure beef patties cooked in a zesty seasoning blend and topped with tomatoes, onions and lettuce and placed in a pita drizzled with tzatziki sauce. That sounds like a seriously delicious change to a fan favorite.
Red Bean Green Tea Frappuccino
While Starbucks has a standard menu all around the world, it often offers drinks that cater to local tastes and interests. In Hong Kong, one of these special beverages is a coffee that uses whole red beans in a green tea frappuccino.
This drink is a combination of savory and sweet tastes that is as unique as Hong Kong itself. If you enjoy the idea of this frappuccino, Starbucks has also released a muffin mixture that uses the same ingredients.
McCurrywurst
Because of how famous Germany is for bratwurst, is it any surprise that McDonald's has its own twist on the famous dish? For the last several years, the restaurant chain has offered several limited edition variations on the fried sausage dish, often tied to various holidays.
The first version was called the McCurrywurst, a hot sausage covered with a tangy tomato sauce and curry powders of various heat. It came with a choice of French fries or a bread roll. A variation of this dish called the McCurrywurst Chicken used (surprise) chicken instead of traditional brat ingredients.
Birizza
One of the most creative foods on this list is Pizza Hut's Birizza, which is available in Sri Lanka. This dish combines biryani rice with pizza. What ends up on your plate looks like a calzone but doesn't taste like anything you could find in the United States
It includes curry-flavored rice wrapped in dough topped with either chicken or a type of cheese called paneer. The Birizza is served with several sides, including both an onion salad and spicy sauce.
Paneer Zinger
Speaking of paneer, KFC restaurants in India offer a different take on the cheese. The Paneer Zinger has a crunchy, double-layer paneer patty that comes with a creamy and spicy sauce and lettuce, all on a sesame bun.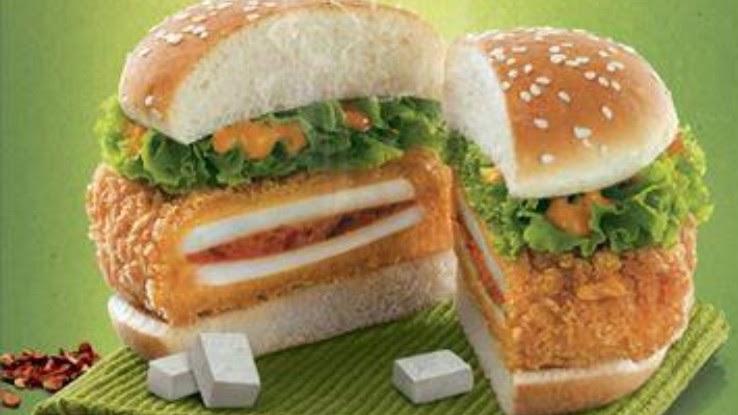 As with most limited-time promotional items, the Paneer Zinger is no longer unavailable. However, the success of the item inspired the creation of the Veg Zinger and Chicken Zinger, both of which are similar products minus the cheese. And who knows? Maybe they'll bring it back before you visit.