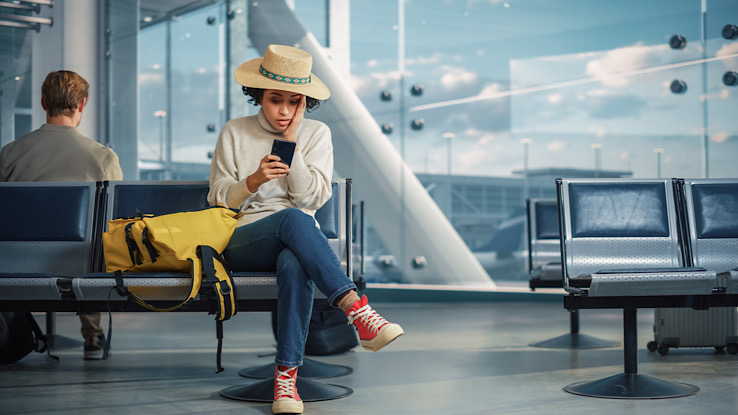 Getting to the airport and finding out your flight is delayed or canceled can be a frustrating experience. You may be excited to get on your trip or to return home. Or maybe you have an important event or meeting on the other side of your flight. This need to travel and get there at expected times, combined with staffing shortages among almost every airline, has led to severe delays, interruptions, and lost baggage. In light of the new rules that protect refunds to travelers if an airline cancels or delays flights, what else can you do when stuck at the airport? Check out our tips on what to do if you are stuck at the airport.
1. Rebook/Change Flights
The Department of Transportation has made it clear that travelers' current difficulties with canceled or delayed flights are unacceptable. They have outlined how airlines must support travelers when faced with interruptions. The newly released airline customer service dashboard shows which airlines will rebook passengers on another flight at no additional cost. Some airlines even offer to rebook on an entirely different airline for free.
If you get stuck at the airport, look at this dashboard before speaking with airport agents to know your rights. When you talk with an agent, explain your situation, and see what options you have to reach your final destination. If you have a significant amount of time before your new flight, you can ask to be put up in a hotel.
2. Get a Refund If You Are Stuck At the Airport
If rebooking or changing flights will not work with your schedule, you can get a refund. Under new guidance from the Department of Transportation, airlines would have to provide refunds to the original form of payment for significant delays or cancellations when passengers elect not to rebook.
The DoT has defined a significant change as the following, changes:
That affect the departure and/or arrival times by three hours or more for a domestic flight or six hours or more for an international flight
To the departure or arrival airport
That increase the number of connections in the itinerary
To the type of aircraft flown if it causes a significant downgrade in the air travel experience or amenities available onboard the flight
Your best bet to receive a refund would be to call the customer service line for your airline. Agents at the airport do not have much power to issue refunds. So call the help desk to get an idea of your options.
You can also go to the customer service counter at the airport if you prefer to talk to someone face-to-face. As seen in the airline customer service dashboard, each of the major airlines has its own procedures to respond to delays and cancellations. Check the dashboard to see what your airline can do for you.
Note that you will not receive this refund if you accept alternate transportation. And these rules only apply to US domestic flights, so know that your rights differ for international flights. For example, when traveling to Europe, EU Flight Compensation Regulation 261/2004 protects you. It provides an even more comprehensive coverage.
3. Go To the Lounge
One of the best things to do at the airport is hanging out at an airport lounge. Lounges offer complimentary food and drinks, have plenty of seating and fast wifi, and some even have showers or massages. Going to a lounge can keep you calm and decrease stress levels when dealing with changed flights.
The easiest way to access a lounge has a credit card that grants you lounge access. Some cards give you a priority pass membership, providing you access to more than 1300 lounges worldwide. Here is a list of all the cards that offer you Priority Pass:
You can also get co-branded airline cards that will give you access to their lounge when flying with that airline. These include:
If you do not have a credit card that gives you lounge access, you can pay for a day pass to your chosen lounge. Day passes typically range from $40 to $70, which might sound expensive, but can save you money if you have a significant delay. It is worth every penny when you add all the food, drinks, and comfort you receive.
4. Pass the Time If You Are Stuck At the Airport
Airports are like miniature cities, with bars, restaurants, shopping, chapels, and hundreds of people you can meet. Wander through the airport and find different things to do.
Shopping: Go through the duty-free shops to see if you can get any deals on goods. Some international airports have designer stores you can wander through, which is always entertaining. Some of the most incredible airports in the world have movie theaters, butterfly gardens, yoga rooms, and napping pods. While going for a walk to see what amenities are on offer, stop by a customer service desk and ask about some ways to kill time.
Get Work Done or Watch Shows: If you have your laptop, passing the time is even easier. You can do work, plan a vacation, or watch Netflix. Airports typically offer free wifi, so you can get ahead on your to-do list while waiting for your next flight.
Be Social: If you are feeling social, offer to buy someone a drink while sitting at the airport bar or loan someone a phone charger that looks like they need one. Performing small acts of kindness can be a great way to get conversations flowing, and you might meet a lifelong friend or partner this way. You just have to be open to the possibilities.
Leave the Airport: If you have enough time, you can leave the airport. You can head home or explore a new city. Keep in mind visa regulations when traveling internationally. Always ensure you have plenty of time to get back to the airport. Many airports offer lockers or baggage storage for a fee, so you can go for a few hours without worrying about your luggage. You can take a taxi or public transport into the city and go sightseeing for the day before returning to the airport. If you elect this option, do note that you will have to go back through security when you return to the airport, so you will want to budget enough time. Even if your layover is in a city you would never plan to explore; there are fun things to do just about anywhere. A long layover can give you a unique opportunity to see something you would not usually see.
Always Be Ready
You never know when you will experience flight cancellations or delays, but it doesn't hurt to be ready. This way, if you do get trapped in a long delay, it is not entirely unexpected and frustrating.
As part of your planning, pack all essential medications in your carry-on, as well as a change of clothes, some snacks, headphones, a book, or anything else that will make you more comfortable.
Knowing your options, rights, and possibilities will make long layovers feel short. If you are lucky enough not to experience a delay, you are prepared just in case.