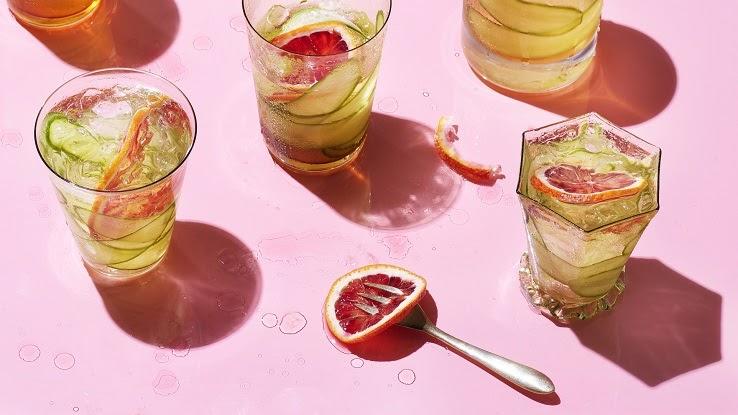 With Labor Day comes an end to summer, though fall doesn't technically start for a few more weeks. Still, kids are going back to school. Vacations, long weekends, and days splashing by the pool are winding down. But take this chance before the season fully winds down, and before the hot weather has left us completely, to mix some cool, refreshing drinks. This Labor Day, whether you're barbecuing with friends or spending the night in with the family, enjoy these cocktails and mocktails. They're more than just delicious— they're reminiscent of all of the good memories of summers past and this special time of year.
While there are a few exceptions, most cocktail and mocktail recipes take just five or 10 minutes to make. These refreshing drinks will have your guests impressed and add a little something extra to any outdoor gathering. Drink safely, drink responsibly, and continue to follow the CDC's guidelines to minimize the spread of COVID-19.
Editor's Note: For information on the latest pandemic-related guidelines, be sure to check the Centers for Disease Control and Prevention (CDC) and World Health Organization (WHO) websites, as well as federal, state, tribal, and local policies, so that you're following the most up-to-date requirements regarding mask-wearing and gathering in both public and private spaces.
How Did Some of Today's Popular Cocktails Come to Be?
Whether you're at a bar or a barbecue, cocktails and mocktails are likely to be popular refreshments on the menu, especially at the end of summer. When it comes to finding the perfect cocktail, you want a combination of liquor and fruit — something sweet, but not too sugary and overpowering. (Otherwise, you might not be feeling so hot the next day.) For mocktails, the balance is similar, though you're replacing alcohol's "kick" with club soda, ginger beer, seltzer, citrus juices and other not-so-sweet ingredients.
Many of today's most popular cocktails come from a time period dubbed the Golden Age of Cocktails. This culinary movement started in the 1860s and stretched right into the Prohibition Era, which lasted from 1920 until 1933 in the United States.
Some of the most enduring drink concoctions were developed by Jennings Cox, the man credited with the creation of the daiquiri, and folks like him, who often mixed alcohol and tropical fruits while working on the islands of Central America. Others came from trailblazing bartenders: Jerry Thomas, for example, wowed his patrons with his signature Blue Blazer, a drink that he set on fire. Fortunately, when it comes to our roundup of great end-of-summer drinks, setting something ablaze isn't required.
Best Late-Summer Rum Drinks
Daniel Webster's Punch
This bold rum-based cocktail starts off as black tea. Once the tea has steeped, mix in Oleo Saccharum, lemon juice, any Jamaican black rum, sherry, red wine, and prosecco or champagne. Add anise stars, pineapple pieces, lemon slices, and nutmeg for an extra dash of flavor and flair. This punch really packs a punch!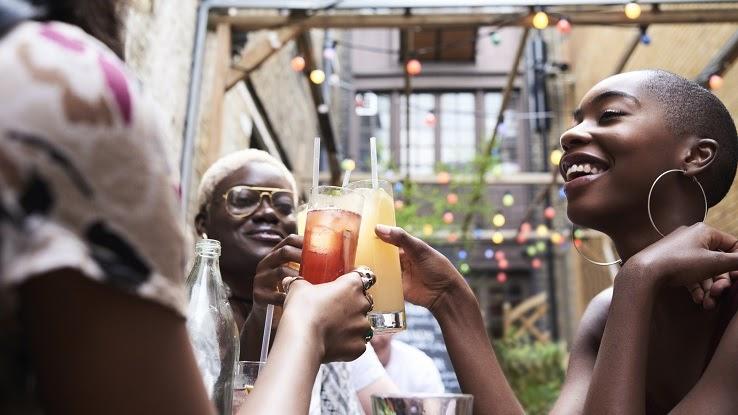 Piña Colada
The piña colada is one of the most popular seasonal drinks of all time. It's also super simple to make. Blend gold or white rum, cream of coconut, pineapple chunks, and crushed ice to give your tastebuds the tropical getaway they deserve. To add a dash of style to the drink, use pineapple wedges and leaves as garnish. Live it up while you can and while the fruit is still in season.
Best Late-Summer Vodka Drinks
Lemon Drop
This "grown-up" version of lemonade has been tantalizing the tongues of partygoers for decades. Blend triple sec, simple syrup, vodka, ice, and lemon juice in a cocktail shaker to make this sweet and sour drink. Next, strain the cocktail into a glass. When serving, coat the rim of the glass in sugar.
Lunar Eclipse
Who says cocktails can't be good for you? Turmeric-infused vodka, carrot juice, lemon juice, honey, and Angostura bitters go into this cocktail. For garnish, add a short stick of celery. Needless to say, it's one really fun way to get in a serving of fruits and vegetables.
Cocktail Staples: Other Refreshing Summer Drinks
Peach & Mint Frappe
To start mixing up this peach and mint frappe, blend crushed ice, vodka, light agave nectar, frozen peaches, and peach nectar in a blender. Process the mixture until the peaches are no longer solid and it has a consistency similar to a smoothie. Next, pour the mixture into smaller glasses. Place one or two slices of frozen peach in each glass, and garnish each glass with a fresh mint leaf. Peppermint is the most common type of mint, but any mint will do. The cooling sensation of the ice mixed with the mint makes this cocktail extra refreshing.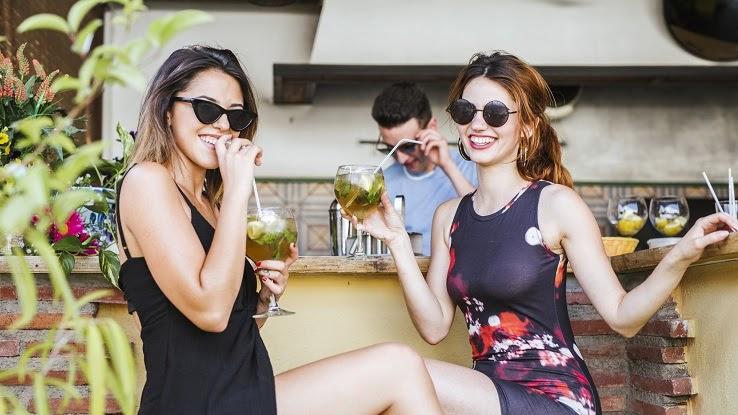 Pimm's Cup
Pimm's Cup is a well-known British cocktail — and we really enjoy Martha Stewart's take on this summertime classic. Best of all, this cocktail takes about five minutes to make. For starters, a Pimm's cup is best-served in a highball glass filled with ice. The liquid portion of this cocktail is a mixture of Pimm's No. 1, ginger ale, and lemon juice. Next, add drink-sized slices of lemon, strawberry, cucumber, and mint. Finally, garnish the mixed drink with mint sprigs. This blend of summertime plants and tangy, refreshing flavors gives just the cool-down needed during a long, hot summer day.
Spicy Grapefruit Sidecar
This cocktail has sugar, spice, and a dash of everything sour. Break out your best bartending skills because this popular mixed drink calls for… a cocktail shaker! First, coat the rim of the glass with grapefruit juice. Then, dip the rim in a mixture of sugar and chili powder. Next, add plenty of ice, grapefruit juice, Cointreau, and your cognac of choice to the cocktail shaker. And this is where your bartender skills might come in: give the mixture a good shake to ensure the liquid is thoroughly chilled. Once you've done so, strain the chilled sidecar into the glass to remove any grapefruit pulp or large chunks of ice. Finally, garnish the glass with a thick slice of grapefruit.
Mocktail Staples: The Best Non-Alcoholic Mixed Drinks
Tart Apple-Ginger Shrub
This is more of a teaser of things to come, rather than a look back on the summer that's past. But we love bringing the sour goodness of an apple pie to a mocktail. This refreshing drink takes days to make, but it is certainly worth the wait. Start by shredding a ripe granny smith apple. Pour the apple shreds, grated ginger, sugar, and apple cider vinegar into a glass jar. Close the lid and let the mixture sit for five days. After the five days are up, strain the apple shreds out of the liquid. The remaining liquid is a refreshing, tart, and tasty mocktail that's best served cold.
Watermelon-Lime Agua Fresca
Whether it's grilled watermelon or a tasty watermelon drink, this fruit might be a standout choice. First, blend water, sugar, and watermelon in a blender until it reaches smoothie consistency without any watermelon chunks. Next, pour the smoothie mixture into a large pitcher. Add in lime juice and more water. If you want the drink to be tangy, you can add extra lime juice.
To make the mocktail sweeter, add in more sugar. Lime or mint garnish makes the mocktail even more appealing. Some people spruce up the recipe by adding a little honeydew or cantaloupe to the watermelon mixture.
Don't miss out on fruity, tangy, delicious mixed drinks this Labor Day. Sweet and salty, sour and spicy, and even fruity and minty combinations can whet appetites or provide a refreshing moment when you're out in the sun. Either way, these delicious drinks are worthy of any party menu.