As the old saying goes, there's no business like show business. And, sometimes, that very thing is also the family business. Some celebrity connections are pretty clear, like siblings Jake and Maggie Gyllenhaal. But others are a little less so, even if the folks in question share the same last name.
From reality TV stars and actors to musicians and directors, these stars' connections are sure to surprise you. Trace the roots of your favorite superstars' family trees through our list of 30 celebrities who are actually related.
Maya Hawke, Uma Thurman & Ethan Hawke
Netflix's Stranger Things came back for a third season and brought along some fresh faces. One addition to the colorful cast of '80s teens is Robin, a sarcastic ice cream-slinger played by Maya Hawke. And Maya is no stranger to acting: her parents are Hollywood stars Uma Thurman and Ethan Hawke.
Uma is best known for leading roles in Kill Bill: Vol 1 (2003) and Vol. 2 (2004), Pulp Fiction (1994), and The Producers (2005). Meanwhile, Ethan has made a name for himself in Boyhood (2014), Before Sunrise (1995) and its sequels. Although Uma and Ethan are no longer together, both are visibly passionate in supporting their daughter's career.
Maya's film breakthrough came in Quentin Tarantino's Once Upon a Time in Hollywood (2019), in which she played a member of the Manson Family.
Rashida Jones, Peggy Lipton & Quincy Jones
Most of us have figured out by now that legendary musician and producer Quincy Jones is the father of Rashida Jones of Parks and Recreation fame. What you may not know is that her mother is also an accomplished celebrity, the late Peggy Lipton.
While Quincy has pulled in a record 80 Grammy Award nominations—winning 28 of them—Peggy is also an award winner, though in acting. Her most lauded role was in the counterculture TV series The Mod Squad; her performance landed her a Golden Globe in 1971. She also became a fan favorite on David Lynch's hit series Twin Peaks, and she and Quincy contributed to the writing of the Frank Sinatra hit "L.A. Is My Lady."
Though Peggy passed away in 2019 after a long battle with cancer, she did have the chance to act alongside her daughter. In 2017, she played the mother of the titular character in Angie Tribeca—a titular character played by Rashida.
Jesse Eisenberg & Hallie Eisenberg
Jesse Eisenberg quickly became a household name thanks to starring roles in back-to-back hits Zombieland (2009) and The Social Network (2010). But if you thought he was the most well-known—or the only—famous Eisenberg, think again. Though you may not know Hallie Eisenberg by name, you'll certainly remember her iconic work from the late '90s and early '00s.
That's right. Hallie is perhaps better known for her roles in the Robin Williams film Bicentennial Man (1999) and for her star turn as Helen Keller in The Miracle Worker (2000). But she is best known as "The Pepsi Girl." That's right, Jesse's sister was the precocious star of this series of Pepsi commercials.
If nostalgia counts for anything, we'd say Hallie's iconic Pepsi celebrity status is equal to Jesse's Academy Award nomination.
Maude Apatow, Leslie Mann & Judd Apatow
HBO's newest hit series Euphoria is causing quite a stir for its gritty, dark and brutally honest portrayal of teens. Though Zendaya and Hunter Schafer star in the show, each member of the ensemble cast (mostly made up of teenagers) gets their moment to shine. One of those rising stars is Maude Apatow, daughter of actress Leslie Mann and director Judd Apatow.
Though she had an uncredited role in The 40-Year-Old Virgin (2005), Maude's acting debut was in 2007's Knocked Up, a film written, produced, and directed by her father. In it, she played the daughter of her real-life mother's character. Both mother and daughter would go on to reprise their roles in Knocked Up's "sort of sequel" This is 40 (2012).
Maude's other credits include SNL alum Chris Kelly's Other People (2016) and a recurring role on HBO's Girls, a show produced by her father.
Beanie Feldstein & Jonah Hill
Jonah Hill secured roles early on in his career in films like I Heart Huckabees (2004), The 40-Year-Old Virgin (2005) and Click (2006). But he snagged a career-launching role in the coming of age film Superbad (2007). And defining roles in coming of age films seem to run in the family, especially when it comes to Jonah and his sister Beanie Feldstein.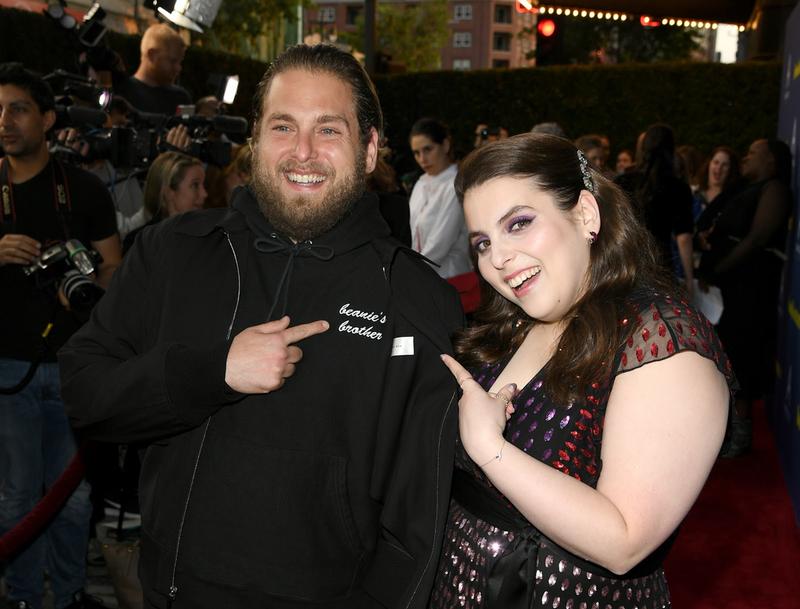 Beanie made her silver screen debut in the comedy sequel Neighbors 2: Sorority Rising (2016). However the characters that put her on the map were the ones she played in Greta Gerwig's Lady Bird (2017) and Olivia Wilde's coming-of-age comedy Booksmart (2019). Beanie has also appeared in hit shows, including Orange Is the New Black, Will & Grace and What We Do in the Shadows.
Both Superbad and Booksmart have narratives that center and value friendship, despite whatever misadventures the characters get into. The same might be said of Jonah and Beanie's relationship: Beanie revealed to Seth Myers that the siblings often play pranks on one another.
Anderson Cooper & Timothy Olyphant
Anderson Cooper is known for being a successful journalist and CNN's primary anchor. Timothy Olyphant, on the other hand, is known for his starring roles in HBO's Deadwood and FX's Justified. And the family ties that bind? Let's just say their ancestors were less into anchoring and acting and more in the business of railroading and shipping.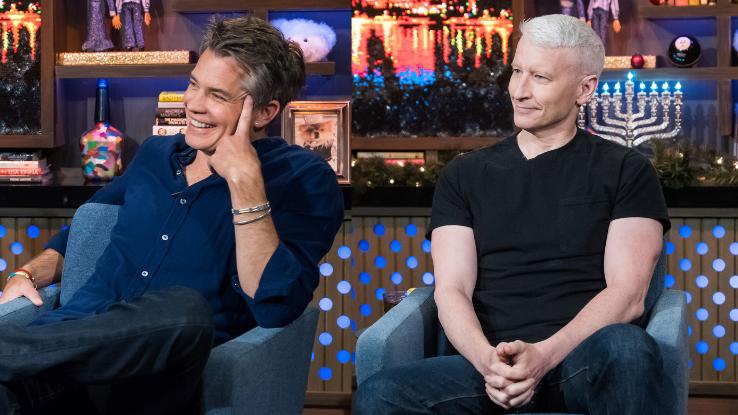 That's right—both Anderson and Timothy are Vanderbilts. Yes, those Gilded Age Vanderbilts who had mansions on New York's Fifth Avenue and on the Newport, Rhode Island coastline. Famously, Anderson's mother is model, writer, and heiress Gloria Vanderbilt.
Timothy's connection to the Gilded Age empire is less known, but equally impressive. His maternal fourth great-grandfather is the man who started it all, Cornelius Vanderbilt. This means that Timothy is Anderson's third cousin, once removed, and Gloria's second cousin, once removed.
Paris Hilton & Kim Richards
Fans of The Real Housewives of Beverly Hills (RHOBH) won't be surprised to learn about the Hilton-Richards connection, but for RHOBH novices it may be a bit surprising. Let's break it down: Kim Richards often makes guest appearances on RHOBH alongside her reality star sister Kyle Richards. Their maternal half-sister is Kathy Richards—who, after her marriage in 1979, goes by Kathy Hilton.
If all of this is startlingly new information, rest assured that you probably know the names of Kathy's children. Or at least her daughters, Paris and Nicky Hilton. This all means that Kim is Paris's aunt.
Known for being a child star, Kim nabbed roles in several Disney films, including Escape to Witch Mountain (1979). In 2015, after a string of personal struggles, Kim was arrested twice—once for public intoxication and battery of a police officer at the Beverly Hills Hotel, and once for shoplifting at a Target.
Meanwhile, Kyle's television show American Woman caused an irreparable rift between her and Kathy, as it portrayed a fictionalized version of their mother in a poor light. Even before the American Woman feud began, Kathy said she had no desire to join her sisters on RHOBH.
Kathy's socialite/DJ/reality star daughter Paris on the other hand is constantly dodging rumors of a Real Housewives cameo.
Billie Lourd & Debbie Reynolds
It's widely known that Billie Lourd is the daughter of the late Carrie Fisher, writer and Star Wars actress. But what's often overlooked is that Billie is also the granddaughter of Hollywood legend Debbie Reynolds, who passed away in 2016 within a day of Carrie. Known for roles in Singing in the Rain (1952), The Golden Girls, and more, Debbie was a master of her craft.
And, according to an interview Billie gave on Late Night with Seth Meyers, Debbie wanted more people to know about their connection. Billie recalled that her grandmother "[got] really upset when [Billie] gets called Carrie Fisher's daughter. She wants people to call me Debbie Reynolds's granddaughter. It's very offensive to her."
To dissuade Billie from acting, Debbie shared diaries she'd kept circa Singing in the Rain. The diaries detailed the difficult days in the makeup chair and on set and ended with a particularly funny flourish with Debbie writing "and all you wanted to be was a gym teacher!"
Of course, the diary didn't scare Billie away from acting. She landed roles in Star Wars: Episode VII—The Force Awakens (2015) and Scream Queens. And Debbie loved the latter. Billie remarked "[my grandmother is] a fan of anything that involves a lot of fur."
Nicole Richie & Lionel Richie
Nicole Richie is a TV personality, actress, and fashion designer who skyrocketed to fame with BFF Paris Hilton on the reality show that launched a thousand reality shows, The Simple Life. The show raked in 13 million viewers and made Nicole a tabloid journalism darling. It may seem surprising then that her father is Grammy-winning musician Lionel Richie, but sometimes the truth is stranger than fiction.
In a 2015 interview, Lionel opened up about his relationship with adopted daughter Nicole, who he met at a Prince concert, of all places. Perhaps the meeting wasn't that out of place though: Nicole's biological father was a musical director and percussionist, and, as Lionel remembers, four-year-old Nicole was playing a tambourine on stage.
Lionel knew that Nicole's biological parents were having difficulties with money and their relationship. He told them "your kid is sitting out here in limbo" and offered to watch over her until the tour ended. Eventually, Lionel became more than just a temporary guardian and adopted Nicole.
Margaret Qualley & Andie MacDowell
Though Margaret Qualley might not be a household name just yet, she's certainly on that trajectory. The actress got her big break in 2014 when she landed a role on HBO's The Leftovers, playing the daughter of Justin Theroux's character. But, growing up, she was no stranger to show biz: her mother is actress Andie MacDowell.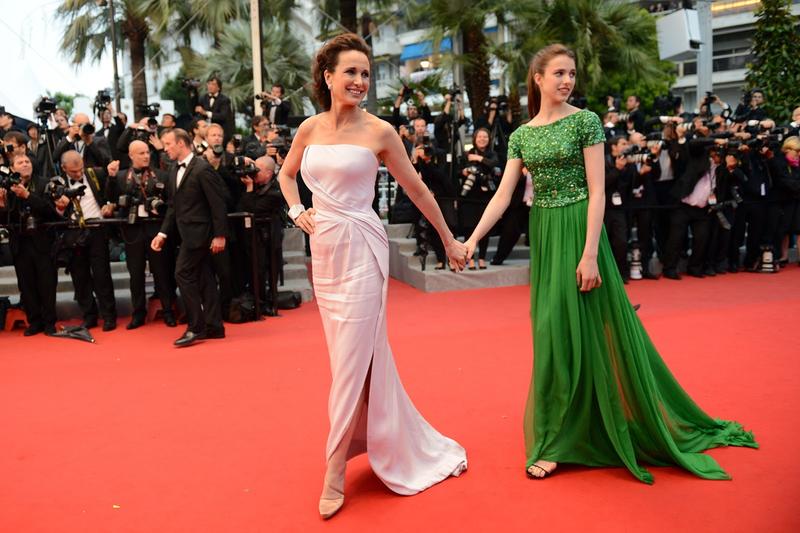 You may know Andie from classic films such as St. Elmo's Fire (1985), Groundhog Day (1993), and Four Weddings and a Funeral (1994). And clearly her daughter is eager to leave a lasting mark on Hollywood as well.
Margaret's silver screen breaththrough came when she nabbed the role of Pussycat, a Manson Family member, opposite Brad Pitt in Quentin Tarantino's Once Upon a Time in Hollywood (2019). On the small screen, Margaret has also found success with the series Fosse/Verdon, for which she received a 2019 Emmy nomination.
Domhnall Gleeson & Brendan Gleeson
Brendan Gleeson is a multi-time BAFTA- and Golden Globe-nominated actor, whose performances can be seen in films like Gangs of New York (2002), Cold Mountain (2003), and In Bruges (2008). But audiences of a certain age probably know him best as Alastor Moody from the Harry Potter series. What folks may not know is that he's not the only Gleeson to set foot in Hogwarts.
Brendan's son, Domhnall Gleeson, is a Tony-nominated actor who has appeared alongside his father in the Harry Potter films as Bill Weasley. He's also lent his talents to numerous other films, including Never Let Me Go (2010), Ex Machina (2015), and Star Wars: Episode VII—The Force Awakens (2015).
After working on a short film with his dad, Domhnall stated that he loves working with his father. "I will look forward with doing anything else with him again," Domhnall said. "[Brendan's] just one of the best around." The father and son duo also share a love for the Aston Villa Football Club.
Lily Collins & Phil Collins
I can feel it coming in the air—another parent-child duo! This time, chart-topping, Grammy-winner Phil Collins and Golden Globe-nominated actress Lily Collins. But it's not all glamour for this award-winning family. Lily opened up about her complicated relationship with her father in her memoir Unfiltered: No Shame, No Regrets, Just Me.
Due to his role as drummer and singer of rock band Genesis—not to mention a booming solo career—Phil was often on tour. Not wanting her father to leave, Lily recalls becoming "extra careful about what I said and how I said it, afraid he'd think I was angry or didn't love him. And the truth is, I was angry. I missed him and wanted him there."
The Mortal Instruments: City of Bones (2013) actress went on to address her father directly, stating she hoped they could move forward and enjoy future experiences together, more openly and honestly.
Laura Dern, Diane Ladd & Bruce Dern
Laura Dern is a Golden Globe-winning and Academy Award-nominated actress. From Blue Velvet (1986) and Jurassic Park (1993) to Wild (2014) and her iconic turn as a meme generator in HBO's Big Little Lies, Laura seems like she'd be the most lauded member of her family. In reality, she's the daughter of Hollywood legends Diane Ladd and Bruce Dern.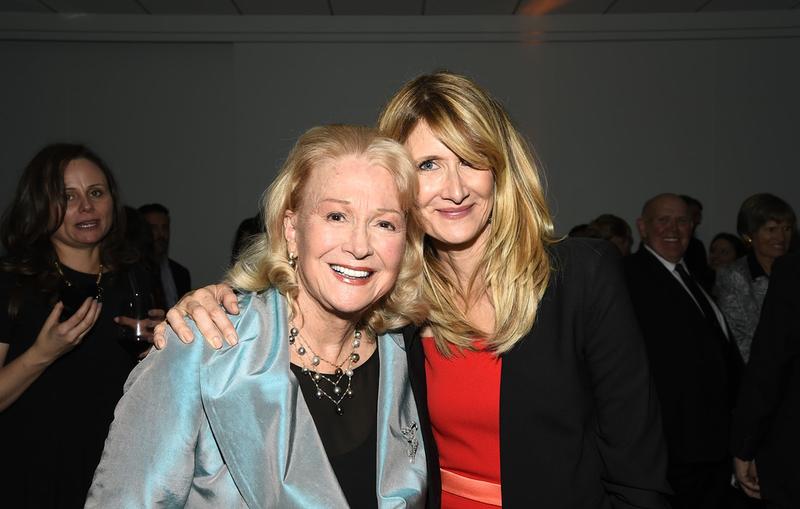 Diane and Bruce are both Academy Award nominees themselves for Wild At Heart (1990) and Nebraska (2014) respectively. Diane's Oscar-nominated performance in David Lynch's Wild At Heart saw her playing the mother of Laura's character, but it was Rambling Rose (1991) that helped them make Oscar history. The mother-daughter duo were both nominated for Academy Awards.
And, growing up, Laura would often be on set with one of her parents. Not only was she learning the tricks of the trade, but she was also surrounded by Hollywood's top directors, including Alfred Hitchcock and Martin Scorcese.
"It's really hard to be in that environment," Laura said in a CBS interview, "and not want to become an actor."
Shirley MacLaine & Warren Beatty
Shirley MacLaine is a six-time Academy Award-winning actress, who nabbed an Oscar for Terms of Endearment (1983). She's also a two-time BAFTA winner, one-time Emmy winner, and five-time Golden Globe winner.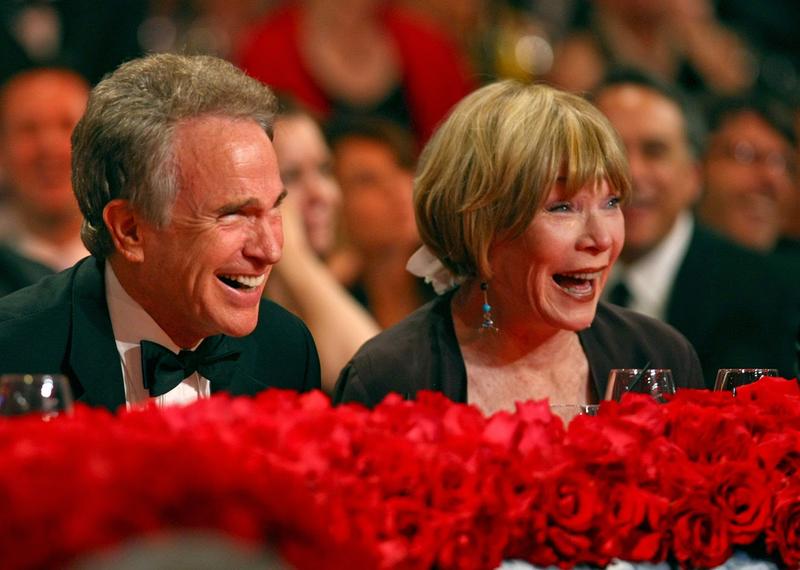 Warren Beatty is a director, actor, and producer who has been nominated 14 times for Academy Awards, finally receiving a "Best Director" Oscar for Reds (1981). Warren was awarded the Academy of Motion Picture Arts and Science's highest honor, the Irving G. Thalberg award. And he's also an 18-time Golden Globe nominee, with six wins to his name.
Shirley and Warren are siblings—and, clearly, the competition is fierce. They have each won the prestigious Cecil B. DeMille Award and show no signs of slowing down. Though it's possible Shirley has a slight leg up.
Her brother was infamously part of one of the biggest flubs in Oscar history when he and Faye Dunaway incorrectly named La La Land (2016) the "Best Picture" winner, when Moonlight (2016) was the actual winner. Of the incident, Shirley said she felt terrible for her brother, adding, "I'm three years older, and I'm protective."
Jamie Lee Curtis & Janet Leigh
"Scream queens" Jamie Lee Curtis and Janet Leigh are related—and not just by their prominence in horror films. Janet is Jamie Lee's mother. The term "scream queen" came to prominence in the 1970s, thanks to actresses such as Sandra Peabody in The Last House on the Left (1972) and Marilyn Burns in The Texas Chainsaw Massacre (1974), but it was Jamie Lee who stood out.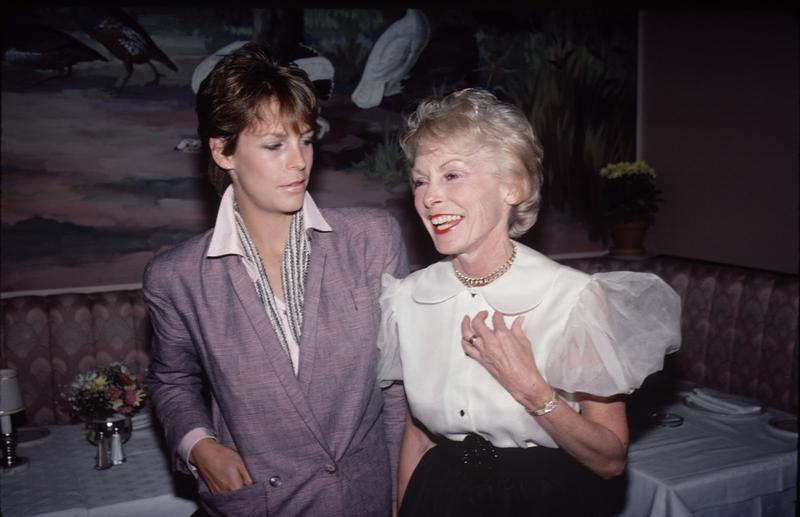 Her portrayal of Laurie Strode in John Carpenter's Halloween (1978) led to her starring in a string of horror films, including The Fog (1980) and sequel film Halloween H20: 20 Years Later (1998), both of which featured her mother in supporting roles.
And though Janet wasn't an official '70s scream queen, it's possible her performances rubbed off on Jamie Lee. That's right: Janet is the actress behind Hollywood's most iconic scream in the infamous shower scene in Alfred Hitchcock's Psycho (1960).
The shot was famously recreated by Jamie Lee in the show Scream Queens as an ode to her mother.
Emma Roberts & Julia Roberts
From Nancy Drew (2007) and Hotel for Dogs (2009) to hit shows Scream Queens and American Horror Story: Coven, Emma Roberts has had a meteoric rise. But starpower certainly runs in the family. Emma's aunt is three-time Golden Globe-winning and one-time Academy Award-winning actress Julia Roberts. And, in our opinion, Julia is the ultimate "cool aunt."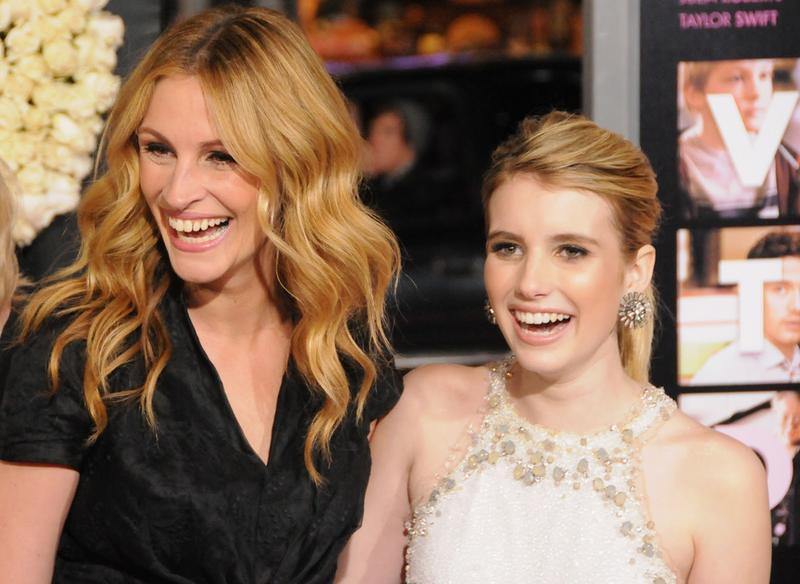 Famously, Julia established herself as the leading lady in Hollywood after her film Pretty Woman (1990) garnered upwards of $460 million. Collectively, she's reeled in over $2.8 billion. (Clearly, the dog days are over.)
Even though her father is actor Eric Roberts, Emma credits Julia with inspiring her to act. As a kid, she would even hide in Julia's makeup trailer on the set of Erin Brockovich (2000). Much later, the aunt and niece duo were co-stars in the film Valentine's Day (2010), though they didn't share any scenes.
Jenny McCarthy & Melissa McCarthy
As the cliche goes, once you're rich and famous family members start coming out of the woodwork to share in a bit of that (monetary) success. Everyone from cousins to uncles and aunts—and maybe that family friend who insists they're as good as blood. But for television host Jenny McCarthy and comedian-turned-actress Melissa McCarthy this isn't quite the case. The two are cousins, but they're also each successful in their own right.
Back in the day, Jenny did offer her cousin a helping hand by giving Melissa a guest role on her self-titled sitcom Jenny in 1997. Soon after, Melissa nabbed spots on Gilmore Girls and in Charlie's Angels (2000) before landing her own sitcom, Mike & Molly, and a cast member spot on Saturday Night Live. The Bridesmaids (2011) star now has two Golden Globe and two Academy Award nominations to her name and has been named one of Hollywood's top-paid actresses.
Former The View co-host Jenny now appears as herself on various programs, including The Masked Singer and The Real Housewives of Beverly Hills.
Brandy Norwood & Snoop Dogg
Brandy Norwood, known professionally as Brandy, is a Grammy Award-winning musician and NAACP award-winning actress known for playing the title characters in Moesha and Cinderella (1997). What you may not know is that Brandy and her younger brother, musician Ray J, are cousins of rapper and entrepreneur Snoop Dogg.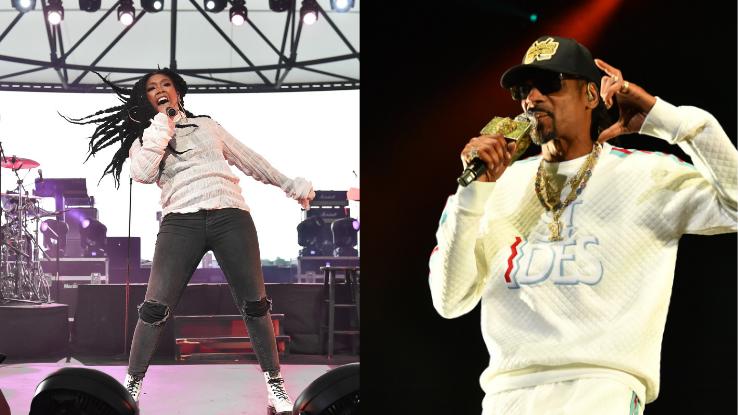 Brandy and Ray J were born in McComb Missouri and visited often even after their family relocated to Southern California. Brandy has confirmed that rock and roll legend Bo Diddley is her third cousin, but Snoop Dogg? Well, she's admittedly less certain about that connection, even though Snoop Dogg's mother is also from McComb.
"My brother and Snoop really believe they're related," Brandy said in a 2013 interview. "I guess I'll just go along with it."
Kate Hudson, Oliver Hudson & Wyatt Russell
Yes, yes—we all know. Almost Famous (2000) actress Kate Hudson is the daughter of silver screen legend Goldie Hawn. And we all know that Goldie married Kurt Russell, making Kurt Kate's stepfather. That's all old news—and certainly not why the Hudson-Russell clan makes our list. Instead, it's all about Kate and her now-famous brothers.
Like Kate, Oliver's parents are also Oscar-winner Goldie and her second husband Bill Hudson. A few years after his sister nabbed her Oscar nomination for Almost Famous, Oliver fell into the family business and received roles in popular television shows Dawson's Creek and The Mountain.
Soon after, he landed some bigger roles on programs such as Rules of Engagement, Nashville, and Scream Queens.
The third sibling in the Hudson-Russell brood is Wyatt, and his parents are—you guessed it—Goldie and Kurt. Before joining his siblings on set, he played hockey for various amatuer and professional hockey teams, mainly in Canada. Unfortunately, an injury while playing NCAA hockey for the University of Alabama Chargers cut his hockey career short.
But acting has certainly paid off. With roles in 22 Jump Street (2014), Ingrid Goes West (2017) and Black Mirror, he's giving his siblings a run for their money.
Bryce Dallas Howard & Ron Howard
After rising to fame thanks to roles in shows like The Andy Griffith Show and Happy Days, Ron Howard turned to directing films like Apollo 13 (1995) and A Beautiful Mind (2001). (The latter even nabbed him two Oscars.) Though she grew up around sets, Bryce Dallas Howard wasn't allowed to even be an extra in one of her father's films. Not until she was at least seven—that was the deal.
Nonetheless, inspired by her father's career, Bryce Dallas Howard attend NYU's Tisch School of the Arts. But she dropped out to star in a Broadway production of As You Like It. This proved to be a great move.
Director M. Night Shyamalan saw her performance and went on to cast her in The Village (2004) and Lady in the Water (2006). Bryce has since starred in big-name franchises, from Spider-Man 3 (2007) to The Twilight Saga: Eclipse (2010) and Jurassic World (2015).
Infamously, Bryce is often confused with fellow actress and redhead Jessica Chastain. While the Internet mixing them up is one thing, Bryce recalls that even her father did so once, at an Apple Store. Ron approached Jessica, thinking she was his daughter. "He was shook, he really was," Bryce recalled.
Tippi Hedren, Melanie Griffith & Dakota Johnson
Thanks to Alfred Hitchcock, Tippi Hedren left modeling behind and starred in Hitchcock's The Birds (1963), even winning a Golden Globe for her work. Her Golden Globe-winning daughter, Melanie Griffith, has worked with directors like Brian De Palma and John Waters and became a household name as well, thanks to films like Working Girl (1988). But it doesn't end there.
Tippi's granddaughter, and Melanie's daughter, is Dakota Johnson, of Fifty Shades of Grey (2015) fame. After the popular film series wrapped, Dakota switched gears and starred in the remake of Dario Argento's classic Suspira (2018), even bringing her grandmother to the premiere. An event Melanie later posted excitedly about on Instagram.
And while the three generations of women are very close to another, they don't talk shop very much at all. In an interview with Vanity Fair, which featured all three actresses, Tippi remarked on this phenomenon saying, "No, we never even talk about [acting]… Isn't that interesting?"
Tracee Ellis Ross & Diana Ross
Diana Ross is known for being the lead singer of the Supremes, Motown's most successful group—not to mention one of the best-selling and best-charting groups of all time. She also won a Lifetime Achievement Grammy and turned out a Golden Globe- and Oscar-nominated performance in Lady Sings the Blues (1972). But her daughter, Tracee Ellis Ross, is no stranger to accolades either.
Known for her roles on Girlfriends and Black-ish, Tracee has received an NAACP Image Award and a Golden Globe as well as three Emmy nominations.
Growing up, Tracee recalls loving her mother's outfits and sense of fashion. She'd wait for Diana to leave the house, then sneak clothes into her own room. She said, "What I liked to do is put them in my closet and live with them as if they were mine." When she was caught red-handed, Tracee would tell her mom she was helping her organize.
When she headed off to college, Tracee asked her mother for the rug under their breakfast table. Diana said "no." But then she ran outside, rug in hand, insisting Tracee have it. Of the anecdote Tracee said to W Magazine, "That's not the Diana Ross people know. That's my mommy."
Meryl Streep, Mamie Gummer & Grace Gummer
If awards season teaches us anything, it's that we should never underestimate the power of a Meryl Streep performance. From Sophie's Choice (1983) and Kramer vs. Kramer (1980) to Julia & Julia (2010), Meryl has real range. But something a lot of moviegoers may not realize is that two of her daughters, Mamie and Grace Gummer, also have plenty of acting chops.
Mamie received a Drama Desk nomination for her performance in the original play Ugly Lies the Bone. Onscreen, she's entertaining audiences in The Good Wife, The Good Fight, and True Detective.
Meanwhile, her sister Grace made an appearance as a child in their mom's film House of the Spirits (1993), and picked up acting again in 2010. Though she has some silver screen credits to her name, including Frances Ha (2012), her more notable work has been on TV shows like American Horror Story: Coven, The Newsroom, and Mr. Robot.
And although the sisters are paving their own way in Hollywood, they probably won't see musician King Princess mixing their performances into club music. That's reserved for their mom and her iconic scream from HBO's Big Little Lies.
Gwyneth Paltrow & Katherine Moennig
Just like with Kate Hudson and Goldie Hawn, you probably expected to see Gwyneth Paltrow on our list alongside her mother, Emmy and Tony Award-winning actress Blythe Danner. But just like Goop, we are full of surprises. Instead, we'd like to point out the lesser known connection: Shakespeare in Love's Gwyneth Paltrow and Ray Donovan actress Katherine Moennig are cousins.
Allegedly, Katherine's friends even called her "Alt. Gwyn" because the two are so different, though The L Word actress later denied the validity of that nickname. Nonetheless, she does acknowledge the fact that she and Gwyneth are pretty different people.
In an interview with the Observer, Katherine said, "I like that people don't actually make the comparison. And I want no one judging me solely on the fact that I am her cousin."
On the other hand, she had an exciting moment as a kid, regarding her aunt. One day, she saw The Great Santini (1979) in class, but couldn't place the familiar lead actress. When Katherine got home, her mother mentioned that her aunt Blythe was in the film.
Nicolas Cage, Sofia Coppola & Francis Ford Coppola
Golden Globe- and Academy Award-winning actor Nicolas Cage, of Leaving Las Vegas (1995) and National Treasure (2004) fame, is the nephew of director Francis Ford Coppola. And, of course, the man behind The Godfather (1972) has a daughter who's also a director: Sophia Coppola.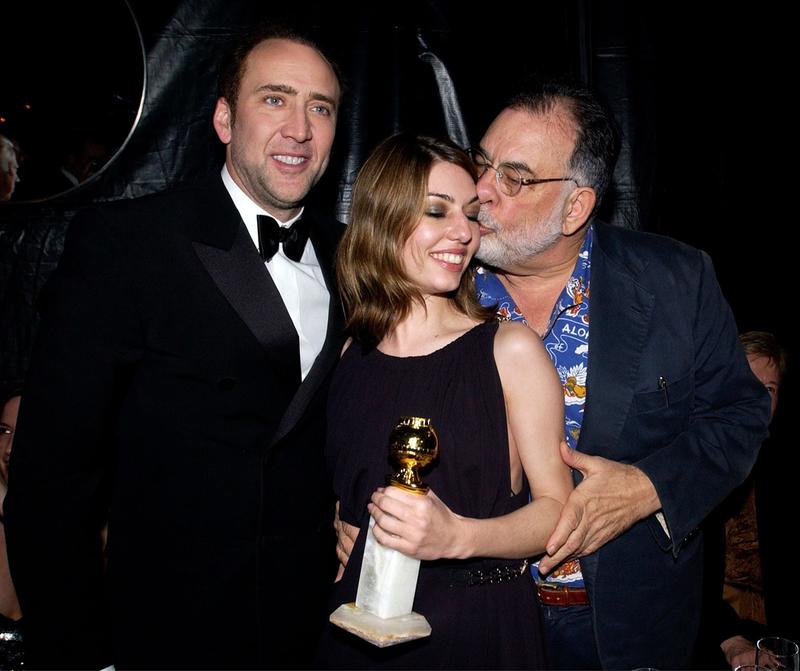 Since the 1960s, members of the Coppola family have been in the business of making movies. In a sense, they're Hollywood royalty—or maybe to movies what the Vanderbilts are to railroads. And it's clear that dedication has paid off. Nicolas, Francis, and Sophia have all won Academy Awards. From Apocalypse Now (1979) to Moonstruck (1987) to Lost in Translation (2003), it's clear the family's tastes are eclectic and individual, despite their dominance over the industry.
And you know who else is related to them? Actor Jason Schwartzman's mother is the sister of Francis. That means he's cousins with Nic and Sophia, too.
Whitney Houston & Dionne Warwick
Grammy Award-winner Whitney Houston is the most decorated female artist of all time. All seven of her studio albums are certified Platinum or Gold and she's sold over 200 million records worldwide. Dionne Warwick, meanwhile, is one of the most-charted vocalists of all time; between 1962 and 1998, 56 of her singles hit Billboard's Hot 100 chart. Both musicians are record-setters and iconic vocalists. And they're cousins.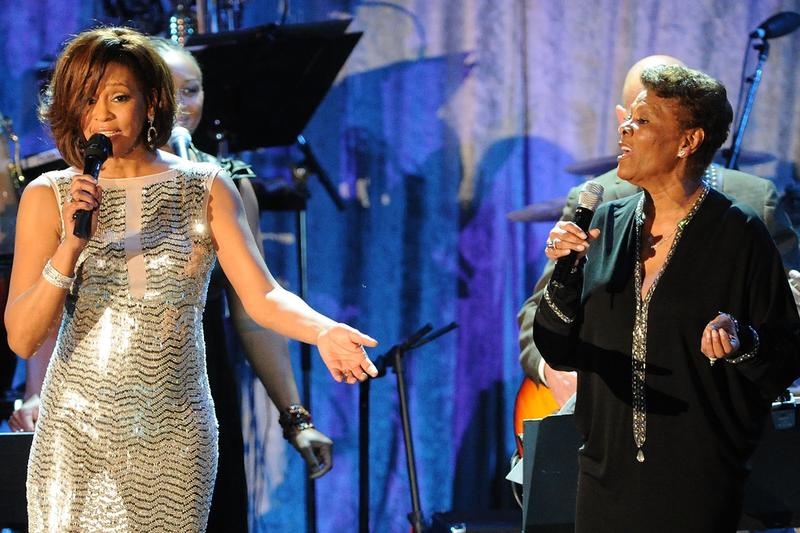 Whitney's mother, Cissy Houston, was a musician in her own right. As a revered Gospel singer, she taught Whitney how to hone her vocal gifts. Cissy also sang gospel songs alongside her niece, Dionne, and the two remain close, even after Whitney's tragic passing.
Dionne even described her cousin as "the little girl I never had."
Sarah Sutherland & Kiefer Sutherland
When Kiefer Sutherland isn't running around saving the world as 24's Jack Bauer or stepping into the shoes of the leader of the free world in Designated Survivor, he's being a supportive dad. You'll recognize his daughter, Sarah Sutherland, from HBO's hit comedy Veep. But, despite their shared last name, you might not have known Sarah is Kiefer's daughter. And that's just how she wanted it.
With Kiefer as your father and the legendary Donald Sutherland as your grandfather, it'd be easy to clear a path to the silver screen. But Sarah was insistent on doing things on her own terms. Kiefer recalled, jokingly, how her dedication to avoiding the Sutherland association put him in a tight spot.
"There were two times that I really needed a great young actress. One was a film with my dad, [called] Forsaken… And I asked her both times if she would help me out and do these parts. And she respectfully declined," Kiefer told Kelly Ripa in an interview. "I'm so proud of her, because she really has done this all on her own."
Liev Schreiber & Pablo Schreiber
Liev Schreiber plays the eponymous character in Showtime's Ray Donovan series, a role that's earned him five Golden Globe and three Emmy nominations. Meanwhile, we're grateful that his step-brother Pablo Schreiber doesn't have a series named after his breakthrough character "Pornstache" from Netflix's Orange Is the New Black. But from Pablo's work in The Wire and American Gods to Liev's performances in Spotlight (2015) and Spider-Man: Into the Spider-Verse (2018), it's clear the brothers have a real foothold in Hollywood.
Back in 2004, the half-brothers worked together for the first time in Jonathan Demme's remake of The Manchurian Candidate, a political thriller from 1962. Though ten years apart, the brothers both gained acting inspiration from their dad, Tell Schreiber, even though Pablo lived in Seattle and Liev lived in New York City growing up.
Lenny Kravitz & Al Roker
Lenny Kravitz is a Grammy-winning musician and fan favorite Hunger Games actor. Al Roker, on the other hand, is America's favorite weatherman from the Today show. So, what do these two have in common? Well, they're related thanks to Roxie Roker.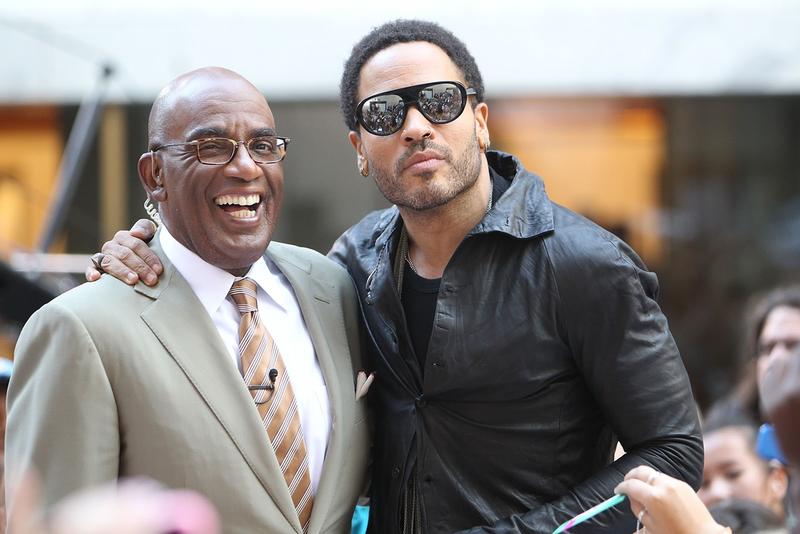 You may know Roxie, Lenny's mother, as the actress who portrayed Helen on The Jeffersons. You may not know her as Al's cousin—but she is just that. And all of this amounts to Lenny and Al being second cousins. In 2011, Lenny stopped by to perform on Today, and he and Al discussed their connection.
"All I know is I'm going with it," Al said. "Kids think it's cool." And we agree, Al. The only thing cooler might be that all this means he's also related to Mad Max: Fury Road's (2015) Zoe Kravitz, Lenny's daughter.
Alfie Allen & Lily Allen
Singer and songwriter Lily Allen is Grammy Award-winning artist and one of her hit songs "Alfie" is notoriously about her brother. The lyrics? Anything but heartwarming. In fact, the entire song is Lily criticizing her brother for being lazy and wasting his life. The single failed to pick up much steam, but, even so, Lily created an accompanying music video. Does this sound harsh? Don't worry. Alfie Allen got the sweetest revenge.
The song "Alfie" debuted in 2007. In 2011, Alfie landed a role on HBO's immensely successful Game of Thrones as Theon Greyjoy. This led to roles in John Wick (2014) and Jojo Rabbit (2019), which is great for the ego. But the best outcome? Alfie was nominated for an Emmy for his work in Game of Thrones.
Clearly, Lily "knows nothing" these days, ranking right alongside Jon Snow.