There was a time when bringing the amenities of home with you camping was not much of an upgrade. As our lives became more comfortable, folks sought to bring these comforts into the woods with them. The ultimate expression of this is glamping or glamorous camping. On the other end of the spectrum is primitive camping, where you only bring in what you can carry and rough it. Let's take a look at these two types of camping (primitive camping vs glamping) to see which may be right for you.
Primitive Camping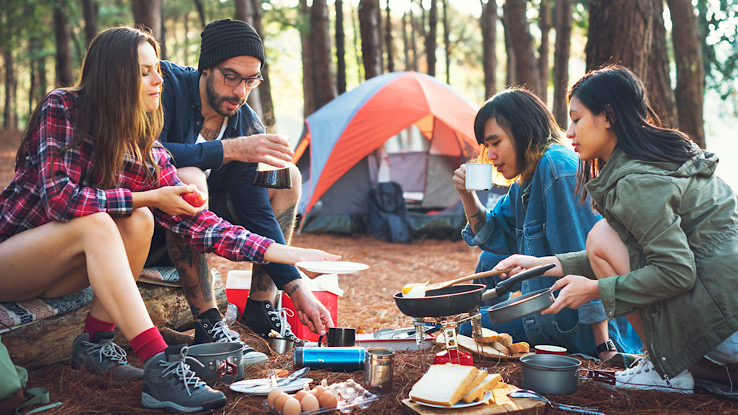 Camping at its roots is an act of connecting with nature. The comforts of home are supposed to be just that, making you appreciate them more when you come back from the wilds. There are other reasons that this type of camping can have positive benefits like:
Better for the environment
Primitive camping involves hiking into your site, setting up camp, and then living off what you carry in. There is no electricity nor are you running a vehicle at your campsite so you can feel good about enjoying nature while not polluting it. You can even go as far as to get biodegradable toilet bags for your camping toilet and take other measures to show respect for the wilderness.
Connect to nature without distractions
Getting away from modern amenities means you can more easily get in touch with the natural world around you. Planet Earth is a great series on TV. So, why watch it when you can live it and focus on nature while camping? To leave behind those distractions is to be able to see the beauty in nature around you more easily.
More peaceful and fewer people
Primitive camping involves hiking to your camping location and bringing your gear along the way, as vehicles are not allowed. This being the case, you are much more likely to have a private camping experience. The absence of vehicles makes for a peaceful experience, and the campsites tend to be spread out and secluded. Camping in harmony with nature allows for close-up experiences with wildlife and taking in the symphony of sounds the woods can create.
Of course, it could be challenging for some folks to carry all of their gear and be isolated, often away from amenities. You will have to determine if this is the best thing for you.
Glamping
Glamping is the act of luxury camping, which can involve a souped-up RV or an established base camp that you stay in. Some folks need the comforts of home, no matter where they are. Access to facilities like a shower or toilet of your own can also make the difference on a longer camping outing, and many sites offer comforts such as hot tubs or saunas.
More comfortable
There is no doubt that glamping at its maximum is more comfortable. Having an RV or camper with a shower, bathroom, and kitchen can make your stay in the woods like a rented cabin. It is also much easier to keep bugs out of a camper than from a tent. There are companies set up that run specialized glamping sites. With the tent and all of your amenities already set up and waiting, you can relax immediately.
Easier Access
Glampgrounds are made for ease of access. As they also have electricity and facilities, these sites are closer to civilization to access its benefits. Some require you to hike in, mainly because you are hiking to an already established camp waiting for you. This may result in a less private experience since you will be sharing the area with other campers.
Longer Outings
Even if you bring a camping toilet and solar shower, it is not quite the same as a hard-walled camper or luxury tent. Having these utilities at your disposal means you can camp longer and more comfortably. You will be trading the flexibility to pick up your camp and move for luxury, so that is a consideration you will have to make.
As with primitive camping, it's not all positive. You will be using electricity and burning carbon. You might miss some of the quiet, delicate things that make nature a wonder.
Location Ideas (Camping vs Glamping)
There are many great places to go camping, and it is up to you what kind of experience you want. Here are some ideas for primitive camping vs glamping in the great outdoors.
Primitive Camping Location Ideas
Isle Royale, Michigan
Isle Royale, Michigan, is an island. This island is in Lake Superior, off the Canadian coast. No vehicles are allowed on the island except park service vehicles. It takes a 4-hour ferry ride to get there from the Wisconsin coast, and once there, you will need to hike to your campsite. With many miles of trails loaded with primitive campsites, you'll enjoy nature in no time. You are required to pay park entry fees, usually $7 per person per day or $60 for a season pass. Parties of 6 or less do not need to pay additional costs or reserve sites. As it is on a first-come, first-serve basis, you will want to call ahead to make sure there will be sites.
Glacier Bay, Alaska
When it comes to primitive camping, why not try it in the most untamed state of them all? Glacier Bay is in Alaska. Alaska is massive, and most of it is untouched wilderness. There is more dangerous than many primitive campsites because everything is so remote, and let's not forget the grizzly bears. There are no fees needed to enter the park or to camp in the park, making it an exception in the National Park System. Campers do have to complete a backcountry orientation before they are allowed to camp in the park.
A neat app to use for locating small or primitive campsites while traveling is called Free Roam. It will use location tracking to find any campsites near you that are nearby and usually are free to stay.
Glamping Location Ideas
Ventana Big Sur, California
Ventana Big Sur is in California. This luxury camping site is more like a stay in an outdoor hotel. The tents are already set up, and they have wood floors, heated blankets for the bed, hot coffee served in the morning, and housekeeping to keep your upscale tent clean. This way you will be able to fully focus on enjoying your stay. Due to the nature of glamping, you will be spending money similar to renting a hotel, which means you will need to pay $200 or more a night.
Under Canvas
Under Canvas is a luxury travel company is designed for glamping. You pick one of the locations they service, including many National Parks, and schedule your trip with them. When you arrive at your campsite, everything will be set up for you, including an in-tent wood stove and bathrooms. They service many locations, but some of the most notable are Yellowstone and the Grand Canyon. Prices vary, but you will be looking at $250 or more per night.
Firelight Camps, New York
Most folks might now associate New York with camping, but upstate New York has many great natural features to explore. Firelight Camps is one option that can facilitate that. With hardwood floors and cushy beds, your tent will be more like a home away from home. Prices vary, but you will be expected to pay something in the area of $279 per night.
These are just a few options available to campers. Ultimately, it comes down to why you are heading out to nature in the first place. If you are looking for peaceful serenity while also doing your best to live sustainably, then primitive camping is the obvious choice. Not quite ready to rough it? Then perhaps glamping is for you. Both allow campers to get in touch with nature, which is more important now than ever. Regardless of your choice, try using biodegradable camping items for waste and be mindful of wildlife when in the woods. As with all camping experiences, remember to take out what you bring in to leave the natural space you love as beautiful as it was when you entered.