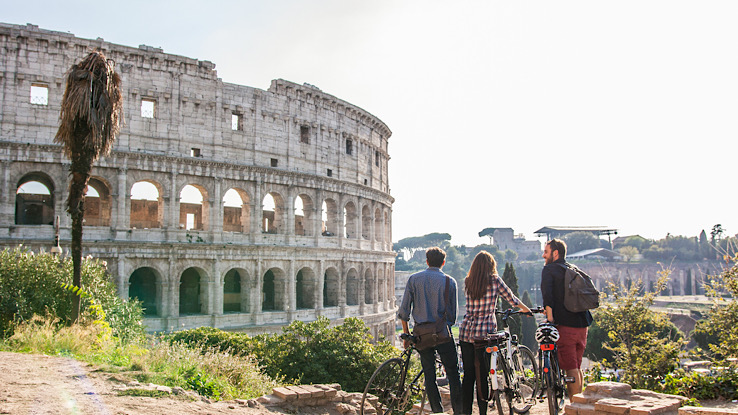 Italy is one of the most popular European destinations. In 2019, Italy was the second most popular European destination. Our Ultimate Italy Travel Guide looks at some of the wonderful things Italy has to offer tourists, when the best time to travel is and what you can look forward to on your trip.
Italy As a Travel Destination
The long Mediterranean coastline is rich in breathtaking views. Italy has a great infrastructure to support tourism, and you can visit most parts of the country by land, sea, or air. The Italian government spends around $4 billion annually to improve its transportation infrastructure, including national highways, expressways, bridges, and tunnels. You'll get a bit of everything in Italy, such as:
Religious history: The country is steeped in religious history and allows tourists to visit the Vatican and other important religious sites.
Art and history: Art lovers and historians have endless museums and ancient ruins to explore.
Food lover: If you're a foodie, Italy is perfect for you. It's common to find pizza, risotto, pasta, lasagna, and gnocchi throughout the country.
Fashion: Milan is known as the fashion capital of the world. In this beautiful city, you'll see iconic Italian fashion houses such as Versace, Giorgio Armani, Gucci, and Prada.
Luxury cars: Don't forget the motor industry comprising of luxurious brands such as Lamborghini, Ferrari, Maserati, and Alfa Romeo.
Best Times To Travel To Italy
The best months to travel to Italy are May, June, September, and October. Temperatures are about 25°C at the end of May, which marks the end of spring, and this ushers in summer from June to August, with temperatures between 18°C and 38°C.
Autumn follows from September to November. Temperatures are also favorable, ranging between 8°C and 28°C. The hot and humid summer between June and August seems like the best time to visit Italy. Unfortunately, this also means that it's peak season, and there'll be crowds. The best chance you have at avoiding crowds is by traveling in May, when the weather is a bit breezy and hot, right before summer. Early October is also a great option because it's cooler. 
What To Expect In Italy
A great tourist destination makes traveling easier. You can easily buy what you want and need, meet new people, feel safe and access medical services when needed. So, how does Italy fare as a tourist destination?
Language: Italian is the native language of Italy. So, it might be helpful to learn basic Italian to order at restaurants, ask for help, or make a booking. 
Money and Credit Cards: When it comes to money while traveling in Italy, know that cash is widely used. If paying by card, your MasterCard and Visa cards will suffice. Unfortunately, Discover Card is not accepted in any European country, and American Express can be problematic.
Plugs: The electricity supply is 230V and 50HZ. There are also three plug types– C, F, and L. Make sure you have all the correct adaptors before traveling. 
Safety: Italy is a safe European travel destination. Violent crime is low, but you'll need to watch out for petty theft. It would be best if you exercise caution, such as being aware of your surroundings and not attracting unnecessary attention by displaying wealth. Remember to keep your bag close, especially in crowded places.
Access to health services: In case of a health issue, Italian medical services are available. Remember to buy travel insurance to ensure you're protected should anything happen to you while you're abroad.  
Top Places To Visit: Italy Travel Guide
Italy is a haven for architectural landmarks, historic buildings, sandy beaches, and famous artworks. Must visit places are spread out across the country, with Rome, Milan, and Venice being the most popular Italian destinations.
Rome
Rome, Italy's capital, is home to the Trevi Fountain, named the most beautiful fountain in Rome. The Trevi Fountain is a mythical fountain, and it is said that if you throw a coin into it, you'll return to Rome. Two coins get you into a romantic relationship with an attractive Italian, while three coins lead to marriage! Choose your coins wisely. You can also visit the Colosseum, the largest ancient amphitheater ever built.
Milan
Milan houses The Last Supper, painted by Leonardo da Vinci between 1495 and 1498. The iconic painting calls Santa Maria delle Grazie, a church in Milan, and a UNESCO world heritage site, home.
Venice
Venice, the capital of the Veneto region, is magnificent and stands on over 100 islands. Consequently, it has canals and no roads. St. Mark's square is the prime attraction where you can experience Italo-Byzantine architecture at the Basilica and great art at Doge's place.
Bucket List Experiences
For an authentic Italian experience, our Italy Travel Guide shows that there are certain activities you can't miss, such as skiing and hiking in the alps.