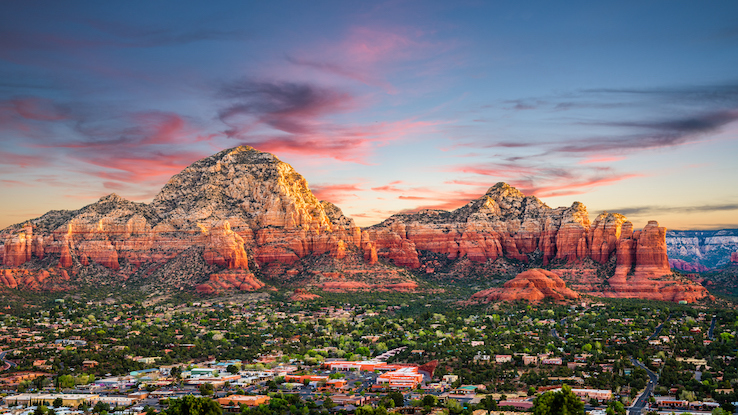 Sedona, Arizona, is considered one of the most mystical tourist destinations in the United States. The town is filled with brilliant views of red rock mountains, powerful energy vortexes, colorful local art, and stunning hiking trails. If you're planning a trip to this magical location, these are a few beloved activities that you won't want to miss out on.
1. Hike the Trails of Red Rock State Park & More
Red Rock State Park is what gives Sedona its reputation as one of the most beautiful spots in Arizona. The park features countless breathtaking mountainscapes and canyons. Hundreds of hiking trails let you get up close and personal with natural wildlife, running rivers, and massive rock formations. For semi-skilled hikers, Devil's Bridge Trail is hugely popular among tourists due to its ease of access and great views. You can hike by Cathedral Rock to see one of Arizona's most famous architectural feats. Boynton Canyon offers scenic views of the layered canyon walls, as well as plenty of greenery and natural life. Since you'll have countless paths to explore, be sure to pack plenty of water, a map, and your best hiking shoes.
2. Try a Jeep Tour
One of Sedona's main outdoor attractions is its Pink Jeep tours. These tours take you into the red rocks of Sedona, giving you high-up glimpses of their most stunning scenic views without requiring any strenuous hiking. Tour guides are loaded with information on the history and science behind the landscape. They can tell you the origins behind many of the famous natural rock landmarks, such as Snoopy Rock, a beloved Peanuts-esque formation. These tours will also provide plenty of photo opportunities!
3. Find Connection at a Vortex
Are you looking for a spiritual cleanse? Sedona's energy vortexes are said to have mystical properties to refresh the spirit, restore the soul, and connect you to the earth. Many seek out Sedona's vortexes to meditate, do yoga, or simply sit and rest. Those who cross through these vortexes may experience physical sensations, such as their skin tingling or their hair standing on end. If you're looking to let go of emotional stressors and get close to Mother Nature, hunt down one of these vortexes. Sedona is considered one big vortex, but its strongest vortex points are reportedly Airport Mesa, Cathedral Rock, Bell Rock, and Boynton Canyon.
4. Visit the Chapel of the Holy Cross
The Chapel of the Holy Cross is a striking feat of architecture built into the side of one of Sedona's massive red rock formations. Marguerite Brunswig Staude, a rancher and sculptor, and Richard Hein, an architect, came together to create the structure over the course of 18 months. Its large glass windows and red exterior seem to have sprung from the terrain itself. The chapel hosts weddings and church services but remains open for tourists who want to explore the interior of the gorgeous building.
5. Stop by Tlaquepaque Arts & Crafts Village
Running alongside Sedona's Oak Creek, the Tlaquepaque Arts & Crafts Village is a pinnacle of local culture. The village, which features outdoor walkways and Mexican architecture, includes over 50 stores and galleries where local artists work and sell their creations. Art that comes out of Sedona often captures elements of the landscape or history, including Native American and Mexican artwork, scenic portraits and paintings, and cultural jewelry and clothing. Buying art from Tlaquepaque lets you take home a piece of Sedona.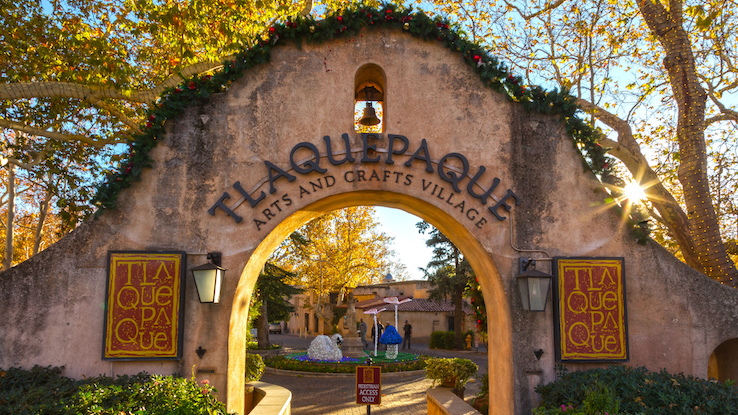 6. Learn More About the Hopi People at Palatki Heritage Site
Connecting to history is hugely important to the people of Sedona and is a large element of their tourism. You can explore the written history of the Hopi people, a population indigenous to Arizona's land, at the Palatki Heritage Site. Palatki, meaning "red house" in the Hopi language, features pictographs and petroglyphs from thousands of years ago. Explore these sites on your own or seek out a tour.
7. Cool Off at Slide Rock State Park
It's no secret that the heat in Arizona can get tough to manage in the summertime. If you're an explorer who also wants to keep cool, seek out Slide Rock State Park. This park features a natural swimming hole and a rock water slide to help you escape the intense seasonal heat. Frank L. Pendley established the area in 1910 after acquiring the land from the government. The park itself is 43 acres and originally served as an apple farm. Cabins are available for lodging; however, most tourists simply look forward to wading in the water!
8. Relax & Heal at a Sedona Spa
Since Sedona is considered a large vortex, it's also become famous as great place to rest and heal your personal energy. What better place to practice self-restoration than a spa? Many of the spas in Sedona feature outdoor meditation and massage tables, scenic swimming pools, hot tubs, and patios with views of the surrounding red rocks. When you check into a Sedona spa, you'll be practicing self-care in a truly restorative landscape.
9. Sip Along the Verde Valley Wine Trail
Another thing that Sedona is known for is its rich local wine selection. The Verde Valley Wine Trail stretches throughout northern Arizona and includes two stops in Sedona: Winery 1912 and Javelina Leap. Each winery features unique drinks for its visiting clients. These spots are perfect for a date night, a bach party, or any other special occasion.
10. Drive the Red Rock Scenic Byway
Practically every route in Sedona is a scenic route, yet the Red Rock Scenic Byway outshines many of the others. The roadway leads you through some of Sedona's most beautiful and storied locations, from massive rock formations to enriching canyon views to cultural landmarks. The byway also features many places to stop, rest and refuel, and it splits off into countless smaller scenic routes and hiking trails. So, lower the windows, put on your favorite song, and prepare to snap plenty of pics along the journey!