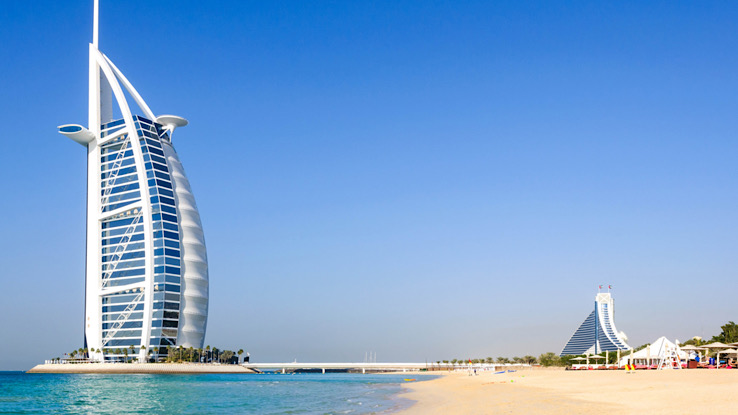 Dubai is well known for being one of the crown jewels of the Middle East. With increasingly jaw-dropping architecture, an energetic nightlife scene, and more shopping and dining options than we can comprehend, it's hard to know what to do in Dubai when there are so many options. The key to exploring those options is first finding a place to stay. As a city flourishing with 7-star hotels, luxury apartments, and beautiful villas, there is no shortage of Dubai property to book for your next visit. But where to start? We're happy to help! Below is a list of some of the best places to stay in Dubai and a breakdown of why we love them.
1. Burj Al Arab
What Makes it Special: It would practically be a crime to leave Dubai's most well-known hotel off this list, the Burj Al Arab. Breaking records since its opening. First, by being the tallest all-suite hotel and then serving the most expensive cocktail in the world. This resort was the inspiration for and therefore received the first ever 7-star rating. And even though there's no official 7-star hotel, if any resort deserved it, it'd be this one.
Amenities: Apart from more than ten luxury bars and hotels to choose from, one of the most exquisite amenities at this resort is the Burj Al Arab Terrace. It consists of a restaurant, a sandy beach, and 10,000sqm of swimming pool extending out into the Arabian Gulf. But if you're looking for true indulgence, you can't beat the two-story Talise Spa or a chance to rent or be chauffeured in the car of your dreams.
Cost: $2,500/night – $10,000/night
Is it worth it?: If you have the funds and want to experience a cultural and architectural wonder, the Burj Al Arab is a great place to stay. Its offerings catered mostly to an adult audience, so it'd be especially perfect for a couple's getaway.
2. V Hotel Dubai
What Makes it Special: Modern, playful, and entirely Instagrammable, the V Hotel Dubai offers the best of all worlds by giving you a taste of Las Vegas while being one of the best hotels in Burj Dubai. Its prime location puts it close to the Dubai International Airport, as well as Burj Khalifa, the Dubai Mall, the Design District, and a private beach. All are accessible by complimentary shuttle from the hotel.
Amenities: Without hesitation, we can say that the top amenity at the V Hotel is complimentary tickets to the acrobatic wonders of La Perle, Dubai's top show, which the hotel is home to. The V Deck and V Lounge are both hot spots with DJs coming in regularly to party. For those who enjoy being active, the Tennis Academy and Fitness Club will keep you moving with private lessons and more than 30 group fitness classes.
Cost: $150/night – $780/night
Is it worth it?: The V Hotel is perfect and affordable for those who are high energy and want access to social activities without slowing down the pace. With its retro-futurism vibes, it definitely targets Millennial and Gen Z travelers. But it's one of a kind Amazing (Conference) Room, and a handful of studios for collaborative working makes it great for a company offsite as well.
3. Atlantis. The Palm
What Makes it Special: The newest addition to the Atlantis resort family, The Palm, mixes the tropical getaway feel of the Bahamas with the fast-paced city experience of Dubai. There is always something to do on the property. You can splash with dolphins, check out the spa, or check out some sea lions. But there are also convenient transportation links to take you straight to all the best things to do in Dubai. Plus, have you ever stayed in an underwater luxury suite?
Amenities: It's no surprise that the water amenities run deep at Atlantis, The Palms. Not only are they home to the biggest waterpark in the world, but they also have one of the most advanced dolphin habitats where you're invited to have a splash with these beautiful creatures. Additionally, aspiring oceanographers can take a mini dive in the Palms Aquarium, while those who are braver (and dive certified) can take part in the deepest Aquatrek experience to date, using a special helmet to walk on the ocean floor, 10 meters down.
Cost: $350night – $8,000/night (for the underwater villa)
Is it worth it?: Any aquanauts or families would absolutely find a stay at Atlantis, The Palms worth their while. With an impressive array of activities for adults and kids to enjoy, there's sure to be something for everyone.
4. Queen Elizabeth 2 Hotel
What Makes it Special: Ever find yourself aching to go on a cruise but being too scared of the open sea? Dubai has you covered. The Queen Elizabeth 2 Hotel (QE2) is literally a hotel on a docked cruise ship! Actively used for transporting both passengers and goods between 1969 – 2008, in 2018, it was converted into 477 hotel rooms and now resides 2 minutes from the beach, downtown Dubai, and the metro.
Amenities: Afternoon tea? Oldest pub in Dubai? International cuisine with an oceanfront view? All of these things live aboard the QE2. There's also the opportunity to check out a show at the historical QE2 Theatre, or just take advantage of the proximity to Burj Dubai. Another cool offering is the Heritage Tour of the boat, where you can learn the entire history of the Queen Elizabeth 2 Hotel.
Cost: $147/night – $1,200/night
Is it worth it?: For those trying to stick to more affordable lodging in Dubai, the QE2 is definitely worth checking out. It's also just a cool experience to have on your travel resume, as not too many people can say they've voluntarily vacationed on a stationary cruise ship.
5. Aloft City Centre Deira
What Makes it Special: Aloft City Centre Deira is a 4-Star hotel for under $60 a night. Aloft manages to be a very budget-friendly place to stay in Dubai while also providing the safety, relaxation, and amenities that everyone wants to enjoy while on vacation. And if you love a good theme Aloft City Centre Deira's is focused on film and cinema, even allowing the option to book a themed suite.
Amenities: Aloft may not have as many glitzy amenities on site, but its location is an amenity all in itself. Boasting a health club, outdoor pool overlooking the city, and highly rated spa, the biggest draw of Aloft is its proximity to the City Centre Deira Mall gives additional access to shopping, dining, and one of the most highly rated family entertainment centers in Dubai.
Cost: $60/night – $382/night
Is it worth it?: Avid travelers, backpackers, and general chill people will find Aloft has everything they need for a luxurious stay at a value cost. And those activity junkies who only need somewhere to lay their heads at night and are more excited for city adventures would be hard-pressed to find a better option than Aloft City Centre Deira.