It's time to start planning — or at least daydreaming — about our next escapes. And since travel trends for 2022 indicate that the Hawaiian island of Maui is high on many travelers' lists, we thought it was time to start packing those bikinis and flip-flops to prepare for a trip to Polynesia.
There's more to Hawaii than surfing, reading on the beach while sunbathing, snorkeling, and sipping Mai Tais at sunset. This is why we're highlighting some of Maui's top restaurants. We've included pricey options, but also very affordable ones where you can show up straight from lounging on the beach. And we've also tried to include choices for fish enthusiasts, meat-lovers, vegetarians and vegans.
Fine Dining in Maui
There's nothing like spending a day by the waves, swimming with turtles or learning how to paddle surf and then ending it with a nice dinner. If the idea is to splurge, here are a few of Maui's top fine-dining restaurants.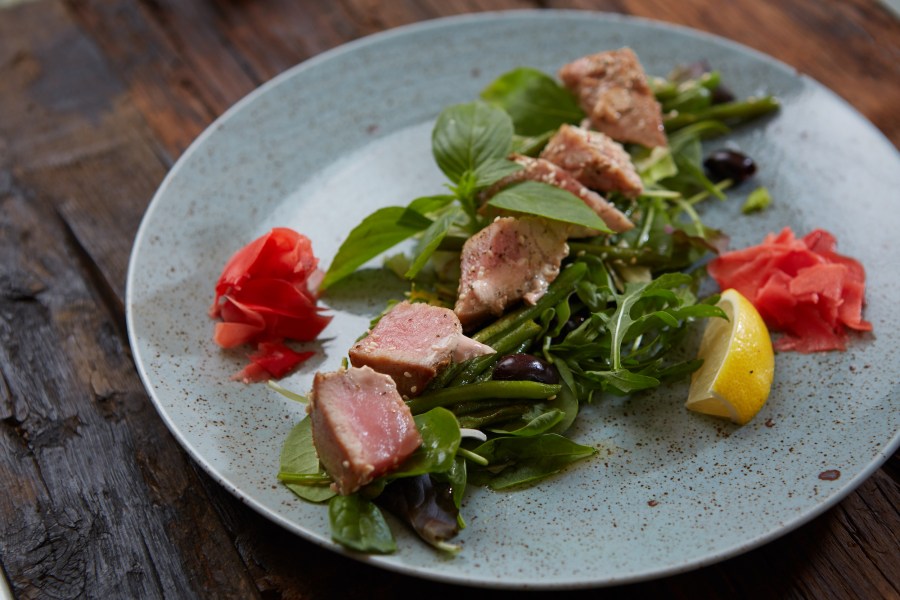 Mama's Fish House. This island institution is on the North Shore town of Paia and features ocean views and fresh wild-caught fish. Mama's fishermen bring their bounty directly to the restaurant so that it's processed within 24 hours. How do macadamia nut crab cakes followed by sauteed opakapaka (pink snapper) with wine, capers, cherry tomatoes and mushrooms sound? Have in mind though, that you may have to make a reservation at Mama's three to six months ahead of your visit.
Koiso Sushi Bar. This is the place to go if you're craving Japanese food with a Hawaiian flair. Before the pandemic, reservations were very much recommended for this Kihei sushi bar, which offers a selection of nigiri, sashimi and rolls. You can also just opt for the omakase by Sushi Chef Hiro.
Roy's Ka'anapali. You can also have a very foodie experience in a chain restaurant, especially in the upscale Hawaiian restaurants founded by chef Roy Yamaguchi. Roy's in Ka'anapali is open for lunch — in case you want to try the local-catch fish sandwich — as well as dinner, which features entrees like the blackened island ahi.
Merriman's. Founded by chef Peter Merriman, the restaurant group showcases Hawaiian cuisine and using local ingredients. Merriman's at Kapalua Bay, in Lahaina, offers a four-course prix-fixe dinner menu with ocean views and live music. For a more affordable experience, you can head to Merriman's more casual restaurants, like Monkeypod Kitchen in Wailea and Ka'anapali, where they prepare some island classics like mahi-mahi fish sandwiches and poke tacos.
Moderately Priced Restaurants in Maui
Flatbread Company. This pizza place originally from Amesbury, Massachusetts, has several locations in New England but one of them is in Paia. They have a focus on using organic locally produced ingredients that are sourced from nearby farmers. At the Hawaiian location, they include Maui pineapple, free-range kalua pork and Hawaiian goat cheeses among the ingredients, as well as a vegan option with Haiku organic tomatoes and Maui local spinach.
Honu Seafood & Pizza. This Lahaina oceanfront restaurant is good for a dimly lit romantic dinner or a lazy lunch on the outdoor patio, where green sea turtles (honu) might swim close by. The menu packs a good selection of island classics with a twist, like ahi meatballs, shrimp mojo verde pizza, and opakapaka dorée with quinoa.
Mala Tavern. Right next door to Honu, this other oceanfront restaurant is run by local Maui chef Alvin Savella, who focuses on highlighting Hawaii's produce and local proteins. At Mala, you can try the seared ahi, the taro sweet bread or the catch of the day.
Paia Fish Market. Head to this fish eatery, which has three locations in Maui, for some basic staples, like fresh-catch plates with your choice of mahi-mahi, ono or ahi, and a side of cajun rice or french fries.
And Even More of Maui's Eateries
Coconut's Fish Cafe. This mini-mall Kihei establishment has locations in Arizona and California, but there's nothing like the original to savor the famous fish tacos — made with 17 different ingredients — or a seared ahi filet on a bun.
Gazebo. Tucked away among condo buildings in Napili, north of Ka'anapali, this open-air restaurant with oceanfront views is the perfect spot for a hearty brunch. Opt for the macadamia nut pancakes with half a papaya and some POG (passion fruit, orange, guava) juice.
Fork and Salad Maui. In case you're feeling like a salad — and why shouldn't you? — this might be the perfect spot. This salad bar boasts some predesigned concoctions — the Papaya Dream packs papaya, edamame and feta, for example — or lets you build your own green creation from ingredients like local sprouts, pineapple, ripe papaya and roasted eggplant. Lemon-herb chicken, baked ahi belly and baked quinoa falafel are some of the protein options.
Poi By the Pound. For a very Hawaiian meal — a plate with some classics like rice, gravy, kalua pork, lomi salmon or squid lu'au — try this restaurant in Kahului. Don't forget to order some poi, the cold puree made of taro root. Granted, poi is an acquired taste. But that shouldn't prevent you from trying to acquire it.
South Maui Fish Company. This Kihei food truck is the perfect spot for a fresh fish plate or a bowl of poke, the Hawaiian traditional salad prepared with raw seasoned fish, such as ahi tuna cut into small cubes. Also, remember the correct spelling of this dish is poke, not poké, not poki. And you should pronounce it "poh-kay".
Farmer's Market Maui. We told you there'd be plenty of options for those more inclined toward an animal-free diet. And while we've listed plenty of pescatarian and omnivore options in this list, those who want a completely vegetarian-friendly environment should head to this natural foods store where you can grab an açai bowl with pineapple and papaya, or a locally made tempeh burger.
Hungry yet?