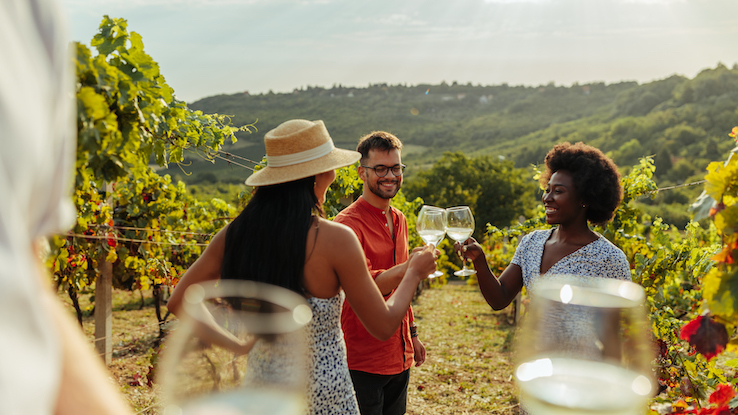 Did you know that the wineries in California produced 278 million out of the 314.2 million wine cases manufactured in the United States in 2020? Napa Valley and Sonoma County have a vast array of wineries that produce this large amount of wine.
But, how many of these facilities truly care about the environment and the natural health of the locales in their practices? If you are a wine lover and value sustainable business practices, consider visiting these wineries in the Napa and Sonoma region.
Spottswoode Winery
Spottwoode's Winery stands for sustainability and nature care. It grows sweet and juicy grapes to produce opulent wine. St Helena is home to this 42-acre estate vineyard paradise. The regenerative and biodynamic farming practices show the owners' commitment to the environment. They're also significant advocates of social equity, justice, and inclusion.
How do they pursue these values? They work closely with biodynamic specialists to cultivate an organic farmyard. The winery also employs community members in the farmyard. Their treatment of and appreciation for their staff demonstrate their commitment to these practices. As a result, Spottwoode is the first in Napa County to receive the Napa green Vineyard and Winery certifications. The California Certified Organic Farmers (CCOF) also certified the vineyard in 1992.
Benziger Family Winery
Benziger Family Winery practices sustainable farming using biodynamic methods for two significant reasons. First, they care about the environment and intend to leave it better than they found it. Second, the family believes sustainable farming is the only way to make distinctive, authentic wine.
The CCOF certifies them organic because of their natural farming methods. These include tillage and crop rotation for maintaining soil health and controlling weeds. Likewise, Demeter certifies them as biodynamic because they maintain the vineyard with natural practices like composting and support for the predator-prey relationship. Every sustainable traveler should explore unique tours and tastings on Sonoma Mountain at Benziger Family Winery. 
Ehlers Estate
Ehlers Estate has a unique microclimate and a rich history. The 42-acre property is between Mayacamas Mountains and the Vaca Mountains. They use organic farming and biodiversity practices in their vineyards to preserve these beautiful areas. They have been producing grapes since the mid-1800s and still create extraordinary Merlot, Sauvignon Blanc, and many other varieties even today.
Their laser focus on all processing stages nearly guarantees high-quality wines. Starting from cultivation all the way to bottling, Ehlers Estate uses natural and organic methods. For example, they cultivate grapes with only certified organic and Earth-friendly practices. All these practices and elements at the Ehlers Estate combine to give you an expansive fruit selection. Make sure to take a trip there whenever you're in Napa and Sonoma.
CADE Estate Winery
CADE Estate winery follows all three pillars of sustainable tourism, including environmental, social, and economic sustainability. They execute environmental sustainability by maintaining natural cultivation and organic farming programs. As proof, the LEED program certifies the facility as green, healthy, and efficient.
Also, they run a profitable business without affecting their social and environmental goals. For instance, most of the buildings were built with recycled steel and plastics. Likewise, they salvaged trees almost ruined in the 2004 Indonesian Tsunami to create their lounge tables. These practices mean they get to reduce waste and cost while building.
Lastly, they maintain social responsibility by measuring performance in five major aspects of human and environmental health. These include the following:
Energy efficiency
Water savings
Materials selection
Indoor environmental quality
Site development
Essentially, they run the winery in the interest of their employees, communities and stakeholders. All these practices help them to cater to their present needs without hindering future generations from doing the same. You can experience all these values in action at an elevation of 1,800 feet atop Howell Mountain at CADE wineries.
St. Supery Winery
St. Supery Winery is located in the Rutherford region in the heart of the Napa Valley. It is one of the largest wineries in Napa and Sonoma upholding the values of sustainability. This facility is all about growing wine and veggies without threatening the environment. Here, you'll find Sauvignon blanc, Cabernet Sauvignon, and other red Bordeaux varieties.
St. Supery maintains a 100% estate-grown winery on over 1,530 acres. Over two-thirds of this landscape is left in its natural state to boost biodiversity. You can explore one of the vineyards at Dollar Estate Vineyards.