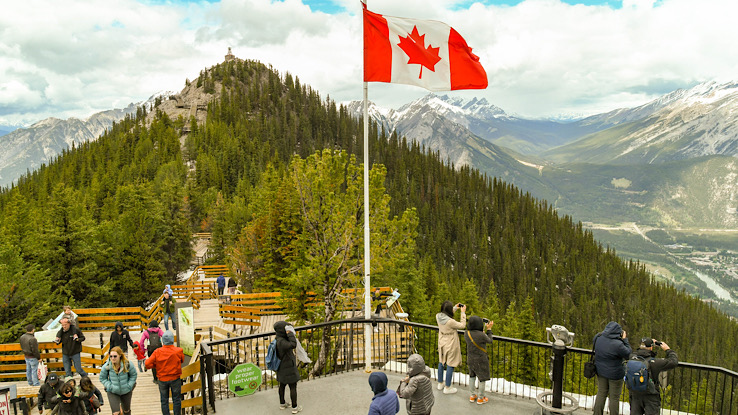 Canada has breathtaking landscapes and cultural diversity. The country boasts coast-to-coast mountains, waterways, forests, plains, and fantastic cities. The key to exploring this amazing country is to time your visit so you can enjoy the features that interest you most. Traveling to Canada alone or with a group of family or friends can be an exciting and memorable experience. Plan ahead to make sure you have time to visit all the places on your list. Use our Canada travel guide to help you research.
About Canada
Canada is the second-largest country in the world (after Russia). It has ten provinces in Canada: Ontario, Quebec, Nova Scotia, New Brunswick, Manitoba, British Columbia, Prince Edward Island, Saskatchewan, Alberta, and Newfoundland / Labrador.
The Canadian Parliament also recognizes three territories: Northwest Territories, Yukon, Nunavut.
This bountiful country reaches from the Atlantic Ocean to the Pacific Ocean and even northward, touching the Arctic Ocean.
Due to this vastness, there are many ways to access Canada easily by air, sea, or land.
Before planning your trip and boarding a plane, check in with the country's latest version of ArriveCAN. This app is used by any foreigner traveling to Canada – even those simply crossing the border from America. The Government of Canada has created an easy questionnaire to determine which travel documents are required based on your travel plans.
North America's Largest Country
Canada sits in the northernmost part of North America and has the longest coastline in the world. Due to the vastness of the country and the many geographic features (i.e., mountains, forests, coastlines), there are eight distinct climate zones. Moving west to east, they are:
Pacific Maritime Climate Region: Oceanic climate with mild winters and cooler summers. Above-average precipitation and steady cloud cover.
Cordilleran Climate Region: mountainous climate due to the Canadian Rockies. Snowy winters and rainy summers.
Prairie Climate Region: a continental climate with warm/humid summers and cold/dry winters.
Boreal Climate Region: subarctic climate with long, very cold winters. Summers are short and cool.
Taiga Climate Region: terrestrial subarctic climate with vast coniferous forests creating a critical biome. Long cold winters and short summers with heavy precipitation and fog.
Arctic Climate Region: cold, frozen climate with low precipitation and high solar radiation.
South-Eastern Climate Region: The Great Lakes Effect brings abundant snow in the winter and warm, humid summers.
Atlantic Maritime Climate Region: Oceanic climate with mild winters and cool summers. Moderate precipitation and 180 frost-free days are conducive to farming.
Due to its location, many of the climate zones are classified as cold, colder, and coldest because about 40% of Canada sits inside the Arctic Zone.
Best Time to Travel to Canada
Timing your visit to Canada will depend on what your plans are and which regions you are visiting. Our Canada travel guide will give you some ideas on when to visit:
Atlantic Provinces: you will want to visit Prince Edward Island (PEI) in the summer months to enjoy the walkable island during the nicest weather. The summer can be busy in PEI and Nova Scotia, so June and September are good options.
Central Canada: the most populated area of the country, home of the capital Ottawa and the famous Old Quebec City. The fall foliage and cooler temperatures make September to October a favorite time to visit this region.
Prairie Provinces: Summer in the Prairie Provinces is brief and beautiful. If your plans are recreational, such as hiking or fishing, then visit in July or August. The famous Calgary Rodeo occurs every July.
West Coast: British Columbia dominates the West Coast region. You can watch the beautiful waterfalls from the melting glaciers each spring. Follow this Canadian ultimate guide and head to the mountains while spring is still transforming the landscape.
Northern Territories: Planning a visit to the Northern Territories must be considered carefully. You must be prepared for all types of weather – even snow – any day of the year in the Arctic zone.
What to Expect When Visiting Canada
Currency: If you are from the United States, then most places in Canada will accept your US currency. However, it is recommended that you exchange your US dollars for Canadian dollars. The Bank of Canada can provide exchange rates for all currencies. You can purchase Canadian dollars when you enter the country.
Credit Cards: Of course, you can always use credit cards, and most ATMs in Canada can provide cash advances on your credit card or debit card. Some travelers prefer using credit cards because it ensures the most current exchange rate will be applied to your purchases. Credit cards also provide other purchase protections when traveling abroad. Check with your credit card company before traveling to Canada.
Language: As a long-time member of the British Commonwealth, Canada still claims English as the official language. The dialect, however, is unique to Canada and incorporates elements of the Queen's English and the US English version. Visitors will want to be aware of one important exception to the English-speaking country: the province of Quebec. There is a long French heritage in Quebec, and since 1974 French has been the official language.
Plugs: You may need a power adapter to convert the plugs and the voltage for your handheld electronics. Canada uses 120 Volt type A and B plugs. But, if you are driving up from the US, the outlets and voltage are the same.
Safety: Safety is top of mind for everyone today, and Travelers should prioritize health and safety when visiting Canada. Follow the rules and advice of Health Canada and their Canada travel guide to keep yourself and your family safe while visiting. Plan carefully for the activities you hope to enjoy. Canada's backwoods and rugged beaches can be safety hazards if you do not have the proper gear or take precautions. This includes traveling in pairs and always letting someone know where you are hiking or swimming.
5 Must-See Places in Canada
Deciding which places to visit on your trip to Canada can be hard. The country is vast, and you cannot see everything you want in one trip to Canada. Do not worry because any province you place on your itinerary will include stunning scenery.
Off the Beaten Path – Sustainable Destinations
When planning your trip to Canada, you may not be able to resist the draw of the regal Canadian Rockies in the western provinces or the rugged northern coastal fjords found in the Auyuittug National Park. Environmentalists and conservationists are especially interested in sustainability. If this sounds like you, then check out the National Marine Conservation Areas to learn more about visiting places like the Fathom Five National Marine Park or Gwaii Haanas National Park Reserve.