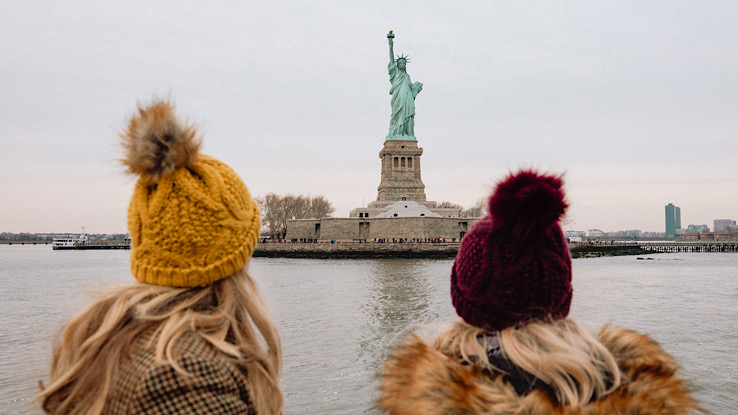 Did you know that there are over 1,000 songs about different cities, states, and landmarks in the United States? There are so many songs that someone even took the time to create a map of America based solely on those songs. So it goes without saying that the U.S. has a lot to see and do, making it difficult to know where to begin when planning a trip here. Every place you travel to in the U.S. will have its own culture and identity. And that means that no matter what you're interested in or where you're visiting from, there's something for everyone. Which is why we have the (un)official ultimate USA travel guide.
This Ultimate USA travel guide will offer you an overview of the country, plus some valuable tips and information to help you plan and prepare for your trip. Let's dive in!
About the United States:
The United States is a sprawling country taking up a vast amount of land in the middle of North America. We can easily break down the 50 states of the US into 5 regions:
West: Alaska, California, Colorado, Hawai'i, Idaho, Nevada, Montana, Oregon, Utah, Washington, and Wyoming.
Midwest: Illinois, Indiana, Iowa, Kansas, Michigan, Minnesota, Missouri, Ohio, North Dakota, Nebraska, South Dakota, and Wisconsin.
Southeast: Alabama, Arkansas, Delaware, Florida, Georgia, Kentucky, Louisiana, Maryland, Mississippi, North Carolina, South Carolina, Tennessee, Virginia, and West Virginia.
Southwest: Arizona, New Mexico, Oklahoma, and Texas.
Northeast: Connecticut, Maine, Massachusetts, New Hampshire, New Jersey, New York, Pennsylvania, Rhode Island, and Vermont.
Each of these regions comprises a grouping of states close to each other geographically and often similar in weather and terrain. Before deciding where to visit, take some time to learn about each region and what it offers in this USA travel guide.
What To Expect
We couldn't well enough write an ultimate USA travel guide without discussing general visiting guidelines. Let's review some things you need to know about traveling in the U.S.
Language: English is most often the language spoken. Although as a major hub for those who migrate, there are a variety of cultures. So, you can expect to hear other languages sprinkled throughout the country. For example, Spanish is heard regularly in some southernmost cities of Florida, Texas, and California.
Currency: The currency throughout the United States is USD (U.S. Dollar). Paper money comes in bills of $1, $5, $10, $20, and $100. The coins are pennies ($.01), nickels ($.05), dimes ($.10), and quarters ($.25). You can find up-to-date conversion rates from international currencies to USD using this tool from XE. If you're planning to use a credit card while traveling, Visa and Mastercard are currently the most widely accepted. But in recent years, American Express and Discover have been working hard to expand their acceptance rates. However, when using credit cards to travel, beware of cross-border travel fees and any international fees that could come with credit card company policies.
Plugs: There are two plug types in the U.S., Type A and Type B, both of which are almost always 120 – 127 V. Type A is most often seen in use, but it'd be smart to find an adaptor online that has both types of plugs so you can charge your devices no matter the plug type.
Safety: While it is always important to take proper precautions no matter where you travel, traveling to the U.S. is relatively safe in most tourist cities. However, gun violence can be an issue in some cities. Although it rarely affects tourists, stay cautious and thoroughly research crime statistics wherever you visit.
Best Times To Travel
In the U.S., the weather is broken up into four seasons:
Spring: March, April, and May
Summer: June, July, and August
Fall/Autumn: September, October, and November
Winter: December, January, and February
While the colder months are generally late October through March, there's almost always a state or two with temperatures that match whatever you want to experience. And that's what makes it great for traveling all year round.
For instance, if you're looking for a wintry holiday, you can head up to Timberline, Oregon (West coast). This small town offers a ten-month ski season where the slopes are only closed in September and October.
Or, for all-year-round summer, you could head to the Hawaiian island of Oahu, where the coldest months are January and February when the temperature averages a comfortable 73°F. If an island vibe doesn't suit your style, Florida is on the continental mainland and has very similar temperatures.
As a good rule of thumb, always check the seasonal weather patterns of a city before booking your trip.
Sustainable Travel Destinations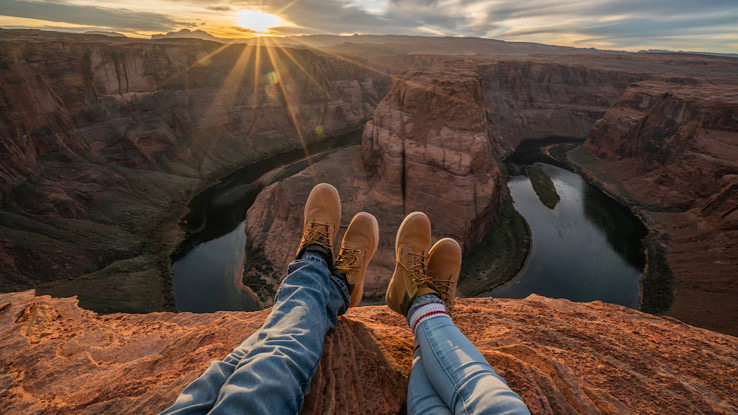 Another great thing about the U.S. is that there are many places to visit that focus more heavily on the environmental impact of tourism. They do this by leaning into conservation, alternative energy sources, and the integrity of their environments.
These locations tend to draw tourism not because of any man-made wonders but because of the natural beauty of the areas. If ecotourism interests you, then you should check out places like Joshua Tree, Yellowstone National Park, or the Bird and Wildlife Trail. Alaska and Colorado are also well known for their environmental efforts for both locals and visitors.
Even if you don't plan to travel to an eco-friendly destination, you can take steps towards personal sustainable travel. Here are a few ways to help the environment, no matter where you are include:
Investing in reusable water bottles
Supporting local and small businesses
Using public transit
Booking non-stop flights
Top Places To Visit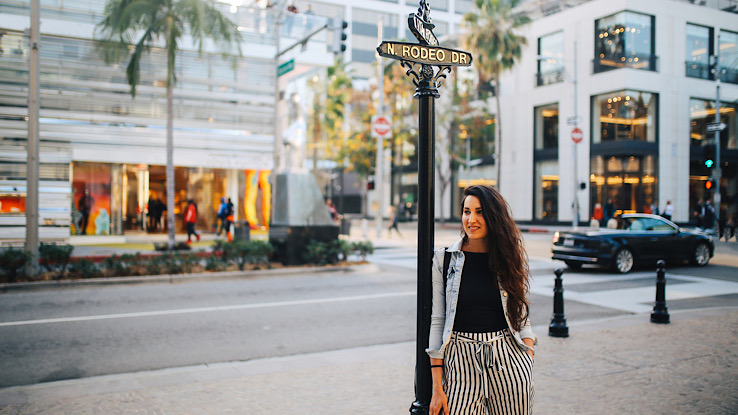 I bet the question you most want the answer to is "Where should I go?". And the answer is: everywhere! While that's not entirely feasible, nor can you explore it all at once, there are so many incredible things to do and see that it's hard to narrow down to a tight list. So instead, check out some suggestions based on the main tourism draws:
See, we told you — there is something for everyone. But if none tickle your fancy from our USA travel guide, here's a more comprehensive list of the 30 Best Places to travel in the US. Check it out. Peruse. And once you find that perfect spot, the one that calls for you through the screen, start your planning.