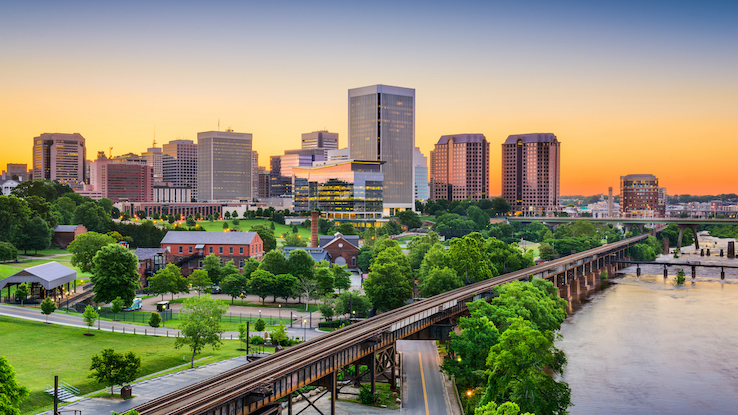 When visiting Virginia, most people think of checking out the historic buildings and sites in Washington, D.C. However, Virginia's small towns are some of the most charming areas in the state. From historied neighborhoods to oceanfront cruises to mountainside treks, these are some of the must-see places in Virginia — and what you can do in each of them.
Alexandria & Arlington
These two cities near Washington, D.C., share many traveler-friendly aspects, including walkability and gorgeous natural environments. Alexandria prides itself on being the hometown of George Washington and includes attractions centering on the Founding Fathers. Arlington is famously home to the Pentagon and Arlington National Cemetery, a military cemetery founded during the Civil War.
Activities in Alexandria and Arlington
Alexandria offers many opportunities for tourists to engage with the city's past. A stroll through charming Old Town lets you explore the area's unique and colorful architecture of the 1800s and 1900s. You'll want to visit the waterfront of the Potomac River, where you can peacefully enjoy a picnic or watch passing boats. In Arlington, a trip to the National Cemetery is a must. Here you can view the Tomb of the Unknown Soldier. Travelers can also enjoy Arlington's wide range of attractions, from its collection of national monuments to its eclectic local businesses.
Where to Stay
There are many vacation rentals and hotels available in the cozy Old Town area of Alexandria. These include the boutique Hotel Indigo, the red-bricked Alexandrian, and the Morrison House B&B. Arlington also features many popular neighborhoods for vacationers. From the buzzing Clarendon to the culturally rich Columbia Pike to artsy Crystal City, there's a setting to suit every preference.
Where to Eat and Drink
When in Alexandria, make it a goal to hit up Gadsby's Tavern. This bar's claim to fame is that it once hosted the Founding Fathers as patrons. Old Town includes many five-star restaurants serving up global cuisines, including French, Italian, American, and Asian food. Need a nightcap? Stop in for a genuine presidential drink at George Washington's reconstructed distillery. In Arlington, you can also eat your way through countless cuisines. Grab some Southern comfort food at Ruthie's All Day, sample American food and drafts at The Liberty Tavern, or satisfy your inner foodie at Circa.
Charlottesville
Charlottesville is an historic mountain town situated north of Central Virginia. It's perhaps best known as the location of Monticello, Thomas Jefferson's plantation. Since Charlottesville is situated near the mountains, it's a great place for scenic views and outdoor adventures.
Activities in Charlottesville
Many Charlottesville tourists enjoy hiking the nearby mountains. The Ragged Mountain Natural Area is a high-trafficked trail loop that isn't too strenuous. Many tourists also hit the pavement of the Historic Downtown Mall. The shopping strip features over 120 shops packed into distinctive storefronts. In addition, the art scene regularly draws in travelers. The Charlottesville Ballet and the Charlottesville Opera offer numerous yearly performances, and local music joints, such as The Front Porch, make it easy for visitors to support musicians from the area.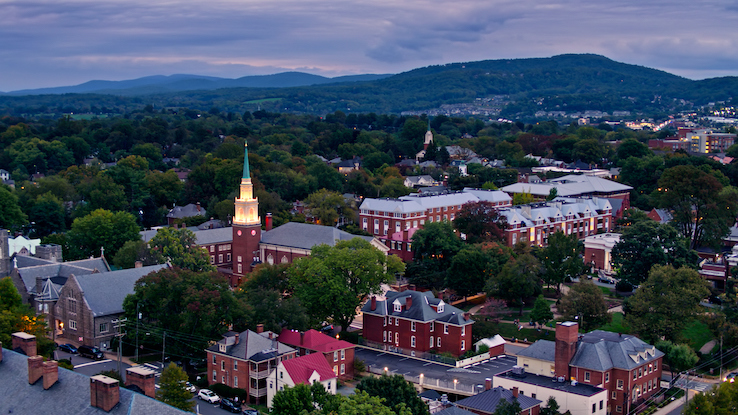 Where to Stay
Charlottesville has a range of neighborhoods suitable for every type of tourist. Travelers interested in a peaceful location will enjoy Belmont, a small and friendly neighborhood with food and shops within walking distance. However, those who enjoy a bit more hustle and bustle might opt to stay in North Downtown, the busy heart of Charlottesville. The aptly named Blue Ridge, situated near the Blue Ridge Mountains, offers a variety of cabin-like lodgings for nature-loving travelers.
Where to Eat and Drink
Try the fresh produce from the Monticello Garden, which boasts hundreds of different veggie and fruit varieties. The surrounding town is also rich with local eateries. There's plenty of stellar Appalachian food to be had at The Local, but you'll also want to grab pastries at MarieBette Cafe and eat authentic Southern classics at The Ridley while you're in town.
Virginia Beach
This jovial coastal town is one of Virginia's most popular tourist spots. Virginia Beach cozies up to the Atlantic Ocean and offers cheerful beaches, waterfront views, and ample water-related activities. A vibrant boardwalk, blue water, and peaceful waves make this one of the East Coast's ideal beach getaways.
Activities in Virginia Beach
A trip to Virginia Beach isn't complete without a visit to the Atlantic Fun Park in the Oceanfront district. This attraction-filled spot has activities for all ages, from a massive Ferris wheel to fear-inducing drop rides. It doesn't hurt that the park has an ocean view, either. Other places to check out include the aquarium, the historic Cape Henry Lighthouse, and the city's bustling 3-mile Boardwalk.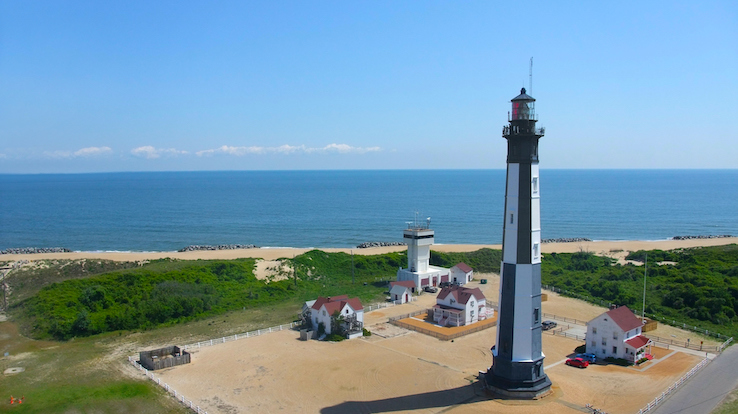 Where to Stay
There are countless welcoming areas around Virginia Beach where you can search for a hotel or rental house along the ocean. Northern Boardwalk is a popular destination due to its proximity to the beach and local tourist attractions. Still, those looking for a little quiet might want to search along the South Boardwalk. Lastly, budget-oriented travelers will want to look into Chesapeake Beach, which is considerably more affordable but equally pleasant.
Where to Eat and Drink
Virginia Beach's iconic restaurants revolve around its proximity to the ocean and the day's fresh catches. Grab some seafood at one of Virginia Beach's many local spots, like the oysters at Waterman's Surfside Grille, the soft-shell crab at Coastal Grill, or the seafood buffet at Captain George's.
Williamsburg
A visit to Williamsburg guides you gently into America's past. Known for its colonial architecture and incredible historic sites, Williamsburg is sure to satisfy any history buff. The town is about a half-hour away from Jamestown, the first English colony that became a permanent settlement. In addition to having a robust and lengthy history, Williamsburg is surrounded by nature and lush vegetation that changes colors seasonally.
Activities in Williamsburg
Williamsburg's claim to fame is Colonial Williamsburg's Historic Area. This spot is considered the world's largest living history museum. Here you can interact with former presidents and political leaders, view genuine colonial architecture, and immerse yourself in the history of the early states. Tourists may also want to check out Historic Jamestowne on Jamestown Island, the Busch Gardens theme park, or one of Williamsburg's many famed art museums.
Where to Stay
In Williamsburg, you'll have the opportunity to stay in historied rentals and immerse yourself fully in centuries past. The historic area offers the opportunity to book rooms in authentic colonial housing. While you'll still have access to modern-day conveniences, the settings of these unique rentals center on colonial architecture and decorations.
Where to Eat and Drink
Colonial Williamsburg is a great place to dive into long-running taverns. Grab seafood at Christiana Campbell's, a drink at Josiah Chowning's, or a pastry at the Raleigh Tavern. Beyond the Historic Area, you can find a range of cuisines at other local restaurants, including Giuseppe's Italian, Second Street American Bistro, and Food for Thought.
We hope you have enjoyed learning about the exciting things Virginia has to offer. With many activities to enjoy, great dining options to sample, and exciting places to stay, Virginia makes for a fascinating tourist destination.