When you want to get out and really see the country, flying just isn't going to cut it. Taking a road trip is the only way to really see the beauty and wonder of America up close. You can have a destination in mind, but taking the scenic route is definitely the way to go.
There are many small towns and cities in this great nation, each with their own history, traditions, and institutions, it could take a lifetime to see them all. But if you're fixin' to take a road trip you'll never forget, check out this guide to the best-hidden gems around the 50 states!
Bigfoot Discovery Museum
There's definitely a sense of self-aware humor at the Bigfoot Discovery Museum in Felton, California. Proprietor Michael Rugg has been a devoted fan of the mysterious forest creature ever since he was a kid, and his one-of-a-kind museum is filled with all kinds of memorabilia he's collected over the years.
But there's a serious side to the museum as well. Rugg, a Stanford graduate who worked in Silicon Valley for many years, has several exhibits that dive deep in the mythological and paranormal aspects of Bigfoot research. There's even an entire section devoted to the Holy Grail of Bigfoot sightings, the famed "Patterson film." Filmed in 1967 in Northern California, the Patterson film is either the best evidence of Bigfoot's existence to date or an elaborate hoax, depending on who you ask. 
Tinkertown Museum
Part artistic labor of love and part public art institution, Tinkertown Museum has been a New Mexican hidden gem for over 30 years. Ross Ward was a lifelong tinkerer, miniature-maker and painter who spent most of his life traveling the country painting carnival murals, but his true passion was creating the wild folk art that eventually came to be known as Tinkertown.
Ward passed away in 2002, but his family remains dedicated to keeping Tinkertown alive. They open the outdoor museum to the public every spring and summer, charging a small entrance fee that goes towards maintenance and upkeep. The museum's Western themes and incredible attention to detail makes Tinkertown a must-see New Mexico attraction.
Dinosaur National Monument
Start driving west from Denver along 1-70 and eventually, you'll arrive at the small town of Dinosaur, Colorado. Once a booming mining center, the town (which was originally named Artesia) renamed itself Dinosaur in the 1960s to capitalize on its proximity to Dinosaur National Monument, an archeological site where visitors can touch real-life dinosaur bones and explore the area's prehistoric beauty.
The Quarry Exhibit Hall offers guests a close-up look at the nearly 1,500 dinosaur bones that were excavated at the site during the early 20th century. The national park contains many miles of hiking trails perfect for exploring the beauty of the high mountain landscape. You can even go camping at six different campgrounds spread out on either side of the Colorado/Utah border. 
South Park City Museum
Set against the Rocky Mountains in Fairplay, Colorado, South Park City Museum is an open-air, historically accurate restoration of the town from its heyday. South Park City was a thriving mining outpost in the latter half of the 19th century. Forty-four original buildings line the museum's main drag, with some standing in the same location they did over 100 years ago!
After paying a small entrance fee, visitors start their tour with a stroll down the main street that looks much the same as it did when pack-laded burros walked its streets. There's a saloon, chapel, stables and over 60,000 artifacts that transport visitors to the town's Gold Rush past, as well as several residential homes and a hidden Freemason temple. Check out the town's original brewery. South Park City Museum was added to the National Register of Historic Places in 2014. 
The Big Duck
There's not much to see on the drive between New York City and the East End of Long Island except the playful freestanding building known locally as The Big Duck. A favorite of locals and tourists since 1931, the eye-catching building was the brainchild of Martin Maurer, a successful Long Island duck farmer who sold his wares from a shop hidden inside.
Now an iconic example of roadside architecture, The Big Duck has changed locations several times, but that hasn't dented its popularity one bit. Tourists and wine country daytrippers still make the drive to take selfies out front, and every year, residents have fun decorating the 20-foot-tall building with Christmas lights.
Mitchell Corn Palace
For over 125 years, Mitchell, South Dakota, has enjoyed the distinction of being the home to the world's largest – and only – corn palace. Originally designed to celebrate the staple agricultural crop of this town in the southeast corner of South Dakota, the Mitchell Corn Palace dazzles visitors with elaborately designed murals made entirely of corn.
Each year, the palace chooses a new theme for its mural, which incorporates over a dozen colorful varieties of corn, grass, grains and other native plants. It also hosts numerous events throughout the year, including the annual Corn Festival, and has proven to be so popular over its lifetime that it's been rebuilt three times to accommodate crowds. The present building dates all the way back to 1921!
Mystery Hole
If you find yourself driving along the bluffs of Anstead, West Virginia, and come across a brightly colored and decorated hut that simply reads "Mystery Hole," do yourself a favor and pull over immediately. This enigmatic attraction has been in operation (albeit, in various capacities) since the 1970s, and it simply has to be seen to be believed.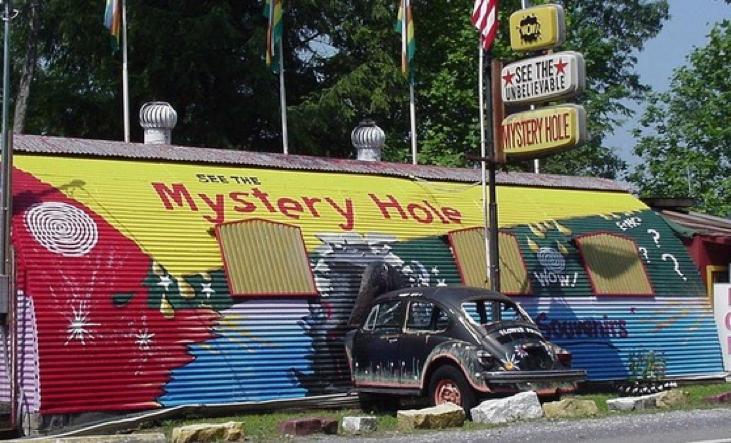 What exactly it is you'll see is another question entirely, since photography of any kind is strictly forbidden. Persons with heart conditions and other health ailments are encouraged to stay away from the gravity-defying vortex. Tours are offered from May through October, and an on-site gift shop ensures you'll always (somewhat) remember your mysterious adventure. 
American Gothic House
If you want to take in Grant Wood's "American Gothic," you'll have to fight the crowds at the Art Institute of Chicago where the iconic painting has been on display since the mid-1930s. But if you happen to be driving near Eldon, Iowa, you can take your very own photo in front of the Carpenter Gothic house that inspired Wood's most famous work of art.
Known as the Dibble House, the small, white farmstead is now a carefully preserved museum, open seven days a week. There's a visitor's center where patrons can learn about Wood, who was a native Iowan. Guests are encouraged to take their own tight-lipped picture out front with props provided by the museum. 
Grant's Farm
This sprawling, 900-acre estate once belonged to President Ulysses S. Grant who built a cabin on the property that still stands today. Now it belongs to the wealthy Busch family (of Anheuser-Busch brewing fame) who have transformed it into a one-of-a-kind wildlife sanctuary that houses the famous Budweiser Clydesdale horses. Did we mention it's free?!
It's easy to forget you're just minutes away from downtown St. Louis on the tram tour through Deer Park, where zebra, black buck antelope, and bison roam freely. There's a Tier Garten where children can feed goats, get up close and personal with elephants, or just hang out with lemurs and parakeets; adults will love the outdoor beer garden modeled after a 19th-century Bavarian farm. 
World's Largest Catsup Bottle
Everyone knows someone who really loves ketchup. But if that person is you, the World's Largest Catsup Bottle in Collinsville, Illinois, is a must-see attraction when driving down Route 159. This 170-foot-high water tower, originally built in 1949 as an advertisement for Brooks catsup, is a classic example of the kind of roadside Americana that was once prolific along Route 66 and other major highways.
The bright red, retro Brooks bottle faced demolition in 1995, but was saved by a group of locals who banded together. The iconic bottle even boasts its own official fan club and hosts a yearly children's pageant that crowns a Little Princess Tomato and a Sir Catsup. How adorable is that?
Illinois Woodhenge
A trip to England to see the ancient monoliths of Stonehenge is a once-in-a-lifetime experience, but if roundtrip flights to the UK are a little out of your price range, consider a visit to this archeological wonder in eastern Illinois a decent back-up plan that won't break the bank.
The ancient timber posts that dot the grounds are believed to be markers of the solar calendar. Woodhenge dates back to around 900 CE and has also been identified as a ritualistic mound with special posts to note important dates. New posts were added during a major conservation effort in the 1980s.The site offers visitors an impressive glimpse into our prehistoric past.
National Mustard Museum
Just a short drive outside Madison, Wisconsin, this single-serving museum dedicated to all things mustard got its start in 1986 and now holds the world's largest collection of prepared mustards. Barry Levenson started collecting mustard while working as Wisconsin's Assistant Attorney General and turned his love of the spicy, vinegary condiment into an offbeat attraction that's become a local institution.
Stop in and browse the museum's collection of over 6,000 bottles of mustard from all 50 states and 70 countries, or check out the museum's many exhibits and memorabilia that trace the history of mustard through the ages. There's even a tasting bar where you can sample a range of mustards before hitting the gift shop for a jar or two to bring home. 
Pearl Fryar's Topiary Garden
Some artists work in clay or concrete, others with paint or metal. Pearl Fryar works in plants, trees, and shrubs. His lush backyard topiary is a hidden oasis off Highway 20 in South Carolina. Fryar started his topiary in 1988 using discarded plants he salvaged from local nurseries and his abstract horticultural sculptures simply have to be seen to be believed.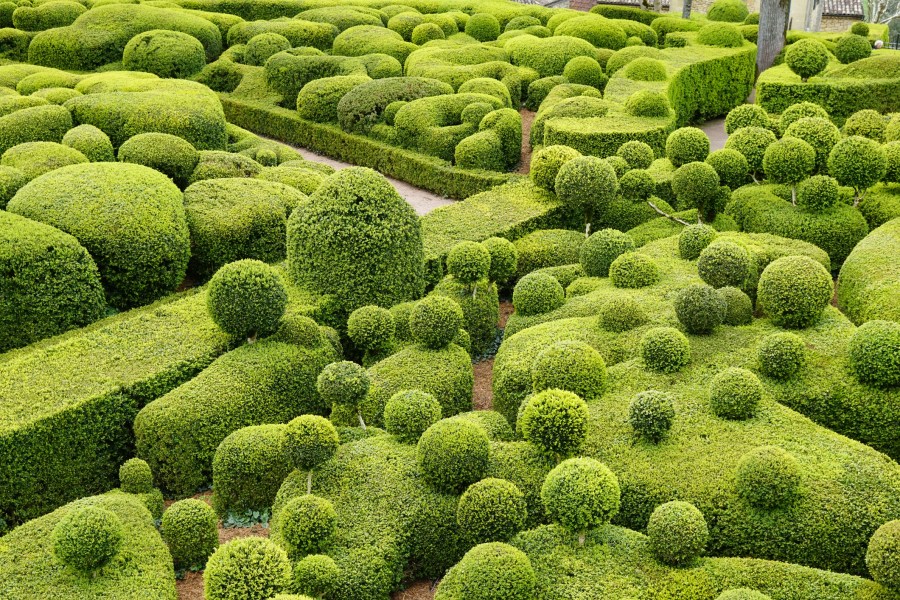 There's no ceremony or fanfare when it comes to the topiary garden. Visitors are free to walk the grounds and take photos and video. Dogs are welcome, too, but have to be leashed. There's a self-guided tour that goes into the history of Pearl's incredible garden that is open five days a week throughout most of the year.
Tank Town USA
If you ever dreamed of driving an armored tank (or even crushing a car Demolition Derby-style, for you more rambunctious folks out there), Tank Town USA is for you. Tucked away in the Appalachian mountains of northern Georgia, Tank Town lets anyone with a valid driver's license get into the driver's seat of an armored personnel carrier and let their imaginations run wild.
Tank Town offers several different options guaranteed to deliver total catharsis: You can book a regular, 10-minute tank drive, or get dirty with a 15-minute ride on the 40,000-pound excavator. But the real reason to come to Tank Town is for the car crushing, which lets a driver and up to four passengers run roughshod over a full-size car for a once-in-a lifetime experience. 
Grotto of Redemption
The story behind this unique Roman Catholic shrine is as incredible as it is moving. Father Dobberstein was a young seminary student in West Bend, Iowa, who fell deathly ill and made a vow to the Virgin Mary that he would build a shrine to her glory if he recovered. It worked: Upon his miraculous return to health, the artistically gifted priest dedicated his life to telling the story of Christ through his grotto.
The grotto, which was placed on the National Registry of Historic Places in 2001, took over fifty years to complete and was built entirely by Father Dobberstein and only one other worker. Every inch of the stone structure is covered in gems and other semi-precious metals, and guests can even camp out on the grounds for a true pilgrimage experience.
Rip Van Winkle Gardens
Tucked away on a secluded property on the shores of Lake Peigneur in southern Louisiana lies the gorgeous and historic Rip Van Winkle Gardens. The estate, which was named by owner Joseph Jefferson after his most famous stage role, encompasses 15 acres of semi-tropical gardens and centuries-old oak trees that offer guests peace and quiet any time of year.
Take a tour through Joseph Jefferson Mansion, which is renowned for its well-preserved Southern Plantation style and period decor. And if a walk through the gardens isn't enough, book a stay in either Cook's Cottage or Servant's Quarters, both of which are furnished with modern amenities like TVs, microwaves, and coffeemakers, and come with a complimentary continental breakfast. 
Hammond Castle
Drive about an hour northeast of Boston, Massachusetts, and you'll come across what appears to be a medieval castle perched on a bluff overlooking the Atlantic Ocean. Welcome to Gloucester's famous Hammond Castle, the former residence of John Hays Hammond Jr., an early 20th-century inventor with a passion for medieval architecture and antiquities.
Open to the public between May–September, the impressive castle took three years to build to Hammond's exact specifications. It's filled with all the sumptuous decor, furnishings, and antiques Hammond had collected during his travels throughout Europe. From the massive pipe organ to the elegant courtyard, Hammond Castle is a true labor of love. 
The Viking
About an hour west of Chicago lies one of the state's true hidden gems: a full-size replica of a 9th-century Viking ship docked in the suburban town of Geneva at Good Templar Park. The ship's rich history dates back to the early 1890s, when Norwegian shipbuilders used traditional methods to build it and sailed the 78-foot-long ship all the way from Norway to Chicago for the 1893 Chicago World's Fair.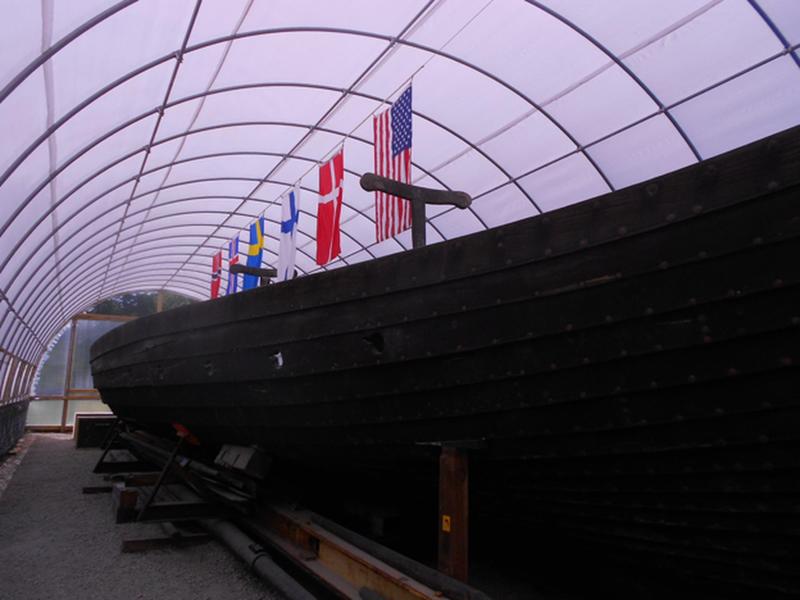 Once a month, visitors can take a guided tour of the vintage ship and learn about the history of the Vikings and the ships' unique history. If you're lucky, the tour guide will be decked out in full Viking gear! A group called Friends of the Viking Ship oversees the maintenance and repair of the century-old relic. 
The Troll
You're enjoying an afternoon stroll along the Wichita River and you pass over a storm grate. To your surprise, you spy a wrinkled, ugly face peering insolently up at you from the bottom of a storm grate! You bend over to take a closer look and are startled to realize that the ugly creature staring back at you is a troll!
Don't worry — you're not about to be eaten by a hungry creature. You've just made the acquaintance of the Troll (as it's known by locals and in-the-know visitors). The metallic monster is the work of local sculpture artist Connie Ernatt and has been a fixture on the riverside since 2007. During the daytime, the troll is harmless enough. But at night, it's illuminated in a spooky green light for maximum scariness. 
The Heidelberg Project
The city of Detroit, Michigan, is often thought of as a city whose best days are long gone, which is exactly the kind of thinking the arts non-profit The Heidelberg Project rejects. It's no secret that many houses in the city's historically African American neighborhoods have been abandoned and left to decay. Since 1986, The Heidelberg Project has been dedicated to transforming these vacant spaces into vibrant, artistic masterpieces.
Working with local artists and members of the community, the organization looks at each vacant space as a canvas for a brand new work of art. The sky's the limit when it comes to materials and creativity, making each home, car, and open space reflect the imagination and ideas of those who choose to dream big. Visit the 3600 block of Heidelberg, Detroit to see the artwork.
Loveland Castle
Nestled on the shores of the Little Miami River (which snakes through the town of Loveland, Ohio), Loveland Castle is the brainchild of Harry Delos Andrews. Andrews was a brilliant and eccentric figure who built this medieval fortress as a testament to his love of European castles, swords, and valor. There's even a contingent of "knights" (more like local Boy Scouts) who stand guard every day.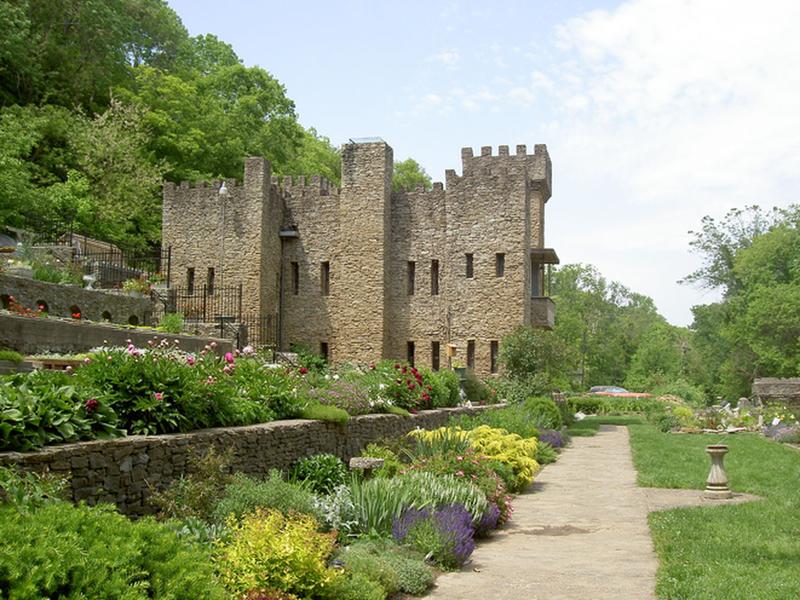 Andrews, a World War I veteran, built the castle himself after returning from his extended travels in Europe and designed it to capture the grand spirit of the castles he saw there. He amassed a large collection of hand-to-hand combat weapons that are on display. Plus, guests can visit the castle and its grounds during spring and summer. During the winter and fall, the castle is open on weekends, weather permitting.
Lemmon Petrified Park
This massive, petrified wood park takes up an entire city block in downtown Lemmon, South Dakota, making it one of the biggest of its kind. Fossils and stone were also used in the construction of the park in the early 1930s under the supervision of local amateur geologist, Ole S. Quamman.
The park was privately owned until the mid-1950s, when it was turned over to the city. It features an astonishing variety of materials and structures: There's a full-size castle, a wishing well, a waterfall, and numerous abstract forms and sculptures. Now that it's a public park, you can visit any time of year. 
Fairbanks Museum & Planetarium
There's a few different reasons to visit this Victorian-era museum located in central Vermont, but the biggest one is that tucked away inside is the world's foremost collection of bug art. And we don't mean art about bugs. The nine murals on display at the Fairbanks Museum are made of bugs – moths, beetles, and butterflies are all used in this rare collection of mosaics from English artist, John Hampson.
Hampson, who grew up in England and moved to New Jersey in the 1870s, spent years creating his meticulously crafted mosaics, which celebrated his love for his new country. The murals depict everything from the American flag to Abraham Lincoln. And once you've seen a bug portrait of George Washington…you've really seen it all.
One Square Inch of Silence
If you crave quiet, then this tiny patch of land at Olympic National Park in Forks, Washington, is where you need to be. Dubbed "One Square Inch of Silence," it claims to be the quietest place in the country and can only be reached via a two-hour hike from the visitor's center.
The remote patch of forest was designated a silent reservoir on Earth Day 2005, partly as a symbolic gesture meant to highlight the importance of silence. It was hailed as an innovative new way of approaching the growing problem of sound pollution. So, get hiking and take in the natural sounds of…absolutely nothing! Ahhh…
The Fun Farm
Describing The Fun Farm is a little hard to do. Located five miles outside of Bend, Oregon, it's a junkyard heaven-flea market hybrid mixed with outsider art installations. It's also populated with chickens, goats, dogs, and whatever other animals owner Gene Carsey has on deck at the moment. One of the biggest draws? An electric kaleidoscope trained on an endless loop of "The Wizard of Oz."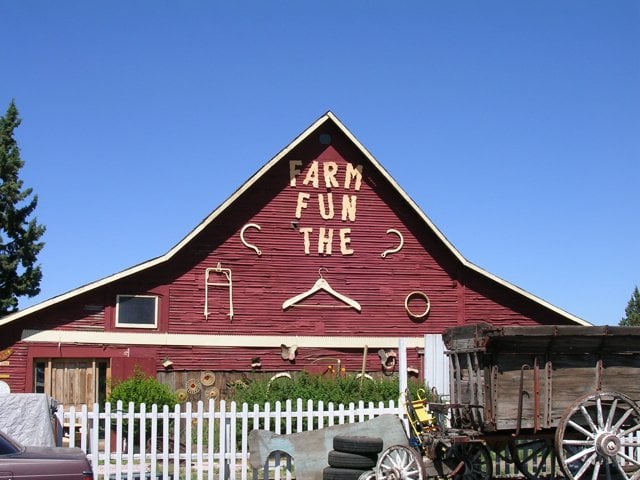 Housed in several old wooden buildings, The Fun Farm has been open to the public for years and still draws thrill seekers eager to pick through Carsey's vast collection of eccentric trash, vintage ephemera, and costumes. It goes without saying that this place does big business every Halloween.
Home of the White Squirrels
This evocative nickname for the town of Olney, Illinois, sounds mysterious — but it's actually pretty literal. Olney is famous for its large population of albino squirrels, which are pretty darn cute. The town is quite protective of its small residents and even conducts an annual census to ensure their safety.
There's only about 100 white squirrels in the town, and the best time to see them is early in the morning. But just how did these rare specimens come to be in a town like Olney? Legend has it the first pair of albino squirrels were brought to town by some traveling farmers. In 2002, the town celebrated the 100th anniversary of their arrival with a week of festivities. 
Ray Murphy's Chainsaw Show
Before you start envisioning the end of Texas Chainsaw Massacre, the answer is no – Ray Murphy doesn't give that kind of chainsaw show. Instead, safe in the sound-proof booth of his massive warehouse on the coast of Maine. Murphy dexterously carves, shears, and whittles works of art with his trusty chainsaw – a unique form of folk art he's perfect over nearly 40 years.

It's an incredible talent that brought Murphy fame in the 1980s, and his work can be seen in several Ripley's Believe It or Not! Museums around the country. He's made and sold thousands of pieces to private collectors and stores, and his 90-minute live show is a unique experience unlike any other. 
World's Largest Ball of Twine
When Frank Stoeber of Cawker City, Kansas, began saving little scraps of sisal twine way back in 1953, he had no idea his dedicated attempts at recycling would one day end up becoming the World's Largest Ball of Twine. Today, his massive monument is a beloved local institution and tourist attraction that still draws visitors from all over.
In just four years, Stoeber rolled over two tons of twine. By the time he died in 1974, the ball measured over 11 feet in diameter. Though not officially recognized by the Guinness Book of World Records, the massive ball of twine was a finalist in the selection of the 8 Wonders of Kansas, and visitors are encouraged to add to the still-growing structure. 
Potter's Wax Museum
Long before Madame Tussauds, there was Potter's Wax Museum, located in St. Augustine, Florida. It was opened in 1948 by George L. Potter who became fascinated by the art and craftsmanship of wax figure-making after a childhood trip to London. He dedicated his life to his namesake museum.
Inside the museum are over 160 wax figures of notable politicians, celebrities, musicians, and entertainment personalities. One minute, you might come face-to-face with Captain Jack Sparrow or Freddy Kreuger. But turn a corner, and you could be surrounded by a tableaux of American presidents and First Ladies. The historic museum is open seven days a week from 9:00 a.m.–6:00 p.m.
Cave Hill Cemetery
It's never a bad idea to check out a local cemetery, and there's one in Louisville, Kentucky, that's worth checking out. Established in the late 19th century (after being purchased from a local farm), Cave Hill is a great example of a Victorian-era garden cemetery that also happens to be the resting place of several notable local (and national) figures.
First off, Colonel Sanders is buried here, so definitely plan to make his oversized gravesite your first stop. It includes a massive, bronze bust of the Colonel created by his daughter Margaret. You can stroll through the peaceful arboretum and take in the intricate gravestone motifs and monuments that dot the landscape. Bourbon aficionados will want to pay their respects at the grave of famed bourbon distiller, Julian Proctor Van Winkle, better known as Pappy Van Winkle.