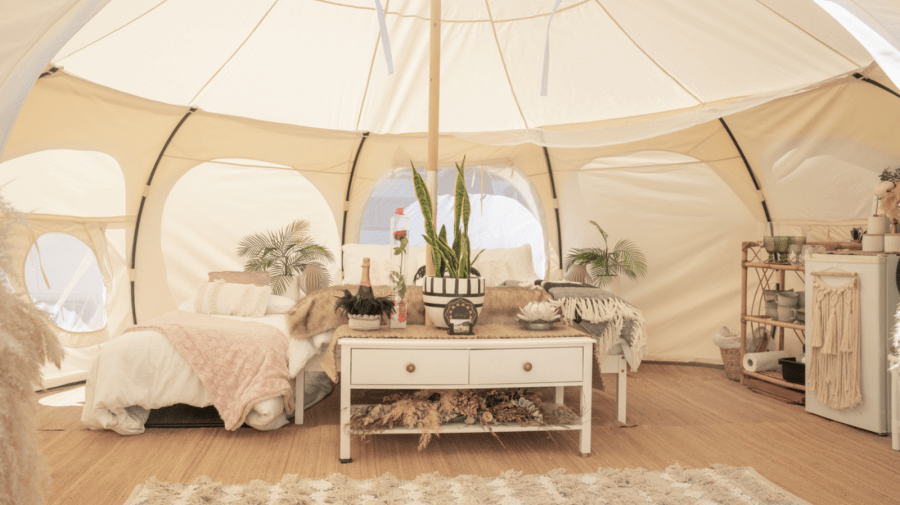 Camping is a fun way to disconnect from the craziness of life and spend some time in nature. However, some may not want to really rough it out in the woods. If you want to enjoy the calmness of nature with some nice luxuries, you may want to consider glamping.
Glamping experiences are very different from regular camping. "Glampers" will enjoy stunning outdoor locations with more resort-like accommodations and amenities. No sleeping on the ground here! If glamping sounds like something that would pique your interest, keep reading to find out more.
What is Glamping?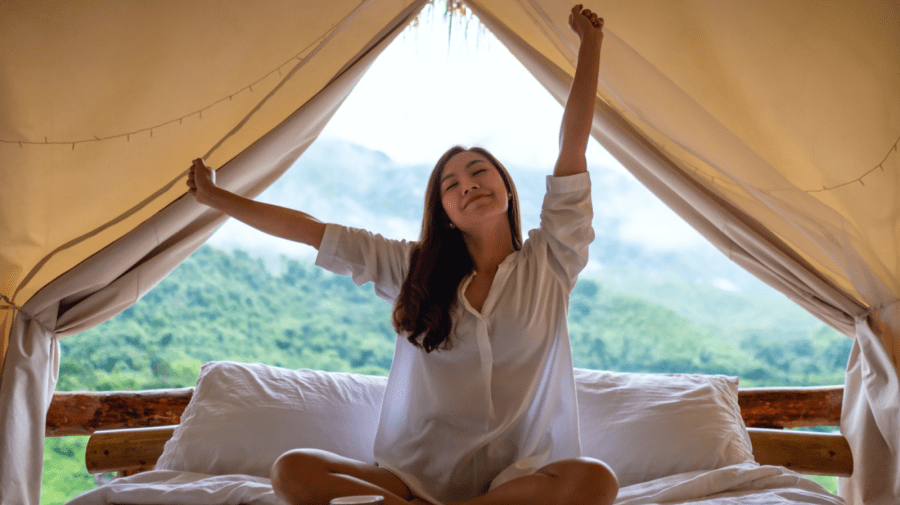 "Glamping" is short for glamourous camping. Regular camping often means lugging around equipment and pitching your own tent. That experience certainly appeals to more hands-on individuals, but others might prefer a more comfortable camping adventure. When you go glamping, you don't have to worry about being overexposed to the elements.
While glampers are still emersed in nature, they are able to stay in fancier tents. These accommodations often come with comfortable beds and furniture rather than sleeping bags. They can also have lights and electricity, Wi-Fi, an HVAC system and maybe even running water. Depending on the location, you won't have to worry about communal showers or worse; braving the woods for a bathroom break.
You may also have access to a private kitchen or have a small team to serve up fancier meals. While glamping, you may still participate in swimming, hiking and other outdoor activities. There are also specific glamping sites that offer relaxing massages and other spa treatments.
How Did Glamping Become Popular?
Glamping has become a gamechanger in the travel industry. In fact, it is projected that this market will reach a whopping $4.8 billion in revenue in the United States by 2025. However, the idea of a more luxurious outside vacation has been around for centuries. The yurt, which is a popular type of glamping accommodation today, was first created by the Buryat Mongolian community of Siberia around 600 BCE. It is a circular tent that is fully enclosed for privacy and comfort. The yurt spread to areas in Europe and Africa, giving wealthy travelers a more luxurious outdoor experience.
While a popular choice in Europe, glamping is still relatively new to the American market. The demand, however, is growing; glamping spiked in popularity around 2014 and shows no signs of slowing down. In fact, glamping is so popular now, that Merriam-Webster dictionary has officially recognized the term. Prime locations for glamping include California, Colorado, Washington, Texas, and New York. However, there is likely at least one glamping experience available in most states.
There Are Levels to the Glamping Game
While glamping is beyond the average camping experience, there are still different types of glamping accommodations. Yurts, of course, are still around. Other places to stay include glamping tents, cabins, trailers and treehouses. You may even find that sites offer more unique accommodations for glampers, like fire towers and hobbit homes.
Travelers wanting to see wild animals can opt for safari tent experiences (Africa is known for these). Depending on the site, you may still enjoy luxury accommodations and dining, while still having the adventure of a lifetime. Ultimately, what you choose is based on your personal preference.
Glamping sites offer different types of experiences depending on the occasion. For example, glamping often attracts friend groups that want to hang out together for a few days. Couples may want to have time together out in nature. Glamping sites are even available for families, and you may find a place that has activities specifically for kids.
Here Are Some Tips to Plan Your Next Glamping Trip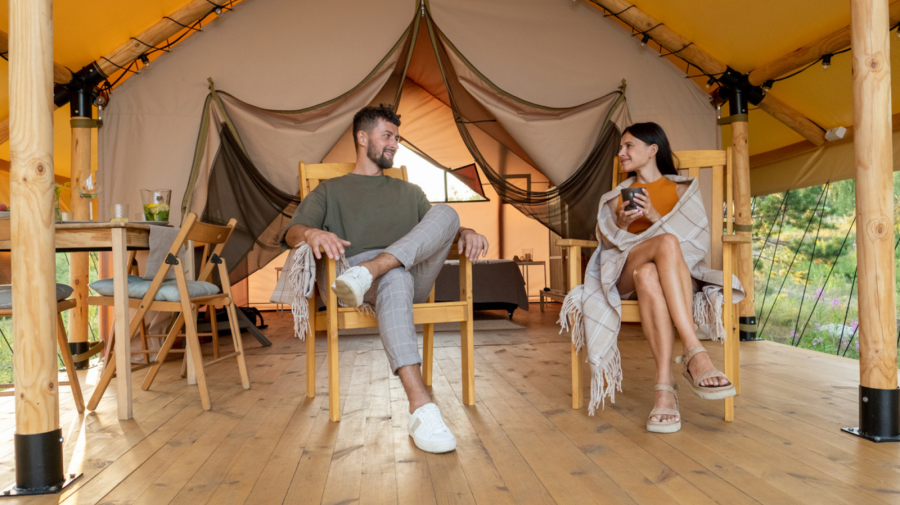 Glamping trips take a little more time (and money) to plan. It can be a little overwhelming, especially if you're new to this luxurious style of camping. However, it can be done. Depending on your trip, consider the location, amenities and type of accommodation that would be best for your group. Another tip is to research any activities or excursions a glamping site has. Some activities could include guided tours, horseback riding, rafting and ATV rides. Keep in mind that glamping hosts will likely not provide everything you may want for your trip. Be sure to confirm your amenities and prepare to bring additional items you want (Bluetooth speaker for music, wine, etc).
If you are concerned about being eco-friendly, there are glamping experiences that can still be kind to the environment. Some glamping sites install solar panels for most of the electricity used by visitors. Conversely, there's a slew of less fancy glamping sites without electricity or ones that use compost toilets and spring water showers.
If you're new to glamping, you don't have to try to plan your excursion alone. Various booking sites provide amazing experiences around the country. Check out some of the best options below.
HipCamp is a one-stop-shop when it comes to booking glamping sites. You can easily search for available sites online or through the service's mobile app. Not only will you find glamping opportunities, but you can discover traditional campsites and cabins as well.
Another popular glamping site is Glamping.com. Here you'll find glamping sites not only in the United States but also overseas.
GlampingHub is a great site to find different types of glamping experiences, including pods, lodges and treehouses. The site also highlights glamping and travel trends if you want to find a new place to explore.