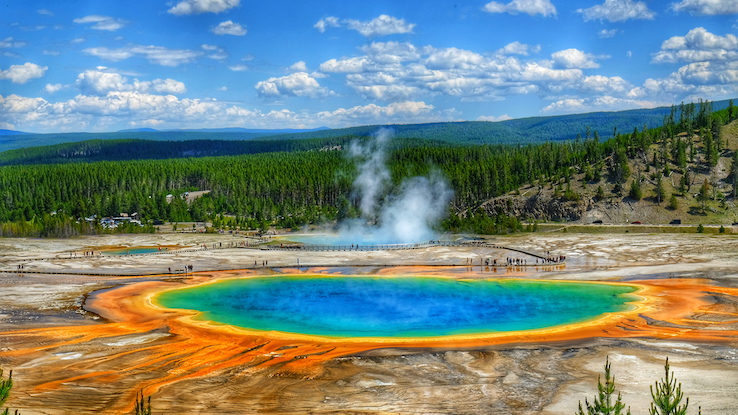 Wyoming is known for its rocky mountains, high plains, and vast array of wildlife. The state is enough to make any nature lover's bucket list and is filled with opportunities to hike, boat, and take a scenic drive through the vibrant landscape. With so much beauty across the entirety of Wyoming, it's hard to know where to kick off your travels. This Wyoming visitor guide shares a roundup of must-see spots in the Cowboy State to help you get started.
Trek Through the Wilderness of Yellowstone
There's no way to talk about Wyoming tourism without highlighting Yellowstone. Its stunning hot springs, jagged mountain ranges, and breathtaking vegetation are famous — which isn't too surprising, considering how beautiful they are. Visitors can trek through Yellowstone to see its unique geothermal formations, hike its trails, or hunker down at one of the park's many campgrounds. You might catch sight of bison, elks, or other members of the local ecosystem. You can reach Yellowstone via car through multiple park entrances in Wyoming.
Marvel Over Devils Tower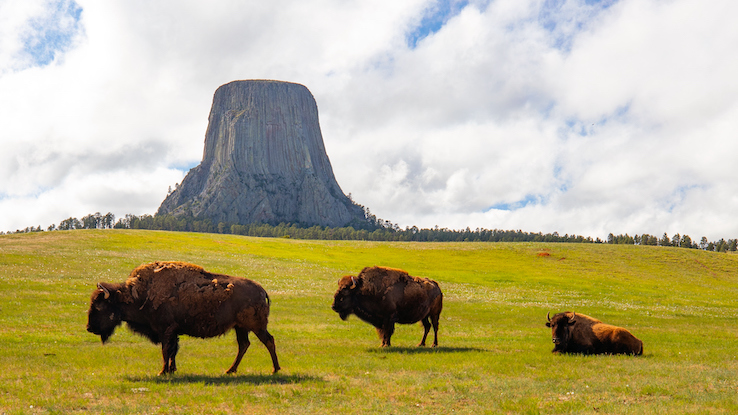 Preserved natural rock formations are geological wonders, and perhaps no formation is quite as famous in Wyoming as Devils Tower. This massive stone monument is surrounded mainly by prairie land. Tourists will enjoy viewing this huge rock and learning about the Native American history associated with its properties. Due to many fissures and cracks in the rock, it's also lauded as a free climbing point. Devils Tower is accessible along many vehicle and hiking routes, which the National Park Service has outlined.
Find the Famous Formations in Biscuit Basin
Biscuit Basin is an outstanding thermal collection of geysers and pools at Yellowstone. The location got its name from the formations of rock deposits that used to line the shores of the basin's Sapphire Pool. An earthquake in 1959 altered the pool's shape, yet the basin is still full of gorgeous geysers and springs. The crystal blue water of Sapphire Pool remains the crown jewel. Cauliflower Geyser, named for its veggie-shaped rocks, is another hit amongst tourists. Biscuit Basin is located off Grand Loop Road, making it easy to reach by car.
Go Exploring in Flaming Gorge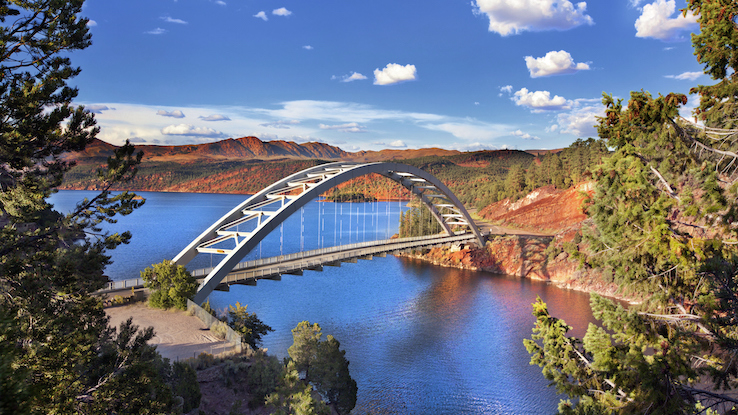 This gorgeous recreation spot will make you feel like you've landed in Sedona, Arizona. Flaming Gorge is known for its bright red canyon walls and beautiful treeline, a gorgeous blend of forest and rock. With over 700 campsites, it's a great place to go on a wilderness retreat or set up a glamping tent. The mountains are great for biking or hiking. The Flaming Gorge Reservoir hosts scuba divers, kayakers, and swimmers as well. During the busy summer season the campgrounds fill up fast, so going during the off-season may save you a headache. Flaming Gorge can be reached by vehicle by taking Highway I-80.
Take a Gentle Hike in Grand Teton National Park
If you want to experience the beauty of Yellowstone without the enormity of ground to cover, Grand Teton National Park is your dream location. It's much smaller than Yellowstone, though it contains many of the same gorgeous features. These include rocky mountains (the Teton Range), alpine lakes, and greenery. Still, Teton is a unique spot with distinctive features dotted throughout its landscape, vegetation, and mountain shapes. There are over 200 miles of hiking trails. You can also drive through many areas if strenuous activities aren't part of your schedule. Reach the park via car across multiple highways.
Experience Small-Town Life in Jackson Town Square
The heart of Jackson, Wyoming, is its town square, and it's not hard to see why. Jackson Town Square (also known as the George Washington Memorial Park) is a bustling hub of art and nature. It has many quirky features of local culture, including elk antler arches, historical monuments, and horse-drawn carriage rides. The nearby businesses are testaments to small-town life in Wyoming, with everything from saloons to brewing companies to gem shops on offer. Reach this friendly park by driving right into Jackson, situated on the state's western side near Grand Teton NP.
Befriend a Bison in Lamar Valley
Get up close and personal with wildlife in Lamar Valley! The full Lamar Valley Trail is approximately 7 miles long and takes you through much of the vibrant landscape of Yellowstone. Most people go on this hike to glimpse some of Yellowstone's rich animal ecosystem. Guests describe encounters with bison, badgers, bears, coyotes, elks, and other furry friends. The packs of bison can sometimes collectively block your path and steer you in another direction. Still, any time spent on the trail will feel worth it for animal enthusiasts. Lamar Valley is easiest to reach at the Northeast entrance of the park since the valley is located in the northeast area of Yellowstone.
Soak in the Thermopolis Hot Springs
Thermopolis is in the center of Hot Springs County, Wyoming, and is home to an impressive collection of thermal pools. Hot Springs State Park maintains springs where visitors can relax and find serenity in the warm waters. The park's bath houses are free to the public thanks to a former treaty signed with the Eastern Shoshone and Northern Arapaho tribes. Thermopolis also offers opportunities to explore museums, farmers' markets, and local shops. Find this steaming springs North of Central Wyoming.
Traverse the Past at the Casper Interpretive Center
Need a break from outdoor exploring? Indulge in your love for nature at the Casper Interpretive Center, also known as the National Historic Trails Center. This museum-like facility helps you learn the fascinating stories of significant trails and settlers in the early history of colonized Wyoming. You'll learn about cross-country migration, the Gold Rush, and more. It also displays historical artifacts from the trails. The center's view of Casper, Wyoming, is breathtaking, showcasing the city against the nearby mountains. Casper can be reached by traveling on Highway 20 towards Evansville.
Jump Into History in Fort Laramie
The Fort Laramie National Historic Site sustains a unique chunk of Wyoming's history. It was initially a training and military post in the 1800s and a crucial spot for trade. It later became central to supplying weapons and protection to troops during wartime. Today, you can tour Fort Laramie to try to piece together the rise and downfall of the famed location. It's located in Southeastern Wyoming off of Highway 26.