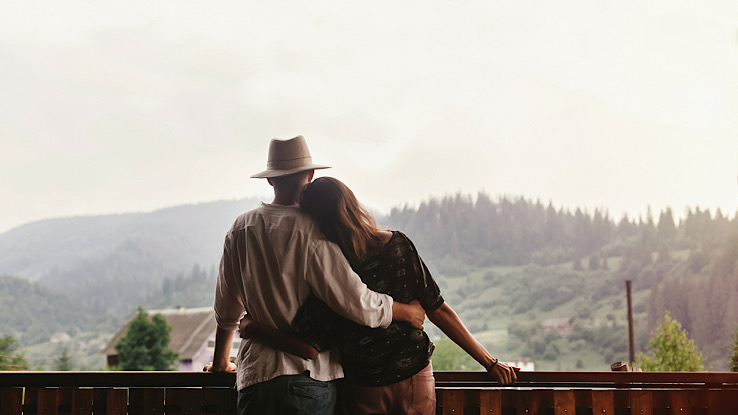 Yosemite National Park is one of the most popular national parks, with its waterfalls, incredible mountain views, and giant sequoias. Unfortunately, that also means the hotels and campsites often fill up months in advance. Luckily, there are several types of accommodations available around the park, including hotels, cabins, and camping. For the most part, the earlier you make your reservations, the better your selection of rooms will be. But there are also some great deals if you are willing to take a chance and book at the last minute. So whether you plan your trip well in advance or take a more spontaneous approach, here are the best Yosemite reservations lodging options for and how to book.
Narrow Gauge Inn 
Fine dining and wine in Yosemite Park rarely get as quaint as at the Narrow Gauge Inn. This vintage-themed hotel on the Sierra mountainside has the best views of the Lewis Creek Valley and Mt. Raymond. The Narrow Gauge Inn is perfect for a decent family getaway because of the myriad of age-friendly activities it supports. You can ride a refurbished steam engine, enjoy a dip in the heated swimming pool, take a hike around the towing pine trees, bungee jump, or climb mountains. To stay here, prices start from $149 per night. You can book on their website for extra deals.
Mariposa Lodge 
Located in adorable downtown Mariposa, Mariposa Lodge is a scenic getaway an hour away from Yosemite National Park. Mariposa Lodge has impressive hotel rooms with TV and Wi-FI. The lodge also boasts a seasonal outdoor pool and round-the-clock staff to help make your experience as relaxing as possible. Because of its serenity, Mariposa Lodge is a beautiful couple's destination. You can also book the lodge on the National Park Reservations Website. From $109 per night, this lodge is a good choice for a tighter budget. 
Tenaya Lodge
For fun and luxury at Yosemite, you need to try the Tenaya Lodge at the heart of the Sierra National Forest. This resort is the hallmark of a perfect family getaway in the wild. Nestled in the thick pine trees, Tenaya Lodge offers a variety of activities; you can:
Take tours around the park and to Yosemite Valley in convertible tour trucks
Relax at the spa
Dive into one of the four outdoor pools or the indoor pool
Unwind in a hot tub.
Children also have their own pool, a park full of swings, and access to artificial rock climbing.
Tenaya Lodge also has horseback riding and archery for everyone 5 and older. You can even try ice skating, sledding, and snowshoeing in the winter. You can make bookings through Tenaya Lodge's official website or Bookings.com, where rooms start at $300 per night.
Hans Basecamp
An adventurous group of friends will find the perfect lodging in the Hans Basecamp in West Yosemite. With scenic forest views and a secluded feel, the Hans Basecamp is great for a group of up to 8 friends who want to spend some time in the woods. The cabin doesn't offer many activities, but you will almost always find something exciting to do as a group. The only caveat with this cabin is that it has no cable TV or reliable Wi-Fi connection. It's also not ideal for older individuals with mobility concerns and children, and you can't bring your pet along. Hans Base starts at $318 a night, and booking is accessible on Airbnb.
Craftsman Cottage
Craftsman Cottage is the perfect cabin for your Yosemite park excursion for older people and young families. The Craftsman Cottage is a vintage cabin that you can easily call home. It is a three-bedroom single-story property with a master-en-suite, dining table for eight, a fully stocked kitchen, a barbecue grill, and a front porch with two rocking chairs. The cabin also boasts great forest and mountain views. Centered inside the Yosemite National Park, Craftsman Cottage gives you easy access to Yosemite Valley, the Badger Pass Ski Area, and Wawona, all within 20 minutes or less. You can book Craftsman Cottage on Airbnb for $656 per night.
The Pines Campgrounds
The Pines Campgrounds, near the Merced River, are the most extensive camping grounds in Yosemite Park. This camping site is great because you can access it from multiple roads, and it comes in three sections, Upper Pines, Lower Pines, and North Pines. The Pines Campground is convenient for people of all ages and offers the outdoor experience of a Yosemite park visit. You can pitch tents, enjoy bonfires and have a great time.
To reserve a camping site on the Upper and Lower Pines, visit the National Park Service Website. Reservations are open all year round at $36 per campsite per night. But because of the traffic, you need to book at least five months in advance. It's important to know that bookings are open only once a month, on the 15th. For the North Pines, bookings are made through a raffle system.
Camp 4
Camp 4 is the Yosemite camp for rock climbers. The 35-tent site near Yosemite Falls can host up to six people per campsite. It also has a fantastic rock climbing history, with famous climbers like Warren Harding and Royal Robbins having camped there. You can make Camp 4 bookings on the Recreation.gov website in two different seasons for $10 per night. From mid-February to mid-May, bookings are on a first-come-first-served basis. From mid-May to mid-September, you can book a campsite through an online lottery a day before you visit the park.
Wawona
Charming, historic Wawona is at the south end of Yosemite National park. Located near the South Fork Merced River, the campground is on mountainous terrain with a view of the Mariposa Grove and the Pioneer Yosemite History Center. The campsite takes bookings all year round on the National Park Service website from $18. It can accommodate at least 93 tents among its three campgrounds or loops. Loop A bookings are open all year round, while Loops B and C are open from spring to fall. You can make online bookings on the 15th of each month. Be sure to visit Wawowa and check out the historic hotel, which is a national historic landmark.
From rustic campsites to full-service resorts, Yosemite has lodging options for all.