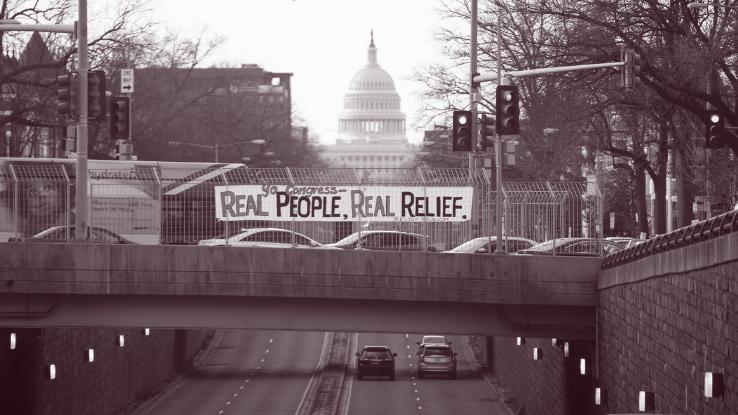 Millions of Americans have been waiting with bated breath for the long-promised third round of COVID-19 relief checks. (Or, as they're often called, stimulus checks.) Despite dramatic shifts in the amount of relief funds and a lot of back-and-forth, February 27, 2021 saw the U.S. House of Representatives passing the American Rescue Plan Act of 2021, a $1.9 trillion COVID-19 relief package that includes an extension of unemployment benefits, tens of billions in aid for small businesses and nonprofits, and, of course, the ever-elusive third round of relief checks for Americans.
Shortly thereafter, the Senate passed the relief package as well, and, on March 11, President Joe Biden signed the American Rescue Plan into law. "This historic legislation is about rebuilding the backbone of this country and giving people in this nation, working people, middle-class folks, people who built the country, a fighting chance," Biden said in the Oval Office before signing the legislation. "That's what the essence of it is."
But what does this mean for you? We're taking a closer look at who's eligible for relief checks; when qualifying recipients might expect to receive their payments; and some of the hot-button issues that cropped up during the formation of the American Rescue Plan.
Who Qualifies for a Stimulus Check?
Unlike other proposals, this package presents a more staggered system of relief, with the aim of targeting families who really need assistance. This time, relief payments will total $1,400 for individuals earning an adjusted gross income (AGI) up to $75,000 and heads of household earning an AGI up to $112,500. (Married couples filing jointly and earning an AGI up to $150,000 will reportedly receive $2,800.)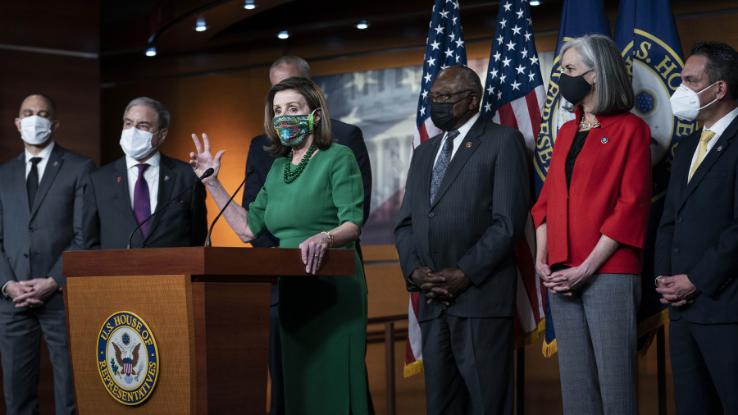 Additionally, eligible recipients will also receive $1,400 for each dependent, and, unlike other stimulus packages, this one includes adult dependents. With the general definition of a dependent being expanded to include "any individual who is a dependent of another taxpayer for a taxable year," this opens the door to college students and other adult dependents to receive benefits. CNBC reports that "the American Enterprise Institute estimates that as many as 26 million more people — mainly college students, disabled adults and elderly Americans — will now be eligible for a payment."
It's also worth noting that relief checks will be phased out for folks who earn more than the levels listed above: Payments will be capped for individuals earning $100,000; heads of household earning $150,000; and married couples earning a combined $200,000. How does this compare to relief packages (and proposals) from 2020? Check out our previous roundups here.
When Will Stimulus Checks Be Distributed?
Proponents of the American Rescue Plan pushed to have it signed into law by March 14, which is when a $300-per-week federal supplement to unemployment checks was scheduled to expire. And, to the relief of many Americans, things stayed on track to meet that deadline, thanks in part to Senate Democrats' completed budget reconciliation, which helped expedite the process. Usually, 60 votes are needed to pass legislation, but, in the wake of the budget reconciliation, the stimulus relief package just needed a majority vote totaling 51 to pass.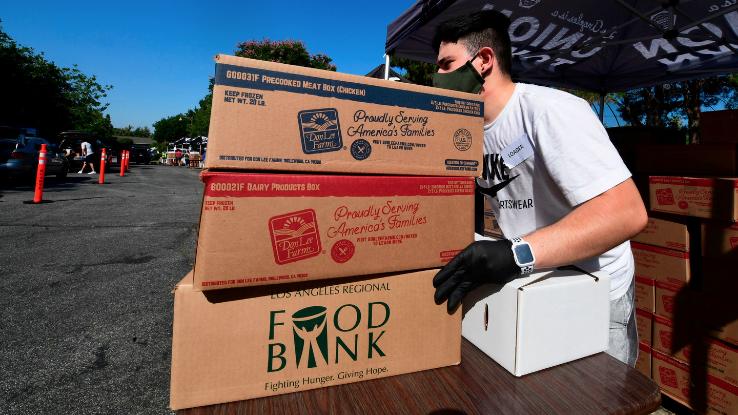 Once the American Rescue Plan was enacted into law, the Internal Revenue Service (IRS) was given near-immediate authority to make direct deposits and/or mail checks and prepaid cards to eligible recipients. The IRS and Treasury Department have reported that roughly 90 million stimulus payments, which total over $242 billion, have been sent as of Wednesday, March 17 (via CNBC).
But, as we've learned from previous rounds of checks, this distribution process can take several weeks. Even among married couples living in the same household, there have been reports of one spouse receiving a check several weeks before the other. As with previous rounds, folks with direct deposit set up will likely receive their payments first. (If you've ever provided your direct deposit information to receive a tax refund, you should be all set.) However, more batches of payments will continue to be sent in the coming weeks via not just direct deposit, but paper checks and prepaid debit cards as well. So, what's the status of your payment? Check out the IRS's Get My Payment tool for more information.
2020 Tax Returns and Outstanding Stimulus Checks
Some Americans have still not received their $600 checks yet. With Tax Day approaching, the IRS has formulated a plan for folks experiencing this frustration. "If you're eligible for the credit, and either we didn't issue you any Economic Impact Payments or we issued less than the full amounts, you must file a 2020 tax return to claim the Recovery Rebate Credit even if you are not required to file a tax return for 2020," the IRS states on its website. Those who take this route will still be compensated, just not in the same form as those who have already received their checks. It's also worth noting that the IRS recently extended the federal tax return deadline for individuals to May 17.
What Else Will the Stimulus Package Do — and What Other Debates Cropped Up?
In terms of COVID-19 relief, the bill allocates $350 billion for state, local and Tribal governments; $130 billion for K-12 schools; $40 billion for higher education; $15 billion for Targeted EIDL Advance grants; and over $75 billion for COVID-19 testing and vaccine rollout. In addition to the $1,400 one-time payments, Americans can expect a temporary increase in federal unemployment through August 2021.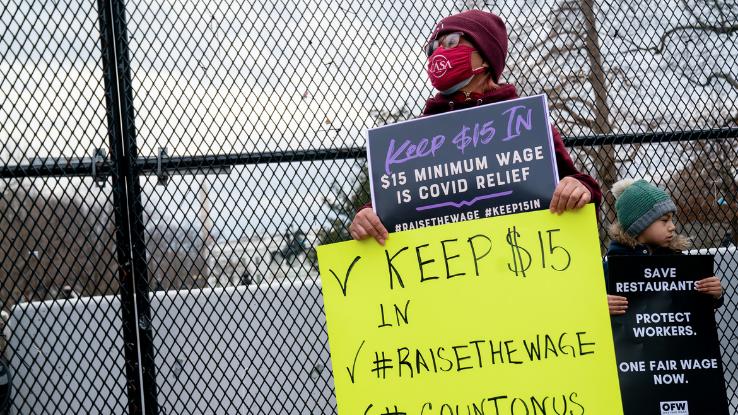 Small businesses (and qualifying nonprofits) can expect more assistance as well with the package targeting sectors — like restaurants, bars and venues — that have been hit hardest by the pandemic. In addition to billions of dollars in targeted relief, an additional $7.25 billion will be allocated to the Paycheck Protection Program (PPP).
What About the Federal Minimum Wage Increase?
Outside of pandemic-specific relief, some progressive lawmakers intended to use the bill to introduce a $15 federal minimum wage provision. According to the National Employment Law Project and Economic Policy Institute, raising the federal minimum wage to $15 by 2025 would have "boosted pay for some 32 million workers" (via CNBC). However, Senate Democrats dropped the minimum wage provision from the American Rescue Plan Act after Senate parliamentarian Elizabeth MacDonough ruled that the provision did not comply with the rules of budget reconciliation.
Why Did Lawmakers Take Aim at the Rights of Trans Student Athletes During the Fight for COVID-19 Relief Funds?
When asked about the more than two dozen transphobic bills introduced in states this year alone, White House Press Secretary Jen Psaki reiterated President Biden's stance on trans rights. "The president believes that trans rights are human rights, and that no one should be discriminated on the basis of sex," she told the Washington Blade. "Not only is this the law of the land, it's his own deeply held view."
But state lawmakers aren't the only ones taking aim at trans folks and their rights. Amid the talks surrounding the American Rescue Plan, Senator Roger Marshall (R-KS) set out to shoehorn an anti-trans amendment into the COVID-19 relief bill. According to Them, the proposed amendment would have "prohibit[ed] any school that allows trans students to compete in accordance with their gender identity in sports from receiving relief money."
Alphonso David, President of the Human Rights Campaign (HRC), issued a statement in the wake of these debates and the failed amendment. "Using the critical relief bill for American families to demean and dehumanize LGBTQ people to try to score political points is politics at its most inhumane and destructive," David said. "The truth is that transgender people have been participating in sports consistent with their gender identity for decades. This is a manufactured problem and just the next step in the right-wing's long lost culture war against LGBTQ people and our rights."
Have Previous Stimulus Checks Worked?
Each stimulus package serves a two-fold purpose. First, It provides much-needed relief to folks who cannot afford food, rent, healthcare and other necessary expenses due to the impacts of the COVID-19 pandemic. After all, an unprecedented number of Americans are unemployed as a result of the pandemic's multifaceted nature: Some folks have been forced to choose between taking care of their families and working, for example, while others have found their jobs eliminated altogether.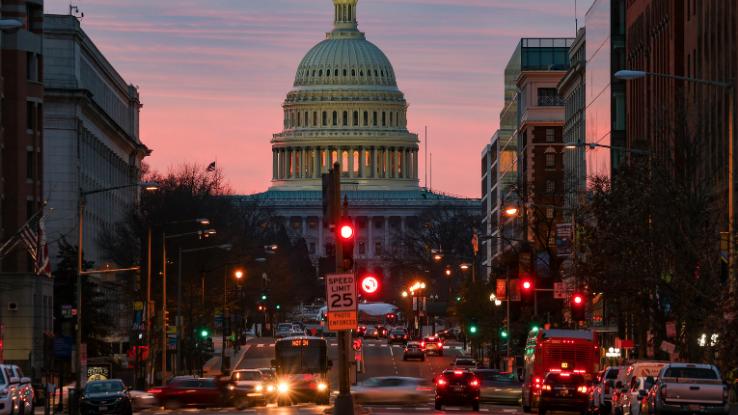 As the oft-used "stimulus check" moniker suggests, lawmakers also hope payments will help stimulate the economy. According to a study from the Kellogg School of Management at Northwestern University, recipients spent previous checks on a wide range of items and services, with many putting the money toward food and bill payments, including rent. "Compared to stimulus recipients in past recessions, people today are spending much more of their stimulus money on food," the study notes, "people today are spending much more of their stimulus money on food" — and, in particular, on restaurant takeout and delivery.
According to the U.S. Bureau of Labor Statistics, 59% of Americans used their previous checks to pay for daily expenses, like food and bills. Of that pool, 66% said they used at least a portion of their payment for food, while 28% spent some of the check(s) on rent. And some 13% used a portion of the money to pay off debt. All of this to say, many recipients are relying on these checks for essential needs — housing, food and utilities. Until folks are back on their feet, they may not be introducing as much money into the economy (apart from supporting restaurants), but it's clear that relief for individuals and families is a first step in the larger movement toward post-COVID-19 recovery.