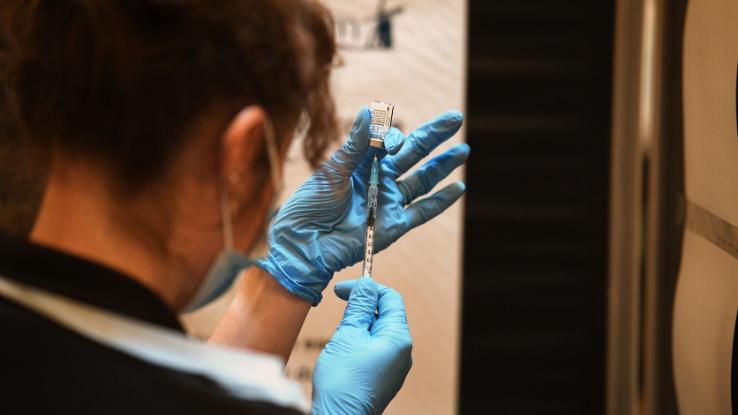 Throughout 2020, the world's leading scientists, virologists and researchers worked tirelessly to engineer safe and effective COVID-19 vaccines in record time. In November of that year, all of that work precipitated some exciting news: Both Pfizer and Moderna revealed that their vaccines had demonstrated remarkable success in protecting against COVID-19. In the days immediately following the Pfizer authorization, shots were shipped out across the country and healthcare workers began receiving the first doses of that vaccine.
Between the start of the vaccine rollout and June of 2021, about 70% of the American population received at least one dose of a vaccine. President Biden also unveiled a new COVID-19 Action Plan in September 2021 to establish a vaccine mandate for all federal employees and contractors. In late 2021, at the onset of the Omicron surge, breakthrough cases became a concern, and health experts struggled to correct expectations that the vaccines should protect against all symptoms, not just severe illness, hospitalization, and death. Despite the prevalence of breakthrough infections in light of the Omicron surge, vaccines still remain highly effective, especially when additional booster protocols are followed.
Let's take a look at the effectiveness of the vaccine distribution effort and fact-check some of America's biggest safety concerns regarding immunization.
Editor's Note: As we've witnessed since March 2020, information regarding the COVID-19 pandemic is constantly changing — and the latest on the vaccines is no exception. While we aim to keep our articles as up-to-date as possible, please be sure to check the Centers for Disease Control and Prevention (CDC) website as well for the latest news. Curious about how the COVID-19 vaccines were created? We've covered that in How Was the COVID-19 Vaccine Developed?
How Is the COVID-19 Vaccine Rollout Going So Far?
The vaccine rollout started in the U.S. on December 14, 2020. As of April 18th, 2022, the CDC reported that approximately 219 million people — including both adults and children over age 12 — were fully vaccinated and with almost 100 million people having received at least one additional booster dose. In total, around 358 million doses were administered. In October of 2021, the FDA authorized emergency use of the Pfizer-BioNTech vaccine in adolescents ages 5-11 — an expansion that FDA Commissioner Dr. Janet Woodcock said will "bring us closer to returning to a sense of normalcy."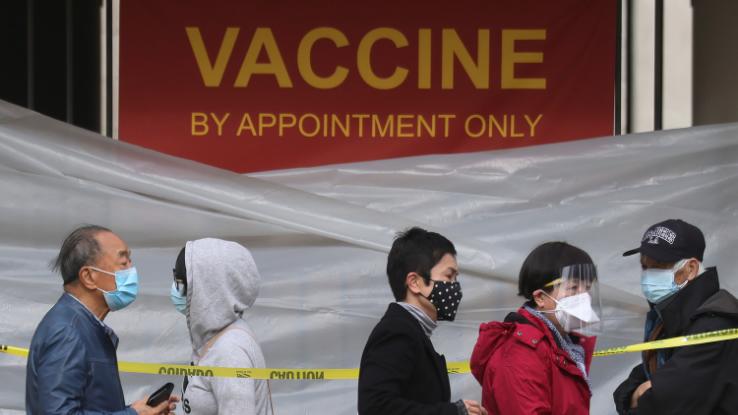 As of April 2022, about 70% of the total population has received at least one dose of vaccine. More than 95% of individuals aged 75 and up have received at least one dose, and 35% of children ages 5-11 have received at least one dose. But vaccination rates have experienced very slow growth since July of 2021, and a Gallup poll conducted that same summer found that most unvaccinated adults said they were unlikely to reconsider getting vaccinated. The prospect of herd-immunity, once held up as a possible path to ending the pandemic, has largely been rejected as a possibility at this point by leading scientists.
Still, vaccination rates globally continue to climb, which is critical to slowing the emergence of new variants. The World Health Organization has reported that global vaccine production and supply has reached a rate to achieve the goals of vaccine equity. Vaccine hoarding by wealthy counties, and patent protections put in place by powerful corporations continue to create roadblocks to vaccine equity. COVAX is seeking to overcome these hurdles.
Is the COVID-19 Vaccine Safe?
As Symptomfind notes, the vaccine has been deemed both safe and effective. Before a vaccine is deemed safe, it goes through what the CDC calls "rigorous" testing from both developers and the FDA.
A variety of myths about vaccine safety still persist, more than a year after the initial vaccine rollout. Some of these myths include that the vaccine will negatively affect fertility in people with uteruses, and that the vaccine was rushed through the development process and therefore not adequately tested for safety. Our friends at Johns Hopkins have busted these myths and others. Recently, Joe Rogan and Spotify came under fire for a podcast episode that promoted additional myths, such as the myth that the vaccine will alter your genetics. The BBC busted some of the main pieces of misinformation spread in that episode, and the popular Gimlet Media podcast Science VS dedicated an entire episode to fact checking the controversial Joe Rogan broadcast.
Some of the myths that permeate the discourse are more easily spotted than others. One common and understandable fear shared by some Americans is that the vaccine will actually make them sick — so what's the deal there? "No matter the vaccine — and no matter what a vaccine is fighting against — injection is often accompanied by mild side effects, including fatigue, swelling, pain, and redness at the injection site, all of which usually clear up within 24 hours," our colleagues at Reference found. "In fact, these types of side effects 'show that the vaccine is working, because it stimulates the immune system and the body forms antibodies against the infection that is only 'feigned' by the vaccination.'"
The bottom line? Getting vaccinated doesn't mean you're completely immune to contracting COVID-19, but it will help protect you against contracting a serious illness or ending up in the hospital. The efficacy rates of the vaccines are impressively high, and the CDC continues to update its guidelines for fully vaccinated and unvaccinated individuals, as well as updating recommendations for booster shots.
How Are Experts Accounting for COVID-19 Variants?
The emergence of variants isn't surprising: it's well-established that RNA viruses like SARS-CoV-2 mutate frequently. Many mutations don't have major impacts on how transmissible the virus is or how severe of illness it causes. When mutations cause significant changes in how the virus acts, the World Health Organization lists that variant as a "variant of interest". When variants of interest begin to spread widely, and cause more breakthrough cases or reduce the effectiveness of public health measures, these variants are classified as "variants of concern". Variants that are more transmissible will undoubtedly lead to more hospitalizations and strain on the healthcare system.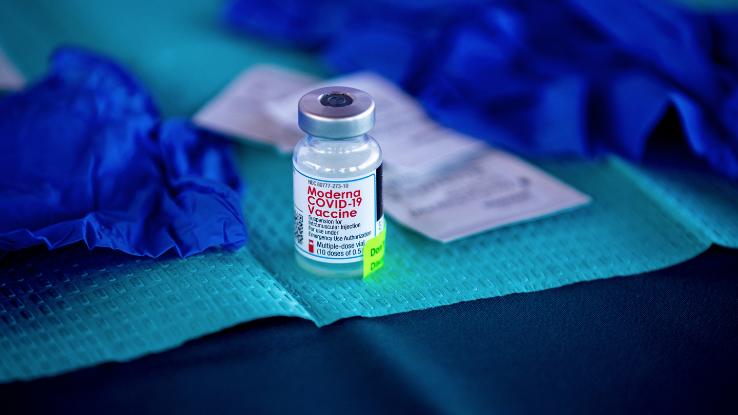 At the time of this writing, the Delta and Omicron variants are the two variants of concern according to the WHO. There are no variants of interest at present. Of course, you can easily check for yourself whether or not the situation has changed by checking the WHO's COVID-19 tracker. The good news is that the vaccines we currently utilize continue to be effective against variants that have emerged thus far, so long as you follow recommended boosting guidelines.
Does Getting Vaccinated Mean Life Can Return to "Normal"?
In short, no. In the early days of the pandemic, a "return to normal" was the carrot that public health officials dangled to convince the public to mask up and lock down (remember when we were told that we just needed to "flatten the curve"?). As with "flattening the curve" the messaging has changed, and "normal" needs to be replaced with "new normal."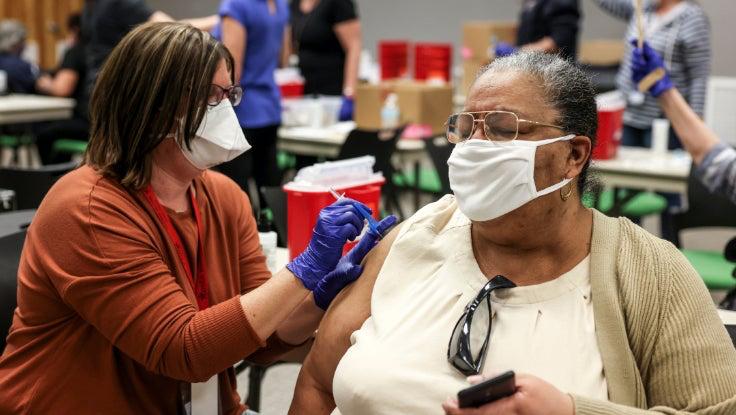 The coronavirus is here to stay, and now our focus needs to be on what an endemic coronavirus will look like. In other words, we will always be living with the virus, but the public health measures we collectively take now can still have a big impact on how dangerous and deadly the virus continues to be. And a robust and ongoing vaccine effort is one of the most impactful measures on that list.
Additionally, The CDC regularly releases updated guidelines for people who are fully vaccinated, partially vaccinated, and completely unvaccinated. One sentiment remains constant – people must continue to take the recommended protective precautions to reduce the spread of COVID-19.
In April 2021, the CDC & FDA Briefly "Paused" the Johnson & Johnson Vaccine — But Why?
The Johnson & Johnson vaccine has been deemed safe and effective, but there was a brief moment when the administration of this vaccine was halted. On April 13, 2021, the Centers for Disease Control and Prevention (CDC) and the FDA released a joint statement that recommended the U.S. pause its distribution of Johnson & Johnson vaccines.
The now-revoked recommendation came in the wake of six reports of a "rare and severe" type of blood clot that occurred in women between the ages of 18 and 48. These six patients reported symptoms 6 to 13 days after receiving the Johnson & Johnson vaccine. The joint statement also noted that the adverse side effects were "extremely rare" — after all, 6.8 million doses of the Johnson & Johnson vaccine had been administered in the U.S. when the pause occurred.
By April 23, 2021, the CDC and FDA lifted the recommended pause following "a thorough safety review." Moreover, while the risk of developing a blood clot due to the vaccine remains incredibly low, the two agencies have vowed to remain vigilant.
"Safety is our top priority. This pause was an example of our extensive safety monitoring working as they were designed to work—identifying even these small number of cases," said Janet Woodcock, M.D., Acting FDA Commissioner. "We are confident that this vaccine continues to meet our standards for safety, effectiveness and quality."
In the rare case you develop a "severe headache, abdominal pain, leg pain, or shortness of breath within three weeks after vaccination," or if you have any additional questions, the CDC and FDA recommend reaching out to your healthcare provider.
Learn More About the COVID-19 Vaccines
These articles and resources can help you learn more about a variety of topics related to the COVID-19 vaccines.