Throughout the COVID-19 pandemic, state and local officials explored ways to mitigate the spread of the novel coronavirus without instituting long-term full lockdown measures. There were, of course, a few exceptions to that mindset in the U.S.
Notably, San Francisco, California, erred on the side of caution. On March 11, 2020, the city banned public gatherings of 1,000 people or more; two days later, gatherings of 100 or more people were banned; and by March 16, 2020, a shelter-in-place order, effective March 17 at midnight, was announced for six Bay Area counties. Although San Francisco never faced the kinds of COVID-19 surges places like New York and Seattle did during the spring and summer, the city remained cautious.
Over the summer, its phased reopening — first, non-essential medical services, outdoor dining and so on — started and stuttered several times. By the fall of 2020, San Franciscans could head to indoor salons and, with limited capacities and mask mandates in place, eating at restaurants became a possibility — but the holidays threw a wrench into things. To mitigate the risks associated with holiday shopping, travel and dining, the city reinstated a stay-at-home order, further limiting retail shopping.
Was a Cautious Approach to Sheltering in Place and Curfews More Successful?
While not a full-fledged lockdown, San Francisco's cautious approach and reliance on shelter-in-place mandates did seem to help "flatten the curve" and keep folks safe. For example, between March 2020 and late January 2021, San Francisco County reported around 30,877 cases and 297 deaths; meanwhile, during the same time frame, Los Angeles County reported 1.09 million cases and 15,897 deaths.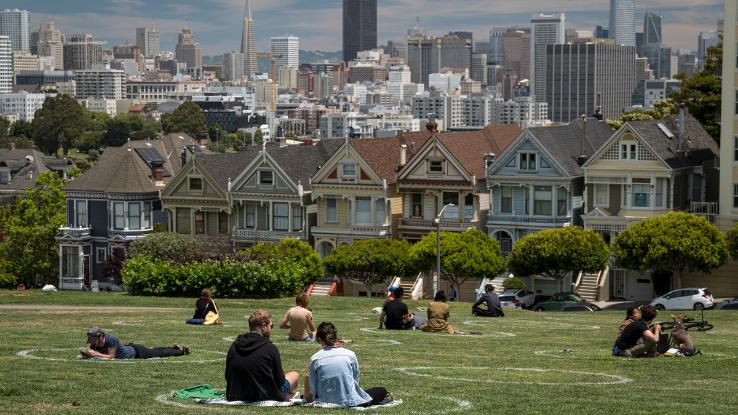 While Los Angeles County started out taking a similarly cautious approach, it continued to keep retail stores, shopping centers and restaurants open, even during the 2020 holiday season. Of course, as infectious disease epidemiologist Dr. Anne Rimoin noted on NPR's On Point, Los Angeles County is the most populous county in the nation with "so many essential workers and great disparity…[and] overcrowded housing," all of which provide more opportunities for the virus to spread.
All of this to say, staying at home, and away from communal spaces, works, but that doesn't mean it's a reality — or even an option — for many Americans. Which begs the question: If state and local lockdowns have proved helpful, what does that say about the effectiveness of curfews?
Did Curfews Help Mitigate the Spread of COVID-19 During the Height of the Pandemic?
In comparing counties as vastly different as Los Angeles and San Francisco, it's important to recognize that doing so isn't always wise. After all, both areas have such vastly different epidemiological landscapes. Nonetheless, we see similar trends in other cities, counties and countries that err on the side of caution — the side of sheltering in place, lockdowns and curfews.
For example, countries like Australia and New Zealand, which implemented strict stay-at-home and curfew measures, in addition to hotel quarantine procedures for those who are entering the countries, had very few cases of COVID-19 throughout most of 2020 and early 2021. Stateside, officials on both sides of the aisle implemented curfews throughout the duration of the pandemic.
Sure, curfews were popular in states from New York and Connecticut to Ohio and California — but why? By and large, the purpose behind curfews was to limit nonessential travel and outings. That is, officials wanted to curb social gatherings, where social distancing and mask wearing might not have always been practiced. In many ways, it was a middle-ground approach: It didn't disrupt folks' lives like a full-on, community-wide lockdown would have, but it seemingly still reduced the spread of the virus, at least in part.
On the other hand, some believe this middle-ground approach is a more of a diplomatic half-measure than anything else. For example, Dr. William Schaffner, an infectious disease specialist at Vanderbilt University, told The New York Times that curfews likely had a "modest impact" and that, in general, they are potentially most impactful when "considered as part of a whole series of interventions."
In that same Times article, Dr. Gregg Gonsalves, an assistant professor of epidemiology at the Yale School of Public Health, had a more blunt reply, calling curfews "crude, inelegant instrument[s]," largely because they are one factor — one simple factor — in addressing an extremely complex issue.
The bottom line? At this point in time, it's difficult to say with certainty that curfews played a key role in mitigating the spread — after all, curfews' effectiveness isn't something that can be measured in isolation. In the same way the spread of COVID-19 is full of variables, the responses to the pandemic have been equally multifaceted.