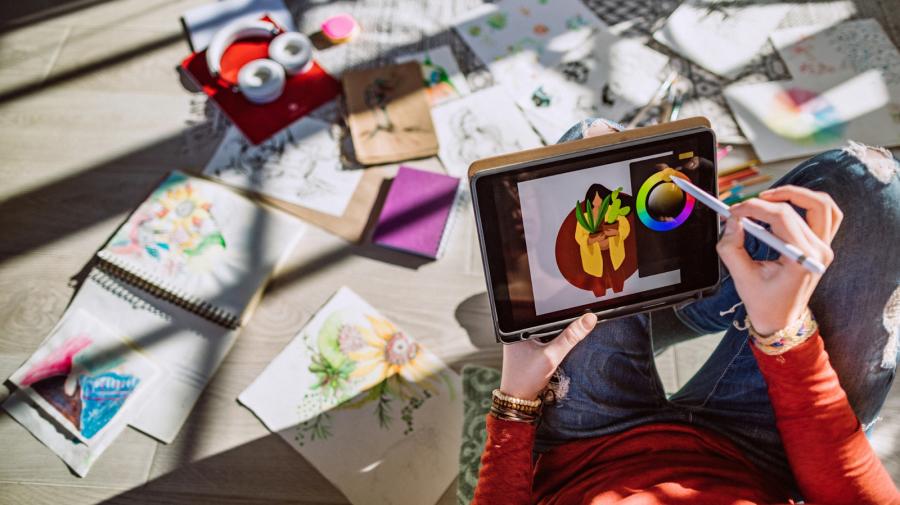 Found in a seaside cave in South Africa, humankind's earliest-known drawings were made 70,000 using tools that allowed artists to paint, carve and scratch their designs into stone. These days, you'll find most artists and illustrators using drawing websites.
With tablets, computers and smartphones, artists can create beautiful images without the traditional pencil and paper — or paint and stone. Here, we'll take a look at how to draw online, from online sketch boards and collaborative drawing tools to apps and drawing websites that can help you bring your art to life on the screen.
What Are Some Good Drawing Websites?
AutoDraw
AutoDraw is a simple online drawing sketch board. The menu allows you to choose the size of the canvas, download your work and share what you've drawn. It also provides shortcuts and how-to tutorials, which makes using it easy.
Sketchpad.io
With Sketchpad.io, you have many choices when it comes to tools. There's a pen, pencil, streamer, crayon, spray paint can and even a calligraphy pen. If you want to draw an animal like a bear, there's even a brush type that will help give it a furry appearance. You can also add layers and clipart, change your line width, adjust the size of the area you're working on and add text with various fonts.
YouiDraw
YouiDraw is a better choice for those who want to commit to drawing and creating graphics and graphic design works. YouiDraw not only lets you draw, but it also allows you to create logos, infographics, flyers and much more. To use YouiDraw, you must create an account. However, there's a free version, and you can always unsubscribe if you change your mind about it.
Drawing Websites Alternatives: What Is the Best Drawing App
YouiDraw
YouiDraw is also available as an app on iPhone and iPad. This version offers many of the same tools and templates as the website. Like the website version, users can also export designs in PDF, JPEG, PNG and SVG formats.
Adobe Fresco
This freemium program is available as an iPhone or iPad app. It allows you to sync artwork across devices, so if you forget your iPad at home but you have another synced device, you can still access your art. There are many brushes to choose from as well as vector and pixel brushes. Plus, you can also adjust a drawing's layers.
ibis Paint X
If you're looking to create cartoons, the versatile ibis Paint X Android app lets you do just that. It has over 15,000 brushes; 1,000 fonts; 80 filters; and 27 blending models. Plus, you can record your drawing process and count on the app's stroke stabilization feature.
What Is the Best Drawing App for iPad?
Other than Adobe Fresco, the other best drawing apps for iPad include:
Our top choice is Procreate, though. It allows you to interact more with your canvas, which is a plus. But Procreate also makes it easier to draw thanks to its stabilization feature, which ensures a smoothness other apps don't have. There are color descriptions and larger color palettes, too. The drawback? It's hard to know where to start with Procreate. Not only can you draw and paint 3D models, but you can also animate your creations.
Drawing Websites: How To Use Collaborative Drawing Tools
Using collaborative drawing tools effectively depends on the tool or program you choose. With Aggie.io, for example, there's an invite option that allows you to share your link with other people. With Cr4on, on the other hand, all you have to do is give people a link and the room name. However, Cra4on is a whiteboard for jotting down ideas rather than a drawing program like the tools listed above.