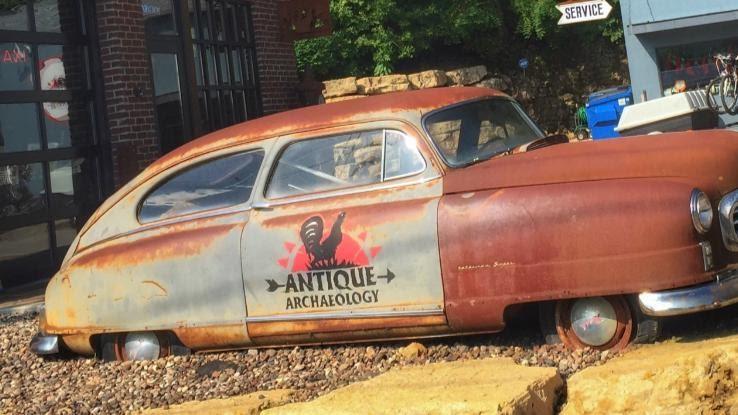 When your job is to tour the country — maybe even the world — in search of priceless antiques, you are bound to run into some extraordinary people and items along the way. It takes a special kind of person to collect massive amounts of old collectibles, and some folks and their collections are downright bizarre.
If you watch American Pickers, then you've certainly seen some strange stuff featured by Mike Wolfe and Frank Fritz. Let's take a look at some of the weirdest things that have ever happened on the popular show.
Who Is This Mysterious Man?
In 2012, the guys set off to find a particularly peculiar property. It was owned by a man named Ron, who preferred to be known as "the Mole Man." Considering his expansive, 26-room underground lair beneath his enormous aboveground property, the name makes perfect sense.
Mike and Frank had to traverse an endless maze of rooms and walk across wooden planks suspended above large, fairly deep pits just to make it to the man's front door. Not only was their encounter one of the strangest to date on the show, but it's also one of the most memorable.
Come See a Monster!
Sideshows aren't a common sight today for many reasons, but in the past, they attracted crowds from all over the country — sometimes from across the globe. In 2017, Mike and Frank unraveled and unrolled a stunning Fred Johnson sideshow banner featuring classic monsters, such as Frankenstein and Dracula.
It was in near-perfect condition, which whet their appetite for spooky sideshow memorabilia and made for a supremely interesting relic from days gone by. Although many such banners feature "freakshows," this one is unique for its depiction of classic monsters.
A Whole Zoo of Stuffed Animals
Some people think that taxidermy animals are stylish, attractive and respectful. Others think it's an awful practice and loathe the thought of owning a stuffed — literally! — animal. The hosts of American Pickers encountered a veritable zoo of taxidermy creatures in Maine when they got a call from an interested seller.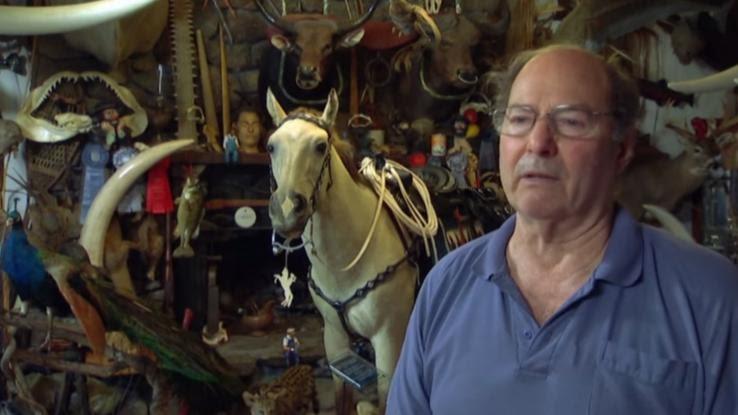 The jewel in the crown for the guys was a massive elephant head secured to one of the walls. Although the majority of the head is artificial, the gray skin covering it is real. The guys had to have it, and musician Jack White now owns the piece.
Don't Let Fame Go to Your Head!
Laurel and Hardy were extremely popular comedians during the early 20th century. Pretty much everyone with access to a newspaper or a cinema knew who they were. In 2010, the guys at American Pickers happened upon some gigantic — and somewhat creepy — Laurel and Hardy full-head masks.
Of course, they couldn't help but try the masks on, which led to this remarkably strange image of the two bobble-headed hosts. They could quickly turn any birthday party into an absolute horror-fest with these lifeless, antique faces. We can only hope they returned the masks to their quiet, dark corner and went on their way.
From One Hundred to Zero
One of the most bizarre things to ever happen on American Pickers occurred in 2011 in Rockford, Illinois. More specifically, it happened at Rick's Picks, a museum dedicated to rock 'n' roll history that is run by Rick Nielsen, the guitarist for Cheap Trick. What was the strange thing that happened? They got a free guitar.
Okay, it doesn't seem bizarre out of context, but it really was pretty crazy when you think about the events that led up to the unexpected gift. Mike and Frank weren't having any luck negotiating on the price of a gorgeous guitar, and then Nielsen gave it to them for free! Weird, right?
There's Nothing Quite Like the Original
Stumbling upon an authentic piece of rock 'n' roll history is way more exciting than finding one in a museum. When Mike and Frank found an old van with the Aerosmith logo painted on the side of it, they wondered if they had just struck rock gold. After calling up a former band member, their dreams came true.
The van was not only the first tour bus for the group, but it also still had a few valuable items inside. One was a severely decayed oriental rug that hung from the ceiling of the van, but everyone was still beyond impressed.
The Yoda You Seek, This Is
Star Wars memorabilia is nearly always a hot commodity. Fans from all over the world are willing to pay substantial amounts of money for the rarest collectibles and the most fascinating pieces of Star Wars history. So, when the guys came across four prototype statues of Yoda, they were ready to make a serious investment.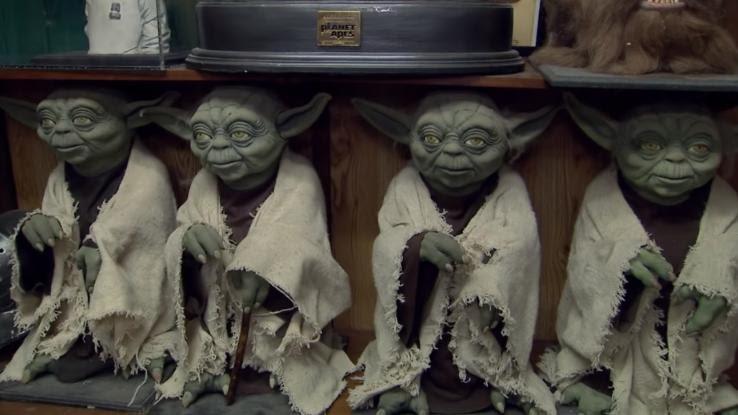 The lined-up green Jedi looked nearly identical to one another, except one had glazed eyes. The odd one out also had some markings indicating it was made by an official artist employed to work on the films, which made it far rarer and more valuable.
Mr. Guitar's Guitar Literally Kills
Chet Atkins is at least partially responsible for some of the greatest guitarists of the past century. He was so well-known for his skills and playing that he was often referred to as "Mr. Guitar." When the pickers found a Gretsch Chet Atkins guitar, they happened to be with musician Dan Auerbach, who was able to share some valuable information.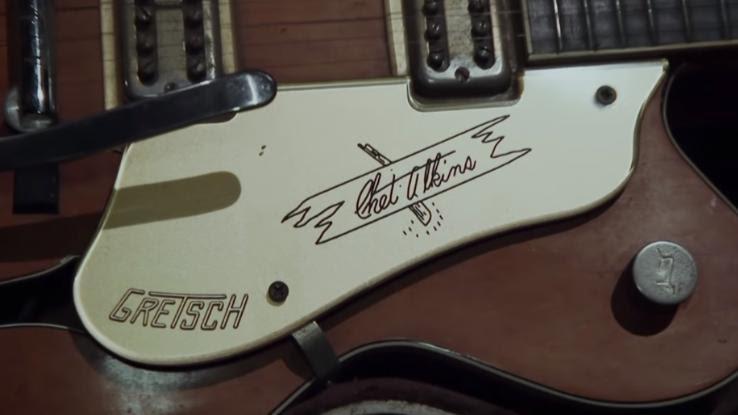 In fact, if he hadn't been there to help the guys out, they might have been electrocuted that day! The amp that came with the guitar was extremely dangerous to operate if you didn't know what you were doing. Overall, it was a strange day.
Perfect Mummified Creature for Any Living Room
The age of sideshows produced some bizarre experiences, including plenty of quality fakes and well executed hoaxes. One of the most notable creators of these fake monsters and freakish entities was a fellow named Howard Tate. Most of his remaining exhibits are in museums or private homes, but Mike and Frank were able to find a dusty creature called "the Wolf Boy."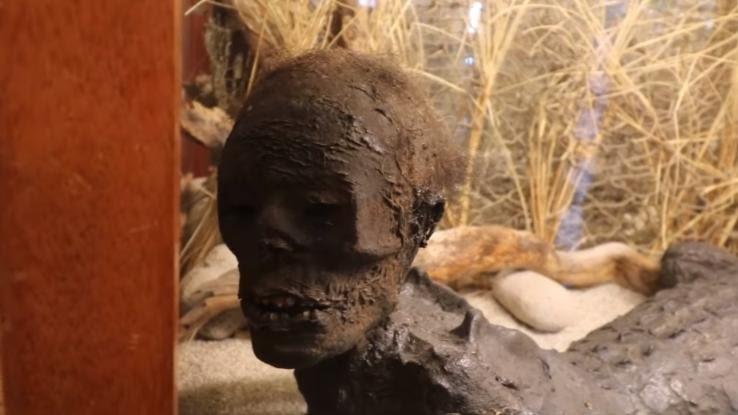 The creature is a combination of papier-mache, animal bones and mud. While it's pretty creepy, it was also a fantastic find for those who are interested in sideshow history. The long fangs and sunken eyes are certainly difficult to forget.
A Wild Creature from Another Planet
When the hosts of American Pickers wandered into the home of a man named Mongo, they had to walk up to a spiritual tower and receive his blessing before continuing. The strange elderly gentleman, armed with tiny rubber chickens that he referred to as "communicators," proceeded to reveal his origin and his dreams.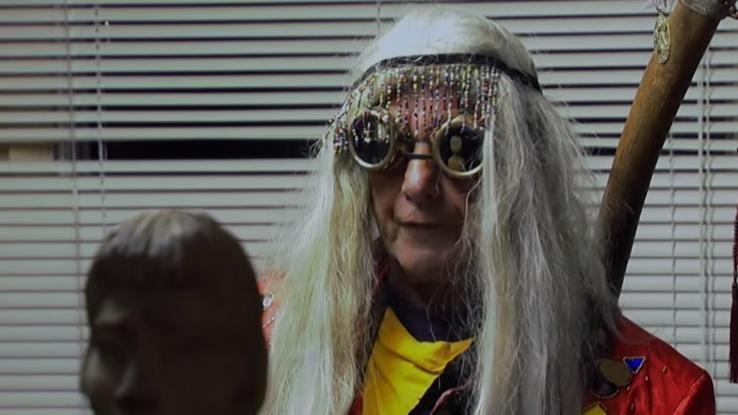 The real find in this episode was the man himself and not anything he had for sale. He claimed to be several hundred years old and from a distant planet called Zambodia. He had also been running for mayor for several decades — to no avail.
Mmm, Jell-O from a Wagon
The famous brand of flavored gelatin that we all know and love — or maybe despise — originated back in the late 1880s before the automobile was even invented. As a result, the first distribution centers for the jiggly snack were wooden, horse-drawn wagons. The fact that this hand-painted, wooden example has remained in such pristine condition is mind-boggling.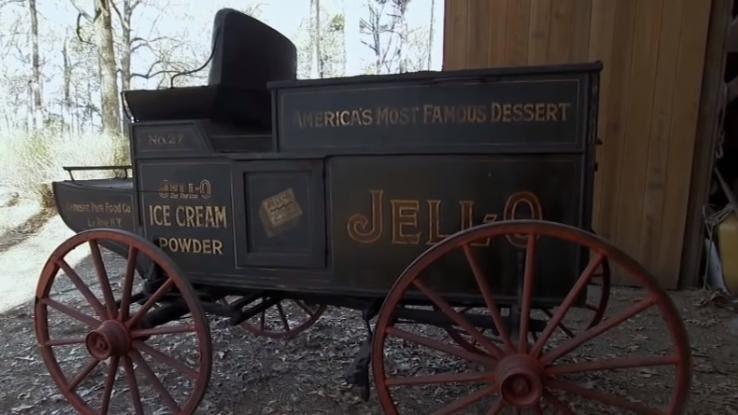 Found in Louisiana but originally from New York, the wagon barely has any flaws, despite traveling thousands of miles throughout its life. It's fun to imagine the first Jell-O salesman making trips to local hospitals with this cart.
Ja, It's a Controversial Motorbike
Sometimes, the guys travel to faraway destinations to find the rarest and most priceless items. During a trip to Italy, their plane tickets paid for themselves as soon as they spotted a Zundapp motorcycle. The World War II-era German bike came equipped with a sidecar, and it's currently a valuable relic from the war that thousands of collectors would love to have.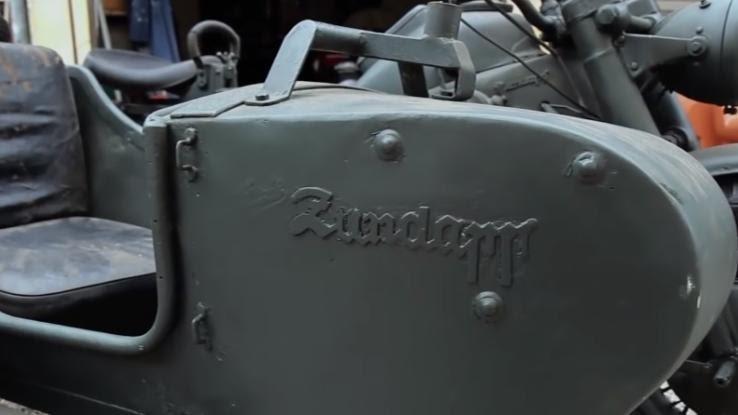 Although it did have a little rust build-up, it was still military green and equipped with its original seats and cushions. It was an incredible find, as most World War II artifacts already belong to museums or personal collections.
The Cutest Man with the Cutest Stories
Although this gentleman may not be as unique as Mongo, he certainly did manage to stick out and make an immediate impression on Mike and Frank. Like a little kid showing off to his new friends, the Converse-wearing dude eagerly showed the guys around his place, trying out old toys and gadgets and telling stories about each item.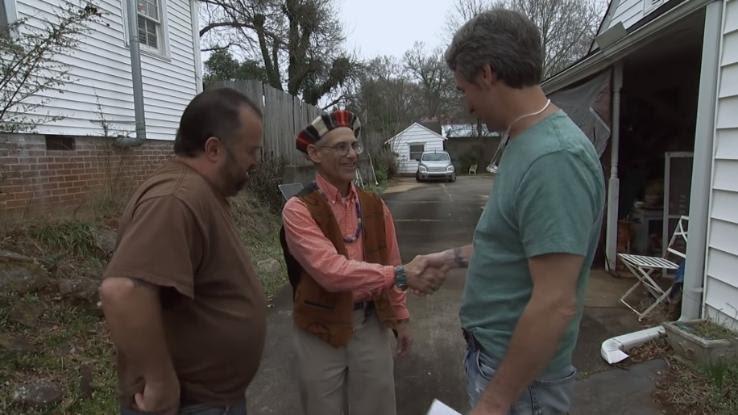 The gentleman seemed more interested in imparting history than selling his antiques, but the pair managed to acquire a beautiful inkwell with a maker's mark. The strange thing about this pick was definitely the seller.
Hidden Rare Van Bike of England
Another one of the team's foreign adventures had them wandering through a set of English suburbs in pursuit of antique treasures. Although the guys initially only found a garage filled with junk — from floor to bottom, with every single inch covered — they were able to dig through the plastic bags and cardboard boxes to find something worthwhile.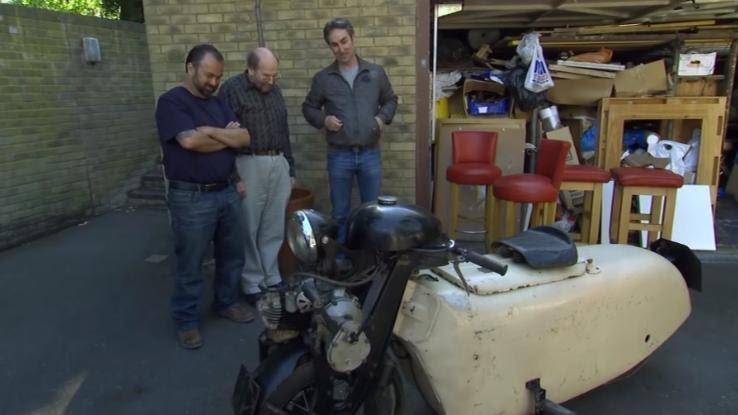 A unique motorcycle, covered in metal nearly down to the pavement, slid out from all the rubbish and caught Mike's eye. The seller explained that it was known as a "two-wheeled van" and was one of only five ever made. Sadly, no sale.
Pick Up That Hot Rod Pick-Up
Hot rod muscle cars have filled the dreams and imaginations of motor-loving men and women for nearly a century. Their lesser-known cousin, hot rod trucks, were once far more popular than they are today. They also happen to look much different than any other vehicle on the face of the planet, making them a truly unique find.
The bright orange truck that Mike and Frank happened to unveil had a teeny-tiny cabin that Mike couldn't even sit in comfortably. But what it lacked in cabin size, it more than made up for in style and pizzazz.
A Leathery License from Another Time
At the beginning of the vehicle boom in the early 20th century, laws concerning motor vehicle usage and licensure were still pretty rare and tended to vary significantly by state. People with automobiles were asked to find a way to show their vehicle's registration information on the exterior of the car, but they weren't given strict instructions.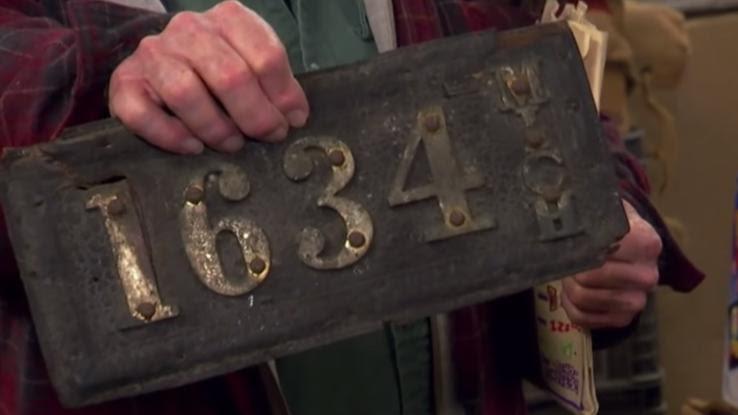 This lack of direction led to a wide range of license plate materials, sizes and placements on the vehicles. The guys of American Pickers were fortunate enough to come across a spectacularly well-maintained leather license plate from that era — an almost impossible find.
The Moldiest Treasure on Wheels
The 1963 Corvette with split windows, a sleek body and James Bond-esque style is one of the most prized, collected and expensive vehicles in the world. The one that Frank and Mike found in 2019 looks like a cross between a Corvette and a DMC DeLorean. Unfortunately, the sharp silver paint couldn't mask the Corvette's serious issues.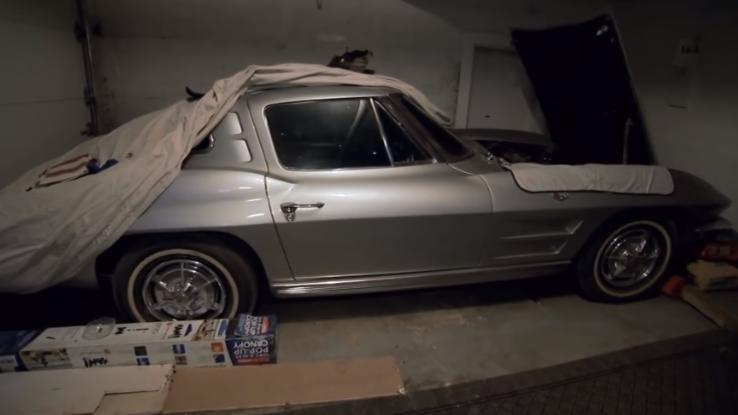 It was equipped with the wrong type of replacement engine, numerous spiderwebs and a wallpapering of spotty mold. In short, it needed a lot of TLC to be restored to its former glory. Frank was eager to take it off the owner's hands, but the owner wasn't selling.
Why Settle for One When You Can Have Both?
If you've ever dreamed of owning a vehicle that is a half car and half motorcycle, you may want to check out the 1914 Merz Cycle Car — or maybe not. They are incredibly rare, difficult to find and unbelievably pricey. Pat Regis, the owner of the car, claimed his model was one of only two produced by the Merz company.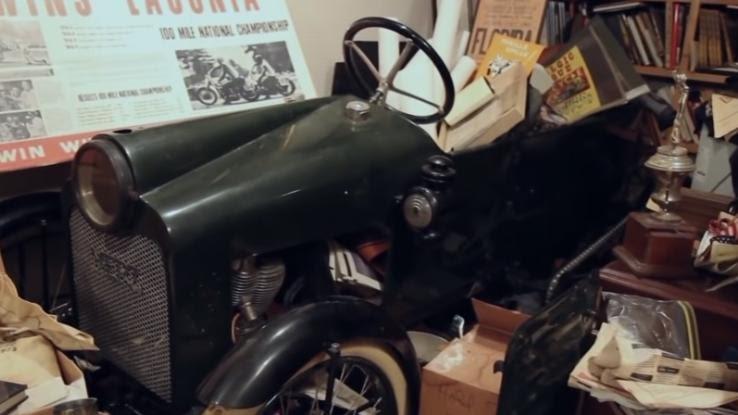 It was initially sold as a budget-worthy alternative to larger, more spacious vehicles and could only hold a single person. Frank purchased the Art Deco-style car for $35,000, obviously unable to go without the cool, unique piece.
King of Rock 'N' Roll Lighting
Original Elvis memorabilia is valuable, even though it's not always hard to find. The number of Elvis-inspired products that flooded the market during the '50s, '60s and '70s is astounding. The only other musical act to ever garner so many product placements and promotional items was The Beatles!
Still, some Elvis items, like this unique vintage lamp, are unusual and rare and have become hot items for both fans and collectors. Although Mike and Frank were hugely into this item and wanted it badly, the owner couldn't bear to let it go.
Saying Yes to These Vintage Medicines
Although the medicines contained in these vials and boxes are probably long past their expiration dates, their current value lies more in appearance and sentimental remembrance than anything else. Any person who has ever played a game of Oregon Trail knows a thing or two about Epsom salts, elixirs and sarsaparilla.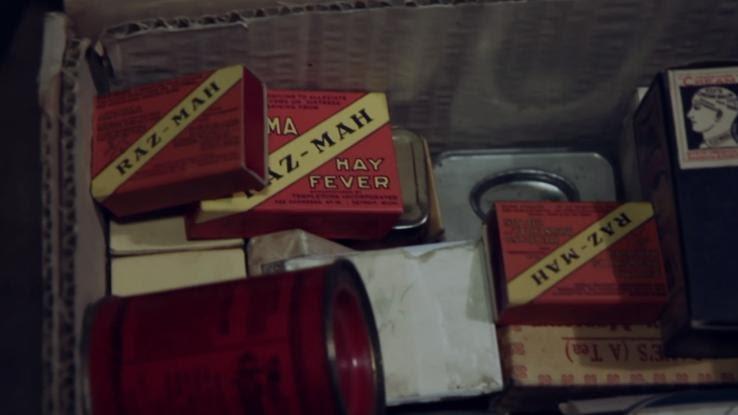 Of course, these drugs aren't nearly as old as the ones from pioneer times. Antiseptics, nasal sprays and respiratory medicines are all included in these vintage drugstore boxes. Some of them look brand new, despite their archaic design and lettering. Frank and Mike bought them all without a second thought.
Customized Piece of Artwork on Wheels
Mike's love for bikes of all shapes, sizes and conditions — especially older models of Indian motorcycles — means that he immediately understands the worth of a bike, almost as soon as he sees it. When he set eyes on this customized Von Dutch, he nearly lost his mind. With a Harley Davidson frame and VW engine, it's a Frankenstein piece.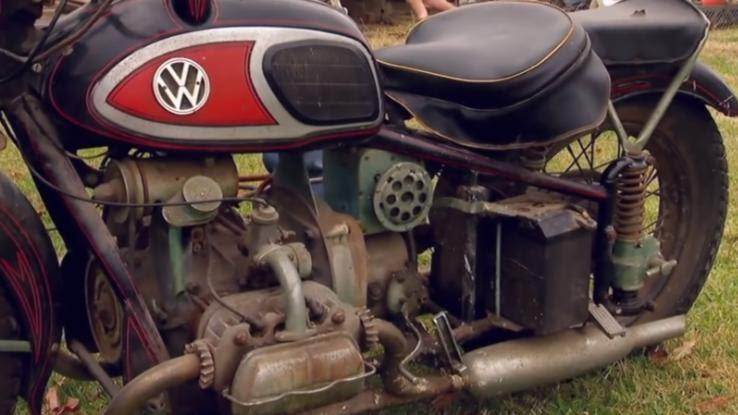 Because it was created with quality parts by one of the most famous motorcycle artists/engineers, Von Dutch, it is an invaluable bike. Of course, the guys know exactly how to name their price!
The Most Dangerous Toy Ever Created
Chemistry sets were dangerous but fun gifts that adults gave to children once upon a time. They are often remembered as the most hazardous toys ever invented. However, the tether car quickly and efficiently put all children's chemistry sets to shame in terms of possible hazards.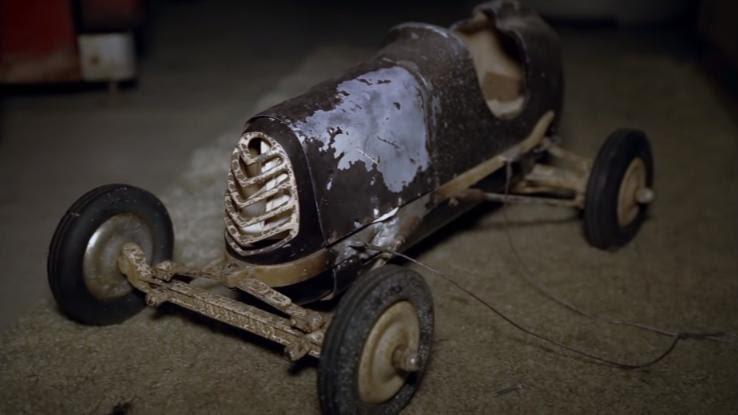 Basically, it was a metal rocket that could reach speeds of more than 200 miles per hour! It had a miniature internal combustion engine and could fly around a pre-made racetrack like it was nothing. Sadly, the version that Mike found was missing many of its original parts, including the engine.
The First Easy-Bake Oven
Although it may be shocking to think about, the Easy-Bake Oven wasn't the first working toy oven made for small children. Even more surprising, this version found by the guys is made of cast iron and has a nickel finish, meaning that it was extremely hot to touch when operating.
Whether children were encouraged to insert hot coals or firewood into this toy is unknown, but we like to think it was a toy used just for looks. While the version that Mike found was missing almost all its accessories, it was still a neat find. Imagine the joy if it had been stored with all its pots, pans and spoons!
Art for the Brave of Heart
Some of the oldest bits and pieces of forgotten treasures can end up as part of an artist's installation in the future. Larry and John of Northern California are an art-making team that uses a lot of lost pieces to make new things. In the eyes of some collectors, this is the worst possible thing that could happen.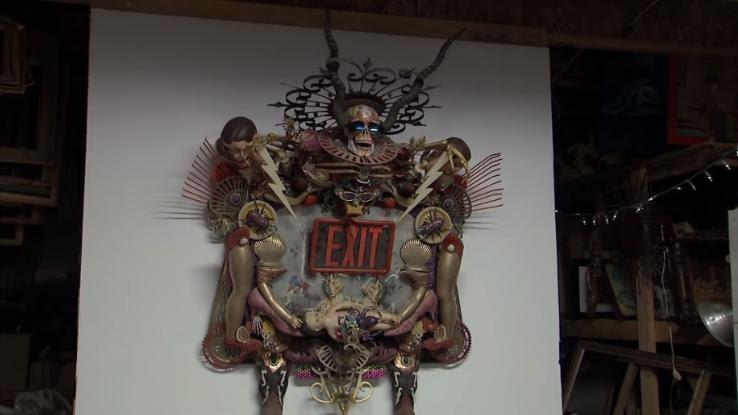 Headless dolls and toys, antique microphones laying in pieces and antiques disassembled into a thousand tiny parts are all part of the house tour for these artists. The horned, skeletal exit sign is pretty unforgettable — but so is the trailer full of mannequins.
Personalized Aztec Calendar for All Occasions
This Aztec calendar may not be nearly as old as others found in archaeological dig sites, but for the man who received it, it was no less precious. The U.S. Ambassador to Mexico during the late 19th century was given a personalized Aztec calendar upon his resignation. That's right, a coffee mug just wasn't enough to show appreciation for this guy.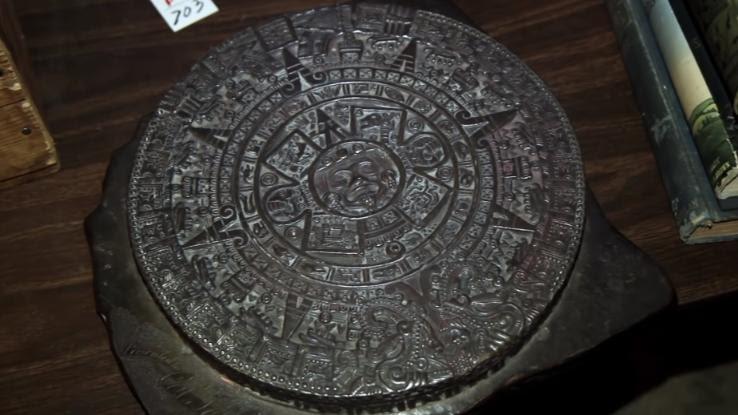 Although it had a lot of sentimental value to the original owner's descendant, it's also a hugely valuable piece for museums. Along with a pristine suit, sword and hat, the collection is a remarkable piece of American-Mexican history.
Classic Car Hoarder Strikes Again!
When Mike and Frank find a sweet, vintage set of wheels, they almost lose their minds — especially Mike. So, you can only imagine the fantastic range of sounds he made upon seeing an entire warehouse full of beautiful, well-maintained, rare classic cars. Well, you don't even have to imagine it because the producers caught it all on film.
Even Mike's life-long love, the Messerschmitt, was in the expansive, ridiculously filled garage. Although Mike was initially tempted to lay down a decent amount on the tiny car, he tapped out quickly in the haggling process.
A Tiny Car with Huge Energy
Some of the best sellers on the show are passionate about their collections, and they like to show off whenever possible. This is definitely true of the California couple that sold Mike and Frank a BMW Isetta Microcar in 2014. They called the guys up after getting the car running, as promised, but they had a few surprises.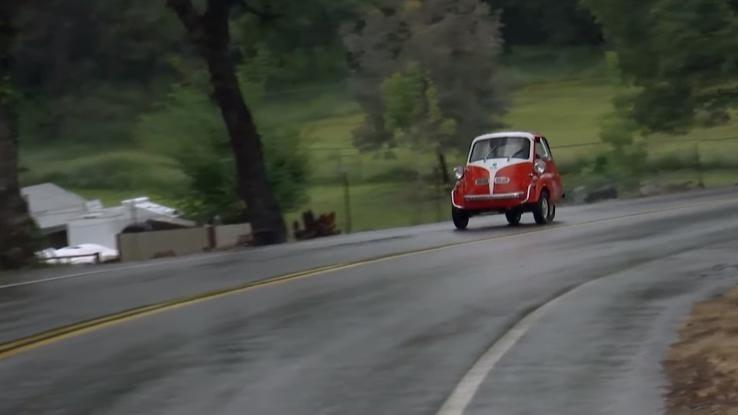 They had washed, waxed, replaced and buffed the you-know-what out of that car before Frank and Mike returned. It gleamed even on the cold, gray, rainy day. The look on Mike's face as he drove it off the lot was pure joy.
The Most Dangerous Rocket Ride
Sure, there's Elton John's 1972 hit "Rocket Man," but what about a rocket car? Well, one particularly talented artist/engineer wondered just that and decided to turn his daydreams into a reality. He didn't own just one rocket car; he actually owned several. Just as Mike and Frank were oohing and ahhing over the pieces, he let them drive one.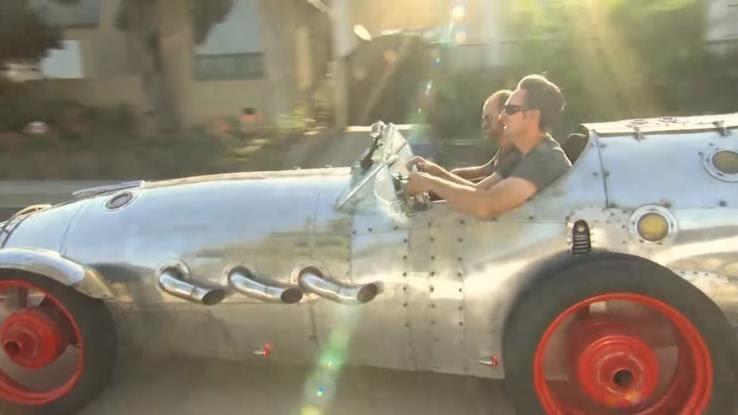 In one of the most memorable episodes of American Pickers, the guys get into one of the shiny metal rocket cars and cruise around the neighborhood for a while. Unfortunately, the brakes started to fail early into the drive. Yikes!
Naked Frankenstein Robot for Sale
Toy collectors occasionally have some of the most diverse and extensive collections. The owner of several Big Loo toys also happened to own an actual Frankenstein robot that immediately caught the attention of the guys. It was one of the oldest Frankenstein toys ever made, and although it was missing all of its clothing, the face was in remarkable condition.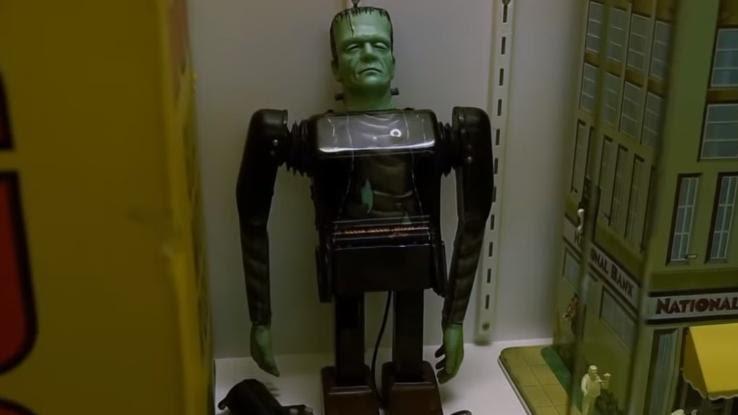 Still, it's a creepy, silver-bodied robot with Frankenstein's head. The fact that it even exists may be the source of nightmares all across the world — unless you're a classic monster fan with a thing for vintage robot toys, of course.
Land of the Dead Military Convoys
One of the weirdest things that the guys ever got to browse and pick through was a wide range of decommissioned military vehicles. In addition to jeeps, vans and other large utility vehicles, this farm also had a few tanks. It's insane to think that pretty much anybody can go and buy these things, but most of the vehicles were pretty broken down.
Still, the guys had a lot of fun while looking through lot after lot of military convoy vehicles and jeeps. It was almost difficult to tell the camouflage apart from the leaf-filled surroundings.