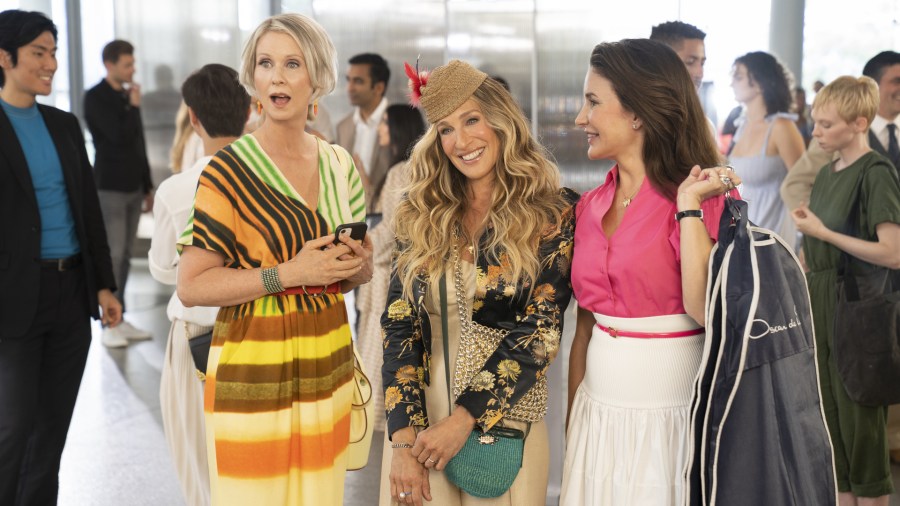 It's impossible to have watched HBO Max's Sex and the City revival series And Just Like That… and not have opinions. Lots of them. That's why part of Ask Media Group's editorial team, the ones who cringe-watched the show in its entirety and couldn't shut up about it on Slack and Twitter, gathered around a virtual Zoom roundtable to talk all things Carrie (Sarah Jessica Parker), Miranda (Cynthia Nixon), Charlotte (Kristin Davis), but also Nya (Karen Pittman), Seema (Sarita Choudhury), Lisa (Nicole Ari Parker), Anthony (Mario Cantone) and, of course, Che (Sara Ramirez).
If you still haven't watched the season one finale of the ten-episode Max Original, be aware this article is full of spoilers as we discuss how things end for Carrie and the rest of the bunch.
Here are the main takeaways from our And Just Like That… chat: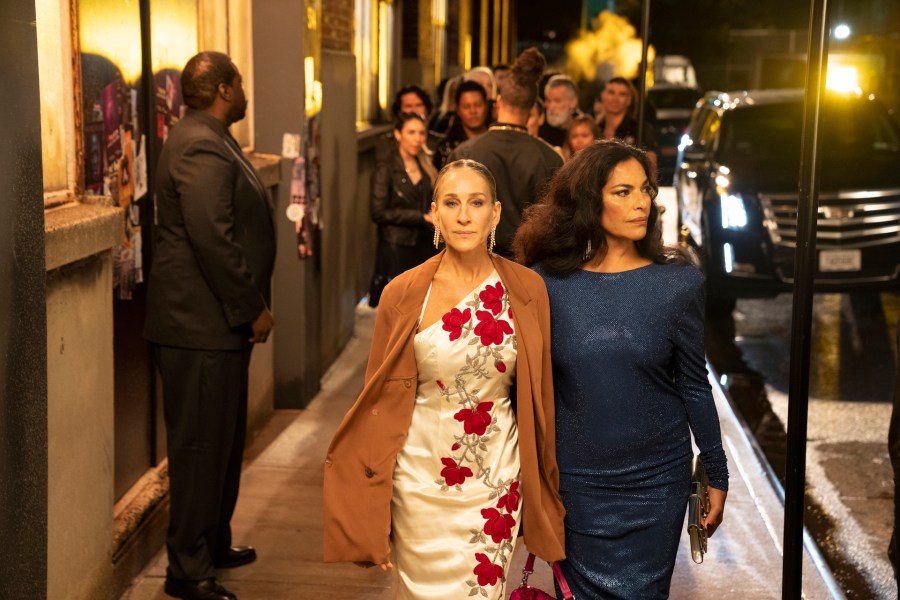 The new characters seemed to be written to establish a diversity quota that Sex and the City lacked; some of their stories ended up resonating, but the show has a tone problem.
"They just didn't have enough time to do everything and tried to kind of cram it in," says Editor Kate Bove about some of this show's many storylines being fit in the length of a comedy TV episode. She also feels there was much more drama versus comedy in AJLT, and she has a point.
"There were a lot of tries in this season," adds Managing Editor Hannah Riley. "They tried to do a lot of things and they somehow didn't do enough."
And Just Like That… dared to address menopause, reluctant motherhood, dating in your 50s… There was Carrie becoming a widow, Carrie dating again, Carrie finding a way to reconcile with Samantha, Carrie having major surgery, Charlotte pretending Lisa wasn't her only Black friend, Charlotte's younger kid coming out as non-binary, Charlotte telling her husband she's tired of apologizing about everything, Miranda having a drinking problem, Miranda divorcing Steve, Miranda exploring her queer identity, Miranda falling in love with Che and navigating a queer and unconventional relationship, Nya realizing she doesn't want to be a mother, Nya's husband not wanting to give up fatherhood, Seema not giving up on her search for her perfect partner… And I know I'm probably forgetting significant storylines here.
Sarah Jessica Parker, who's also an executive producer of the show, mentions in And Just Like That… The Documentary, a one-hour-plus making-of documentary about the show, that they had a rule in the writers' room: Something couldn't be illustrated as a story point in the show if it hadn't happened to someone in the room.
Kate talks about how the original Sex and the City show and movies got criticized for being unrealistic — the clothes, the lavish travel — but, in a way, she misses that escapism in And Just Like That…. "Trying to be more realistic is not working," she says. "It had a huge tone issue where I wasn't sure what was up."
"I remember making sure to watch it [Sex and the City] with friends after a breakup because I was like: 'At least I'm not as bad at dating as these people.' But now that they're trying to make them closer to the real world and give them real-world events… I feel like: 'At least I'm not these people!'" adds Senior Managing Editor Michael Kasian-Morin. "These three women don't know how to human in 2021."
"They tried to go for wokeism," adds Michael. "We're in a depressing time, we wanted the crazy outfits, the hilarity. We wanted these characters to misbehave and be bad at relationships, so we could feel better. But what they did instead was make us feel worse by putting them through such cringe moments."
Watching the last few episodes, though, we couldn't help but wonder: Did the show get better as the season progressed? Or did we get used to the cringe factor?
The show questioned labels with varying degrees of success. Charlotte's younger kid (Alexa Swinton) comes out as non-binary and changes their name from Rose to Rock, as well as their pronouns. They refuse to be they-mitzvahed and demand not to be labeled in any way.
It's funny how their parents' reaction only seems aggravated when Rock says they don't even want to be labeled as a New Yorker. And even though in the beginning we may have thought that their story was being simplified for comedic and narrative purposes — their whole coming out was briefly dealt with in one of the episodes with the same levity as a later episode that dealt with their sister Lily's (Cathy Ang) struggle with tampons — it's also good to see non-binary stories normalized on screen.
Plus, AJLT takes that storyline as lightly as a lot of other ones: Carrie decides to buy and then sell a condo in Manhattan in a matter of days, probably losing thousands of dollars. Miranda divorces and we never learn about the details. Is she keeping the Brooklyn house? How is she making a living anyway since she left her job? Simplification for comedic and narrative purposes is part of the show's idiosyncrasy.
As someone who identifies as LGBTQ+, Michael still feels the show should have done more when it comes to the character of Mario Cantone, though. "We're still relegated there. This is still cheap sex jokes and no real substance. They're trying to appeal to a larger community and trying to introduce characters from diverse backgrounds, but I still feel like the tokenized court jester in the gay characters that they've provided on the screen."
AJLT tackled alternative ways of having a relationship. From Jackie's (Bobby Lee) impromptu wedding to Che constantly reminding Miranda that they couldn't give her a "normal" relationship, the show tried to convey to viewers that there are multiple ways of being coupled.
That being said, we still don't know how we feel about Miranda leaving a very competitive internship at Human Rights Watch and going to Los Angeles with Che instead. We're happy Miranda has found love, but her move to L.A. feels like Carrie's move to Paris with her Russian lover in season six of SATC. "It's like Miranda became the Carrie and Che became Big almost," says Hannah.
"I just hated the way that Miranda was around them. It just wasn't working," adds Kate. Both Kate and Michael have manifested their dismay at the concept of a "comedy concert," Che's way of referring to their stand-up show. That being said, they still prefer a comedy concert any day over Che's singing.
Now that we've dispensed with Che, I guess we should talk about hats too. Fashion was, once again, one of the show's main attractions. But was Carrie overdoing it? And what was the deal with all the hats?
"I wasn't a big fan of the hats, most of the time," says Kate. "For me, the context often was the issue. Carrie going to the storage unit wearing what she wore was a lot. Also, that lamp was ugly."
We also had issues with the platform heels she wears to paint a house for a nonprofit in Brooklyn. Not to mention the impractical orange dress when she disposes of Big's ashes in Paris.
Personally, I loved her whole smoking outfit that consisted of a kerchief or two around her head, Playtex kitchen gloves and what looked like a duster dress. Kate thinks it makes the perfect Halloween costume, and I have to agree.
Samantha and Carrie reconciled in Paris. Does that mean we may see Kim Cattrall in season two? Creator Michael Patrick King recently told Variety he has no realistic expectations of her ever appearing again. But then again, is that so much of a bad thing?
"I went into this thinking I was going to be absolutely so upset that Samantha wasn't there. Because Samantha was always my favorite. And I totally ended up not caring. I love Seema," says Hannah. "Seema can replace Samantha any day." We can definitely do with Boss Seema.
We knew Carrie was going to hook up with Franklyn from the beginning. He just looked too cute in a silver fox kind of way and age-appropriate enough not to become one of Carrie's romantic interests once she had mourned Big and healed a bit. "I remember in the trailer, the podcast producer (Ivan Hernandez) making eye contact at Carrie Bradshaw, and I was like: 'When is that actually going to happen?'" Michael says.
Also, the math teacher, Peter (Jon Tenney), reminded us a little bit of Berger (Ron Livingston). He's not. But that likeness put him on the soon-to-be-forgotten list.
Even with all our reservations, we want more And Just Like That… "Absof*ckinglutely," says Hannah when asked about whether she'd watch the second season of this show.
"I have to say: 'I'm sorry, I will. Don't hate me,'" quips Kate, and it looks like we're all ready for more AJLT.
The King-created and co-written show hasn't been renewed for a second season yet though. But, if you're craving more of Carrie's shenanigans, make sure to check out And Just Like That… The Documentary. It's available on HBO Max Thursday, February 3, coinciding with the show's season one finale, and it features the series' costume designer Molly Rogers going shopping for vintage clothes in New York and Paris. Should we add more?