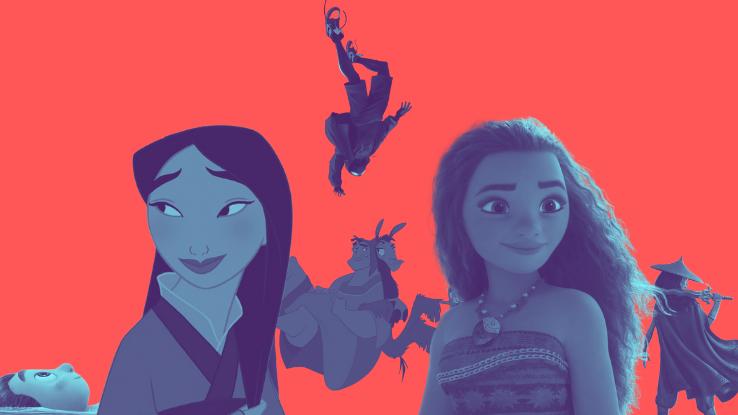 When you're stuck inside for long stretches of time, you can start to develop some cabin fever. While movies and TV shows are a great remedy for that feeling, they pose another problem: Which program will satisfy the whole family?
Don't fret. We've rounded up the best of the best (non-Frozen) animated adventures streaming right now. From TV shows worth marathoning to throwback films that still capture a sense of wonder, these animated flicks will keep your kids — and you — entertained for days.
12. Raya and the Last Dragon (2021)
Disney has a cavalcade of iconic characters in their stable. Their Princesses are so incredibly popular that they've earned their own toylines and clothing lines (yep, cloning lines plural). Raya is a fresh-faced Disney Princess, true, but she's also a warrior who kicks tons of butt in her titular film.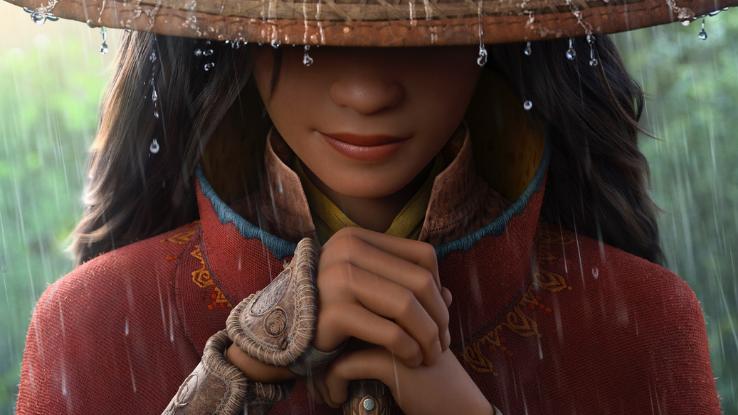 Raya and the Last Dragon (2021) hit the big screen and small screens worldwide on March 5th, 2021. This epic, Action-Adventure film takes place in a sprawling Fantasy world filled with awe-inspiring dragons, physics-defying sword fighters, and oodles of references to East Asian mythology. The cherry on top? Talents like Kelly Marie Tran, Awkwafina, and Daniel Dae Kim lending their voices.
Available On: Disney+
11. Luca (2021)
Pixar is the studio responsible for some of the most groundbreaking computer-animated films ever conceived; The Incredibles (2004), Finding Nemo (2003), Up (2009), and of course Toy Story (1995) are some of Pixar's masterpieces. Luca (2021) may join the ranks of these esteemed films if audience reception is anything to go by.
The film follows Luca and Alberto – two sea monsters (voiced by Jacob Tremblay and Jack Dylan Grazer respectively) – who've lived underwater all their lives. The antics kickoff when they travel to a nearby Italian town, take on human disguises and embark on wild adventures with the locals.
Available on: Disney+
10. The Emperor's New Groove (2000)
While we stand by more "traditional" Disney classics like The Lion King (1994), there are quite a few incredible, under-the-radar films that are worth a rewatch. Case in point? Disney's underappreciated buddy comedy The Emperor's New Groove (2000).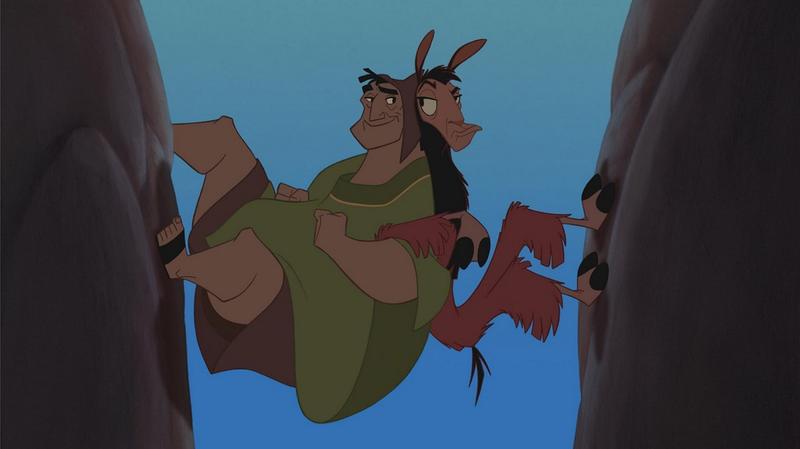 The movie follows the misadventures of Kuzco (David Spade), a young, narcissistic Incan emperor who is transformed into a llama by his ex-advisor Yzma (Eartha Kitt) and her big lug of a sidekick Kronk (Patrick Warburton). Eager to turn back into his human form, Kuzco enlists the help of Pacha (John Goodman), a village leader who teaches Kuzco to put others' needs ahead of his own. Hilarity ensues.
Available on: Disney+
9. She-Ra and the Princesses of Power (2018-Present) U
Created by Eisner Award-winning comic writer/artist Noelle Stevenson, She-Ra and the Princesses of Power is a reboot of the 1985 series She-Ra: Princess of Power — a spinoff of He-Man and the Masters of the Universe. The series' protagonist is Adora, a teenager who trained alongside her gal pal Catra under Lord Hordak in the evil Horde army.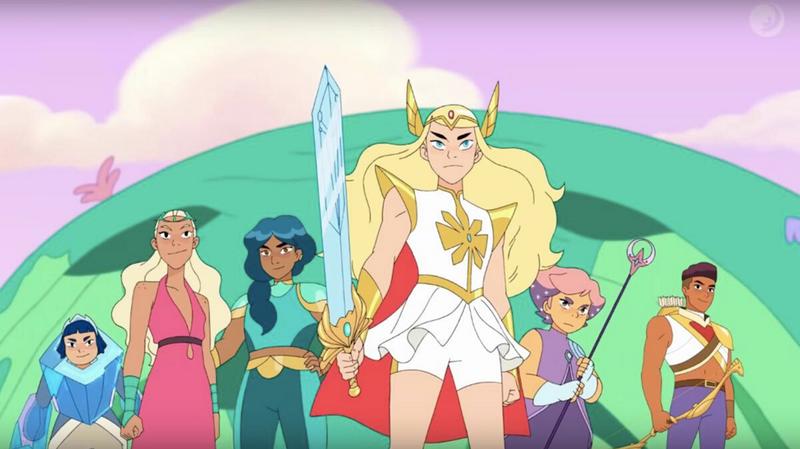 In the pilot, Adora gains the power to turn herself into the show's titular heroine and, together with a group of other magical princesses, vows to defeat Hordak. The Emmy- and GLAAD Media Award-nominated show has been praised for taking on difficult topics, such as the complex best friend-turned-archenemy relationship between Adora and Catra. With a diverse cast and a great mix of action, humor and feels, She-Ra is an epic romp you won't want to miss.
Available on: Netflix
8. The Iron Giant (1999)
If you're a fan of Pixar's The Incredibles (2004), you owe it to yourself to check out Brad Bird's incredible directorial debut, The Iron Giant (1999). Unfortunately, the film wasn't the blockbuster it deserved to be — we have Warner Bros.' poor marketing campaign and lack of faith to thank for that — but it has since grown a giant cult following.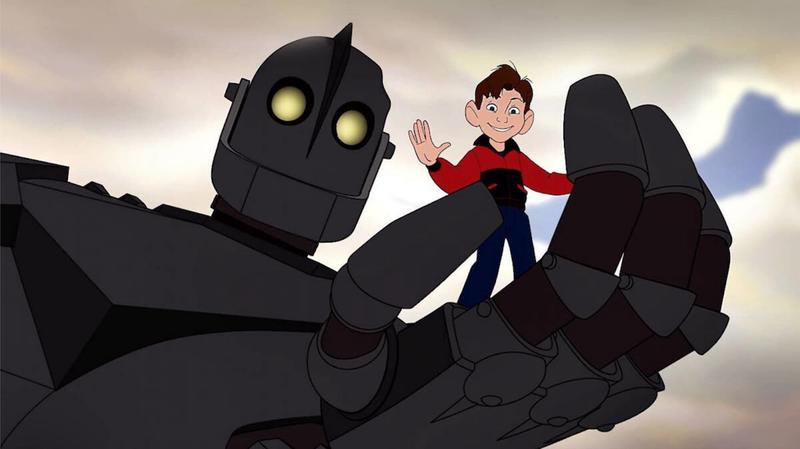 Set during the Cold War, the film follows a young boy named Hogarth Hughes, who stumbles upon the titular robot. Hogarth befriends the interstellar gentle giant and, with the help of a beatnik artist, tries to stop the U.S. military from destroying the Giant. In a wonderfully existential moment, Hogarth tells the Giant, "You are who you choose to be." Needless to say, grab the tissues — this one has a whole lot of heart beating beneath its iron chest.
Rent on: Amazon Prime, Google Play, Vudu
7. Ponyo (2008)
There's nothing better than being transported to a beautiful, animated fantasy world. This staycation, we recommend trading Disney's The Little Mermaid for the legendary Studio Ghibli's aquatic adventure Ponyo (2008). Written and directed by the iconic Hayao Miyazaki, Ponyo won the Japan Academy Prize for Animation of the Year.
In this modern fantasy film, a goldfish named Ponyo befriends Sōsuke, a young boy, and uses her magic to become a human girl so that they can play together. Never has water been animated so beautifully — and, not since Miyazaki's My Neighbor Totoro (1988) has a film captured childlike wonder with such ease. Looking to have your first Miyazaki marathon? Try Totoro, Kiki's Delivery Service (1989) and Howl's Moving Castle (2004) next.
Rent on: Amazon Prime, Google Play, Vudu
6. Star Wars: The Clone Wars (2008-2014); Revived for a Final Season (Airing Now)
Set between the Star Wars prequel films, Episode II: Attack of the Clones and Episode III: Revenge of the Sith, Clone Wars chronicles the eponymous galaxy-wide war. While the show focuses on the relationship between Jedi Knight Anakin Skywalker (Matt Lanter) and his Padawan Ahsoka Tano (Ashley Eckstein), it also shines a light on the franchise's peripheral characters and storylines.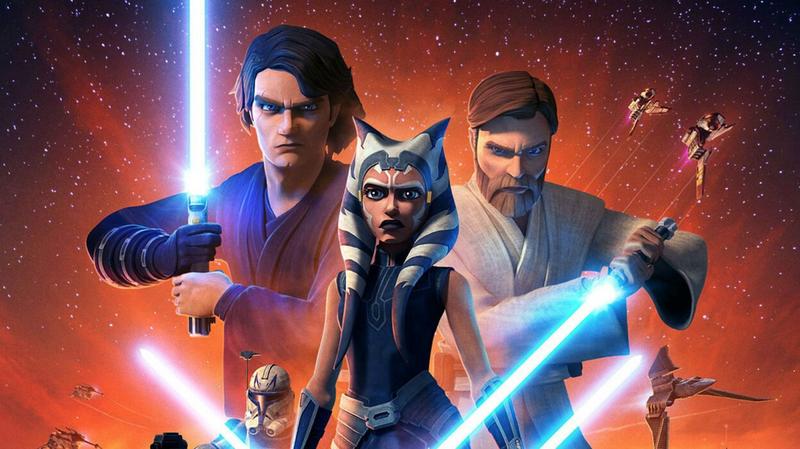 Clone Wars became one of Cartoon Network's highest-rated shows, receiving critical praise for its writing, visuals, voice acting and music. In March 2013, the show was abruptly cancelled when Disney acquired Luscasfilm. Now, Disney is trying to right some of those wrongs and give the show a proper ending with a 12-episode final season on Disney+. Time to catch up on those earlier seasons, especially if you're looking to fill that Star Wars movie void.
Available on: Disney+
5. Mulan (1998) 
Due to the coronavirus pandemic, Disney's live-action remake of their cartoon classic Mulan was pulled from the studios' release schedule. That means there's no better time to revisit the 1998 animated musical. Thanks to a gripping plot, memorable songs and one of Disney's most well-written leading women, Mulan is a timeless masterpiece.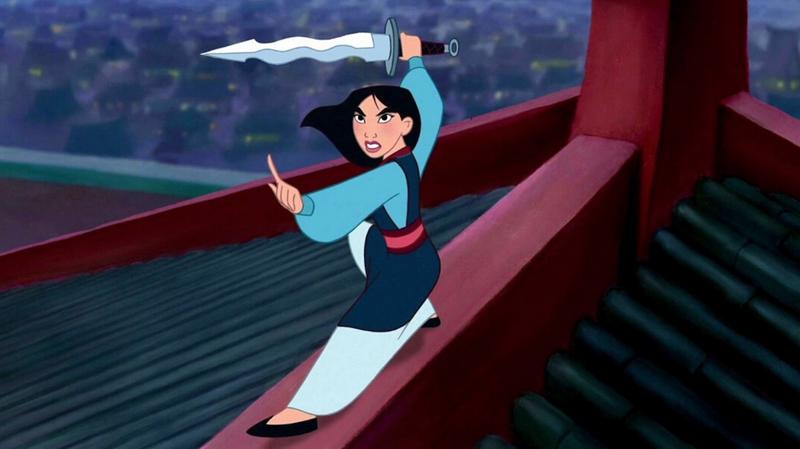 The Annie Award-winning and Academy Award-nominated film is set in China, during the Han dynasty, and follows the journey of Fa Mulan (Ming-Na Wen), the daughter of the aged warrior Fa Zhou (Soon-Tek Oh). When Zhou is called upon to fight the Hun invasion, Mulan disguises herself as a man to take her father's place. Bonus: We guarantee your whole household will be singing hits like "I'll Make a Man out of You" and "Reflection" for days after watching Mulan.
Available on: Disney+
4. Spider-Man: Into the Spider-Verse (2018)
Sure, we've seen quite a few Spider-Man origin stories on the silver screen, but let's do this just one more time. In this iteration, our hero is Miles Morales (Shameik Moore), a Brooklyn teenager who fears not living up to his father's high expectations. As Spidey fate would have it, Miles is bitten by a radioactive arachnid. Our hero runs into Peter Parker, a.k.a. Spider-Man, who dies while battling the Green Goblin and Kingpin (Liev Schreiber).
With Spider-Man out of the way, Kingpin hopes his "Super Collider" project will grant him access to parallel universes. To save the multiverse, Miles takes up the Spidey mantle after getting a few pointers from some inter-dimensional Spider-People, like reluctant mentor Peter B. Parker (Jake Johnson) and Spider-Gwen (Hailee Steinfeld). Hilarious, action-packed and full of heart, the Oscar-winning Spider-Man: Into the Spider-Verse (2018) proves anyone can wear the mask.
Available on: Netflix
3. Steven Universe (2013-2019) and Steven Universe: The Movie (2019)
Created by Rebecca Sugar for Cartoon Network, Steven Universe tells the coming-of-age story of the titular boy (Zach Callison). Although Steven's dad is a car wash-owning rock musician, his mom, Rose Quartz, was a gem — a magical, humanoid alien from outer space. Years ago, Rose led the Crystal Gems, a rebel group, in war to protect Earth from the clutches of her alien Homeworld.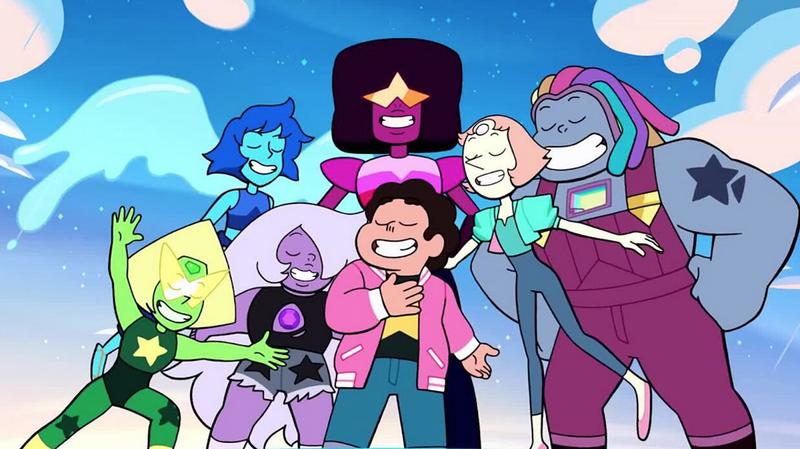 In giving birth to Steven, Rose passed on her powers and life-force, so the members of the Crystal Gems — Rose's ex and ever-type-A Pearl (Deedee Magno Hall); cool, calm and collected Garnet (Estelle); and the brash-but-lovable Amethyst (Michaela Dietz) — raise Steven and protect Earth in Rose's stead. This decidedly queer Peabody Award-winning show is often hilarious, but it also speaks to the importance of chosen family and how to form healthy interpersonal relationships. Bonus: All of the original songs are absolute jams.
Available on: Hulu
2. Moana (2016)
Looking to belt out some memorable and incredibly catchy tunes? Great. Interested in full-on belly-laughing? Of course. Want to watch a more-than-relatable character go on a difficult-yet-transformative journey of self-discovery? We thought so. Luckily, Moana (2016) has all that and more. Yes, have the tissues nearby, but be prepared to feel inspired too.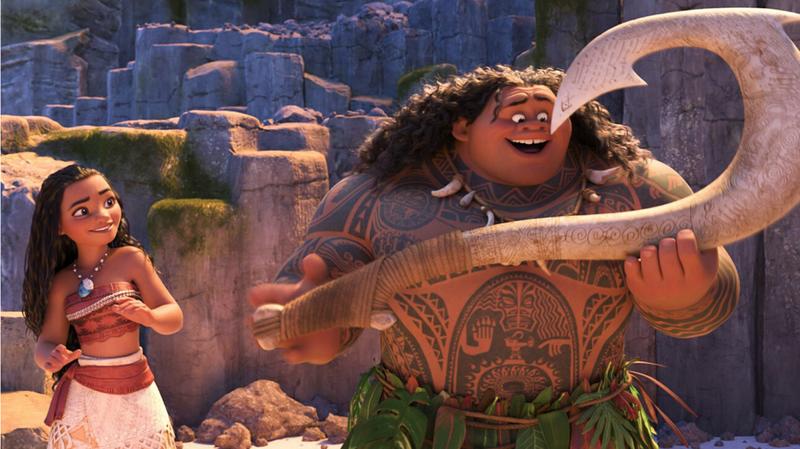 The Academy Award-nominated flick features original songs written by Hamilton's Lin-Manuel Miranda and acclaimed musicians Opetaia Foa'i and Mark Mancina and tells the story of Moana (Auli'i Cravalho), the strong-willed daughter of the chief of a Polynesian village. After a blight befalls her island home, Moana is chosen by the ocean to traverse the dangerous seas, find the legendary demigod Maui (Dwayne Johnson) and deliver a mystical object to the goddess Te Fiti.
Available on: Disney+
1. Avatar: The Last Airbender (2005-2008)
Created by Bryan Konietzko and Michael Dante DiMartino for Nickelodeon, this three-season adventure is the perfect show to marathon while on a staycation. In the world of Avatar: The Last Airbender, some people ("benders") can manipulate one of the four classic elements (earth, air, water or fire) and the world is divided into the Four Nations, each one correlating with one of the elements.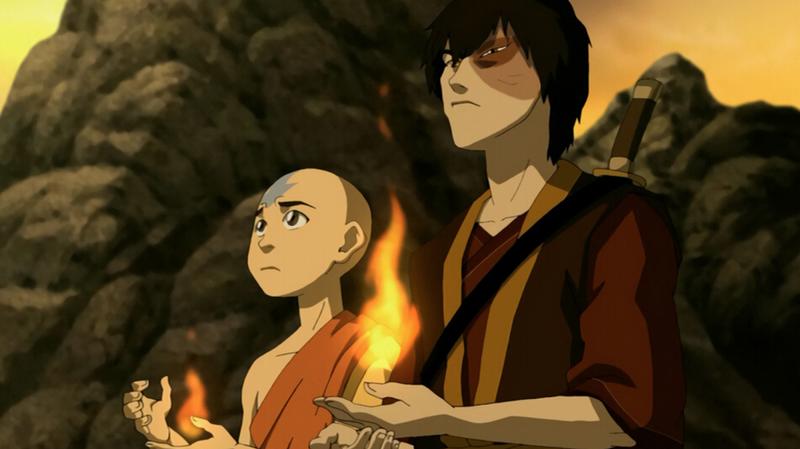 At the show's start, the Fire Nation wages war against the other nations, hoping to rule them all. But when Katara, a waterbender, and her brother, Sokka, discover a boy named Aang in an iceberg, hope is renewed. Missing for a century, Aang is the latest reincarnation of the legendary Avatar, the person capable of mastering all four elements and bringing balance to the world. The Emmy-, Peabody- and Annie Award-winning show is full of equal parts heart and humor — and it's truly epic. Currently, Avatar holds a much-coveted 100% score on Rotten Tomatoes.
Available on: Hulu; Rent on: Amazon Prime
Honorable Mention: The Magic School Bus (1994-1997); Rebooted as The Magic School Bus Rides Again (2017-2018)
During a staycation, school may be out of session, but that doesn't mean your kids have to forego "hitting the books" altogether. Instead, you can curl up on the couch and enjoy a few insightful episodes of the PBS classic The Magic School Bus together.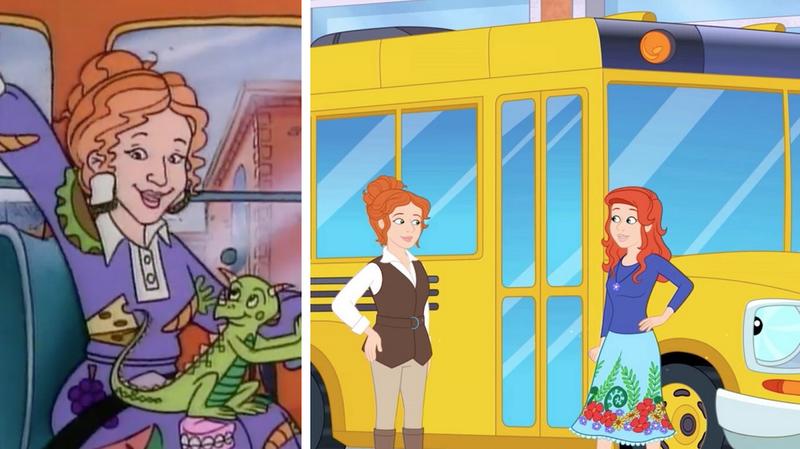 In the show, eccentric teacher Ms. Frizzle (Lily Tomlin) uses the magical powers of her school bus to teach her class about the scientific goings-on of the world. In some episodes, the bus takes the kids into space — and, in others, it shrinks them down so that they can study how the human body fights off a cold. It's fun, educational stuff. While the original '90s version is great, Netflix recently rebooted the series as The Magic School Bus Rides Again, wherein Ms. Frizzle's younger sister Fiona Frizzle (Kate McKinnon) inherits the keys to the titular bus.
Available on: Netflix