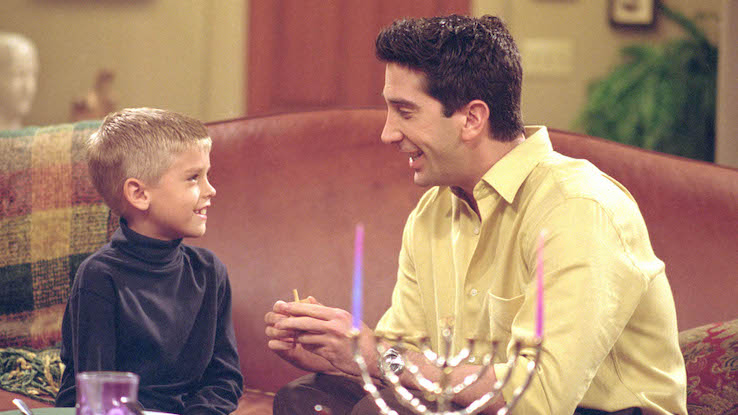 Ready to get into the Hanukkah spirit? While the latkes and lights are sure to do the trick, nothing caps an evening off better than relaxing with a few great Hanukkah-centric TV show episodes. That's why we've gathered a collection of some of the best things to watch on all eight nights — for adults and kids alike. From old standbys like Friends and Rugrats to newer classics-in-the-making like The Goldbergs, these shows bring all the fun, festivity and family togetherness of the Festival of Lights.
Friends: "The One With the Holiday Armadillo" (Season 7, Episode 10)
In this holiday TV essential, Ross' son Ben joins him for the holidays — and Ross discovers Ben hasn't been exposed to Hanukkah traditions, well, at all. On a mission to teach the youngster about his Jewish heritage (and a little upset at the fact that Ben can't imagine a winter without Santa), Ross invents and dresses up as the "Holiday Armadillo." Just as his armadillo alter-ego is teaching Ben about the magic of Hanukkah, though, Chandler shows up in a Santa suit, which only adds to the holiday hilarity.
The O.C.: "The Best Chrismukkah Ever" (Season 1, Episode 13)
What do you do when your dad is Jewish and your mom is Christian? The O.C.'s Seth comes up with a brilliant solution by "drawing on the best that Christianity and Judaism have to offer." The result? A celebration called "Chrismukkah," which features all the presents (and family drama) of both Christmas and Hanukkah rolled into one. This unique holiday didn't just become a tradition for the characters, either — it became a tradition for the show, with each season featuring its own Chrismukkah episode. That's pretty great news if you can't get enough of winter holidays (or Marissa, Summer, Seth and Ryan).
Rugrats: "A Rugrats Chanukah" (Season 4, Episode 1)
Why not throw it back old school this year? The Rugrats' "A Chanukah Special" isn't only a fantastic watch at any age, but it also made history as the first children's TV show to feature an episode dedicated to Hanukkah. The episode revolves around the story of the ancient miracle, with the group of cartoon babies imagining themselves in the main roles of the story. There's also a hilarious subplot in which Tommy's Grandpa Boris feuds with an old rival named Shlomo over the lead role in their synagogue's holiday play.
The Goldbergs: "A Christmas Story" (Season 3, Episode 10)
The Goldbergs has a Hanukkah episode, and it's everything you hope it could be. The fun begins when Beverly decides that her family's holiday spirit isn't up to par. In an attempt to infuse the Festival of Lights with what she's decided is the appropriate level of enthusiasm, she invents "Super Hanukkah." As the episode rolls on, however, this celebration becomes a little too similar to Christmas — just wait for the "Hanukkah bush" to see what we mean.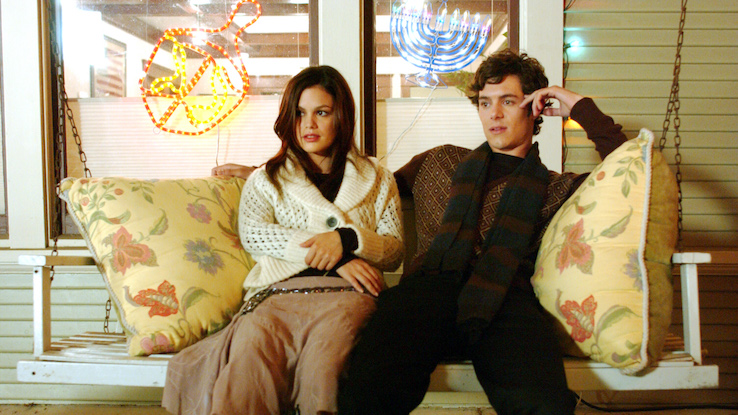 Even Stevens: "Heck of a Hanukkah" (Volume 2, Episode 4)
If you don't remember Even Stevens, then you owe it to yourself to experience its fun! As Hanukkah approaches, Louis — one half of the titular brother-and-sister pair — lands himself in big trouble while ransacking the house in an attempt to sneak a peek at his presents. While exiled to his room, he starts to wonder if the family wouldn't be better off without him in a Wonderful Life-worthy twist. All seems bleak until a long-dead ancestor shows up to give Louis a sneak peek at what the household would look like without him. This is a great one for viewers of all ages to enjoy together.
The Nanny: "The Hanukkah Story" (Season 6, Episode 10)
Here's a hefty dose of nostalgia for the Festival of Lights! At this point in the series, Fran has recently married Maxwell and is excited to celebrate Hanukkah with their blended family for the first time. Her plans go astray, however, when Maxwell has to drive to Boston and takes the kids along for the ride. As fate would have it, a terrible snow storm hits right in the middle of their trip, leaving Fran frantic with worry. She ends up saying a prayer with a nun, asking for a Hanukkah miracle in the form of making one hour's worth of car fuel last for eight.
Elena of Avalor: "Festival of Lights" (Volume 6, Episode 3)
This episode of Elena of Avalor offers a fun twist on Hanukkah that's infused with plenty of family-friendly Disney magic. The story begins when Princess Elena and her family discover a shipwreck on the coast of Avalor. It turns out the boat was carrying the royal family of a kingdom called Galonia. When the shipwrecked group explains that they were on their way home for Hanukkah, Elena and her family offer to help them celebrate. During the process, the royals of Avalor hear about the tale of Hanukkah and learn the customs of their new friends' holiday.
Arthur: "Arthur's Perfect Christmas"
If you didn't see it as a kid, you'll be delighted to find how surprisingly touching and insightful Arthur's Perfect Christmas is. The episode begins with Arthur and the other citizens of Elwood City preparing for the holidays. As Arthur makes out his Christmas list, Muffy teaches Francine about how important Hanukkah is to her and her family. Meanwhile, The Brain prepares to celebrate Kwanzaa with loved ones, and George's Swedish family is anticipating St. Lucia Day. Full of cross-cultural holiday fun, this is a great choice if you're looking to relive the magic of your childhood or introduce new generations to global holiday traditions.