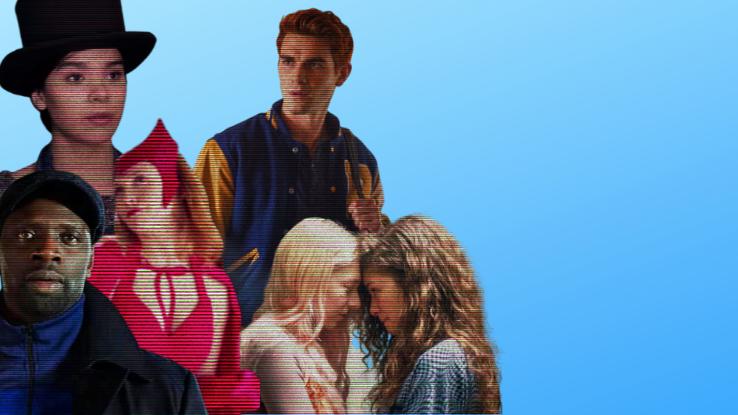 While 2020 certainly provided us with some top-notch entertainment, we're still glad to see the difficult year end. Now's the time for starting off on a new foot — personally and in terms of what content we're spending time with. Even though January isn't known for being a month packed with blockbusters and big-name releases, there's still quite a lot to be excited about, from season premieres of fan-favorite shows to some of the year's most anticipated books. We've rounded up the highlights — all you have to do is add them to your brand-new 2021 calendar.
Now Streaming: Netflix Originals to Kick Off the New Year
In many ways, Netflix was the hero 2020 needed. With a forward-facing production schedule, the streaming giant had tons of fresh content to drop each month despite Hollywood shutdowns — unlike its competitors, which, by and large, struggled to keep up with the ongoing TV and movie releases. This January, Netflix shows no signs of slowing down.
In terms of shows, the streaming giant is dropping the first season of Headspace Guide to Meditation and the documentary The Minimalists: Less Is Now on January 1. Following those initial releases, Netflix will also debut The History of Swear Words, with host Nicolas Cage, on January 5; sports documentary Tony Parker: The Final Shot on January 6; the third season of the surprise hit Cobra Kai and the series premiere of French heist show Lupin on January 8; LA-based reality TV show Bling Empire as well as new seasons of animated hits Carmen Sandiego and Disenchantment on January 15; and new seasons of competition show Blown Away and the Korean reality show Busted on January 22.
As far as Netflix original films are concerned, viewers should keep an eye out for sci-fi blockbuster Outside the Wire (January 15), which stars Anthony Mackie as an android officer who teams up with a drone pilot; Penguin Bloom (January 27), an Australian drama about a couple (Naomi Watts and Andrew Lincoln) who care for an injured magpie; Jude Weng's Finding 'Ohana (January 29), a comedy about two Brooklyn teens who find a lost treasure that reconnects them with their Hawaiian heritage; and Simon Stone's The Dig (January 29), a drama starring Carey Mulligan and Ralph Fiennes that's based on the troubling pre-World War II excavation of Sutton Hoo.
Now Streaming: Hulu and Disney+ Premiere Highly Anticipated Originals
Fresh off the overwhelming success of the sophomore season of The Mandalorian, Disney+ is finally offering up another one of its big-name original series. This time, however, it's a Marvel Cinematic Universe (MCU) offering — and the first MCU series to hit the streamer. Enter the highly anticipated WandaVision, the first episode of which will debut on January 15.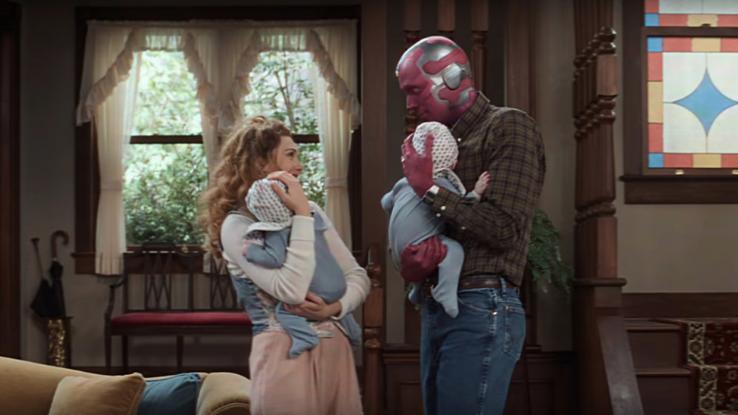 So, what exactly is the show about? It follows Wanda Maximoff (Elizabeth Olsen) — a.k.a. the Scarlet Witch — and her beau Vision (Paul Bettany), both of whom appeared in several installments of The Avengers film series (and Captain America: Civil War, which was essentially an Avengers film). Riffing off of different eras of television, the miniseries sees the two super-powered beings living idealized suburban lives — though, according to the show's logline, they soon suspect "everything is not as it seems." Disney+ is also offering up Pixar Popcorn on January 22, which we don't know too much about, save for the fact that it's produced by Soul director and Pixar icon Pete Docter.
This month, Hulu is one of the best places to catch next-day season and series premieres for several beloved network shows, including the 25th (yes, 25th) season of The Bachelor on ABC (January 5); the sophomore season of NBC's Zoey's Extraordinary Playlist (January 6); the series premieres of ABC's The Hustler and The Chase (both January 8); and the second part of the third season of Yara Shahidi's Freeform hit Grown-ish (January 22). The streamer also has some originals up its sleeve this January, including the second season of Endlings (January 15); original films The Ultimate Playlist of Noise (January 15) and Derek Delgaudio's In & Of Itself (January 22); and the first season of The Sister (January 22).
Now Streaming: Everything Noteworthy From HBO Max, Apple TV+ and Peacock
In terms of network premieres, there are definitely a few shows to suss out this January. On NBC, viewers can look forward to the second season of Zoey's Extraordinary Playlist (January 6), the premiere of Ted Danson's Mr. Mayor (January 8), the second season of A Little Late With Lilly Singh (January 12) and the NBC News special On the Trail: Joe Biden's Long Road to the White House (January 18). All of these shows, and the debut of the Peacock original The Amber Ruffin Show (January 8), can also be watched on the network's colorful streaming platform. And, of course, there's the highly anticipated season five premiere of The CW's muder-and-mayhem-filled teen melodrama Riverdale (January 20).
Other premium networks and streaming platforms, like HBO and Apple TV+, also have their fair share of January must-sees. On HBO Max, subscribers can catch the Denzel Washington-helmed crime-thriller The Little Things (January 29), which marks the first of the long string of blockbusters that Warner Bros. plans to release simultaneously in theaters and on the streaming service. HBO's also offering up the series premiere of paranormal Spanish-language series 30 Coins (January 4), the fourth season of Alia Shawkat's hit Search Party (January 14) and the highly anticipated second part of its Euphoria special episodes (January 24), which will focus on Jules (Hunter Schafer).
Rounding things out is Apple TV+, which is offering some of the most exciting follow-ups this month. For starters, there's the sophomore season of Dickinson (January 8), the sometimes anachronistic but always playfully dark and witty comedy about lauded poet Emily Dickinson (Hailee Steinfeld). Shortly after, the first episode of the ever-unsettling Servant (January 15) hits the platform — and, hopefully, continues to find M. Night Shyamalan returning to form. Subscribers should also keep their eyes peeled for psychological thriller Losing Alice (January 22) and the Justin Timberlake-helmed film Palmer (January 29).
Book and Video Game Releases to Keep an Eye On
When it comes to video games and books, January is noticeably quieter. After all, it's post-holidays, meaning all the big year-end releases just happened. Nonetheless, there are a few titles worth keeping on your release radar. In terms of games, we recommend Scott Pilgrim vs. The World: The Game — Complete Edition (January 14; PC, PS4, XBO, Switch and Stadia), which sees our guitar-playing hero taking on, well, the world with some added polish. Other standouts include real-time strategy game Iron Conflict (January 8; PC) and stylish stealth game Hitman 3 (January 20; PC, PS5, XSX, PS4, XBO and Stadia).
When it comes to books, there are definitely a few new releases that are worth the screen break. First up, there's Nick by Michael Farris Smith (January 5), which is the first novel to take advantage of the fact that The Great Gatsby's copyright expires in 2021. Needless to say, we hope this Nick Carraway prequel is the first of many re-imaginings and expansions. Speaking of prequels, we're also excited for Concrete Rose by Angie Thomas (January 12), which is set before her bestselling YA novel The Hate U Give and tells the story of Maverick Carter in what's been dubbed by the publisher as a "searing and poignant exploration of Black boyhood and manhood." Finally, we're rounding out our book picks with Kate Henry's This Will Be Funny Someday (January 19), which Entertainment Weekly has described as "If The Marvelous Mrs. Maisel was a YA novel" — and, honestly, we couldn't think of a brighter way to start off the year.
Advertiser Disclosure: When you purchase through links on our site, we may earn an affiliate commission.