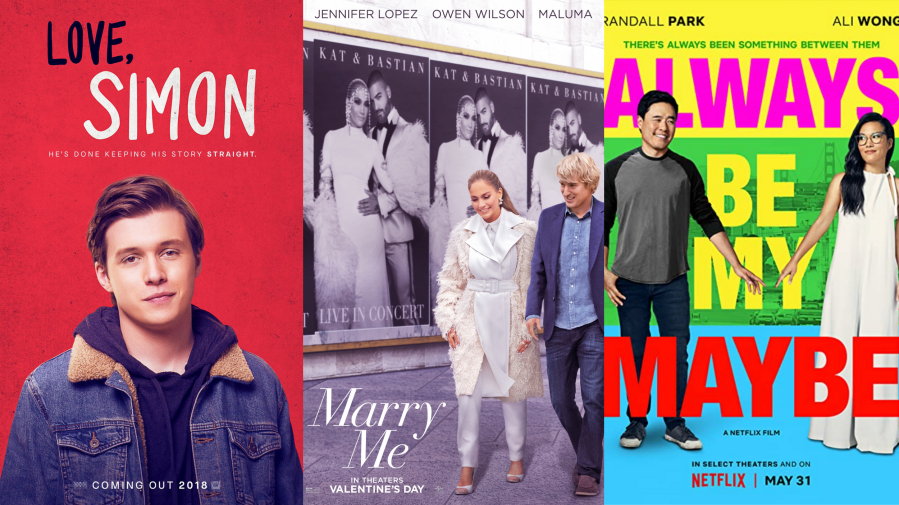 Romantic comedies have been experiencing a most welcome renaissance since 2018. And they've found a way of ridding themselves of outdated gender stereotypes in the process. They no longer respond to the "boy meets girl" formula either; now it's more a "person meets person" rule. And there's a lot more diversity in the casting, too.
The rules of the genre are still the same: Two people meet or find each other again. There's a certain attraction between them and, at the same time, some sort of conflict keeps them apart, even though they're clearly made for each other. The movie invariably ends with the two of them together after some great gesture, nice speech and nicer kiss. Romantic comedies need to make you swoon, but they also need to make you laugh.
We've put together a list of inclusive, heart-warming rom-coms perfect for some Valentine's Day (or any other day) celebration, whether you're solo or partnered up.
Also, we haven't included other recent titles like Call Me by Your Name, Beyond the Lights, Moonlight and Her on this list. While those titles are love stories, they're more on the drama side of the romantic realm — and in a time like this, "lighthearted" is what we really need.
The oldest movie on this list comes from writer-director Nicole Holofcener (Can You Ever Forgive Me?) and pairs comedy queen Julia Louis-Dreyfus with Sopranos star James Gandolfini. Louis-Dreyfus plays Eva, a masseuse preparing herself for an empty nest because her daughter is leaving for college. Eva meets the funny and comforting but also oblivious Albert (Gandolfini), and their relationship seems to work until she realizes he's the ex-husband of one of her clients. Everything the client tells Eva about the ex-husband makes her reconsider Albert's suitability.
Where to watch: Hulu and Video on demand (VOD) on services like Amazon, iTunes or Google Play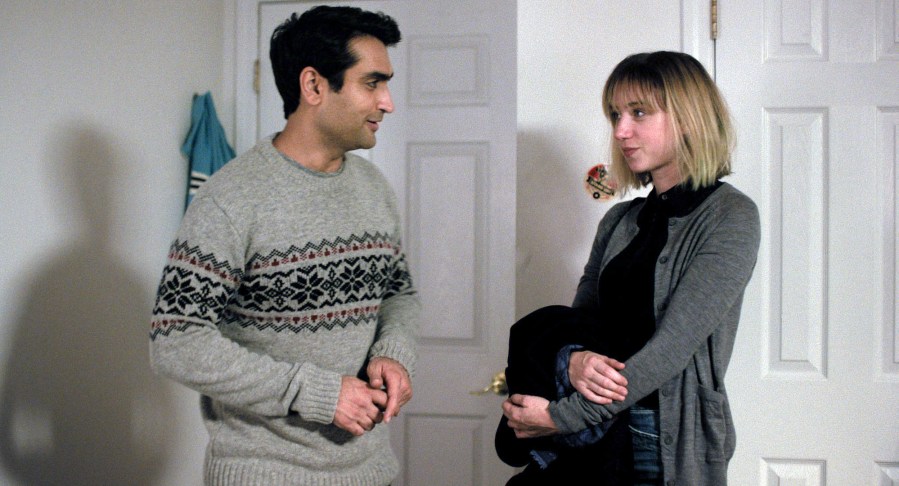 Married couple Kumail Nanjiani and Emily V. Gordon wrote the Oscar-nominated script for this movie that's loosely based on the way they met and fell in love. Nanjiani also stars, playing a version of himself, and Zoe Kazan plays Emily. In the movie, Kumail and Emily meet and start dating. Everything is looking great until she realizes his Pakistani family is looking to set him up in an arranged marriage with someone from their same cultural background and she breaks up the relationship. When Emily gets placed in a medically induced coma because of a health condition, Kumail starts reconsidering a lot of things.
The movie centers a couple dealing with cultural differences, and it also offers some perspective on some of the stereotypes a Pakistani person may face living in this country.
Where to watch: Prime Video and VOD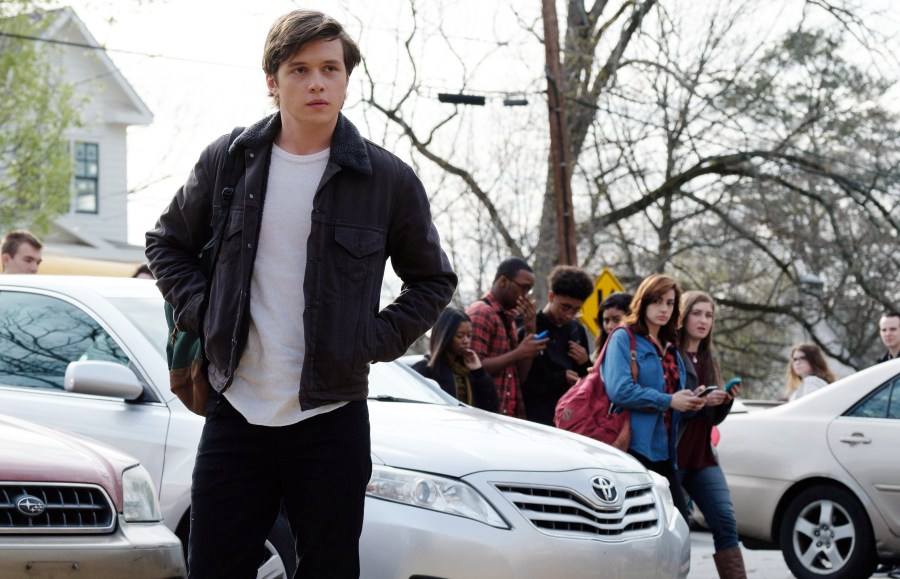 Reciting titles of romantic comedies is kind of easy. Coming up with titles where there's a starring same-sex couple is not as simple. More than a strict rom-com, Love, Simon is a young adult story about a teenager, Simon (Nick Robinson), trying to find a way to tell his family and friends that he's gay. At the same time, Simon falls in love with one of his classmates while chatting with him online, and he tries to figure out his identity. The movie is directed by Greg Berlanti (The Flash) and is an adaptation of the book Simon vs. the Homo Sapiens Agenda.
Also, if you enjoy Love, Simon, you should check out Hulu's heartfelt show Love, Victor. It has already aired two seasons and is set in the same universe as the movie. This show introduces the viewer to Victor (Michael Cimino) as he figures out his feelings for his classmate and coffee shop coworker Benji (George Sear). Season three of Love, Victor will debut on Hulu on June 15, 2022.
Where to watch: Hulu and VOD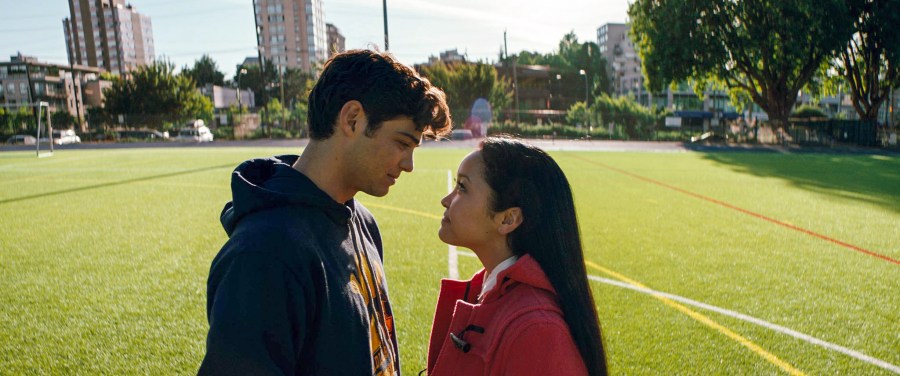 Netflix has made a point of producing diverse romantic comedies geared towards teenagers, grown-ups and all of the above. To All the Boys I Loved Before is the first in a series of three movies (including To All the Boys: P.S. I Still Love You and To All the Boys: Always and Forever) based on the trilogy of teen novels of the same title by Jenny Han.
The first movie introduces us to Lara (Lana Condor), an introverted teenager who likes writing long love letters to the boys she's had crushes on. She's never planned to send the letters, but somehow they end up being delivered to their addressees. Lara is forced to get out of her comfort zone. The whole mishap allows her to get to know Peter (Noah Centineo) — and his beautiful eyes — a bit better.
Where to watch: Netflix
We've told you 2018 was a big year for romantic comedies. But nothing quite encapsulates it as well as the box-office success Crazy Rich Asians. Based on Kevin Kwan's best-seller novel of the same title, Crazy Rich Asians was the first major studio movie since 1993's The Joy Luck Club to feature an all Asian and Asian-American cast.
Constance Wu (Hustlers) plays Rachel, a New York professor who goes on a trip to Singapore with her boyfriend Nick (Henry Golding) and meets his family. During the trip, Rachel learns how much Nick hasn't told her about himself. His family is crazy rich, for starters. Fortunately, Rachel's college friend Peik Lin (Awkwafina) welcomes her to the big metropolis, but she's one of the only allies Rachel has there. Other than the romance and friendship, the movie is the perfect excuse to vicariously travel to Singapore.
Where to watch: HBO Max and VOD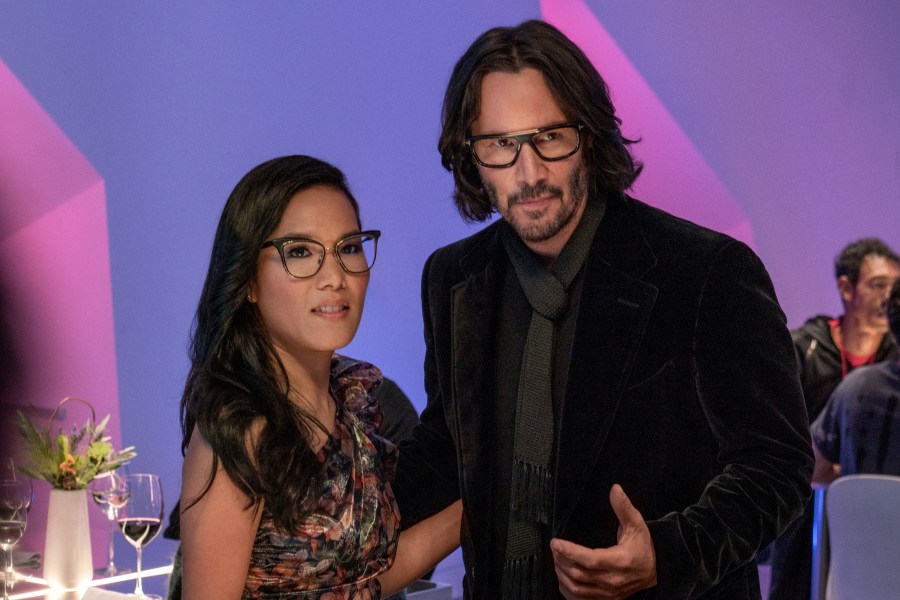 Crazy Rich Asians led the way in terms of Asian representation on the screen, but it followed a more classical fairy tale formula. For a more unconventional take on the genre, check out Netflix's Always Be My Maybe. Comedians Ali Wong and Randall Park co-wrote and star in this movie, playing childhood friends Sasha and Marcus. Now in their thirties, she's a successful celebrity chef, while he's working at his dad's heating and air conditioning company and playing local gigs as a rap musician. When she moves to San Francisco to open a new restaurant, they find each other again and remember how easy it was to be friends.
The movie is hilarious and refreshing, and it reverses stereotypical gender roles about professional ambition and success. But it also comes with a Keanu Reeves cameo that's worth a watch in and of itself.
Where to watch: Netflix
Also very much reversing stereotypical male and female roles is Long Shot. Charlize Theron plays the practically perfect-in-every-way Charlotte Field, who happens to be the U.S. Secretary of State. Seth Rogen is Fred Flarsky, an idealistic journalist who ends up without a job and loves to smoke pot. She used to babysit him when he was a teenager. He's always had a huge crush on her. After they accidentally run into each other at a party, she hires him to punch up some of her speeches and finds someone who isn't threatened or emasculated in any way by her success and power.
Where to watch: VOD
Jane the Virgin's Gina Rodriguez plays the New York-based aspiring music journalist Jenny. She has the best two best friends — Erin (DeWanda Wise) and Blair (Brittany Snow) — and a boyfriend of nine years, Nate (LaKeith Stanfield). She gets a dream job in San Francisco and gets ready to move there on the brink of her 30th birthday, but Nate decides he's not ready to leave New York. The movie deals with a breakup and what it takes for a romantic relationship to work — but it also delves into the supporting friendship Jenny has with Erin and Blair.
Where to watch: Netflix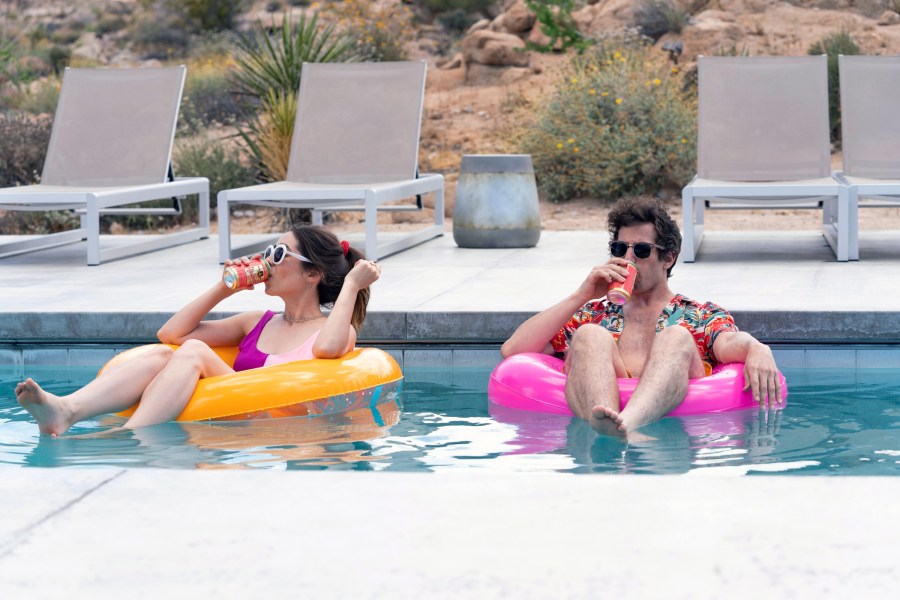 This is a modern take on the Groundhog Day recipe of trapping the characters — in this case, Cristin Milioti as Sarah and Andy Samberg as Nyles — in a time loop. They find themselves confined to live one long, ever-repeating day during Sarah's sister's destination wedding in Palm Springs. As every day passes, we learn new things about their pasts and what got them into such an unusual situation.
The movie broke a Sundance record in 2020 by becoming the indie film festival's biggest sale, going to Hulu and Neon for $17,500,000.69. It would then break the streamer's opening weekend record by achieving more hours watched over its first three days than any other Hulu film during the same period.
Where to watch: Hulu
If you're a fan of Love Actually, The Best Man Holiday and The Family Stone, you have a thing for Christmas-themed rom-coms. In Happiest Season, Kristen Stewart and Mackenzie Davis play Abby and Harper. They're a perfectly happy and very cute couple. That is, until Abby ends up joining Harper at her parents' place for the holidays and realizes her girlfriend never told her family she's gay and in a serious relationship.
And this movie doesn't only have all the tropes of a holiday romantic comedy. It also has Daniel Levy playing Abby's best friend. And Aubrey Plaza playing Harper's former more-than-just-best-friend.
Where to watch: Hulu
I know calling The Prom a rom-com might be a bit of a stretch. Ryan Murphy's adaptation of this Tony-nominated Broadway show is more a musical with one (or two) romantic twists. It has a cast to die for: Meryl Streep plays the Broadway legend Dee Dee Allen, Keegan-Michael Key is a musical-loving high school principal and Dee Dee's love interest, James Corden, is Dee Dee's best friend and infrared therapy mask companion. Nicole Kidman is just a chorus girl.
But at its core, The Prom is the story of Emma (Jo Ellen Pellman). She's a teenager from Indiana whose only dream is to be able to go to prom with her girlfriend Alyssa (Ariana DeBose), even though the head of the PTA (Kerry Washington) is not very keen on having an inclusive prom.
Where to watch: Netflix
The Big Sick's Kumail Nanjiani and Insecure's Issa Rae star in this movie playing Jibran and Leilani. They're a New Orleans couple whose perfect-duo status gets challenged after one accident gets them mixed up in a murder mystery and they must clear their names. They must also find a way to salvage their relationship while enduring such a trying — yet undeniably hilarious — experience.
Where to watch: Netflix and VOD
There's definitely something special about Christmas-themed romantic comedies. Ugly Betty's Michael Urie plays Peter, a PR consultant who lives in Los Angeles with his best friend Nick (Philemon Chambers). Peter convinces Nick to go home with him for Christmas because he's tired of his family asking about his relationship status. His mom (Kathy Najimy) sets Peter up on a blind date with a dreamy trainer (Luke Macfarlane), yet Peter may only have eyes for Nick, even if he doesn't dare risk his friendship with Nick to try something else.
You'll get all that romance and family drama, plus Jennifer Coolidge playing the aloof aunt and saying things like "The gays just know how to do stuff. And for some reason, they're always obsessed with me."
Where to watch: Netflix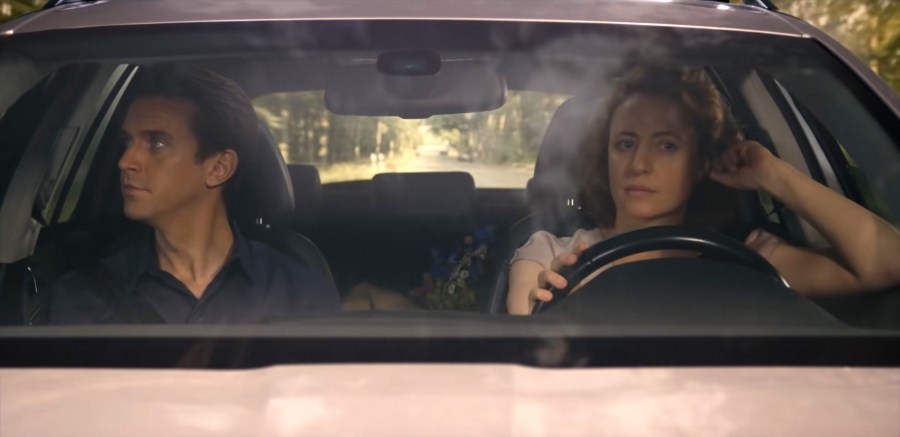 This German film directed and co-written by Maria Schrader (Unorthodox) stars Downton Abbey's Dan Stevens, who happens to be fluent in German as well as his native English. He plays Tom, a robot who's been specifically designed as the dream partner for Alma (Maren Eggert). Alma is an archeologist tasked by Tom's company with the job of testing him and figuring out if these humanoid robots would be viable options as human companions and lovers.
She's a total skeptic who's more interested in doing research than being seduced by the too-perfect Tom, yet she's unprepared to realize how disarming someone like Tom can be for her.
Where to watch: Hulu and VOD
I'll admit the premise for Marry Me is all but typical. Jennifer Lopez returns to her rom-com days with this story in which she plays music star Kat Valdez. She's half of a celebrity power couple with Bastian (Maluma in his feature-film debut).
To celebrate their hit single "Marry Me," the couple is about to marry live on stage and while the whole ceremony is being streamed. But right before the wedding, Kat finds out Bastian has been cheating on her with her assistant. Kat ends up impulsively proposing to an audience member instead and marrying him. The new husband in question is the divorced math teacher Charlie Gilbert (Owen Wilson), who was dragged to the event by his daughter (Chloe Coleman) and his best friend (Sarah Silverman). As Kat and Charlie get to know each other, they'll realize they have more in common than they first believed. Marry Me comes packed with original songs by Lopez and Maluma.
Where to watch: Theaters and Peacock.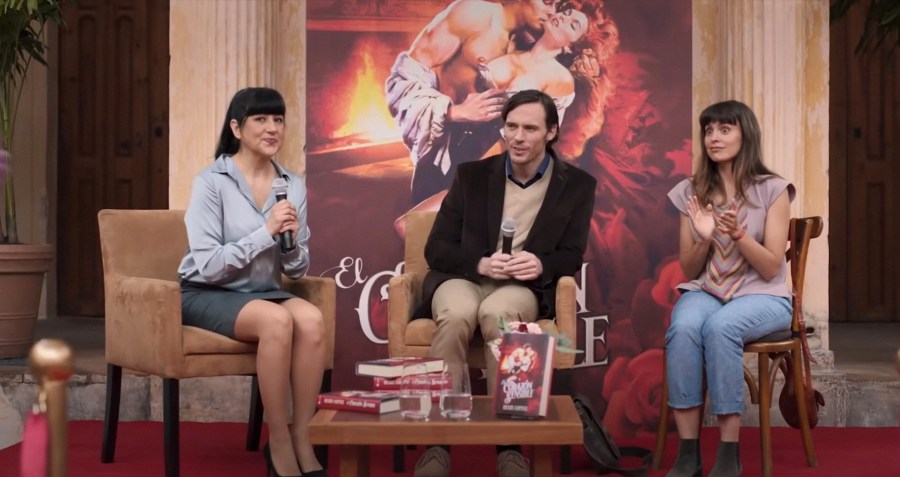 Sam Claflin (The Hunger Games: Catching Fire) is Henry, a very British (and a bit stuffy) writer. He's struggling to get any sales of his first novel when his publisher sends him on a promo tour to Mexico, since the novel has become a sensation there — and only there. In Mexico, he meets María (Verónica Echegui), the translator of his book and the person responsible for the novel's wild success. María has made some changes in her translation of Henry's work and rewritten it into a spicy erotic novel with a huge following.
And while Henry is not happy when he first learns about it, he'll soon be fascinated both by the country he's visiting and María's passion for writing. The movie deals with the rewards of following one's calling but also getting credit for one's work.
Where to watch: Prime Video
Get ready to snuggle up with our proposals for a definitely cozy and somewhat dreamy Valentine's celebration. The chocolates, candles and blanket are optional.