Dwayne "The Rock" Johnson is one of the most successful and highest-paid actors in the entertainment industry. He has starred in a wide variety of films, from adventure flicks and thrillers like The Scorpion King (2002) and the Fast & Furious franchise to family-friendly films like Race to Witch Mountain (2009) and Moana (2016).
Casual fans of Johnson will get to see more of his upbringing on his new NBC sitcom, Young Rock. However, many long-time viewers will know that the beloved actor actually got his start as an athlete before he made the transition to Hollywood. Let's revisit how Johnson went from the ring to the big screen.
A Football Star's Dream Is Dashed
Though Johnson is known for his acting and wrestling career, he actually first had dreams of becoming a pro football player. He was a promising high school football star whose work ethic and abilities on the field earned him a scholarship to play Division I football at the University of Miami.
During his time with the Miami Hurricanes, Johnson played in 39 games and was a part of the 1991 championship team. He seemed well on his way to getting drafted by the National Football League (NFL) one day, but the young defensive tackle seriously injured his shoulders and back. Instead of going to the NFL, Johnson signed on to play for the Calgary Stampeders in the Canadian Football League, and, although he made it to the practice roster, he was cut just two months into the season.
Johnson Becomes the WWF's "The Rock"
After his short-lived football career, Johnson was heartbroken, but he remained resilient and pursued a career as a professional wrestler. Sure, Johnson was an athlete, but wrestling? The sport is actually in his blood. Johnson's father, Rocky Johnson, and his grandfather, "High Chief" Peter Maivia, were both former professional wrestlers. After several tryout matches with the World Wrestling Federation (WWF) in 1996, Johnson signed a contract that summer. And the rest, indeed, was history.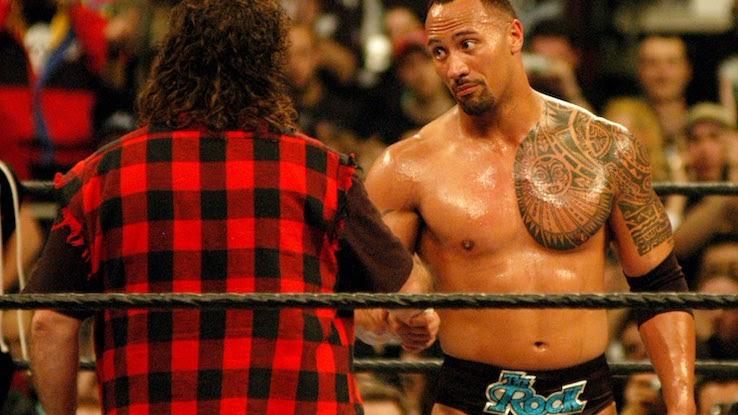 Johnson, who first made his WWF debut as Rocky Maivia (a combination of his father and grandfather's ring names), completely dominated the wrestling world in the late 1990s and early 2000s. Throughout his career, he became known as "The Rock," and won the WWF heavyweight title a whopping six times. Not to mention, he has five tag-team titles under his belt. Even now, Johnson is one of the WWF's (now, WWE's) most iconic wrestlers of all time.
Johnson Makes His Hollywood Debut
As Johnson continued to make waves as "The Rock," he hosted Saturday Night Live for the first time in 2000. It was an opportunity that completely changed the trajectory of his career, as he began getting acting offers from Hollywood studios. His first theatrical role was as Mathayus, the Scorpion King, in the 2001 film The Mummy Returns. A year later, he reprised the titular role in The Scorpion King.
After Scorpion King, Johnson realized that he wanted to make the transition from wrestling to acting. "I wanted to have a real, long-lasting career that had weight and had value. And I wanted to become a real box office presence," the actor shared in an interview with CinemaBlend. In 2004, he left the WWE to pursue acting full-time. Though he would make sporadic appearances with the WWE until his official wrestling retirement in 2019, Johnson was ready to shed his "Rock" persona and become Dwayne Johnson — the bonafide actor.
Life in the Fast Lane: Taking On Fast & Furious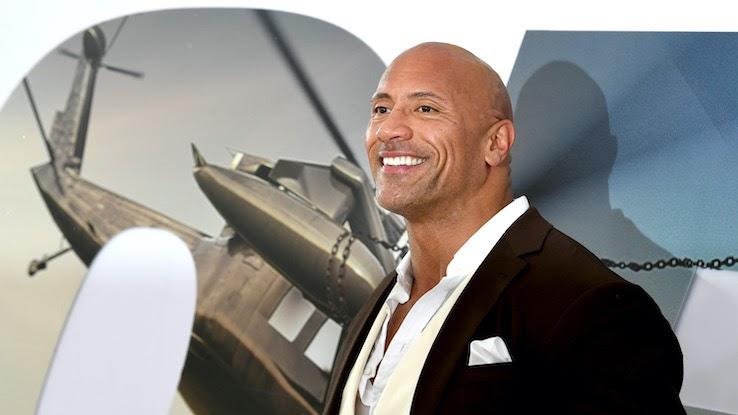 Throughout the 2000s, Johnson continued to make headway in the acting scene, taking on roles in blockbusters like Be Cool (2005), Gridiron Gang (2006), The Game Plan (2007), and Tooth Fairy (2010). By taking on a variety of genres, he quickly proved himself as a serious actor who could handle everything from drama to action to comedy.
However, in 2011, the budding actor truly solidified his spot as a big-name actor. Johnson was cast as Luke Hobbs in the fifth Fast & Furious film, Fast Five. He has gone on to reprise the role in every Fast & Furious installment since — and he even starred in the 2019 spinoff flick Hobbs & Shaw. In addition to international acclaim, the franchise has made him one of the most successful actors in the world. According to Forbes, Johnson earned $89.4 million in between 2018 and 2019, making him Hollywood's highest-paid actor — an honor he's held more than once.
"You're Welcome": Johnson Becomes Maui in Moana
Although he's become synonymous with action-adventure flicks, one of Johnson's most iconic roles as of late was his appearance as Maui in the Disney animated film, Moana (2016). The role was comedic and over-the-top, something that Johnson had already proven he could do. However, it also put his singing chops to the test — particularly in the now-hit song "You're Welcome," which was co-written by Hamilton's Lin-Manuel Miranda as well as Opetaia Foa'i and Mark Mancina.
Moreover, Moana centers on Polynesian culture, which made it a personal film for Johnson, who is Black and Samoan. "As Polynesians, we grew up with stories of the great demigod of Maui," the actor told Female First of the role. "There are multiple iterations. He is a shapeshifter. He is charismatic. He is larger than life. When you hear the mythology of Maui as kids, [you are] blown away by it. He is a fantastic character to play."
Johnson's Star Continues to Shine Bright in Hollywood
Johnson's consistent hard work over the years has continued to bring him more opportunities to do what he loves. His work with comedian and actor Kevin Hart in 2016's Central Intelligence sparked not only a great working relationship between the two, but also an unconventional "bromance" that fans love to see. Johnson has gone on to helm the popular franchise Jumanji (2017) and star in other top-grossing films and shows like HBO's Ballers, Rampage (2018), and Skyscraper (2018).
In 2017, the actor received a star on the Hollywood Walk of Fame for his work — but he shows no signs of slowing down. Johnson has narrated and produced his life story on NBC's Young Rock (2021), and has appeared in Disney's Jungle Cruise (2021) and Netflix's Red Notice (2022). Johnson will also voice over Krypto the Superdog in Warner Animation Group's upcoming film DC League of Super-Pets (2022).
"Success isn't always about greatness," he admitted in an interview with Fortune. "It's about consistency. Consistent hard work leads to success."