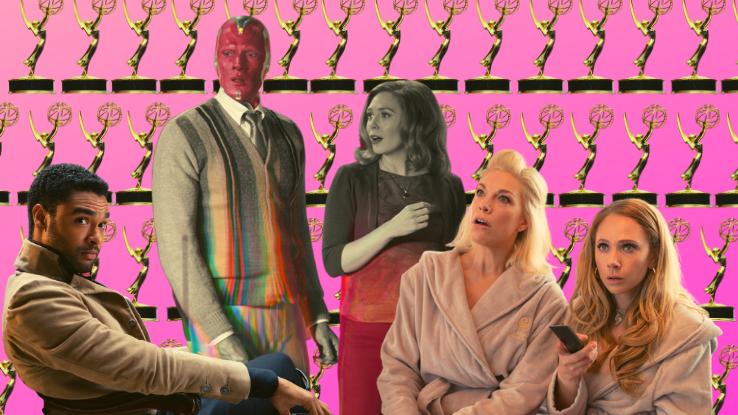 There was a bleak extended period throughout most of 2020 and early 2021 when movie theaters were closed, theaters shut down, museums were empty and concert halls were silent. The only options we had for leisure and escapism were pretty much books, board games, video games and, of course, TV shows.
Now, the spike in COVID-19 cases caused by the Delta and other variants is threatening the return to normalcy that we pretty much had assumed was a certainty. But at least we live in the era of golden television. That's exacerbated by the streaming wars, however, and we're at a point where there's just too much to watch and not enough time to do it.
Precisely because we've basically spent a whole year and a half of a pandemic in front of the smart TV — or alternatively the laptop, tablet or smartphone — it's time to see what this year's batch of Emmy nominations can tell us about how the TV landscape is shifting and what shows have been helping us escape the daily routine of vaccination rates, case counts and variants.
We Needed Some Big, Old-Fashioned Laughs, but We Mainly Searched for Them on Streaming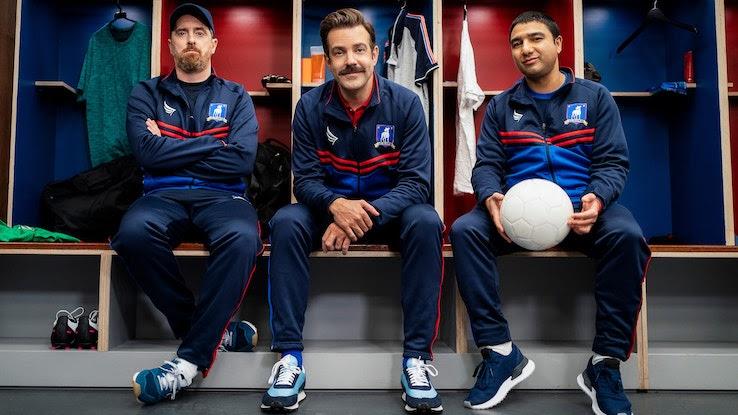 Perhaps those who enjoyed Jason Sudeikis playing an American-college- football-coach-turned-soccer-coach weren't that shocked by Ted Lasso's 20 nominations at the Emmys. But the surprise-hit Apple TV+ show, which just released its second season, is one of the top nominated shows this year. It's the favorite to win the Outstanding Comedy Series award — and a few other statuettes — in a category where it's competing against critic darlings Hacks and The Flight Attendant, as well as more established shows like Black-ish.
To give you more context, the third season of 30 Rock is the comedy with the most Emmy nominations to date; it got 22 in 2009. Ted Lasso is just two nominations shy of that number in its first season. Also, 30 Rock aired on the network channel NBC, and Ted Lasso streams on the relatively new subscription service Apple TV+ — which launched in November of 2019.
It's not only that we needed a feel-good series filled with nice folks, like Ted Lasso, in a particularly trying time. It's also that streaming services dominate the nominations. Netflix has amassed 129 nods this year. Disney +, which also launched in November of 2019, has 71. Apple TV+ has 34. HBO Max has 36, but you can add to that the 94 that the premium cable version of HBO has. ABC has 23 nominations, CBS has 26 and NBC has 46.
Only one network show, Black-ish, is nominated in the Best Outstanding Comedy category. For Outstanding Drama Series, there's also only one network entry: This Is Us. There's no network representation in the other coveted category, Outstanding Limited Series, where mainly streaming services but also cable networks like HBO lead the pack.
The Crown (Netflix) and The Mandalorian (Disney+) are the programs with the most nominations at the Emmys this year — 24 each. Then there's WandaVision (Disney+) with 23, The Handmaid's Tale (Hulu) with 21, Saturday Night Live (NBC) with 21, Ted Lasso with 20, Lovecraft Country (HBO) with 18, The Queen's Gambit (Netflix) with 18 and Mare of Easttown (HBO) with 16.
Fantasy and Sci-Fi Also Helped Us Unwind
The Crown's many Emmy nods came as no surprise, and neither did those of The Handmaid's Tale. Both titles have been awarded numerous times in previous years. Popular and critically acclaimed limited series The Queen's Gambit and Mare of Easttown were also expected to sweep in terms of nominations this year.
Fan-favorite Bridgerton getting 12 Emmy nominations is another story. One of those nods is for Outstanding Drama Series, and there's another for Regé-Jean Page in his role as the Duke of Hastings. It's not that often that the Television Academy distinguishes the adaptation of a romance novel. But romance is not the only genre getting recognition this year.
With the nominations of The Mandalorian, WandaVision, Lovecraft Country and The Boys — the Prime Video show has five nominations, with one of them in the Outstanding Drama Series category — the fantasy/sci-fi/superhero realm not only gets some appreciation, but it also proves that this year more than ever we needed to immerse ourselves in faraway worlds.
The Primetime Emmy Awards will air Sunday, September 19, at 5 p.m. PT on CBS and stream live and on-demand on Paramount+. Last year's ceremony was mostly a socially distanced affair with winners connecting via videoconference. This year, the Television Academy is planning for a more traditional ceremony with a limited live audience made up of some of the nominees. Cedric the Entertainer will host the 73rd Emmy Awards.