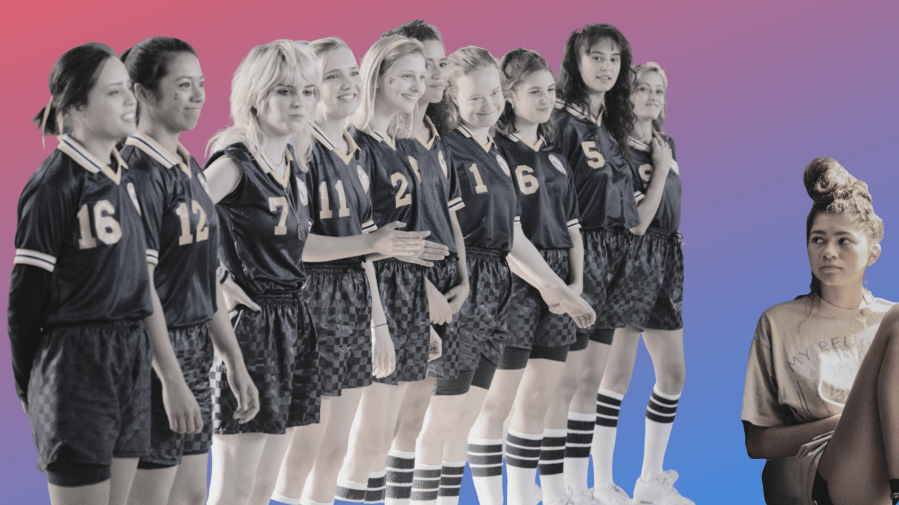 We get it. You've finally listened to our advice and checked out one of our favorite shows that premiered in 2021. And now you find yourself heartbroken over the fact that Yellowjackets is about to air its season finale on Showtime next Sunday, January 16, leaving a Succession-sized hole in your TV heart and your Sunday evenings. The good news is that the '90s nostalgia-filled series has already been renewed for a second season.
Plus, if you're into teenage angst and unconventional coming-of-age stories, you can easily transition from Yellowjackets to Euphoria. The Zendaya- and Hunter Schafer-starring vehicle just premiered its second season on January 9 on HBO and promises to give the Spider-Man: No Way Home alum a stab at winning a second Emmy (she famously won one for the first season of Euphoria).
But we want to give you even more watching options if you're feeling the young-adult vibe. Here are a few must-watch teen (and just post-college) TV shows for the younger generation — or the young at heart in you — to enjoy.
Skins (2007–2013)
This British dramedy features Nicholas Hoult (The Great), Joe Dempsie (Game of Thrones), Hannah Murray (Game of Thrones) and Dev Patel (Slumdog Millionaire) at quite the young age; the standout cast plays a group of teenagers growing up in Bristol.
When it first aired in the UK, Skins was controversial for its depictions of nudity, teenage sex and explicit drug use. But with a long list of other more recent teen dramas portraying all facets of teenage life in a raw and naturalistic way — a lot of those titles are included in this list — Skins may not seem as provocative in 2022 as it did in 2007. PP
Where to watch: Hulu
Faking It (2014–2016)
This MTV romantic comedy series stars Rita Volk and Katie Stevens as best friends Amy and Karma. They try very hard to fit in at an atypical high school where being a misfit is actually a popular thing. When they accidentally fake being a lesbian couple, Amy realizes she may actually be attracted to Karma.
The show boasts a lot of LGBTQ+ representation with the inclusion of an intersex character, played by an intersex actor — and that's something we still don't see that often on TV. Faking It was nominated in 2015 and 2016 for GLAAD Media Awards in the Outstanding Comedy Series category. PP
Where to watch: Video on demand (VOD) on services like Amazon, iTunes or Google Play
Dear White People (2017–2021)
This four-season Netflix dramedy is based on a 2014 film of the same name and was written and directed by Justin Simien, who also created and ran the show. It depicts the college life of a group of Black students at a fictional Ivy League university.
Besides taking in lessons on "wokeness" and antiracism, you can also watch this show just to have some fun. Its fourth and final season, for instance, is infused with '90s Black musical references as the characters prepare the varsity show and spontaneously burst into song. PP
Where to watch: Netflix
Everything Sucks! (2018)
Although Netflix's comedy-drama Everything Sucks! was a fan favorite with a passionate legion of viewers, it fell victim to the streamer's penchant for canceling so-called "underperforming" shows after just a single season. But don't let the fact that Netflix didn't renew the series for a sophomore season color your view of it; undoubtedly, Everything Sucks! is worth the quick watch.
Set in Boring, Oregon during the mid-'90s, the series centers on a slew of high school students who, despite seemingly belonging to different cliques, band together to make a movie. Helming the film is Luke O'Neil (a very charismatic Jahi Di'Allo Winston), a freshman who, upon joining the school's AV club, develops a crush on Kate Messner (played in very relatable fashion by Peyton Kennedy). But Kate is coming to terms with her queerness — and her crush on drama enthusiast Emaline Addario (Euphoria's Sydney Sweeney).
Earnest and packed with '90s nostalgia, the 10-episode Everything Sucks! explores queerness, mental health and other coming-of-age topics with more nuance than shows that have aired for several seasons. KB
Where to watch: Netflix
Sharp Objects (2018)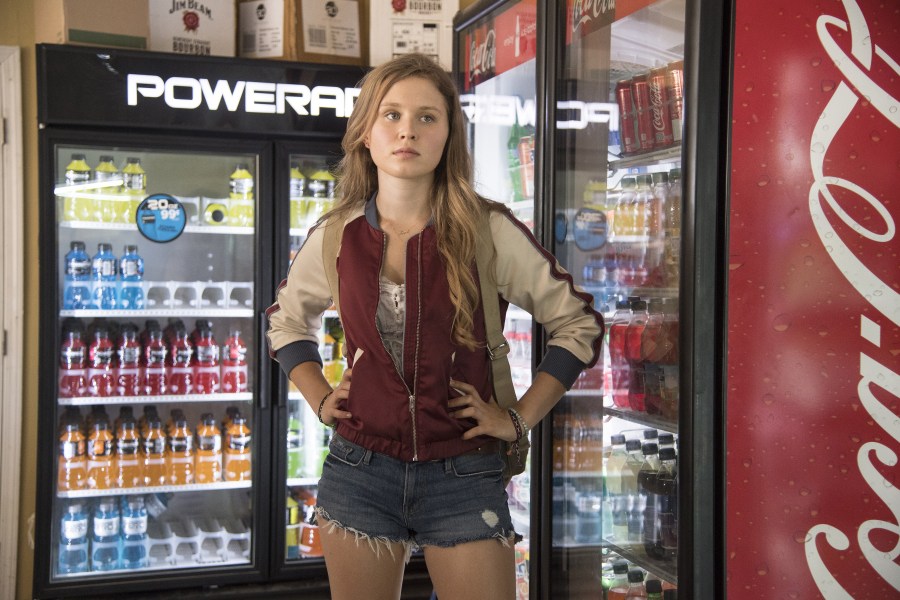 Based on Gillian Flynn's (Gone Girl) book of the same name and starring Amy Adams and Patricia Clarkson, this HBO miniseries could be grouped in with some of the cable network's other recent productions that center on a whodunit story and feature a strong women-led cast. Think Big Little Lies, The Undoing or Mare of Easttown.
What sets Sharp Objects apart, besides a Led Zeppelin-filled soundtrack, is Eliza Scanlen playing Adams' character's teenage sister, Amma. Thought you were terrified of the judgy highbrow readers Paula (Brittany O'Grady) and Olivia (Sydney Sweeney) from The White Lotus? Wait until you meet Amma… PP
Where to watch: HBO Max
Élite (2018–)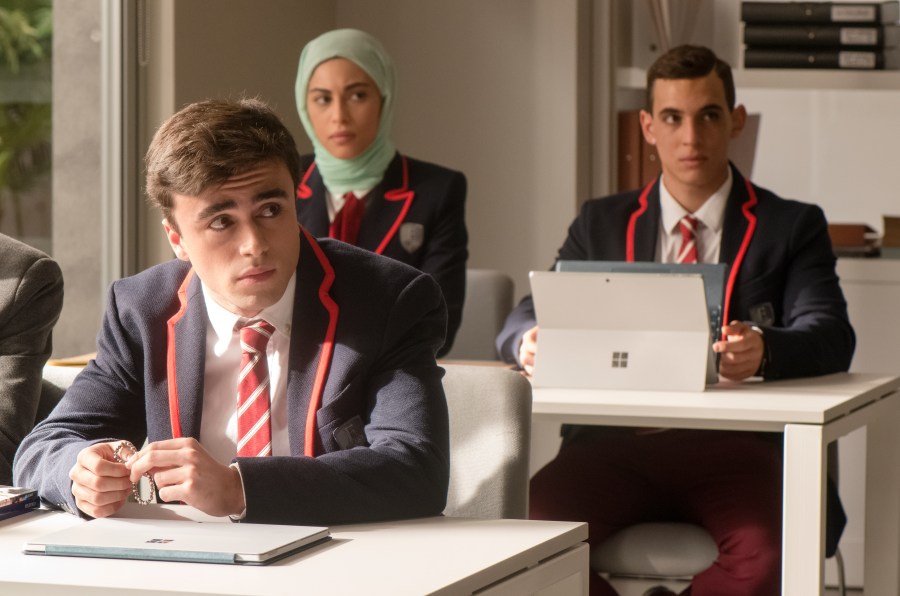 You know when it comes to shows in languages other than English, we always recommend that you fire the subtitles and opt for the original version. That's exactly what you should do with this Netflix Spanish production, which is set in the very posh fictional high school of Las Encinas.
If you're a fan of the popular Money Heist, you'll be able to recognize a couple of faces from it in Élite. The teen thriller features Itzan Escamilla (Samuel), Mina El Hammani (Nadie) and Miguel Herrán (Christian) as three new students at Las Encinas. They're from a working-class background and have gotten a scholarship to go to the exclusive school. The show, which has already been renewed for its fifth and sixth seasons, uses nonlinear storytelling and interweaves flashbacks of a mystery-type story with the present-day storyline of the students at Las Encinas. PP
Where to watch: Netflix
Grown-ish (2018–)
A spin-off of ABC's hit comedy Black-ish, Grown-ish stars Yara Shahidi as Zoey, the Johnsons' oldest daughter, and follows the ups and downs of her college experience at Cal U. Created by Kenya Barris and Larry Wilmore, and produced in part by Black-ish star Anthony Anderson, Grown-ish strikes that same balance between humor and social awareness. But what really helps Grown-ish stand out in a sea of young-adult shows is its incredible cast.
Anchored by the always-charming Shahidi, the show also stars Trevor Jackson as activist-minded Aaron Jackson; Francia Raisa as the at-first conservative Ana Patricia Torres; musicians Chloe and Halle Bailey as twin track and field stars Jazz and Sky Forster; Emily Arlook as the tough-on-the-outside-but-soft-on-the-inside Nomi Segal; Jordan Buhat as the always game Vivek Shah; and Luka Sabbat as resident stoner (and Zoey's fashion designer colleague) Luca Hall.
From its realistically flawed characters — who will undoubtedly feel like a new group of pals to you — to its fresh, nuanced takes on finding one's footing in college and young adulthood, Freeform's four-season Grown-ish is a must-watch series. KB
Where to watch: Hulu
Dickinson (2019–2021)
One of our favorite shows of last year, Dickinson aired its second and third season in 2021. For those who don't know, it's a stylized teen dramedy that features Hailee Steinfeld playing poet Emily Dickinson. We've already told you not to take this dramedy as a history lesson, but you should definitely watch it as the perfect blend of digestible TV and poetry.
And while we truly doubt Dickinson's youth resembled anything like the colorful and woke séance-and-spa-filled days portrayed in the Alena Smith-created show, the series sure seems to fully grapple with, and bring to life, the meaning behind some of the poet's words. PP
Where to watch: Apple TV+
I Am Not Okay With This (2020)
Remember that one-season-and-done Netflix curse we mentioned earlier? Well, much like Everything Sucks!, I Am Not Okay With This suffered a similar (and untimely) fate. Although the streamer cited pandemic-related issues as the reason for the quick cancelation, we can't help but feel slighted. Like Grown-ish and Everything Sucks!, this series felt incredibly fresh and also centered well-rounded queer characters.
Unlike these other installments on our list, this comic book-based show is more of a dark comedy, replete with supernatural twists and turns. If you're a Stephen King fan, you'll probably enjoy I Am Not Okay With This for several reasons; for starters, it feels a bit like Carrie — and it stars It's (2017) Sophia Lillis as Sydney Novak, a teen who discovers she has telekinetic powers. While there's blood, it isn't being dumped on anyone at prom, but the series' horror inspirations are clear.
What we love most about this one is the way Sydney's powers are a physical manifestation of her anxiety and depression. While it's a well-trodden metaphor, Lillis' exceptional performance elevates this depiction of swirling teen angst and humanity above similar fare. KB
Where to watch: Netflix
Feel Good (2020–2021)
Comedian and writer Mae Martin's semi-autobiographical series, Feel Good, returned for a second and final season this year. In 2020, the show's six-episode arc made for one of the best mini-marathons of the year — not to mention, Feel Good immediately carved out its place as a soon-to-be classic in the canon of LGBTQ+ television.
While not set in high school or college, Feel Good still captures the experience of finding one's footing as an adult — something that often happens a little later in life for queer folks who may not have had the chance to be open during adolescence. In the show, Martin, playing a version of themself, is in recovery for substance abuse disorder, but the struggling comedian's addictive behavior permeates all the facets of their life: Mae falls into an intense, all-consuming relationship with George (Charlotte Ritchie), and that relationship — by turns painful and joyful — becomes an axis for the show to revolve around.
Outside of the George/Mae relationship and the recovery and burgeoning-comedian storylines, our Carhartt-wearing protagonist navigates the beautiful fluidity of gender, the way trauma never really leaves us, and a rather biting, complicated mother (played brilliantly by Lisa Kudrow). So many elements of queerness — from Mae's moments of self-discovery that don't hinge on a single Coming Out Scene™ to the specificity of sex scenes and relationship dynamics — are depicted with such honesty and nuance. If you're looking for a show that's both gutting and laugh-out-loud, Feel Good is the must-watch queer dark comedy for you. KB
Where to watch: Netflix
Betty (2020–2021)
Based on Crystal Moselle's film Skate Kitchen (2018), this teen comedy portrays a rag-tag group's efforts to stand out in the (cis) male-dominated New York skateboarding scene. Even though Betty's first season is just six episodes, it was one of HBO's best new shows in 2020 — and we were thrilled when the network renewed it for a sophomore season that aired in 2021.
One of the most refreshing parts of Betty is that the show centers queer women, Black women and women of color (and their relationships) in a way that feels incredibly genuine — in the way only lived experiences brought to screen can feel. Helmed by Dede Lovelace, Kabrina Adams, Nina Moran, Ajani Russell, and Rachelle Vinberg, the show's earnest, cool-without-trying ease adds to its overall charm, style, and sense of empowerment. And, of course, it's a joy just to watch the skateboarding sequences. KB
Where to watch: HBO Max
Genera+ion (2021)
This HBO Max original dramedy follows a group of high school students exploring sexuality in a mostly conservative community in Orange County, California. The diverse ensemble cast features Nathanya Alexander, Chloe East, Nava Mau, Lukita Maxwell, Haley Sanchez, Uly Schlesinger, Nathan Stewart-Jarrett, Chase Sui Wonders, Justice Smith and Martha Plimpton.
The show is lighter than some of the other recommendations here, and definitely light-toned when compared to Euphoria, but it still explores the ideas of identity and exploration for most of its young ensemble cast. Unfortunately, the show was canceled after its first season. PP
Where to watch: HBO Max
Brand New Cherry Flavor (2021)
If you've ever wanted to know what a David Lynch-inspired horror-drama series would look like, Brand New Cherry Flavor certainly channels the iconic director. Like Mulholland Drive (2001), this limited series, which is based on the novel of the same name, focuses on an eager and driven protagonist's descent into Hollywood's underbelly. But, despite its obvious homage, this eight-episode tale certainly has a flavor all its own, as the name might suggest.
After finding success with her first short film, Lisa Nova (the incredible Rosa Salazar) heads to Los Angeles, eager to direct the big-budget feature film version of her work. But she ends up putting too much faith in one of Hollywood's sleazy gatekeepers, which leads her to make a deal with a witch (played by the always-captivating Catherine Keener). From supernatural kittens and hit men to Lisa's journey to unravel her own mysterious past, Brand New Cherry Flavor has it all, including a lot that you didn't know you needed. And while it may not be to every viewer's tastes, the limited series is worth delving into if you want something immersive, well-drawn, and more than a few shades of delightfully (and grotesquely) strange. KB
Where to watch: Netflix
Gossip Girl (2021–)
Nine years after the identity of the original titular character in Gossip Girl (2007–2012) was revealed, we get a new look at the super-rich teenage elites of New York's Upper East Side. This time, Gossip Girl is not a blogger but an anonymous Instagram account spying on the students at an exclusive Manhattan private school.
Joshua Safran, who was a writer and executive producer on the original series, runs this reboot. The new generation of New York's rich and famous is played by Jordan Alexander, Eli Brown, Thomas Doherty, Tavi Gevinson, Emily Alyn Lind, Evan Mock, Zion Moreno, Whitney Peak and Savannah Lee Smith. PP
Where to watch: HBO Max
Shadow and Bone (2021–)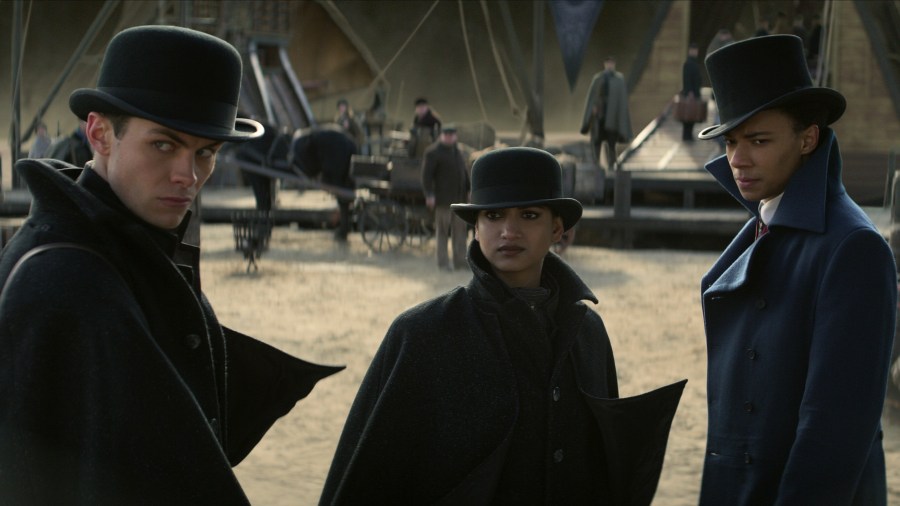 Let's add a bit of fantasy fare to this selection with the very popular Netflix adaptation of Leigh Bardugo's Grishaverse novels. In Shadow and Bone, Jessie Mei Li plays Alina Starkov, a cartographer in a war-torn country reminiscent of Imperial Russia. She accidentally finds out she has extraordinary powers and is trained as a magician, all while attempting to reunite with her childhood friend and soulmate, the soldier Mal (Archie Renaux).
If that doesn't sound enticing enough, let's add to the mix the Crows, a very sexy and very ingenious band of heisters formed by Kaz (Freddy Carter), Inej (Amita Suman) and Jesper (Kit Young). They sure manage to upstage Alina's coming-of-age story and romantic pining for most of the show with their planning of an almost-impossible-to-pull-off sting. PP
Where to watch: Netflix
The Wilds (2020–)
You'll get real Yellowjackets vibes with this story about a group of teenage girls who get stranded on a deserted island after their plane crashes. No, they are not a team of would-be soccer champions; instead, they get to know each other and their mysterious pasts and traumas as the days on the island go by. And they don't always like what they learn about each other.
Plus, in The Wilds our protagonists didn't end up on the island by accident. But who knows if that may also be the case for the very buzzy Yellowjackets… PP
Where to watch: Prime Video