Ahead of this year's Oscars ceremony, which is taking place on Sunday, April 25, we're finding ourselves particularly drawn to the Best Animated Feature category. From Pixar's Soul and Disney alum Glen Keane's Over the Moon to a new Shaun the Sheep entry and the mesmerizing Wolfwalkers, this year has brought us some unforgettable animated moments. But how did cartoons, which started out as silly little shorts a century ago, become heart-wrenching hits worthy of statuettes? Well, perhaps unsurprisingly, it can be traced back to Disney.
Disney's Early Days
When it premiered back in 1928, Walt Disney's Steamboat Willie was a near-overnight success. As the first Mickey Mouse cartoon to make it to theaters, the short is responsible for launching the empire that would make Disney a household name. In the years that followed, Walt Disney and his studio garnered legions of fans by producing more Mickey pictures as well as entries in a series of unrelated, music-filled shorts called "Silly Symphonies." In addition to diversifying the Studios' offerings, this series also served a practical purpose, allowing Disney to experiment with new ideas and technology.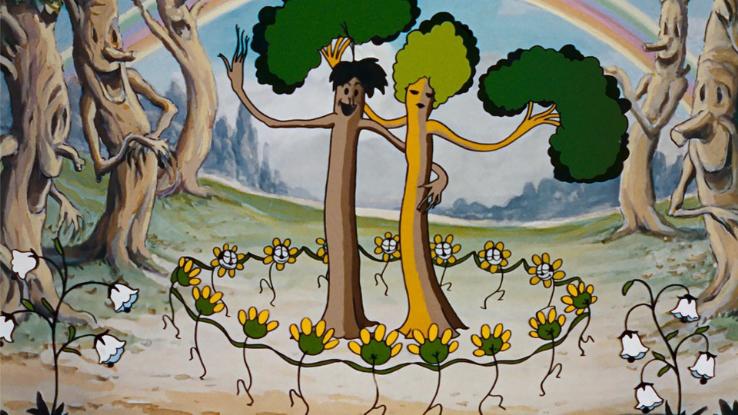 As you may know from watching Steamboat Willie and those other early pictures, Disney's shorts started out as black-and-white cartoons with sound effects and voices synchronized perfectly to the images. At the time so-called "Talkies" were on the rise thanks to films like The Jazz Singer (1927), so the feat of perfectly synchronizing the cartoon's sound — a feat that had to be accomplished in a single take — was incredibly impressive.
But, by 1932, the studios pushed the envelope further. Disney added color to their pictures; an incredible, realistic sense of depth (thanks to a snazzy device called the Multiplane Camera); and original songs and music. And many of these innovations were first implemented into "Silly Symphonies" shorts. At the fifth annual Academy Awards, Best Animated Short Film became a category. Disney's first all-color short, Flowers and Trees (1932), nabbed the Oscar, kicking off an eight-year winning streak for The Walt Disney Studios.
But this was also the Great Depression era: If folks had money to spend on entertainment, they were going to see double features, and maybe — just maybe — catch a short film before those feature-length ones. Part wise business decision, part creative exercise, Disney devoted much of the Studios' time and resources toward the production of Hollywood's first feature-length animated film, Snow White and the Seven Dwarfs (1937).
Disney Princesses Make Oscar Magic
Ahead of its release, Snow White was derided by the press, which called the film "Disney's folly" because it marked such a huge financial risk for the Studios. Skeptics wondered if audiences would connect with animated characters in the same way they did with live-action actors. And it was unclear if anyone, even kids, would want to sit through an hour-and-a-half-long cartoon.
After three years and roughly $1.5 million, Snow White premiered at the Carthay Circle Theatre in December of 1937 — and audiences and critics alike absolutely adored it. When adjusted for inflation, the film made a staggering $8 million. Because there was no Best Animated Feature category — and because, despite how beloved Snow White was, it didn't "qualify" for the standard Best Picture category — it earned Walt Disney a special Honorary Oscar. As seen above, Shirley Temple presented Disney with the award, which features one regulation-sized Oscar statuette and seven miniature ones, representative of Snow White and the Dwarfs.
Over 50 years after Snow White's release, Walt Disney Pictures made Academy Awards history again, but with a different "Disney Princess." After garnering $331.9 million worldwide, the 1991 film Beauty and the Beast won Academy Awards for Best Original Song and Best Original Score.
But its most impressive feat? Beauty and the Beast was the first-ever animated film to be nominated for Best Picture, going toe-to-toe with the year's best live-action films. In the end, it lost to Silence of the Lambs, but the fact that the animated feature ranked among the Academy's top five films of the year still proves the strides made in animation and the medium's ability to wholly transport audiences.
Computer Animation Helps Push Feature Films to New Heights
Moreover, Beauty and the Beast marked the second film (after 1990's markedly less successful The Rescuers Down Under) to use the Computer Animation Production System (CAPS) — hardware and software developed by Pixar Animation Studios. CAPS allowed for a wider range of colors as well as soft shading and colored line effects, which had been cast aside when Disney abandoned hand inking — applying ink and paint to animation cels with brushes.
CAPS also allowed animators to simulate those depth-creating effects first made possible by the Multiplane Camera, and allowed animators to combine hand-drawn art and computer-generated imagery more easily, as seen in Beauty and the Beast's famous ballroom dance scene (see section above). This successful use of 3D rendering convinced Disney to invest more in computer animation — and it convinced Pixar, the CAPS creator, to make its own first feature-length film, Toy Story.
Released in 1995, Toy Story was the first entirely computer-animated feature film and broke ground insofar as it appealed to adults — its witty screenplay received an Oscar nod — with its fresh humor and exceptional characters. This new mass appreciation for animated films, and this new understanding that these films could do more than just rehash fairy-tale plots, opened the door for DreamWorks Pictures' 2001 runaway success Shrek.
Riffing on fairy tales and Disney films, Shrek was universally loved. And it garnered a whopping $484.4 million worldwide. But, perhaps even more impressively, thanks to Shrek's undeniable success, the Academy decided to introduce a new category at the 74th Oscars — Best Animated Feature. Of course, Shrek beat out the competition, which included Nickelodeon Movies' Jimmy Neutron: Boy Genius and Pixar's third outing, Monsters, Inc.
Into the Animation-Verse: Other Landmark Moments for Animation at the Oscars
The year after Shrek's historic win, the coming-of-age fantasy film Spirited Away, directed by the legendary Hayao Miyazaki of Studio Ghibli, overtook Titanic's box-office record in Japan and became the most successful film in Japanese history, grossing $365 million worldwide. Often touted as one of the greatest animated films ever made, Spirited Away won the Oscar for Best Animated Feature, making it the first (and only) hand-drawn and non-English language film to win in that category.
In 2009, the Academy broadened the Best Picture category, allowing for ten nominees instead of just five. That same year, Pixar's universally loved Up was nominated for Best Picture, making it the second animated film in history to receive such a nomination. While it didn't win Best Picture, Up did nab Best Animated Feature Film. In 2010, Pixar's Toy Story 3, the first animated film to gross over $1 billion worldwide, repeated Up's success, garnering a Best Animated Feature Film win and a Best Picture nomination.
And, more recently, Sony's 2018 hit, Spider-Man: Into the Spider-Verse, became the first non-Disney or Pixar film to win the Oscar for Best Animated Feature since Spirited Away. Moreover, Disney's biggest competitors, like Studio Ghibli and the stop motion-loving Laika Studios, have added depth to the genre and helped animation find a broader audience.
Although Oscar recognition doesn't mean everything — nor does it validate a film's merits — it's clear that, thanks in part to awards show buzz, the field of animation has continued to thrive and be taken as seriously as live-action movies. And, perhaps most excitingly, this recognition has driven filmmakers to push the boundaries of what animation is capable of as an art form.