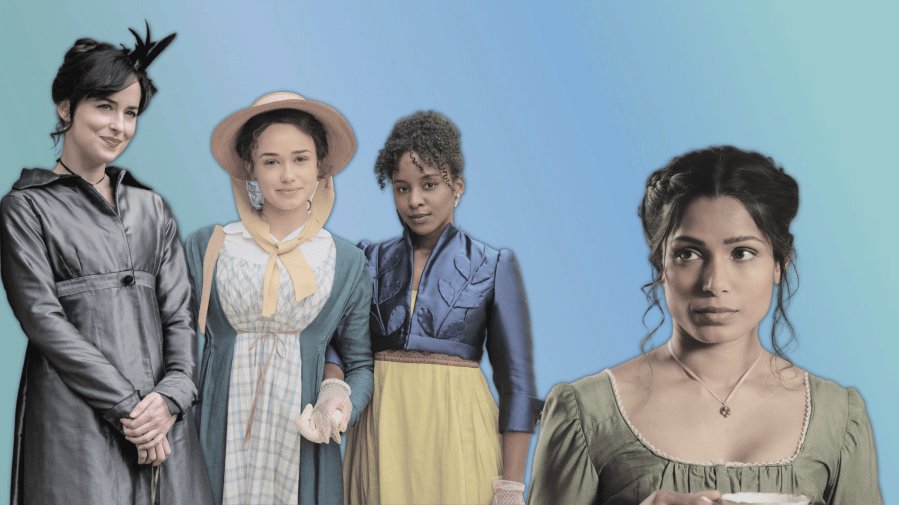 Since this movies-filled summer has brought us not one or two but three films set in the (unofficial) Jane Austen cinematic universe (JACU) — or at least a very Austenian Regency setting, like in the case of Mr. Malcolm's List — it's time to chat about some of these recent adaptations for all the Janeites out there.
Bear in mind that this is not an exhaustive list of all Austen adaptations, but rather a selection of some of the most recent films and TV shows to have explored either her literature or other Regency-era-set books in a similar vein to Austen's work.
There's clearly a new trend going on for all things Jane Austen. These newer titles opt to adapt some of the author's slightly lesser-known works, while others bet on the big hit (Pride and Prejudice) but from a completely different, updated perspective (Fire Island). What's even better is that most of this latest array of adaptations have either committed to color-blind casting or otherwise worked to include characters of color. And some of these latest adaptations have also found ways of incorporating openly queer characters.
Persuasion (2022), Netflix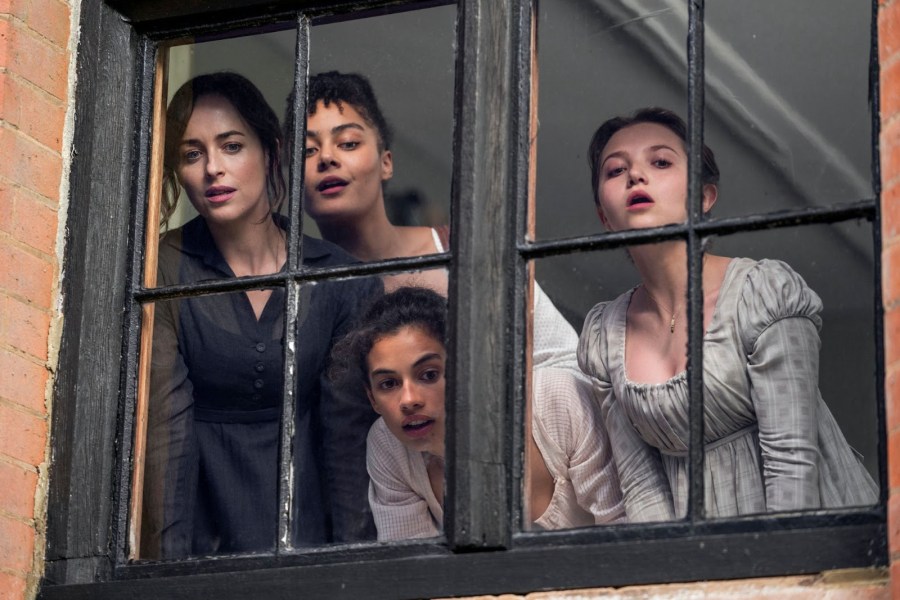 Dakota Johnson stars here as Anne Elliot, the middle daughter of an aristocratic family of snobs on the brink of bankruptcy. When she was but a young woman she was persuaded by her family and her mentor, Lady Russell (Nikki Amuka-Bird), to reject Frederick Wentworth's (Cosmo Jarvis) proposal of marriage. Even if the two of them were madly in love, he was deemed too poor and lacking any rank. Eight years go by and Anne isn't able to forget Wentworth. So when circumstances find them frequenting the same society gatherings and seeing each other often once again, Anne will be very much pining for her ex.
Directed by Carrie Cracknell and co-written by Ron Bass and Alice Victoria Winslow, this version of Persuasion is by no means a faithful adaptation. The humor and female empowerment have been updated for 21st-century standards, even if the setting has been kept in Regency-era England. Anne narrates her feelings and breaks the fourth wall often, talking directly to the audience and telling them how much she regrets having said no to Wentworth. And even the costumes and hairstyles have been adapted to be closer to what a contemporary viewer would find aesthetically pleasing.
You can read our full review of Netflix's Persuasion here.
Mr. Malcolm's List (2022), In Theaters; Video on Demand (VOD) (July 21)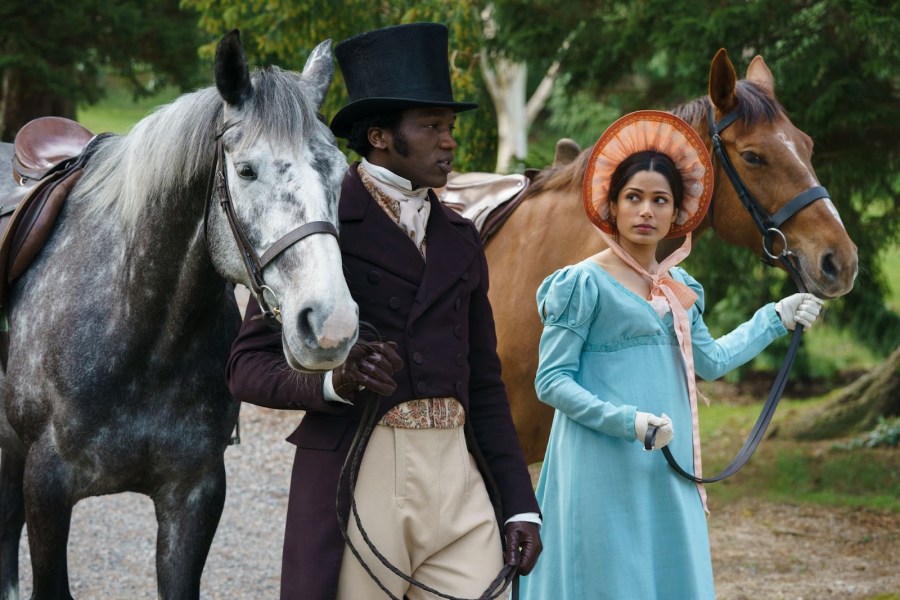 Directed by Emma Holly Jones and written by Suzanne Allain, who adapted the script from her own novel of the same name, Mr. Malcolm's List sees Ṣọpẹ Dìrísù playing the titular Malcolm. He's one of London's most desirable — and wealthy — bachelors and he's very much in search of a wife. The thing is, though, he's also a bit of a snob, and he has made the most egregious list of requisites that all desirable candidates must possess. Things like "Graceful and well-mannered," "Educate herself by extensive reading" and "Has genteel relationships from good society" are all on Malcolm's list.
The young socialite Julia Thistlewaite (Zawe Ashton) finds herself snubbed by Malcolm. After learning about the list, she's enraged and bent on seeking revenge, so she enlists her good friend Selina Dalton (Freida Pinto) and plots to deceive Malcolm by making Selina the apparent perfect bride-to-be. But Julia doesn't anticipate what the viewer is able to spot easily: Selina and Malcolm are quick — if somewhat reluctant — to fall for each other.
The cast of Mr. Malcolm's List is incredibly diverse and the movie's team has taken the color-blind approach a step forward by choosing the right actor for each part regardless of race. Japanese actress Naoko Mori, for instance, plays Mrs. Thistlewaite, the mother of the character played by Ashton, who is of Ugandan and English descent.
You can get an idea of the tone of the film by watching this 2019 short version that Jones directed and Allain wrote. In the short, they actually worked with most of the same actors who would go on to star in the feature film.
The movie debuted exclusively in theaters but will be available on video on demand (VOD) starting July 21.
Fire Island (2022), Hulu
If you're still debating whether your favorite screen adaptation of Pride and Prejudice is the 1995 BBC miniseries with Jennifer Ehle and Colin Firth or the 2005 movie with Keira Knightley and Matthew Macfadyen, prepare to add a new title to the list. This adaptation of Austen's beloved classic is directed by Andrew Ahn (Generation) and written by Joel Kim Booster, who also plays the role of Noah — the Lizzie Bennet of this movie.
Booster has described the movie as "a modern-day retelling of Pride And Prejudice set on Fire Island …about the experience of vacationing with a chosen family and what it's like to fall in love in a very short amount of time on vacation — and class and race and body politics."
Fire Island follows a group of semi-broke gay friends who, each year, spend one week vacationing on the famed New York island with their surrogate mother (Margaret Cho). Bowen Yang (Saturday Night Light) plays Howie, Noah's best friend (or closest sister). Matt Rogers, Tomás Matos and Torian Miller round out this found family. Conrad Ricamora plays Will, a very sexy and completely circumspect and taciturn Mr. Darcy.
In true Austenian fashion, the film is a societal study of the gay scene on Fire Island. One of the many delights while watching this Austen-inspired film is how much of a tribute to the original source material it is. You'll find almost everything from the novel, even a wickedly handsome Wickham and the looming risk of losing the family house.
Sanditon (2020–), PBS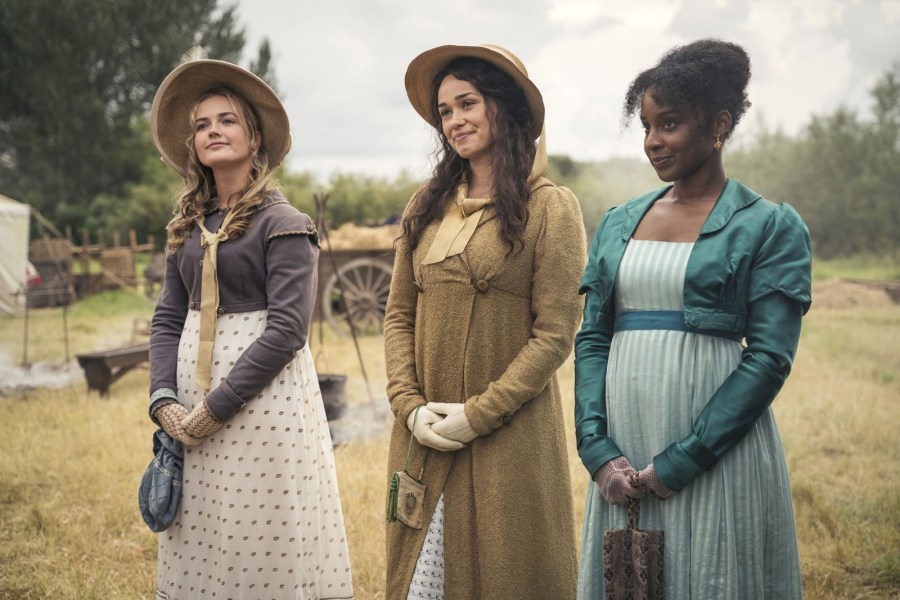 Based on Austen's unfinished novel of the same name, this PBS Masterpiece has consistently made it to our list of best shows of the year for its first two seasons. And it has already been renewed for a third one.
The show stars Rose Williams as the young Charlotte Haywood. When a coach accident introduces her to the Parkers, she finds herself invited to spend time with the family in the coastal resort town of Sanditon. Crystal Clarke is Georgiana Lambe, a rich heiress coming to Sanditon from the West Indies under the guardianship of Sidney Parker (Theo James), who also ends up becoming Charlotte's romantic interest.
The friendship that blooms between Rose and Georgiana is akin to sisterhood. Season two adds the character of Charlotte's younger sister Alison (Rosie Graham), in a nod to Austen's recurring theme of friendship and camaraderie among women.
The show was initially envisioned to have more than one season but was canceled by ITV — its UK broadcaster — after the first one, prompting certain actors to engage in other projects. When Sanditon was uncancelled by PBS and renewed for two more seasons, actors like James were no longer able to reprise their roles. That need to replot certain storylines and the fact that the show's writers and producers are working with an unfinished novel, have given them some leeway.
For example, the show introduces the character of Georgiana and narrates her struggles with facing a British society that sees her as an outsider. The character was already in Auten's novel but she isn't specifically described as Black there, only as coming from the West Indies. This last season also saw the character of Charlotte reconsidering the idea of marriage and opting to work as a governess instead — the only other option for a woman in her position at the time.
And then there's one of my favorite characters in the show, the younger Parker brother, Arthur (Turlough Convery), who in season one outed himself as gay to his sister in as clear terms as one may have used at the time. "I don't really know how ladies work," he told her, adding that marriage wasn't his style at all.
You can read Sanditon's season two review here.
Bridgerton (2020–), Netflix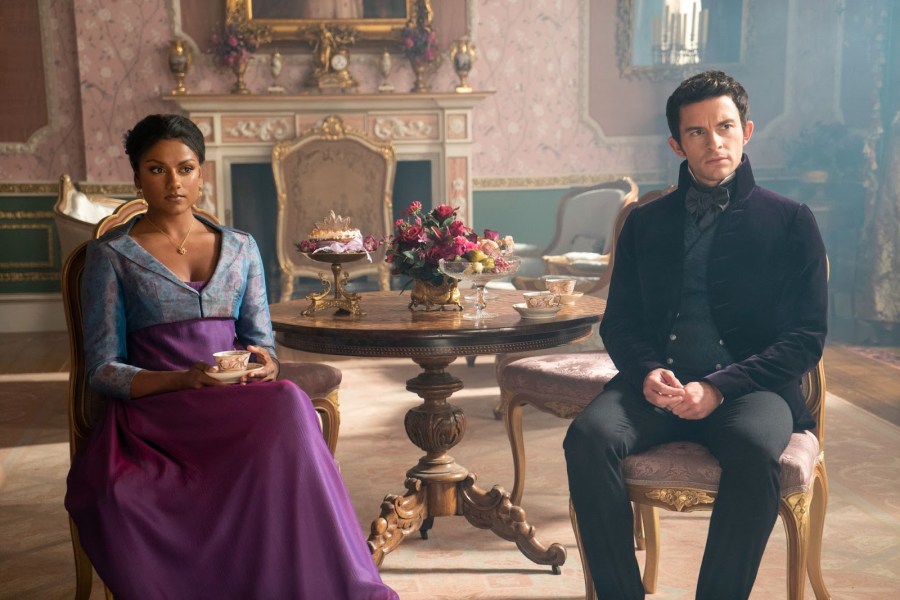 I know it may be a bit of a stretch to qualify this Shonda Rhimes-produced and Chris Van Dusen-created series as Austenian, but Netflix's Bridgerton is set in Regency-era London and deals with the marital endeavors of a large family. It also delves into the roles women were expected to play at the time and the little ability they had to lead independent lives.
We see Madame Geneviève Delacroix (Kathryn Drysdale) striving to be the most sought-after modiste in town and at the whim of her demanding clientele. As for Penelope Featherington (Nicola Coughlan), the young socialite finds a way to take complete control — from the printing to the distribution — of her gossip pamphlet written under the pen name Lady Whistledown. Then there's Penelope's mom, Lady Portia (Polly Walker), who maneuvers her way into keeping her three daughters and the family afloat, regardless of an unfortunate issue with her late husband's inheritance.
And if season one introduced us to the dreamy Duke of Hastings (Regé-Jean Page), it really doesn't get much swoonier than Bridgerton season two with the addition of Simone Ashley as Kate Sharma and her reluctant courtship with Anthony Bridgerton (Jonathan Bailey).
Emma. (2020), Freevee and VOD
If you want to pinpoint the first in this latest trend of offbeat Austenian adaptations, it would probably be Autumn de Wilde's Emma.. First released in February of 2020, the movie was made available on VOD in March of the same year due to the cinemas' closures at the height of the COVID-19 pandemic. And it proved to be an excellent cozy pandemic watch.
Starring Anya Taylor-Joy as the utterly posh and totally clueless heiress Emma Woodhouse, the film expands on the themes of toxic friendship — Emma really is the worst friend to the modest Harriet Smith (Mia Goth); utter snobbishness — Emma is atrocious to the disadvantaged Miss Bates (Miranda Hart); and the many perils of trying to become a matchmaker when you can't even realize that you're in love with your best friend and sort-of-older-brother figure, Mr. Knightley (Johnny Flynn).
And while there were several screen versions of this book already available — the 2009 BBC miniseries with Romola Garai and Jonny Lee Miller, the 1996 movie with Gwyneth Paltrow, or the 1990s time capsule that is Clueless — de Wilde's installment opts for a very witty, aesthetically specific and clean take on this tale. Most characters — like the exaggeratedly hypochondriac Mr. Woodhouse (Bill Nighy) — veer on the caricature and Taylor-Joy's face is continuously captured on screen in an attempt to distill Emma's contempt and misconstrued perception of the world around her.
Let's just hope we're at the beginning of a fruitful and continuous fad that sees Austenian works being adapted to the screen even more often.