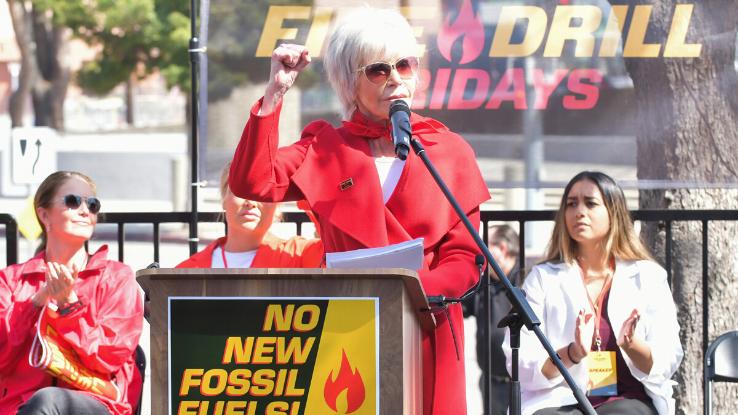 In the HBO documentary Jane Fonda in Five Acts (2018), the Oscar-winning actor, fitness tycoon and activist says in an interview from the '70s, "Any healthy country, like any healthy individual, should be in perpetual revolution." Although Fonda, now 82 years old, acknowledges that she's made some mistakes over the course of her life, she doesn't believe her commitment to activism is one of them. In fact, speaking out and taking action is a source of pride. "I never felt real," Fonda says in the documentary's narration. "I wanted my life to have meaning."
That meaning came to her in the late 1960s while she was living in France and becoming increasingly aware of Civil Rights demonstrations and anti-war protests in the U.S. Instead of living comfortably an ocean away, Fonda returned to the States and committed herself to activism, despite the toll her actions might have had on her blossoming career as an actor — and despite the fact that she was often in opposition to her famous father, Henry Fonda.
In the 1970s, Fonda became the target of government surveillance: She campaigned on behalf of revolutionary Black activists, such as Angela Davis, and held fundraisers for the Black Panthers in her home. In 1971, Fonda visited Davis in prison in San Rafael, California and, according to The New York Times, spoke to the revolutionary leader about "everyone joining forces to stop repression in this country and abroad." Needless to say, Fonda was open to listening, learning and finding a lane in which she could be most productive.
"To be a revolutionary… You have to care about people who have no power."
Before Fonda became synonymous with the movement to end the war in Vietnam, she threw her support behind other causes stateside as well. When Indigenous activist Bernie Whitebear led a group of Native folks to occupy Seattle, Washington's, Fort Lawton, Fonda showed up, lending her platform to Whitebear in order to help him attain rights and land for the Seattle area's Indigenous peoples. During this time, she also stood in solidarity with Native protesters who, under the leadership of Mohawk college student Richard Oaks, occupied Alcatraz Island, the site of San Francisco's infamous prison in the bay. The 19-month occupation of the island galvanized activists, leading to demonstrations at other sites emblematic of colonialism and white supremacy, like Plymouth Rock and Mount Rushmore.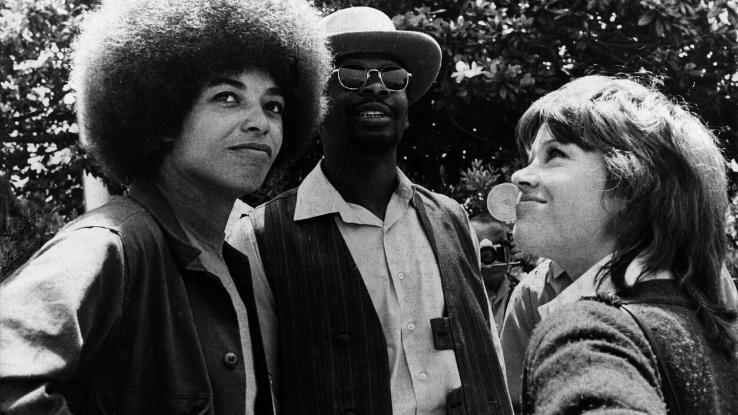 By 1970, Fonda had already been arrested once — though that number would go up and up as her activism continued. When she returned to the States from an anti-war speaking tour in Canada, officials suspected her of drug trafficking, which led to her now-iconic mugshot in which she raised a defiant fist. Of course, that wasn't the only highly publicized image of Fonda to come out of the anti-war protests. In 1972, she traveled to North Vietnam and spoke out against U.S. military policy. While in Hanoi, a photograph was snapped of Fonda sitting on an anti-aircraft gun, composed in such a way that it looked as though she were taking aim at American planes and supplies. Lawmakers at the time used this photograph to slander her, implying that she was treasonous and causing many to dub her "Hanoi Jane."
While Fonda has spoken and written about the regrettable photo's implications, she never backed down and continued to speak out against the war and President Nixon's role in it. In the HBO documentary, Fonda claims that she didn't always know how to channel her anger into constructive projects, but her lack of certainty didn't stop her from trying to find the best ways to leverage her platform and privilege. Sometimes that meant marching in the streets and, at other times, that meant using film and art as a means of resistance and spreading awareness. In fact, even her much-loved exercise videos, Jane Fonda's Workout, were a way to raise funds for her then-husband Tom Hayden's leftist organization Campaign for Economic Democracy, a keystone during his campaign for a local elected office.
Other films galvanized audiences through their stories and themes alone. Coming Home (1978), which centered on a woman (Fonda in her first Oscar-winning role), a wounded war vet and her Marine husband, was staunchly anti-war, showing the toll Vietnam took on all people. The China Syndrome (1979), which spotlighted the hazards of nuclear power plants, debuted almost in tandem with the real-world Three Mile Island nuclear accident. And, of course, there's the classic feminist workplace comedy 9 to 5 (1980), which feels ever-relevant to the present-day #MeToo discourse.
"It's much more important to stay interested than to be interesting."
These days, when the now 82-year-old Fonda isn't filming a new season of the long-running Netflix hit Grace & Frankie with her lifelong pal and fellow activist Lily Tomlin, she's still protesting and speaking out against injustices. In fact, she never stopped. Although the '70s and early '80s may have been seen as the height of Fonda's activism, she has also demonstrated with Women in Black against Israel's occupation of the West Bank and Gaza Strip; protested the Iraq War; and spoke out against President Obama's anti-environmentalist Arctic drilling policy. And those are just a few highlights.
More recently, Fonda made headlines in the wake of the 2016 election when she joined protesters at Standing Rock, spending her Thanksgiving fighting against the construction of the Dakota Access Pipeline. And then, even more recently, we've seen all of those on-camera arrests. In addition to speaking out against Donald Trump and joining the Women's March and Black Lives Matter protests, Fonda poured her time, energy and resources into demanding action when it comes to climate change.
Although she claims to have come to the cause late, Fonda rightly considers the climate crisis to be humankind's most immediate threat — she wants future generations, including her grandchildren, to grow up in a world where the planet is respected and protected, where species aren't vanishing due to human action. "We're living in a generation where the decisions we make in the next 10 years can be the difference between 100 million people dying or 400 million people dying," Fonda told Buzzfeed News. "These are life-and-death decisions."
In 2019, Fonda made a splash in Washington, D.C., donning her bright red coat and organizing Fire Drill Fridays, which aims to take immediate action in order to save the planet from "irreversible catastrophe." Fonda has listened to a younger generation, seen the causes they've taken up and, once again, leveraged her platform and privilege accordingly. Before the COVID-19 pandemic hit, Fonda and other demonstrators were gathering on the first Friday of every month to drive their message home.
Inspired by young folks like Greta Thunberg, Fire Drill Fridays organizers have three main demands: First, they want the federal government to adopt the Green New Deal; second, they don't want any new fossil fuels; and, third, organizers want fossil fuels to be phased out entirely and replaced with clean, renewable energy. Many find Fonda's stance surprising for someone who's part of an older demographic — though, of course, her stance is also refreshing and inspiring. "I don't want to die being part of the problem," Fonda told Buzzfeed News. For this cause alone, Fonda has been arrested (at least) five times — and she doesn't show any signs of slowing down.