Even though some communities have begun phased reopenings, it's still important to practice social distancing as we navigate the ongoing COVID-19 pandemic. That said, we're all probably going to spend more time indoors — and at home — than we would during a coronavirus-free summer. If you're looking to hang inside and hang up the mask for a bit, you can escape more than just the heat this July with a slate of exciting TV shows, book debuts, video game releases and movie premieres. Read on to find out more and plan ahead for your marathon-viewing (or reading) schedule.
Stream Netflix Originals Like "Cursed," "The Babysitters Club" and "Stateless"
Of all the major streaming platforms, Netflix undoubtedly has the most robust lineup. So, with the most original content on offer this coming month, you'll want to hit "Still Watching" on your Netflix subscription. From new series and summer blockbusters to Korean dramas and new seasons of some of your favorite shows, the original streaming giant has it all this July.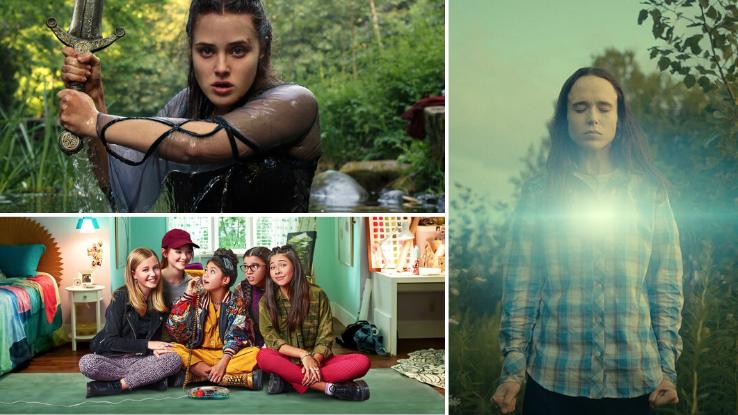 When it comes to July releases, Netflix's original series category is stacked. First up, there are handfuls of new series drops. Looking for some action-packed thrills? Tune into Warrior Nun (July 2), a thriller about super-powered demon-hunting nuns; Grudge spin-off series JU-ON: Origins (July 3); disaster anime Japan Sinks: 2020 (July 9); the Katherine Langford-helmed fantasy series Cursed (July 17); and the second season of the hit graphic novel adaptation The Umbrella Academy (July 31).
Maybe scripted dramas are more your thing? If so, try Cate Blanchett's Australian immigration series Stateless (July 8); Dark Desire (July 15), the Spanish-language version of You; and the Brazilian outbreak drama series Kissing Game (July 17). Finally, Netflix is rounding out dramatic content this month with Mucho Mucho Amor (July 8), a documentary about the disappearance of legendary astrologer Walter Mercado.
If lighthearted originals are more your cup of tea right now, try Say I Do: Surprise Weddings (July 1), a reality show in which experts Jeremiah Brent, Thai Nguyen and Gabriele Bertaccini help couples pull off their perfect celebration, or reality speed-dating show Dating Around: Brazil (July 10). The last few originals are all kid-friendly and include the highly anticipated reboot of The Baby-Sitters Club (July 3); the kids book-turned-cartoon series The Epic Tales of Captain Underpants in Space (July 10); and cartoon series Transformers: War for Cybertron—Siege (July 30) — because the world is definitely lacking in Transformers content.
Netflix and Thrills: Tune Into Other Network Series Streaming Exclusively on Netflix and Discover the Next Summer Blockbuster
A few other series, including Nordic noir thriller Deadwind, season four of the anime series The Seven Deadly Sins and docuseries Street Food: Latin America, are expected to premiere in July as well, although release dates haven't been assigned yet. As always, Netflix has also acquired the streaming rights to a few other must-watch series, including the weekly K-dramas The Underclass (July 5) and Hook (July 4), the final season of hit Spanish web series Cable Girls (July 3) and The Last Dance, ESPN's acclaimed docuseries about NBA star Michael Jordan.
If you're looking for one-off titles to stream — a.k.a. works that are less of a time commitment than whole series — tune into standup comedy specials like Thiago Ventura: POKAS (July 2) and Urzila Carlson: Overqualified Loser (July 14), or check out one of three original films hitting the queue this month. First, there's the Charlize Theron-led, sure-to-be summer blockbuster The Old Guard (July 10), followed by Fatal Affair (July 16), a thriller starring Nia Long and Omar Epps, and teen rom-com The Kissing Booth 2 (July 24), the follow up to the surprise hit of almost the same name.
The Newly Launched HBO Max Continues to Deliver on Originals and Old Favorites
The newest streaming giant is part-Criterion channel, part-Disney+ in that its two goals seem to be 1) gather up a ton of landmark, classic movies (and, yes, quite a few of those are launching in July), and 2) make impressive partnerships with fandom faves like DC Comics, Studio Ghibli and Cartoon Network. While HBO has always been known for its incredible original programming, this month is set to be a tad light on that front.
In July, HBO Max will feature the debut of the Cartoon Network Studios animated children's series Tig n' Seek; the latest season of the Duplass Brothers' anthology series Room 104; the documentary Stockton on My Mind, which traces the path of Michael Tubbs, Stockton, California's first Black mayor; Showbiz Kids, a doc about the highs and lows of being a kid actor in Hollywood; Close Enough, an adult cartoon series about the transition from being in your 20s to settling into your 30s; and House of Ho, a docuseries about Binh Ho and Hue Ho, a couple who immigrated from Vietnam to the U.S. and built a multimillion-dollar bank and real estate development company.
To further round out its DC Comics catalog, HBO Max will be adding a bunch of Batman movies (mostly animated ventures) to its lineup. Joining Gotham's vigilante? The Christopher Reeves' Superman films, as well as a few of the Kryptonian's animated adventures, both solo outings and as part of the Justice League. This July, we also recommend watching hits like Crazy Rich Asians (2018), X-Men (2000) and When Harry Met Sally (1989), all of which are leaving the platform after July 31.
From the Disney+ Debut of "Hamilton" to the Launch of NBCUniversal's Peacock, Here's Everything Else Worth Streaming
When it comes to Netflix and HBO Max's competition, there's definitely not as much original content — or exciting content — debuting in July. Each of the other giants has a handful of hits — or, in Disney's case, just one megahit — coming out. Here's a quick rundown of all the other must-watch programming coming to streaming this July.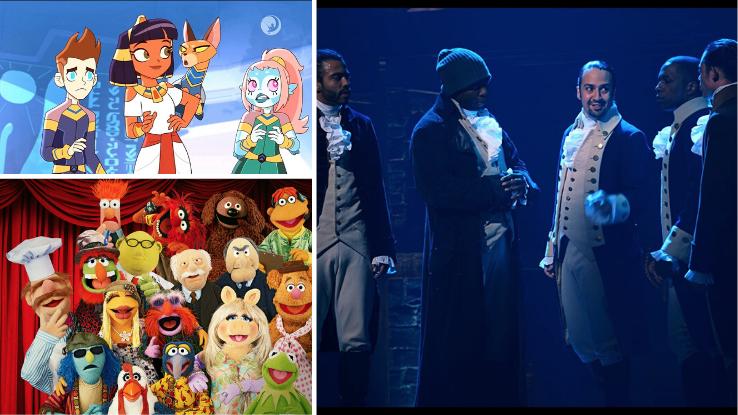 Peacock: NBCUniversal's streaming platform is debuting on July 15, although, depending on your cable subscription, you may have already accessed the newest content provider's titles. In addition to offering up hit series like Parks and Rec, Frasier, Brooklyn Nine-Nine, Cheers and Keeping Up with the Kardashians, Peacock will also feature some original programming.
In terms of series, the platform is debuting Brave New World, an adaptation of Aldous Huxley's dystopian novel; conspiracy thriller The Capture; Intelligence, an NSA workplace comedy starring David Scwhimmer and British comic Nick Mohammed; Lost Speedways, a Dale Earnhardt Jr. series about great speedways of the past; and animated programing, such as Curious George, Where's Waldo? and Cleopatra in Space. Peacock is also offering up a few movies — Psych 2: Lassie Come Home and the documentary In Deep with Ryan Lochte.
And Everything Else: The most exciting title to drop onto a streaming platform this July is probably Hamilton. Yes, that Hamilton. Disney+ will be releasing an incredibly well-produced taping of the Broadway musical, featuring (most of) the original cast, including Lin-Manuel Miranda, Leslie Odom Jr., Renée Elise Goldsberry, Daveed Diggs and more. Aside from getting viewers into the "room where it happens," Disney+ is also adding The Mighty Ducks (1992) and Solo: A Star Wars Story (2018) to its vast library. At the end of the month, it's dropping Muppets Now, starring Kermit and all of his Henson-created pals.
As far as Hulu goes, only three originals are set to debut in July: Into the Dark: The Current Occupant, the latest installment in the horror anthology series; Palm Springs, an Andy Samberg-led comedy that made big waves at Sundance Film Festival; and, timed well with the release of Miranda's Hamilton, We Are Freestyle Love Supreme, a documentary about the hip-hop improv group Freestyle Love Supreme.
Other platforms worth noting include Apple TV+, which will feature Little Voice, a rom-com series backed by Sara Bareilles' tunes, and Greyhound, a war/drama film that stars Tom Hanks; and Amazon Prime, which is set to be home to all five seasons of family drama The Fosters, the second season of the thriller Hanna and the films Vivarium (2019) and Radioactive (2019). We'd also like to shout out Animal Planet's upcoming special Crikey! It's the Irwins: Life in Lockdown and the very real possibility that both Christopher Nolan and the folks at Disney want us to brave the pandemic to see films like Tenet (2020) and Mulan (2020) in theaters. (Remember movie theaters?)
Grab a Controller and Get Ready for July's Top Games
Between Bethesda's wonky Outer Worlds Nintendo Switch port and Naughty Dog's highly acclaimed The Last of Us 2, there was a lot to both loathe and love about gaming in June. This month, Mario makes his summer debut in one of the most eagerly anticipated PlayStation exclusives drops, so grab your controller!
Death Stranding (PC): On July 14, PC-only gamers can finally get their hands on Death Stranding, renowned Metal Gear Solid creator/director Hideo Kojima's first game since splitting from Konami. The game features an impressive central performance from The Walking Dead's Norman Reedus, who plays Sam Porter Bridges, a courier tasked with delivering supplies between Earth's colonies — all while dodging dangerous creatures who emerged from the realm between life and death.
Ghost of Tsushima (PlayStation 4): While PlayStation 4 faithfuls have had their fair share of exclusive AAA titles this year, Ghost of Tsushima is certainly one of the most anticipated — and it's finally hitting (virtual) shelves on July 17. Developed by Sucker Punch Productions, this open world, action-adventure game centers on Jin Sakai, one of the last samurai on Tsushima Island during the first Mongol invasion of Japan in the 1270s.
Paper Mario: The Origami King (Nintendo Switch): The sixth installment in Nintendo's beloved Paper Mario series sees everyone's favorite red-hatted plumber fighting off the Origami King and his evil army of Folded Soldiers in order to protect the Mushroom Kingdom. Armed with a trusty hammer, a cast of supportive allies and a penchant for puzzle-solving, Mario is set to face off against the Origami King on July 17.
Drake Hollow (PC, Xbox One): The tagline for Drake Hollow is "Friendships aren't made, they're grown," which, honestly, is my approach to pal'ing around with animal buds in Animal Crossing. Here, though, things are a bit more… literal. Developed by The Molasses Flood, Drake Hollow also asks players to create the perfect village, but, unlike Animal Crossing, the main thrust of the game is to team up with your pals to defend villages full of veggie-folk from the feral beasts that stalk The Hollow. See if you have a green thumb when the game hits Steam and Xbox One on July 17.
Must-Read Books That Will Keep You Turning the Pages
Whether you're navigating closures or staggered reopenings, it's clear that "beach reads" just won't have the same ring to it this year. Nonetheless, there are quite a few incredible books coming out in July — and you'd do well to add them to your summer reading list.
The Only Good Indians by Stephen Graham Jones (July 14): Jones, who is a member of the Blackfeet Native American Nation, has written one of the year's most highly anticipated horror novels. The book centers on the tale of four childhood friends who grow up, move away from home and then, a decade later, discover that a vengeful entity is hunting them for an act of violence they committed long ago.
Utopia Avenue by David Mitchell (July 14): From the mind behind Cloud Atlas and The Bone Clocks comes a new novel about the rise and fall of a psychedelic British band in the 1960s. Bonus: It's rife with Mitchell's now notorious penchant for the multiverse and asking the big, contemplative questions.
The Pull of the Stars by Emma Donoghue (July 21): From the author of Hood, Slammerkin and Man Booker Prize finalist Room comes The Pull of the Stars, a novel set in 1918 Dublin amid a pandemic that follows the harrowing story of a maternity ward nurse. Needless to say, some readers may want to stay away from this one based on the very real, timely content, but, if you can stomach more pandemic stories, this one is sure to leave an impression.
I Hold a Wolf by the Ears: Stories by Laura van den Berg (July 28): This collection is made up of 11 ghost stories, which are sure to thrill fans of the surreal. Publisher Macmillan calls the darkly humorous I Hold a Wolf by the Ears a "collection of women on the verge, trying to grasp what's left of life: grieving, divorced, and hyperaware, searching, vulnerable and unhinged."
Memorial Drive: A Daughter's Memoir by Natasha Trethewey (July 28): Called a "chillingly personal and exquisitely wrought" memoir, Memorial Drive is written by former two-time U.S. Poet Laureate Natasha Trethewey, who reflects upon her mother's tragic death. When Trethewey was 19, her former stepfather shot her mother in the head. After more than three decades in prison, he is being released, prompting Trethewey to confront her trauma on the page.
It Is Wood, It Is Stone by Gabriella Burnham (July 28): Set in São Paulo, Brazil, the novel traces a year in the life of the listless Linda, who ends up leaving home with an artist named Celia and the more assured Marta. Elle calls Burnham's debut "a lush depiction of privilege and power, sex and stability… [and] an elegant arrival of a new talent."
Must I Go by Yiyun Li (July 28): After outliving several husbands and raising her kids, nursing home resident Lilia Liska pours over the posthumously published diaries of a former lover. After discovering she's just a footnote in someone else's story, Lilia recollects her own life — an epic story in which she is the main character, told by an author who was called "one of our major novelists" by Salman Rushdie.