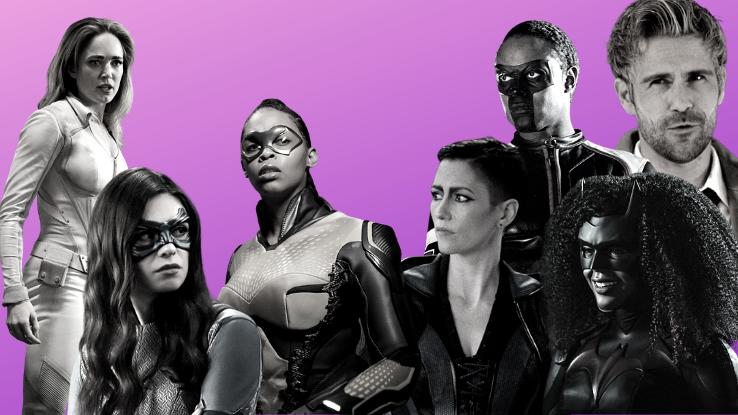 This June, DC Comics celebrated Pride Month on the page with Pride-themed variant covers and the release of DC Pride, an anthology that features notable queer characters like Batwoman (a.k.a. Kate Kane), Renee Montoya, Midnighter, Poison Ivy, and Harley Quinn. The collection also marks the comic book debut of Supergirl's Nia Nal (a.k.a. Dreamer), a trans woman superhero whose DC Pride story was written by actor Nicole Maines, who plays Nia on TV.
Of course, countless other companies are also slapping rainbow-themed imagery on their products, but DC Comics is one of few media entities moving the dial year round. Keeping in line with Hollywood's other blockbuster franchises and cinematic universes, the DC Extended Universe (DCEU) films haven't provided robust LGBTQ+ representation. Aside from Renee Montoya's (Rosie Perez) brief run-in with an ex (Ali Wong) in Birds of Prey (2020), canonically queer characters' full identities haven't been realized on the big screen. However, DC is making strides when it comes to representation on TV, from the animated Harley Quinn show to the many entries in The CW's Arrowverse. 
Superhero Narratives Have Always Felt Connected to Queerness
Superhero narratives have long been rife with metaphors about queerness: A soon-to-be-hero discovers some latent power, something new about themself, and learns not only to accept this new self-discovery, but to have pride in it — to declare it. (Like, you know, "I am vengeance. I am the night. I am Batman." Very declarative.) Moreover, these super-humans (or vigilantes) often hide their identities or keep secrets as a means of preserving their safety and privacy.
A few superhero narratives make the metaphor even more apparent. Although it's not always perfect, Marvel's long-running X-Men series is often read as a queer text. Unlike other big-name Marvel superheroes who are suddenly transformed into powerful beings, X-Men's mutants are born with their unique traits or powers. However, like other heroes, X-Men's mutants struggle with (self-)acceptance and shame, but, more often than not, they must also find safety and acceptance within their chosen families.
And they navigate all of this while facing threats from oppressive political systems and society at large. In many arcs, non-mutants fear the X-Men and their mutant kin. In some more dire instances, non-mutants threaten to "cure" the X-people of their innate qualities — or attempt to hunt them down or imprison them. This strikes a stark contrast to other heroes in Marvel's canon — especially the magically or scientifically altered ones, like Spider-Man or Captain America — who are celebrated for their traits, for saving the day.
Unfortunately, the X-Men franchise hasn't really delved into this queer reading on screen. Instead, it has remained mostly subtext, or a parallel to be gleaned from movies like Days of Future Past (2014). The exceptions? Before Disney swallowed up 20th Century Fox, movies like Deadpool 2 (2018) and The New Mutants (2020) featured queer couples onscreen: in Deadpool's sequel, Negasonic Teenage Warhead and Yukio were partners, and, in New Mutants, Danielle "Dani" Moonstar, a.k.a. Mirage (Blu Hunt), and Rahne Sinclair, a.k.a. Wolfsbane (Game of Thrones' Maisie Williams), nabbed even more screentime.
On the small screen, Marvel's most notable depiction of queer characters thus far has been on the Hulu series Runaways. Based on a comic series of the same name, the show centers on six teenagers (and one dinosaur) from different backgrounds as they unite against a common enemy: their criminal parents, who are collectively known as Pride. Two of these teens are Nico (Lyrica Okano) — a Wiccan who wields the arcane Staff of One — and Karolina (Virginia Gardner) — a human-alien hybrid who learns she can fly and shoot beams of light from her hands. The characters' eventual first kiss marked an onscreen first for Marvel superheroes. While that moment was exciting, it also underscores just how landmark DC's Arrowverse, with its ensemble of LGBTQ+ characters, really is — even now.
From Anissa Pierce to Nia Nal, The CW's Arrowverse Embraces LGBTQ+ Representation
Batwoman is one of the newest additions to The CW's "Arrowverse" — a robust collection of intersecting DC Comics shows that include Arrow, The Flash, Legends of Tomorrow, Supergirl, Black Lightning, Superman & Lois, and a few web series. When it first debuted in 2019, the show starred Ruby Rose as Kate Kane, a.k.a. the titular vigilante. In this iteration, Kate is Bruce Wayne's cousin who returns to a Batman-less Gotham and decides to don (her version of) the iconic suit.
So, what was Kate up to before her stint as the caped crime-fighter? We learn that Kate was off finding herself after she and her ex-flame Sophie Moore — who now works at Kate's father's high-end Gotham security firm, the Crows — were kicked out of a military academy during the era of "don't ask, don't tell." Right out of the gate, the show doesn't shy away from Kate's queerness, which dates back to a 2006 run of the Batwoman comics in which Kate is both Jewish and a lesbian. At the time, Out asserted that "Batwoman [was] the highest-profile gay superhero to ever grace the pages of DC Comics."
That fact, of course, made casting the character all the more important. When it was announced that Rose, who self-identifies as "fluid in [her] gender, but also [as] a lesbian," was chosen, fan reactions were mixed: Some felt Rose wasn't "gay enough" to don the mantle, while others pointed out that, unlike Kate, she isn't a Jewish person. Despite Kate's queerness in the comic books, others complained that the show would "pander" to the "social justice warrior agenda," thus turning off more conservative viewers. But when Batwoman premiered in the fall of 2019, it became The CW's most-watched series premiere since Black Lightning's January 2018 debut.
But the fact that Kate's open queerness didn't impact the show's initial reception is probably not surprising to longtime Arrowverse viewers, who have become accustomed to increasing LGBTQ+ representation in the DC-based shows since Arrow's 2012 debut. While there have been quite a few landmark moments, another that stands out is the introduction of Sara Lance (Caity Lotz). Sara is perhaps better known by her White Canary moniker, or as the captain of the Waverider, a ship that allows her rag-tag team of heroes to travel through time.
The trained assassin is also canonically bisexual, a fact that's made all the more important because she is Legends of Tomorrow's protagonist — not just a sidekick. Although Sara was featured on Arrow, she became a real star when Legends debuted in 2016, paving the way for The CW's queer characters to not only helm shows and be heroes, but to experience narrative arcs that didn't just revolve around coming out, or other tropes.
Now, Arrowverse shows feature a plethora of LGBTQ+ characters: In Black Lightning, the titular hero's daughter, Anissa Pierce (Nafessa Williams), is a queer Black woman who eventually becomes the vigilante hero Thunder (later, Blackbird); John Constantine (Matt Ryan), a bisexual warlock/detective, reoccurs on Legends and in crossover storyline events; Arrow's Mr. Terrific is reimagined as Curtis Holt (Echo Kellum), a happily married gay Black man; and, on Supergirl, the titular hero's sister, DEO agent Alex Danvers (Chyler Leigh), comes out as gay in the show's second season.
And, in Supergirl's fourth season, Nia Nal, a.k.a. Dreamer (Nicole Maines), became the first transgender superhero on television. With Batwoman, the first superhero live-action TV series to feature a queer title character, The CW seems intent on exploring the intersection of queerness and superhero stories in a more explicit way.
Batwoman Reveals Her (Queer) Identity
In a 2020 episode titled "How Queer Everything Is Today!," The CW and DC pushed the dial even further. This mid-season premiere takes place after the mega-crossover event that saw all of the Arrowverse heroes traversing time and space in an epic team-up. In an effort to avoid spoilers, we'll just say Kate Kane (Rose) found out that her cosmic destiny was to be the "Paragon of Courage" — a fancy way of saying her bravery defines her.
In the aftermath of this discovery, Kate grapples with whether she's as courageous as the fates believe. The fact that she saves a police officer — who publicly tries to kiss her, thus causing all of Gotham to assume they're romantically involved — doesn't help matters. "Whenever I put on this suit," Kate laments, "I feel like I'm lying to our entire city… I live in shadows, I wear a disguise and I let people believe that I'm dating [that police officer]. What part of that is courageous?"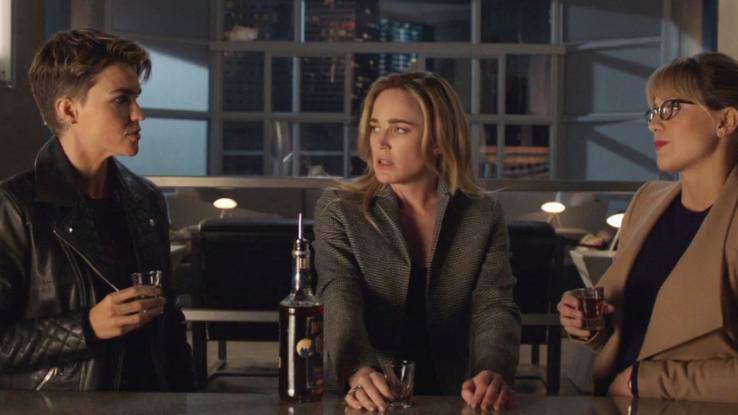 Of course, divulging Batwoman's queerness to Gotham could also inadvertently reveal she's Kate Kane. But, after meeting a queer teen whose parents don't accept her, Batwoman decides that being a visibly queer superhero could help others struggling with their identities or acceptance. In the end, Kate comes out publicly in a magazine interview, which is written by her super-pal Kara Danvers, a.k.a. Supergirl (Melissa Benoist).
Why is Batwoman's cover-story turn so important? In an article centered on bisexual hero John Constantine, The Atlantic's Peter Nagy writes that the "trope of heroic self-revelation is alluring because it romanticizes the idea of an authentic, clearly defined, hidden self. It is, in a way, a coming-out metaphor—one that suggests a hero's ultimate goal should be to uncover and better understand who [they] really [are]."
By having Kate stand by her truth — both in her personal life and as a superhero — the show is fully embracing that metaphor, that link between queer identity and struggle, and the struggles of these fantasy heroes. This act illuminates the connection for straight and cis viewers, but, more importantly, it holds space for queer viewers and allows them to see even more of themselves reflected — and no longer just in the subtext.
As the first superhero live-action TV series to feature a gay or lesbian title character, Batwoman had a lot to shoulder. But, as exemplified by this episode, it's clear that showrunners have the propensity to do right by LGBTQ+ fans. In fact, this was underscored yet again when Rose had to step down from Batwoman for personal reasons after the show's first season concluded. Instead of recasting Kate Kane, the creators decided to introduce Ryan Wilder as the show's new lead, and cast Javicia Leslie to play the role — and wear the cape. With her casting, Leslie, a bisexual woman, has made history as the first queer Black actor to play a title character in a superhero show.