Formula 1 racing isn't exactly a well-known sport in the United States like baseball, football or NASCAR are. However, many people still enjoy it because the events are just so thrilling to watch. If you're a new fan who's interested in catching a race but you don't have cable — where these events are normally accessible — you might be wondering if there are any alternative ways to watch.
Like other sports, F1 remains relatively difficult to stream online. That's because various complex contracts dictate which networks get to show what sporting events and when. But, fortunately, there are still some smart ways to opt for a streaming service — and avoid cable and satellite providers' costs and contracts in the process.
The Walt Disney Company has the rights to F1 races in the United States, which means the races can air on ABC and ESPN, which Disney owns. Although ESPN carries many F1 races, you won't find all of them there. However, streaming races that air on ESPN could still be your best bet, particularly if you're a more casual viewer. That said, here's a closer look at your options for watching F1 on streaming.
F1 TV
F1 TV is an ideal option for diehard fans of Formula 1 races. It's a streaming service that provides access to all F1 races around the globe. You can also watch past races along with F2 and F3 races. The service even provides content not aired anywhere else, such as behind-the-scenes looks at events.
F1 TV Pro is the main subscription tier available monthly or yearly (at a sizable discount from the monthly price). With it, you can access all live races and the race archives. More importantly, you get access to cameras inside of cars and audio from team radios. This gives you unparalleled views of races you really won't find anywhere else.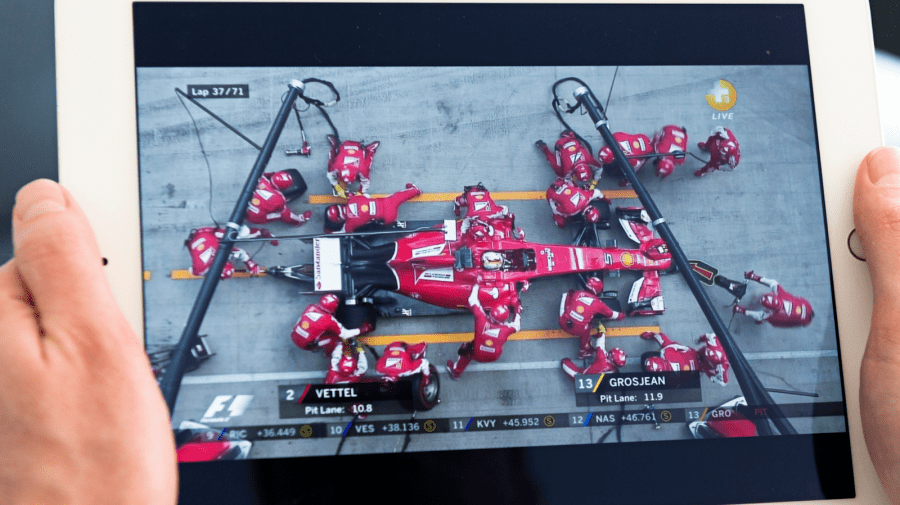 F1 TV also offers a lower-tier subscription option that costs just a few dollars a month. This F1 TV Access package doesn't give you access to live races, but you can watch those that have aired earlier. This also gives you access to the F1 race archives.
The primary downside to this streaming service is that you can only stream F1 content — and that's really only a drawback if you're looking for more to watch. There are no other movies or TV shows on the platform, which can make it come across as relatively pricey compared to other streaming services.
Hulu + LiveTV
Hulu + LiveTV allows you to watch many of your favorite TV channels without needing cable. Unlike on-demand streaming services, Hulu + LiveTV lets you watch just as you would with cable. This gives you access to ESPN networks, which air F1 races.
Hulu + LiveTV is one of the more expensive options on the list. Its price allows you to access two simultaneous streams, though, and it also includes access to the Hulu+ and Disney+ streaming services.
ESPN+
ESPN+ does offer some F1 races. Unlike live TV streaming services such as Fubo, Sling TV and Hulu+ LiveTV, though, ESPN+ doesn't give you access to the live ESPN channels. Instead, select content is available with a subscription. If you have a cable or satellite subscription, you can log in and access more content.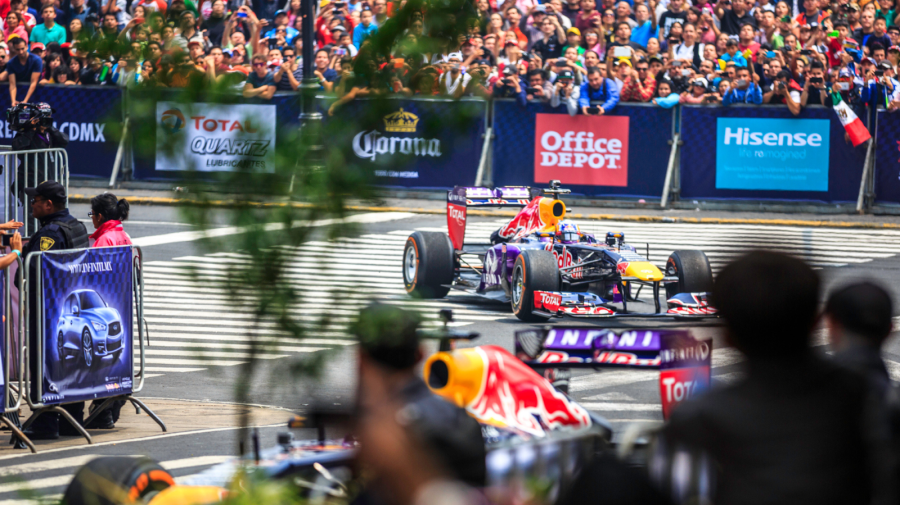 ESPN+ is available for under $10 per month and includes access to a wide array of sporting events throughout the year. In addition, there are behind-the-scenes looks at different events. You can even watch documentaries and TV series about your favorite sports topics. ESPN+ can also be bundled with Disney+ and Hulu+ for a discount.
Antenna TV
A free option to watch F1 races is an antenna. F1 does have some races that air on ABC, which is a broadcast network that only requires you to have an antenna.
ABC only carries select races on its broadcast channel, so this probably won't be the best option if you're looking to catch every race. However, it's a free alternative to paying for a monthly subscription. Check the ABC schedule to see which races will air and when.
Sling TV
Sling TV also has F1 races available to stream on the ESPN networks carried in its Orange package. Sling has ESPN 1, 2 and 3, the same live channels you find with a traditional cable subscription. Sling is available on most streaming devices and includes 50 hours of cloud DVR storage for free.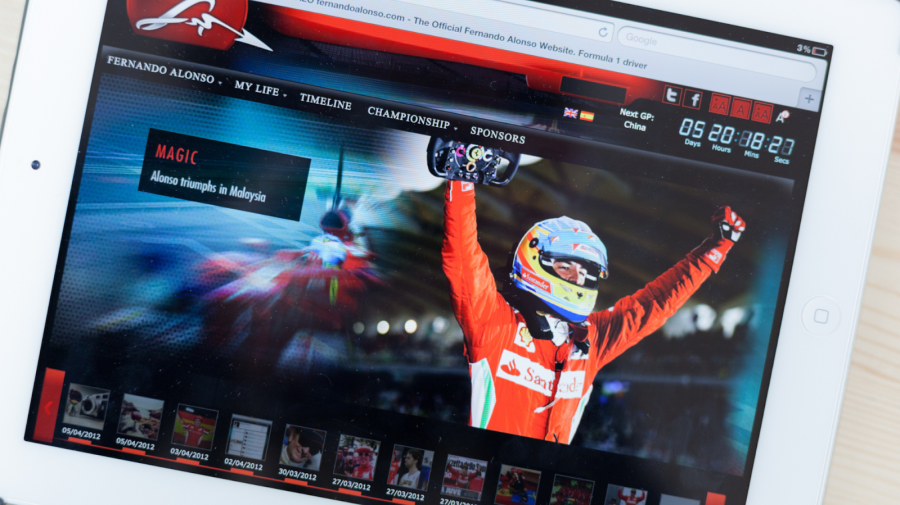 Sling's Orange package gives you a total of 31 live TV channels. If you're interested in a little more variety, though, Sling offers its Orange and Blue packages in a bundle. This gives you a total of 47 channels. However, with either package, you're limited to one stream of ESPN at a time, so do keep that in mind.
YouTube TV
Youtube TV is another live streaming service that has F1 races through ESPN. It's also a relatively expensive option at around $65 per month. However, it includes other benefits; you can watch videos on the YouTube platform without ads. This is a great option if you watch a lot of content on YouTube but still want live TV.
Fubo TV
Fubo is by far the most expensive option — one of its tiers is nearly $100 a month. Just like YouTube TV and Sling TV, it provides live access to channels such as ESPN, where you can watch F1 races. You also get many other channels that are typically included within standard cable packages.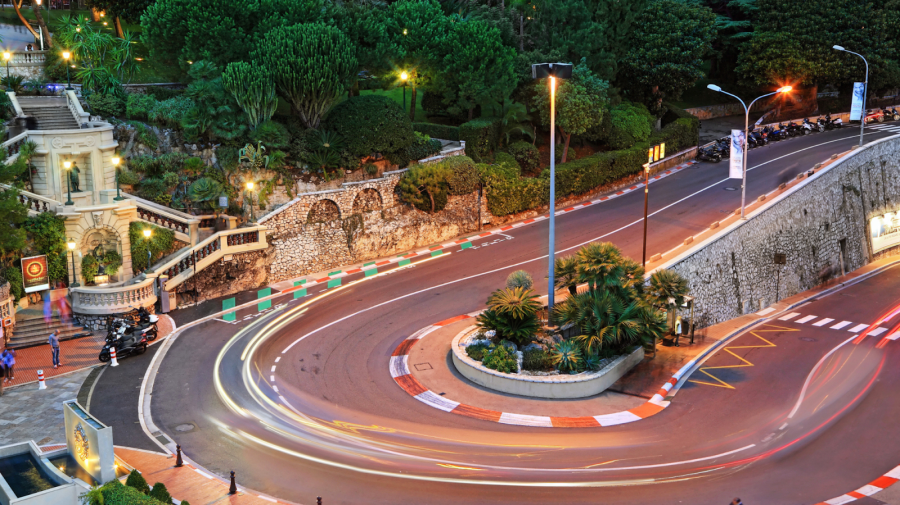 DirecTV Stream
Like other services on this list, DirecTV Stream also offers ESPN channels, which means it has F1 races. Despite having the name DirecTV, you don't need to install a satellite or sign a contract to get DirecTV Stream. The service is similar to other live TV providers, which means you'll want to have a reliable internet connection. AT&T customers can watch unlimited DirecTV Stream content on their phones, as there are no data limits for DirecTV Stream.