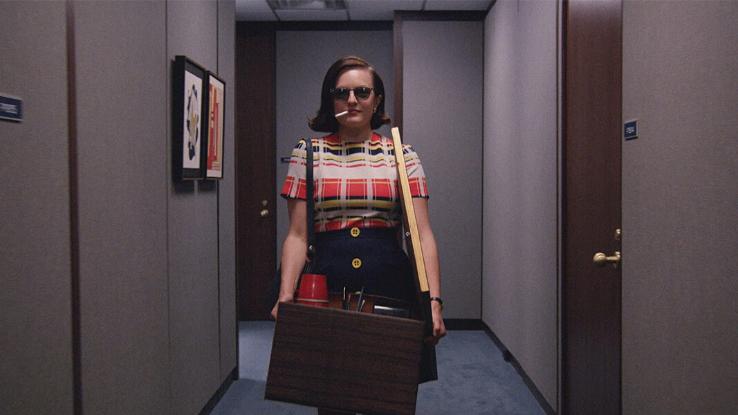 "I worry about a lot of things," Don Draper (Jon Hamm) told Peggy Olson (Elisabeth Moss) in Mad Men, "but I don't worry about you." Sweet sentiment, but what we (Don included) should be worried about is all the notable shows and films leaving Netflix and Hulu at the end of May — and that includes all seven seasons of Mad Men.
With social distancing and shelter-in-place directives still in effect in most states across the country, many of us still have time to marathon a few movies or seasons of TV, but now that we're two months in, doing the Netflix Scroll™ can be daunting. We get it. We're also here to help you prioritize which laugh-out-loud comedies, thrilling horror and sci-fi films, and beloved classics to press "play" on.
Looking for a Laugh? Try These Comedies.
Before she was the Unofficial Queen of Period Pieces — but after she was the stand-in Queen of Naboo in The Phantom Menace — Keira Knightley landed a roll that would help put her on the map as a soccer player and best friend to breakout star Parminder Nagra's Jess in Bend It Like Beckham (2002). If you've never seen this movie before, remedy that immediately by logging into Hulu. To catch you up to speed, it's part comedy, part romance, part drama, part coming-of-age flick — all wrapped up in the beats of a thrilling sports movie. Jess, the daughter of British Indian Sikhs, rebels against her parents' traditionalism and joins a local women's football (soccer) club. Although she makes her way to the top of the league, she has to keep her dreams a secret, especially amid the chaos of her sister's upcoming wedding.
Next on our must-watch list is Blazing Saddles (1974). If you're a fan of the (arguably) more popular Young Frankenstein (1974), Mel Brooks' comedic take on westerns is sure to hit you right in the funny bone. Starring Cleavon Little and Gene Wilder, the film tells the story of a corrupt politician (Harvey Korman) who is dead-set on ruining the small western town of Rock Ridge. As part of his ploy, he helps appoint former railroad worker Bart (Little) as the town's sheriff, only to have Bart become quite the formidable adversary. While not all elements of this satire aged well (or were good to begin with), there are certainly some classic scenes worth firing up Hulu to watch.
If you're in the mood for a comedy-movie marathon, you're in luck — at least for a few more weeks. Netflix has two beloved film series on offer through the end of May: Naked Gun and Austin Powers. While the streaming service is missing the third and final installment, Naked Gun 33⅓: The Final Insult (1994), it's offering The Naked Gun: From the Files of Police Squad! (1988) and The Naked Gun 2½: The Smell of Fear (1991). That means you can still get your fill of Leslie Nielsen as Frank Drebin, a bumbling yet well intentioned detective, and his on-again, off-again love interest and partner in comedy, Jane Spencer (Priscilla Presley), in this timeless spoof. As for the Austin Powers movies, the hit Mike Myers trilogy is there in full: Austin Powers: International Man of Mystery (1997), Austin Powers: The Spy Who Shagged Me (1999) and Austin Powers in Goldmember (2002) can all be streamed, but only before June. Yeah, baby! Yeah!
Thrills, Chills and Skeptics — Oh My!
If you're a fan of horror, thrills and all things chilling, you'll get good use of your Hulu account (and a few goosebumps) before May is through. Currently, all 11 seasons of the '90s cult classic The X-Files are streaming on the platform, but for a limited time only, you can also catch the second theatrical release The X-Files: I Want to Believe (2008). While the long-running sci-fi series itself is incredible TV, the films, particularly I Want to Believe, leave something to be desired. Still, if you want to check back in with Mulder (David Duchovny) and Scully (Gillian Anderson), the completionist in you should try to catch the movie before May's out.
Looking for some horror that's more in line with the classics? We recommend The Conjuring (2013), Let Me In (2010) and I Am Legend. First, The Conjuring is the inaugural film in James Wan's now genre-defining Conjuring Universe, which includes the Conjuring trilogy, the three (maybe soon-to-be four) Annabelle films and one-offs like The Nun (2018) and The Curse of La Llorona (2019). Needless to say, you should start with the one that kicked it all off. Starring Patrick Wilson and Vera Farmiga as Ed and Lorraine Warren, real-life paranormal investigators and authors whose reports inspired The Amityville Horror film franchise, The Conjuring tells the story of the Perron family, who experiences increasingly disturbing hauntings at their farmhouse in the '70s and call upon the Warrens for some help.
As for Let Me In, if you're a fan of vampires but simply dreading another wave of Twilight content — see: Midnight Sun — this darker romantic horror film might be just the thing you need. Starring Kodi Smit-McPhee and Chloë Grace Moretz, the movie is actually a remake of the acclaimed Swedish film Let the Right One In (2006). While a few critics claimed this remake followed the original too closely, it was generally met with universal acclaim. Set in 1980s New Mexico, Let Me In's 12-year-old Owen (Smit-McPhee) is bullied at school and then develops a friendship with vampire child Abby (Moretz).
Finally, Hulu's offering up the post-apocalyptic thriller I Am Legend (2007), which is based off the classic 1954 Richard Matheson novel of the same name. Starring Will Smith as a U.S. Army virologist, I Am Legend is about a human-created virus outbreak that turns people into vampire-like mutants. Needless to say, for some, the pandemic vibe may not be of interest right now. For others, the exposure therapy of it all, of watching post-apocalyptic films like Contagion (2011) or I Am Legend during the COVID-19 pandemic might provide a kind of comfort or release. On that note, if darker fare like that is a bit of a turn-off, you might want to try Netflix's sole soon-to-vanish horror entry worth catching before May ends: Four of the five Final Destination films are currently streaming, and the franchise's signature dark comedy may be the perfect catharsis-entertainment hybrid.
Classic Hits: An Assassin, a Mobster and an Ad Exec Walk into a Bar…
Looking for some good, old fashioned classic comforts? Hulu's offering up the Martin Scorsese helmed hit Goodfellas (1990), a six-time Academy Award nominated film about, you guessed it, crime and the mafia. This one is kind of the end-all, be-all though — well, along with The Godfather films and The Departed (2006) and — okay, there are a lot of classic mob films, but if you've never seen this one, watch it before June. Full of stellar performances from Robert De Niro, Joe Pesci and Ray Liotta, the decade-spanning film is about the rise and fall of mob associate Henry Hill — and it has a much more comfortable runtime than, say, The Irishman (2019).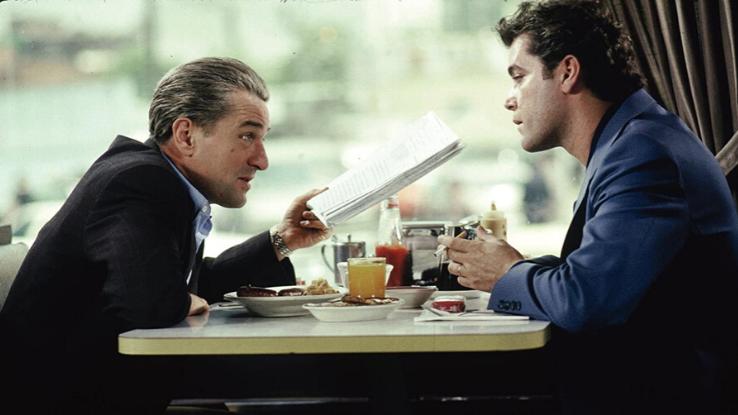 By way of classic comforts, Netflix has the coming-of-age dramedy My Girl (1991) on offer and all seven seasons of the AMC hit TV series Mad Men. Okay, we're the first to admit it: Maybe it's strange to toss My Girl into the "comfort" category — it has a notoriously devastating ending, like so many coming-of-age stories. But it's bolstered by some winning performances and a summertime atmosphere you just want to sink into. In My Girl, a very young Anna Chlumsky (Veep) stars as Vada, an 11-year-old hypochondriac from Pennsylvania who becomes obsessed with death, in part because her father (Dan Aykroyd) is a widower and in part because he's a funeral director and runs the business out of their home. Vada's best buddy is played by Macaulay Culkin, and her unlikely grownup pal and mentor Shelly DeVoto (Jamie Lee Curtis) is the new makeup artist at the funeral parlor.
And Mad Men? Unless you've been living under a rock, you surely know the premise of the period drama, which stars Jon Hamm as Don Draper, the womanizing ad exec. Our advice? If you're in the middle of a Mad Men marathon, hurry up! You don't want to miss a single episode.
Our last classic pick, which can be found on Hulu, is far from comforting — at least in terms of its premise and over-the-top violence. Quentin Tarantino's Kill Bill — both Volume 1 (2003) and Volume 2 (2004) — tells the story of the Bride (Uma Thurman), who, after the attempted murder of her and her unborn child, swears revenge on a team of assassins (Lucy Liu, Michael Madsen, Daryl Hannah and Vivica A. Fox) and their leader, Bill (David Carradine). The two-part series pays homage to samurai cinema, blaxploitation films, spaghetti Westerns, anime, martial arts and more. If you haven't seen them? Well, "we have unfinished business."