Netflix Original Movies are beginning to develop quite a reputation for their high-quality plot lines and star-studded casts. As more of Hollywood's biggest stars flock to the streaming network, Netflix's upcoming movie list has grown more impressive than ever before.
So, whether you're into comedy, drama, action, or anything in between, you're sure to find something to look forward to on this list of new Netflix Original movies coming out in 2022.  
Netflix Original Movies For When You Want Some Action & Adventure
Ryan Gosling (Drive) and Chris Evans (Knives Out) star in an action-packed adventure about a skilled CIA assassin (Gosling) who accidentally uncovers some of the agency's darkest secrets. Will Gosling's character be able to outwit the throng of international assassins now attempting to collect the bounty on his head? Find out later this year.
This Swedish post-apocalyptic thriller stars Noomi Rapace (Prometheus, The Girl With the Dragon Tattoo) as one of a group of six speed-skating soldiers who set out on a death-defying mission. Their mission? Deliver a mysterious package, even though they have no idea what it contains — or just how much hinges on their success.
Nikolaj Coster-Waldau (Game of Thrones) and Joe Cole star in this action-adventure adaptation of author Ejnar Mikkelsen's Two Against the Ice. The book itself is based on the true story of two men who braved Greenland's harsh landscape in 1909 in search of a lost map.
With Ryan Reynolds, Mark Ruffalo, Jennifer Garner and Zoe Saldaña, The Adam Project's star-studded cast has made it one of the streaming service's most-watched films of the year so far. The plot revolves around a time traveler (Reynolds), who crash lands back in 2022 and teams up with his younger self to save his — and the world's — future.
Netflix Original Movies From Big-Name Comedy Stars
Tyler Perry's iconic Madea character is back — and this time she's just attempting to celebrate her great-grandson's graduation in peace. But when family secrets begin to surface, drama brews, forcing Madea to step in and put an end to the nonsense.
Rebel Wilson (Pitch Perfect), Alicia Silverstone (Clueless), Mary Holland (Happiest Season), Justin Hartley (This Is Us) and Chris Parnell (Archer) round out the star-studded cast of this summer comedy. In it, Wilson plays a 37-year-old woman who has recently awoken from a 20-year coma. Determined not to let the setback impact the life she dreamed of living, she decides to return to the same high school and pick up where she left off.
Netflix Original Movies for Thriller & Mystery Lovers
Ever wonder what would happen if Alexa and her A.I. cohorts ever decided they'd had enough of humanity? Filmmaker Jean-Pierre Jeunet (Amélie) explores this very question in Big Bug. Elsa Zylberstein and Isabelle Nanty star in this mind-bending thriller about a group of suburbanites who get trapped in their homes during a robot uprising.
Glass Onion: A Knives Out Mystery (Winter 2022)
In this sequel to Rian Johnson's Knives Out, Daniel Craig returns as Detective Benoit Blanc. This time he's off to Greece to get to the heart of a whole new mystery. Janelle Monáe, Leslie Odom Jr., Jessica Henwick, Madelyn Cline and Kate Hudson are also among the members of the absolutely stacked cast.
Iola Evans and Asa Butterfield star as two friends who unleash the horrors of an old '80s survival game in this adrenaline-fueled thriller. Thrust into a world of deadly consequences, the "players" are forced to make a series of terrifying choices — or risk losing everything.
Millie Bobby Brown (Stranger Things) returns to her role as young Enola, the highly underrated little sister of Sherlock Holmes. This time, Enola is ready to take on her first official case as she unravels a dark conspiracy searching for a missing girl. Henry Cavill (Witcher) and Helena Bonham-Carter (The Crown) also reprise their respective roles in this fun-filled adventure.
Netflix Original Movies With Drama, Drama, Drama
Based on an incredible true story, Operation Mincemeat stars Colin Firth (Kingsman series) and Matthew Macfadyen (Succession) as two British intelligence officers during World War II. In an effort to thwart Hitler and save thousands of lives, the two come up with a plan that's so outlandish it just might work.
Set in the deep South, A Jazzman's Blues is based on the first screenplay Tyler Perry ever wrote — over two decades ago. The family drama follows the investigation of an unsolved murder, which, in turn, uncovers secrets, lies and forbidden love, all set against a blues backdrop.
Based on Sarah Dessen's young adult (YA) novel of the same name, Along for the Ride stars Emma Pasarow, Kate Bosworth and Andie MacDowell. The story follows a teenager named Auden (Pasarow), who meets a fellow insomniac the summer before leaving for college. As the two explore the small seaside town Auden's father moved to with his new wife, our sheltered protagonist starts to loosen up and enjoy life.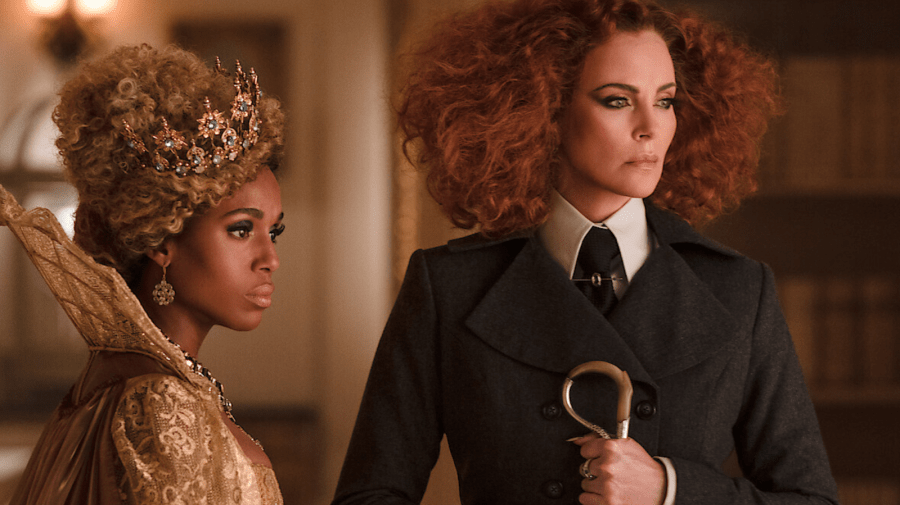 Netflix Original Movies for Sci-Fi & Fantasy Fans
If you're an anime fan, be sure to check out Tetsurō Araki's new film — set in a version of Tokyo that's overrun by gravity-defying bubbles. The city is something of a parkour battleground for teams who use the bubbles to pull off stunts that would impress even Spider-Man. When a young man named Hibiki meets a girl with otherworldly powers, the two embark on a journey to understand the mysterious sound that only they seem to hear.
Charlize Theron (The Old Guard), Kerry Washington (Little Fires Everywhere), Laurence Fishburne (The Matrix) Ben Kingsley (Shang-Chi and the Legend of the Ten Rings) and Everything Everywhere All at Once star Michelle Yeoh are just some of the incredible actors bringing this adaptation of Soman Chainani's best-selling YA fantasy series to life.
For those who don't know, the story centers on two best friends, Sophie and Agatha, who find themselves enrolled in a magical school for young heroes and villains. Soon after, they end up on opposing sides of the war between good and evil.
Guillermo del Toro's Pinocchio (TBA 2022)
When word got out that Guillermo del Toro was making a stop-motion animated version of Pinocchio, pretty much half of Hollywood signed on to the cast. The ensemble includes folks like Finn Wolfhard (Stranger Things), Ewan McGregor (Obi-Wan Kenobi), Tilda Swinton (Suspira), Cate Blanchett (Carol), Ron Perlman (Hellboy) and more.