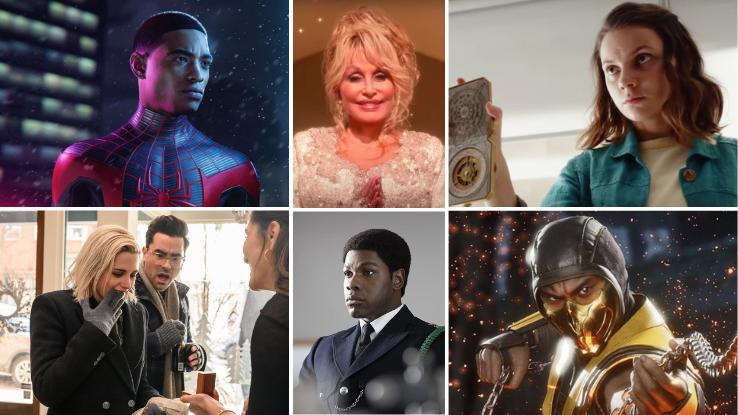 If you're looking forward to the holiday season, you aren't alone. Streaming giants like Netflix and Hulu are gearing up to release original films that promise to be both cheerful and bright — you know, things we could use a lot more of this year. Holiday cheese not your thing? Well, luckily, acclaimed dramas like The Crown and His Dark Materials also return to the small screen in November. The month's biggest blockbusters, however, aren't coming in the form of movies, TV shows or books: November is a big month for gamers with both Sony and Microsoft launching their new consoles alongside a slew of impressive games. Read on for the full rundown of must-watch (and play) hits coming soon.
Netflix | "The Crown" Introduces Margaret Thatcher, and Dolly Parton Ushers in Christmas
As always, Netflix has a deep list of originals coming this month, offering more variety than most of its competitors. Without a doubt, the streaming giant's most highly anticipated November release is the fourth season of its critically acclaimed show The Crown (Nov 15), which marks the final season for Olivia Colman's portrayal of Queen Elizabeth II as well as the first season to feature both Princess Diana (Emma Corrin) and Margaret Thatcher (Gillian Anderson).
If a slow-burn drama about the British monarchy isn't to your taste, there's plenty more to look forward to, like weekly episodes of Private Lives (Wednesdays) and The Great British Baking Show (Fridays) as well as a bevy of holiday-themed content. The most magical? It might just be the Hallmark-esque Dolly Parton's Christmas on the Square (Nov 22), a small-town film that sees Parton playing an angel and singing a soundtrack's worth of new songs.
The holiday list also includes A New York Christmas Wedding (Nov 5); Midnight at the Magnolia (Nov 5); Operation Christmas Drop (Nov 5); the John Legend musical Jingle Jangle: A Christmas Journey (Nov 13); reality special Holiday Home Makeover with Mr. Christmas (Nov 18); highly anticipated Vanessa Hudgens-helmed sequel The Princess Switch: Switched Again (Nov 19); Alien Xmas (Nov 20); Dragons: Rescue Riders: Huttsgalor Holiday (Nov 24); the Kurt Russell-helmed The Christmas Chronicles: Part Two (Nov 25); A Go! Go! Cory Carson Christmas (Nov 27); the Shondaland documentary Dance Dreams: Hot Chocolate Nutcracker (Nov 27); German holiday series Over Christmas (Überweihnachten; Nov 27); season two of the cooking reality series Sugar Rush: Christmas (Nov 27); and animated special Wonderoos: Holiday Holiday! (Nov 29).
Here's everything else worth streaming on Netflix this November:
Nov 1: Can You Hear Me? (Season 2) and Dawson's Creek (Seasons 1-6), which isn't a Netflix original but still noteworthy.
Nov 3: German stand-up special Felix Lobrecht: Hype (2020), animated preschooler series Gabby's Dollhouse (Season 1), and feature film Mother (2020).
Nov 4: Love & Anarchy (Season 1).
Nov 5: Carmel: Who Killed Maria Marta? (Season 1) and Paranormal (Season 1).
Nov 6: Citation (2020), Country Ever After (Season 1), and La trinchera infinita (The Endless Trench; 2019).
Nov 9: Dutch thriller Undercover (Season 2).
Nov 10: teen drama Dash & Lily (Season 1) and cartoon kids show Trash Truck (Season 1).
Nov 11: Portuguese Drag Race-esque reality series A Queen Is Born (Season 1), sketch comedy series Aunty Donna's Big Ol' House of Fun (Season 1), Austrian drama What We Wanted (Was wir wollten; 2020), and The Liberator, a limited series that's perhaps best described as "animation meets Band of Brothers."
Nov 12: Ludo (2020), a dark comedy from India.
Nov 13: Italian drama The Life Ahead (La vita davanti a se; 2020) and political thriller The Minions of Midas.
Nov 17: The Boss Baby: Back in Business (Season 4) and reality docu-series We Are the Champions (Season 1).
Nov 18: Bitter Daisies (El sabor de las margaritas; Season 2).
Nov 20: Flavorful Origins: Gansu Cuisine (Season 1), If Anything Happens, I Love You (2020), and Voices of Fire (Season 1).
Nov 23: Shawn Mendes: In Wonder (2020).
Nov 24: Hillbilly Elegy (2020), a film that's helmed by Amy Adams and marks Ron Howard's Netflix debut; the Argentinian feature Notes for My Son (El Cuaderno de Tomy; 2020); and kids animated series Wonderoos (Season 1).
Nov 25: anime series Great Pretender (Season 2).
Nov 26: Mosul (2020).
Nov 27: The Beast (La Belva; 2020) and Virgin River (Season 2).
Nov 28: The Uncanny Counter (Season 1).
Hulu | From Queer Holiday Rom-Com "Happiest Season" to a Revival of "Animaniacs"
Although Netflix might have a whole lineup of Christmas content at the ready, Hulu is offering up at least one solid holiday hit. Opting for a digital release in lieu of a theater-only debut, director Clea DuVall's sophomore feature Happiest Season (Nov 25) promises to deliver the holiday rom-com laughs and feels when a young woman (Kristen Stewart), who plans to propose to her girlfriend (Mackenzie Davis) while at her family's annual holiday party, discovers her partner hasn't come out to her conservative parents. In addition to Stewart and Davis, the all-star cast is rounded out by three-time Emmy winner Dan Levy, Aubrey Plaza, Alison Brie, Mary Steenburgen, Victor Garber, Michelle Buteau and Ana Gasteyer.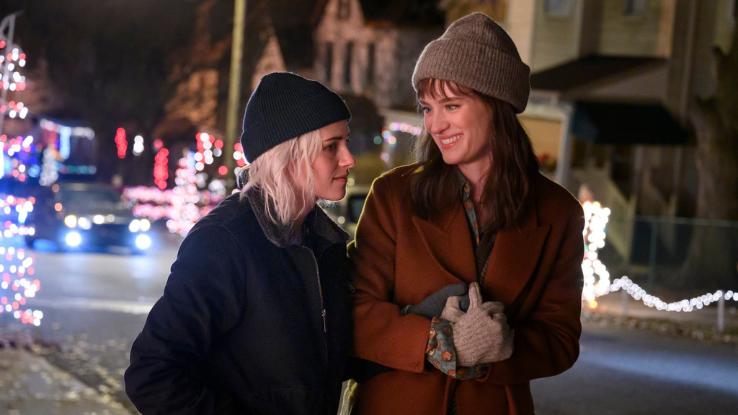 Other Hulu originals worth tuning into this November include the highly anticipated Animaniacs revival (Nov 20); the first season of The Mighty Ones (Nov 9); Eater's Guide to the World (Nov 11), a Maya Rudolph-narrated journey to unexpected culinary gems; I Am Greta (Nov 13), a doc about environmental activist Greta Thunberg; No Man's Land (Nov 18), a drama series about the Syrian civil war; and the Sarah Paulson-helmed thriller Run (Nov 20). As has been the case for the last few months, Hulu will also play host to FX's newest shows as they debut, including A Teacher (Nov 10), which stars Kate Mara and Nick Robinson, and Black Narcissus (Nov 24), a World War I-era drama about nuns who establish a branch of their order in the Himalayas.
Hulu streamers should also look out for:
The fourth season of cult hit Rick & Morty (Nov 1).
The addition of Skins: Complete Series (Nov 1).
The third season of the BBC hit Killing Eve (Nov 6).
A handful of 2020 films, including Blue Story (Nov 4), Sputnik (Nov 13), and Tesla (Nov 20).
Several next-day ABC premieres, including The Good Doctor (Season 4; Nov 3); Grey's Anatomy (Season 17; Nov 13); Station 19 (Season 4; Nov 13); Big Sky (Season 1; Nov 18); For Life (Season 2; Nov 19); and A Million Little Things (Season 3; Nov 20).
A few next-day NBC premieres, including Chicago Fire (Season 9), Chicago Med (Season 6), and Chicago P.D. (Season 8), all of which debut November 12, and Law & Order: Special Victims Unit (Season 22), which starts up on November 13.
HBO Max | "His Dark Materials" Returns Alongside a Slew of Series Debuts
This month, HBO is light on the Max-specific content, but it manages to deliver on the series debuts and finales. We're probably most excited about the return of His Dark Materials on November 16, which will adapt The Subtle Knife, the second novel in Philip Pullman's acclaimed series of the same name. Giving His Dark Materials a run for its money, however, is the adaptation of Ta-Nehisi Coates' National Book Award winner Between the World and Me (Nov 21), which will take cues from a staged adaptation that ran at the Apollo Theater in 2018.
HBO loyalists should also look out for a bevy of other premieres, including Pecado Original (Original Sin; Nov 6), Industry (Nov 9), My Sesame Street Friends (Nov 12), docu-series Murder on Middle Beach (Nov 15), Linda and the Mockingbirds (Nov 16), and four HBO Max exclusives — Craftopia: Craft the Halls, Craftopia: Merry Craftmas!, The Flight Attendant, and Superintelligence — that are all hitting the virtual shelves on November 21.
Rounding out HBO's November are the debut of an extensive collection of Looney Tunes (Nov 4), the Rock & Roll Hall of Fame 2020 Inductions (Nov 7), and season finales for We Are Who We Are (Nov 2), Patria (Nov 11), Last Week Tonight with John Oliver (Nov 15), and The Undoing (Nov 29).
Amazon Prime Video, Apple TV+, Disney+ & Peacock | Everything Else Worth Streaming This Month
And now for everything else! There are so many streaming platforms — perhaps too many to keep track of. If your head is spinning, or you're not sure which ones to renew, here's our comprehensive list of everything else worth streaming this November.
Disney+: Every Friday, episodes of The Mandalorian's second season will continue to premiere, and, let's face it, that's the primary reason most of us still have an account with Disney. Other shows of note include a LEGO Star Wars Holiday Special (Nov 17); the debut of The Wonderful World of Mickey Mouse animated shorts series (Nov 18 — the mouse's birthday); Marvel's 616 (Nov 20), an intriguing behind-the-scenes look at everyone's favorite cinematic universe; and the launch of Simpsons Forever, which will basically curate all 30+ seasons thematically and spotlight particularly relevant episodes based on what's happening in the world.
Amazon: After a bit of a drought, Amazon is picking up the pace again in terms of original content. This month, Prime subscribers can tune into original series like the English dub of El Presidente (Nov 6), Ferro (Nov 6), Wayne (Nov 6), James May: Oh Cook (Nov 13), The Pack (Nov 20), and the show we're probably most excited about, Small Axe (Nov 20), a limited series from Steve McQueen that stars Letitia Wright and John Boyega. Amazon also has a few new movies up its sleeve, including Seven Stages to Achieve Eternal Bliss (Nov 20), Uncle Frank (Nov 25), and Life in a Year (Nov 27). If all that wasn't enough, the online retailer-of-many-trades is also launching IMDb TV — yes, another streamer — with the debut of original series Alex Rider on November 13.
Other Networks: In addition to all those NBC network show premieres listed above in the Hulu section, Save Me (Nov 5) and Saved by the Bell (Nov 25) will also hit the colorful Peacock streaming service. Meanwhile, The CW offers up the special series finale Supernatural: The Long Road Home (Nov 19) and, just in time for Thanksgiving, the ever-cozy Gilmore Girls: A Year in the Life (Nov 23). Other dates worth remembering include November 7 for the eighth volume of Rooster Teeth's RWBY; November 8, for Showtime's Moonbase 8; and November 13 for Apple TV+'s Doug Unplugs.
Video Games | The Xbox Series X Launches on November 10
Unless you've been living under a rock, you've likely heard by now that both Microsoft and Sony are releasing new gaming consoles this month. If you're an Xbox fan, there are two options: The Xbox Series X (XSX) and the Xbox Series S (XSS) — and, yes, those things will sound extremely similar when said over the phone or over the cacophony of Black Friday shoppers, so please take pity on all the GameStop and Best Buy employees who have to deal with that hassle, among other things. The consoles differ in price by about $200 — the XSX is a bit more high powered than the XSS — but both will seemingly offer the Xbox Game Pass, a subscription-based service that's not unlike Netflix (or GameFly, R.I.P.).
When it comes to the latest entries in the Xbox family, it's all about speed. From the console's impressive "quick resume" feature, which allows you to jump back into a number of games sans long loading screens, to how fast things download, this need for speed is probably why the Xbox is looking, well, boxier these days. But for Microsoft loyalists, the console will be well worth the wait — and the price tag — come November 10.
If you're picking up an XSX, be sure to add a few of these titles to your library — and quickly:
Video Games | The PlayStation 5 Launches on November 12
Sony's newest console, the appropriately named PlayStation 5 (PS5), hits shelves on November 12, just a few days after Microsoft's XSX. Much like its competitor, Sony is offering up two versions of the PS5, but instead of offering a version with more horsepower or must-have features, the key difference between the two consoles is the inclusion of a disc drive. In this era of digital downloads and streaming, having a slimmer console might appeal to some folks — plus, a disc drive-less PS5 is about $100 cheaper.
Much like the XSX, the PS5 promises mesmerizing next-gen graphics and incredibly fast load times — potentially even faster than the XSX. But Sony's biggest selling point remains the same: its incomparable library of first-party games and PlayStation exclusives. With the exception of a few fan favorite franchises, Microsoft doesn't have such a storied, beloved library to draw from — Sony does, and in addition to new games from those top-tier properties, the company also promises that 99% of PS4 games will work on PS5, meaning you'll never run out of top-notch games.
If you're picking up a PS5, be sure to add a few of these titles to your library:
Books | End of the Year Must-Reads
Hit pause on Netflix — or your latest console purchase — and take a much-needed screen break this November by diving into one of these titles. From humorous essays and stories to a charming YA romance, you can cozy up to the books we've selected this month and escape for a few hours. Need a read in a hurry for holiday travel? Grab a Kindle gift card to ensure quick and easy access to all your favorite reads.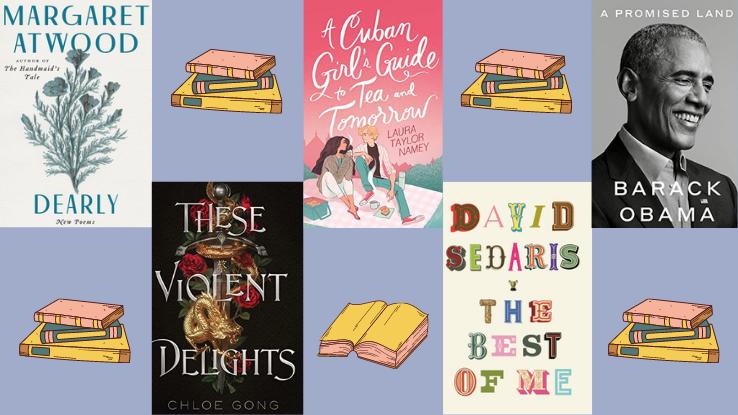 Here are our November picks:
Advertiser Disclosure: When you purchase through links on our site, we may earn an affiliate commission.