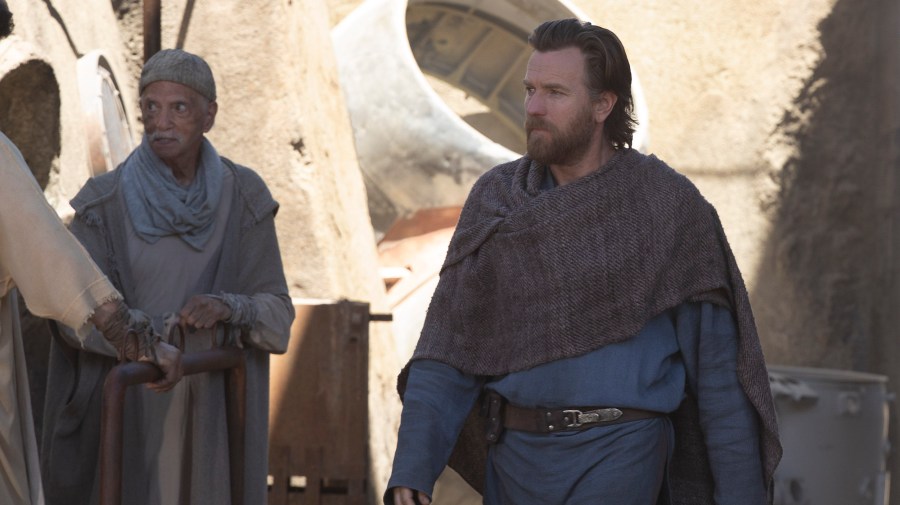 If there's something that's caught our attention from the myriad of prequels, sequels, new installments of long-running franchises and other variations of fandom-adjacent new titles plaguing the calendar of releases, that would be Star War's six-episode limited series Obi-Wan Kenobi. The show premieres exclusively on Disney+ this Friday, May 27, with the first two episodes available right off the bat. It'll have a weekly release on Wednesdays after that, until the finale debuts on June 22.
Scottish actor Ewan McGregor dons the Jedi Master's cloak once again, returning to his role as Obi-Wan Kenobi. He first played the iconic warrior in Star Wars: Episode I – The Phantom Menace (1999), Episode II – Attack of the Clones (2002) and Episode III – Revenge of the Sith (2005). McGregor's return to the galaxy far far away lends this show the gravitas that lacked in something like Solo: A Star Wars Story (2018) when Lucasfilm tried to recast a young Harrison Ford's Han Solo in Alden Ehrenreich — and didn't succeed.
But the role of Kenobi didn't originate in McGregor and was first played by Alec Guinness, who portrayed Luke Skywalker's (Mark Hamill) mentor in the original trilogy: Star Wars (1977), Episode V – The Empire Strikes Back (1980) and Episode VI – Return of the Jedi (1983). Obi-Wan Kenobi is a limited series in between those two trilogies of movies. It takes place ten years after the events of Revenge of the Sith, Obi-Wan is now in exile on the desert planet Tatooine, guarding a young Luke Skywalker from afar.
Joel Edgerton returns to his role from Episodes II and III as Luke's step-uncle, Owen Lars. So does Hayden Christensen as Darth Vader. No news or confirmation yet whether James Earl Jones will voice the Dark Lord like in the original trilogy or if it'll be Christensen doing it this time.
Among the new faces are Rupert Friend (Anatomy of a Scandal) as the Grand Inquisitor, the leader of a group of enforcers reporting to Darth Vader and tasked with hunting down and slaying all Jedis. Moses Ingram (The Queen's Gambit) is a highly-skilled and adept-at-killing Inquisitor with a checkered past called Third Sister.
All six episodes of Obi-Wan Kenobi are directed by Deborah Chow (she helmed Chapter 3 and Chapter 7 of The Mandalorian). Chow also executive produces Obi-Wan Kenobi with McGregor. 
What You Need to Remember Before Watching Obi-Wan Kenobi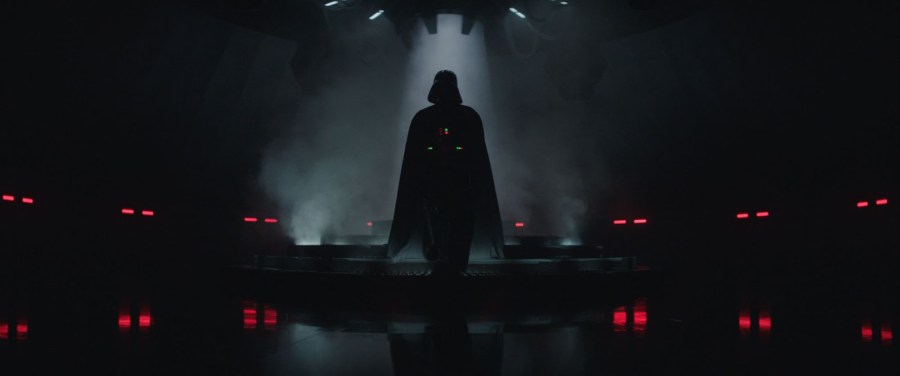 If, like me, you watched Episodes I, II and III of Star Wars when they first were released in theaters and then decided to just forget about them, you may need a little bit of a refresher before tackling Obi-Wan Kenobi. Fortunately, the show kicks off with a montage recap of what happened in those three films. But let me also refresh your memory.
In the trilogy, Christensen played Anakin Skywalker, a Jedi trained by Obi-Wan and who fell in love with Queen Padmé Amidala (Natalie Portman). Anakin was half-seduced half-tricked into the dark side by the Force and anointed Darth Vader by wannabe emperor and extremely creepy presence Sheev Palpatine (Ian McDiarmid), who also plotted to bring down the Republic.
Obi-Wan and Vader dueled and the Jedi Master severely mutilated Vader and left him burning in a flow of lava. Palpatine would be the one to rescue Vader, see that his injuries were healed and give him the iconic black suit with a respirator. Meanwhile, a pregnant Padmé gave birth to twins, before dying. They were hers and Annakin's children. The twins were called Leia and Luke and it was deemed safer to keep them apart and hidden from the new Empire. Leia was taken to Alderaan. Obi-Wan took Luke to Tatooine and gave him to his uncle Owen and aunt Beru. Obi-Wan watches Luke from the distance waiting for the right time to bring the Empire down.
"We just started with this idea that he was broken," McGregor explains in the show's production notes about his character at this point in his life. "I thought it was interesting to take him into a darker place and then over the course of the series, see how he finds his faith again and gets back to being the Obi-Wan that we knew and loved."
Making Tatooine Real in Obi-Wan Kenobi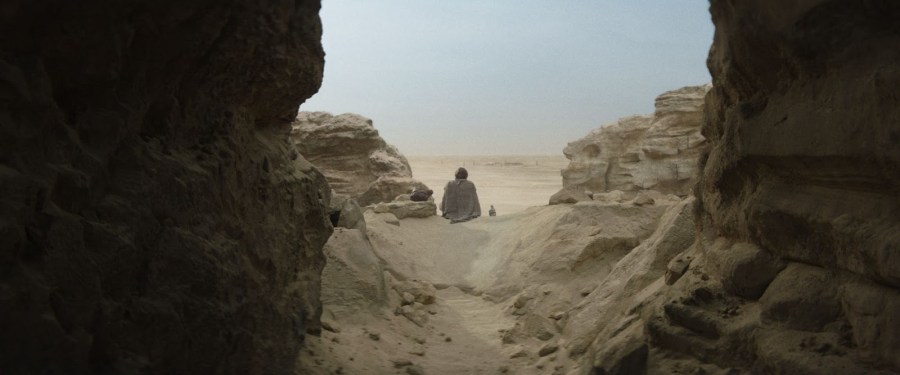 If you too are a fan of The Mandalorian (2019– ) you may be upset to learn that Obi-Wan Kenobi won't be following The Mandalorian's more episodic or mission-of-the-episode winning formula. According to Slash Film, during a promotional press conference, McGregor talked about how Obi-Wan Kenobi and The Mandalorian differ from a storytelling perspective.
"The beauty of it being a series is that we've got longer to tell the story. But because [Deborah Chow] directed [all the episodes of Obi-Wan Kenobi] and it's her singular vision throughout, it did feel like we were making one movie," the actor explained, adding that The Mandalorian feels more episodic. "Ours is like a movie that just happens to be split up into these episodes." So be prepared for that long-movie-divided-in-several-episodes structure here.
The one thing both Obi-Wan Kenobi and The Mandalorian share though is their use of the so-called StageCraft or The Volume, and immersive technology that allows for the shows to be shot inside of a soundstage while giving the viewer the luxury of an expansive landscape enveloping the characters.
The technology, developed by Lucasfilm's visual effects arm Industrial Light & Magic, is described in a recent Vanity Fair cover article dedicated to Star Wars as a "colossal curved LED wall." The Volume can surround a film crew as if they were on location "generating an environment that's convincingly photorealistic, even to a digital camera. There's no need to ship a crew and props and actors anywhere. Everywhere can be brought to the studio," explains the article.
The Volume has been fundamental in making these TV shows a reality. Jon Favreau — who's directed Iron Man and Iron Man 2 but was also integral in the development of The Mandalorian serving as showrunner and directing one of the episodes — has talked about this technology allowing them to make a full season of a series in half the time necessary to make a Star Wars or Marvel movie.
And, if you've watched the space western that is The Mandalorian, you know these shows look as expensive if not more than some of those movies. 
So Is Obi:Wan Kenobi Any Good?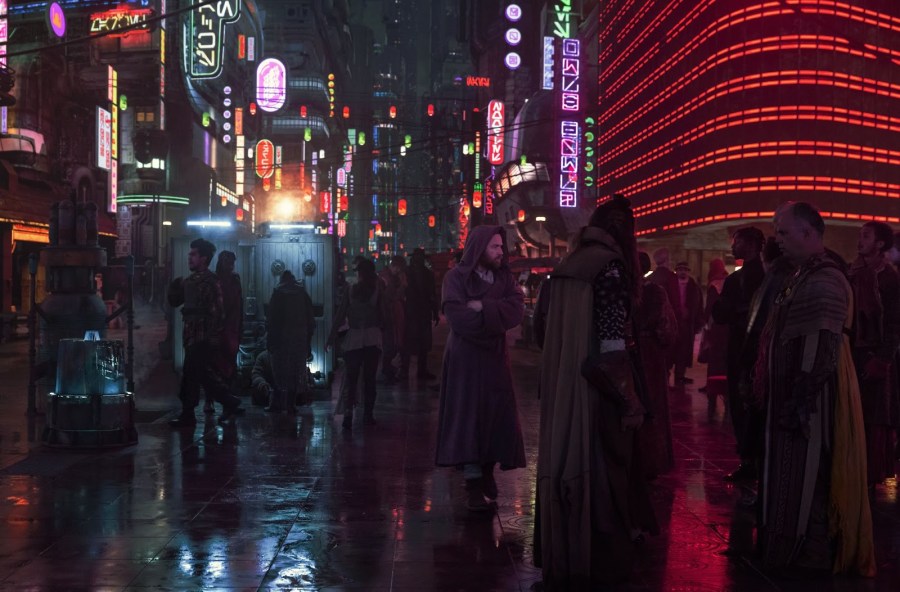 Having just watched the first two episodes of the miniseries that are already available I can tell the Star Wars fans out there, they're probably going to relish Obi-Wan Kenobi. And don't worry, I won't spoil anything. Yes, there are cameos and returns of characters from past releases. And you'll probably be very happy to encounter one spunky and independently-minded beloved royal.
The show centers on the hermit-like life of Obi-Wan Kenobi, now calling himself Ben. He works at some sort of meat-processing factory. Then goes home — to a cave — cooks himself dinner, eats alone sitting on a rock and watches Luke from the distance. Uncle Owen is not happy with Ben being so close to them and he doesn't want him training Luke when the time comes. "Like you trained his father?" Owen spits at Ben.
Ben doesn't bite back though. He's no Obi-Wan. He's a broken man who has nightmares about what happened with Anakin and the almost annihilation of the Jedis. "I've heard the Jedi are all but extinct," he says in his attempt to disguise himself. And you can feel he really believes it. He no longer is a Jedi.
But of course, duty will end up calling. "It's been ten years. I'm not who I used to be," he says when a friend comes looking for his help in a most desperate moment. And the story finds a way to take the viewer from the dunes and deserts of Tatooine to the almost Blade Runneresque Daiyu. Like The Mandalorian, Obi-Wan Kenobi just looks expensive, cinematic and great to stare at. The technology they use really tricked my adept-at-catching-and-hating-CGI eye and I believed the characters were at the most extreme locations, even if they weren't.
Of course, Obi-Wan needs to be careful in his journey. He's being hunted by the Grand Inquisitor and his acolytes, among them the Third Sister. They're of the opinion though, that the Jedis are the ones who hunt themselves. "The Jedi code is like an itch," explains the Grand Inquisitor, adding that in the end Jedis can't help themselves and end up helping someone in need. That's how they get caught.
If you're thirsty for more Star Wars, you'll enjoy this new miniseries. If you're craving some galaxy nostalgia, you'll probably love it. For those of us who were satisfied with Episodes IV, V and VI this still is a good way of watching McGregor ooze some charisma.
Even More Star Wars on the Horizon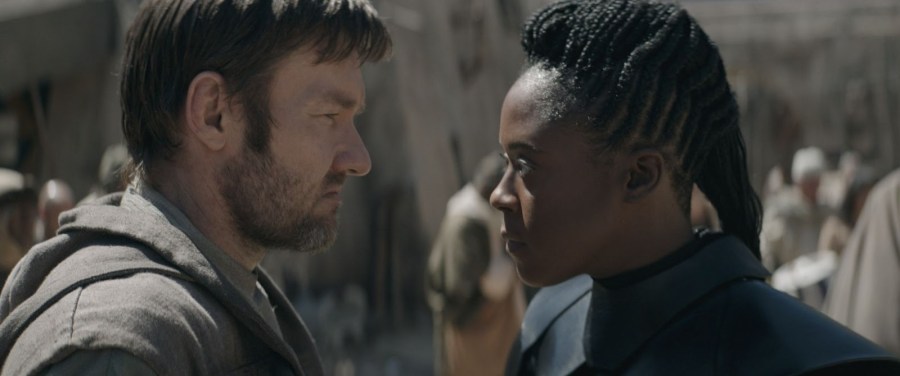 The Star Wars Expanded Universe doesn't seem to be ending anytime soon, not with Obi-Wan Kenobi in any case. Next on the calendar is the series Andor with Diego Luna returning to his Rogue One: A Star Wars Story (2016) role as Cassian Andor. The first season of the show is premiering on Disney+ on August 31. You can watch the trailer here.
Lucasfilm confirmed a couple of weeks ago that Ahsoka, the live-action series with Rosario Dawson as Ahsoka Tano, is already shooting. The character of Ahsoka was first introduced to viewers in the animated series Star Wars: The Clone Wars (2008–2020), voiced by Ashley Eckstein. Dawson first played the live-action version of the character during the second season of The Mandalorian.
And the third season of The Mandalorian is expected to debut either in late 2022 or early 2023.
Personally, I can't wait to see Grogu (aka "Baby Yoda") again but I'm also intrigued by Obi-Wan Kenobi. The thing is though, after the lackluster The Book of Boba Fett, I'm reserving the right not to like everything Star Wars. After all, I'm still recovering from Episodes I, II and III.