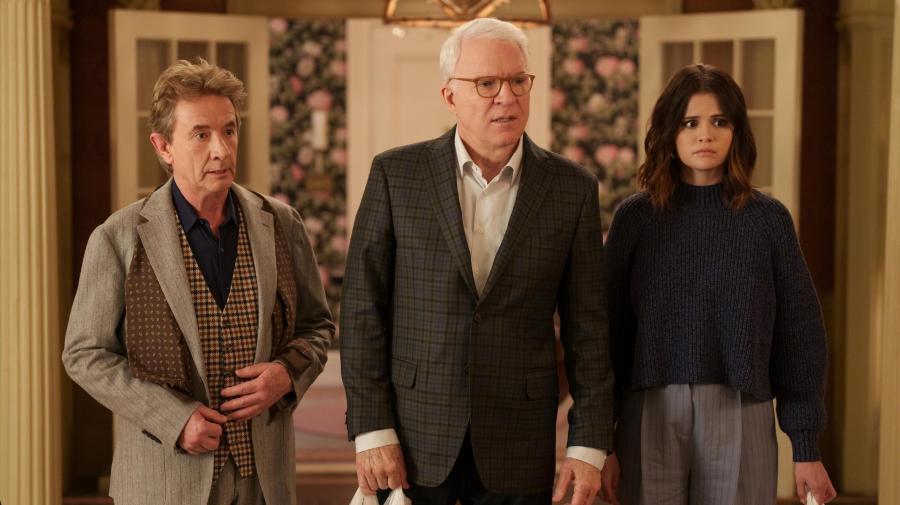 It's a wrap for season two of Hulu's murder mystery comedy Only Murders in the Building (OMITB). Now, if you still haven't watched this season finale — episode 10, titled "I Know Who Did It" — and hate spoilers, stop reading this and opt for our spoiler-free review of OMITB season 2 instead. We're going to discuss how the show ended this season, who killed the Arconia's board president, Bunny Folger (Jayne Houdyshell), and what mystery our amateur podcasters may tackle next season.
At the almost-end of season two — episode nine of Only Murders in the Building — all fingers pointed to All Is Not OK in Oklahoma's host Cinda Canning (Tina Fey) as the criminal mastermind behind Bunny's murder. She appeared to have seduced police Detective Kreps (Michael Rappaport) to help her incriminate Mabel (Selena Gomez), Oliver (Martin Short) and Charles (Steve Martin). Doing so would ensure that, once again, she was sure to have the most addictive of true crime podcasts in the making.
Mabel figured out Kreps wasn't to be trusted and she warned her Only Murders in the Building co-hosts. Together, they concocted the most ingenious of reveal parties when it comes to uncovering a killer. Oliver wouldn't take responsibility for the reviews though.
Streaming live from Bunny's living room and with several Arconia residents in attendance — as well as Cinda, her assistant Poppy (Adina Verson) and the deceptive artist Alice (Cara Delevingne) — Mabel, Charles and Oliver first reveal Cinda as the killer.
But Mabel realizes someone else did it and points the finger at Alice. She was at the diner where Bunny always had lunch the day of the murder. She fought with her because she wanted the Rose Cooper (Shirley MacLaine) painting Bunny had.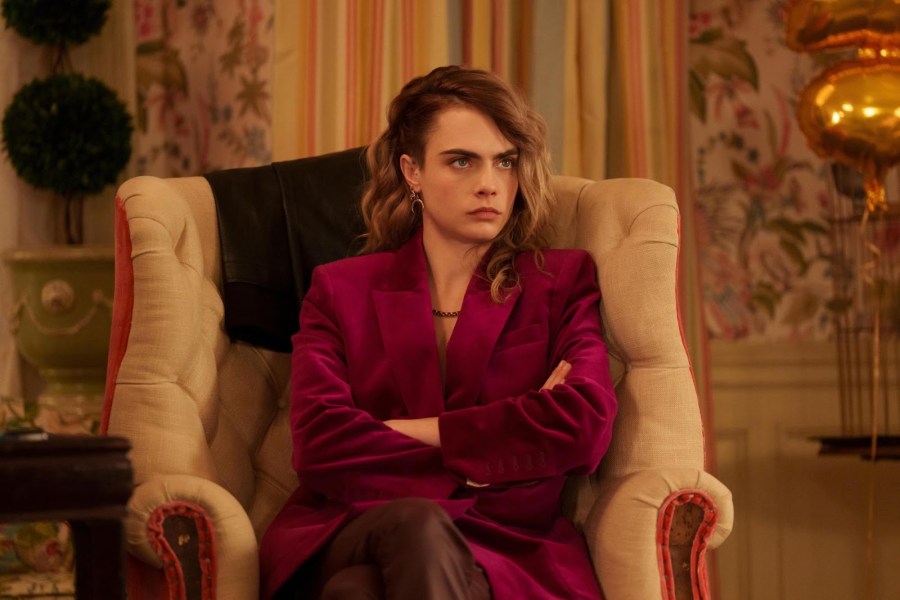 Alice is angry and, as she tries to get away from being accused, she ends up stabbing Charles. Howard (Michael Cyril Creighton) faints at the sight of it. Cinda is impressed with Mabel's detective skills and she offers her a job on the spot while Charles is still bleeding out on Bunny's floor.
But, of course, Charles is perfectly OK. Howard faints again. The stabbing was a ruse, as was the job offer, and Howard only fake fainted once. All of this was done to push Poppy's buttons, forcing her to confess. She was Becky Butler, the woman who supposedly went missing and who's at the center of the All Is Not OK in Oklahoma podcast. She was the one who seduced Kreps, not Cinda. The detective helped Poppy plant evidence so that it would seem that Becky's own boss was her murderer. The mystery of Becky's disappearance got her new persona, Poppy, a job with her idol Cinda Canning. With the murder of Bunny, she was giving Cinda another perfect murder for her new podcast All the Murderers in the Building. Poppy had come up with that name too. (The true-crime podcasting business sure is competitive.)
Bunny's last words to Mabel before dying were "14 sandwich" instead of "14 Savage". That was the sandwich Poppy always ordered at the diner where Bunny went — and it was what led our trio of protagonists to suspect Poppy.
As a result of Charles, Oliver and Mabel clearing their names of all suspicion, Charles' dementia on the reboot of the TV show Brazzos is declared in remission. And he even musters the courage to indicate to the hair and make-up artist Joy (Andrea Martin) that she should ask herself out on a date with him. Mabel starts renovating her aunt's apartment for real and paints over her mural with Alice's help. And Oliver gets a directing job on Broadway. The show opens in a year. Also, his son Will (Ryan Broussard) knows Oliver isn't his biological father but doesn't really mind that this is the case.
Only Murders in the Building Season Three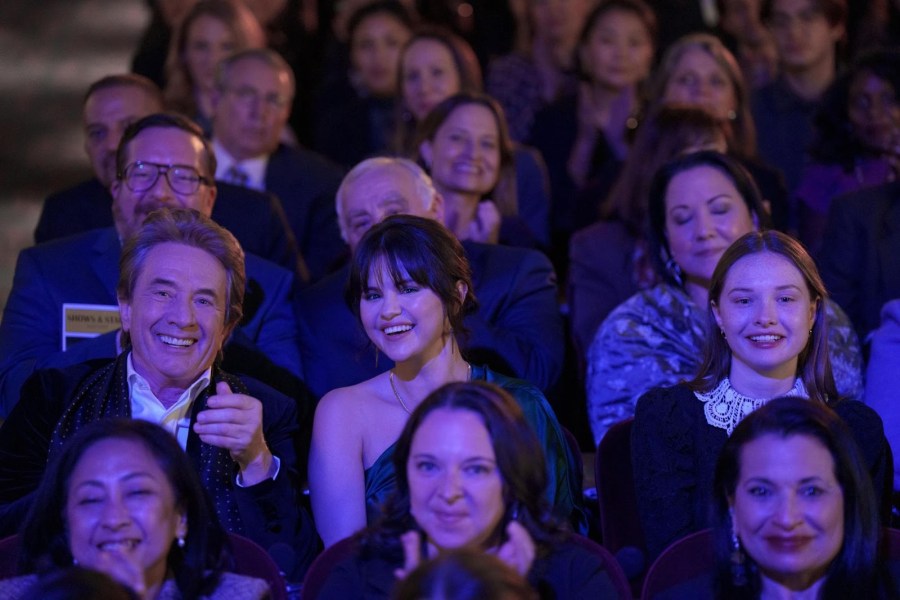 Hulu renewed Only Murders in the Building for a third season a couple of weeks after the show's season two debut. According to Hulu, the first season of OMITB debuted as the most-watched comedy series in Hulu Originals' history. The show's first season amassed 17 Primetime Emmy nominations and is one of the favorites in the comedy category.
Season two ends the same way as season one: hinting at the next mystery our amateur detectives will try to solve. One year has gone by and it's opening night for Oliver's play. Paul Rudd plays the very unsympathetic lead actor in Oliver's show. Charles also seems to be playing a character in the show and he wishes Rudd's character "good luck" — a sign that Charles really doesn't like him. They argue on the stage right before the play starts. There's a lot of animosity.
The curtain lifts, Rudd's character starts a monologue, spaces out and then drops dead on stage, bleeding out. "You've got to be f*cking kidding me," says a shocked Mabel. She's sitting next to Oliver in one of the front rows of the theater, watching the play.
We'll have to wait for season three to find out what's going on but we already have lots of questions: What did Rudd's character and Charles fight about? Is Charles going to be framed for that death? How are Mabel, Charles and Oliver going to investigate that murder if it didn't happen in the Arconia? Will they need a new name for their podcast? Can we expect Paul Rudd as a guest star next season? And perhaps most importantly: Is Howard still dating Broadway actor and Arconia resident Jonathan (Jason Veasey)? How did they solve the cat issue? And does anyone have a good cocotini recipe?