Outside of COVID-19 times, fall usually marks the beginning of peak TV season, with a plethora of highly anticipated returns and a healthy stock of new releases for viewers to wade through with glee. Of course, Netflix has been shaking up the traditional network TV schedule for years, but now, more than ever, the original streaming giant is proving that it's the place to go for new releases, thanks to a production schedule that's (apparently) set way in advance.
While some movies, from X-Men spinoff New Mutants to Russell Crowe's road-rage film Unhinged, have insisted on proceeding with theatrical releases, many blockbusters have been pushed back yet again — with Disney's Mulan remake being a landmark exception (more on that later). And if you need a break from TV and movie marathons, September has also got quite a few soon-to-be bestselling books and video games for you to enjoy.
Now Streaming: Netflix's Highlights Include a Jurassic World Spinoff, Sarah Paulson as Nurse Ratched and Much, Much More
Once again, Netflix reigns supreme, pumping out the most new content, despite the ongoing pandemic halting Hollywood's normal filming flow. First up, the streamer's latest original series. We're most excited — and, honestly, most nervous — about Ryan Murphy's One Flew Over the Cuckoo's Nest prequel Ratched (Sept 18), which stars Sarah Paulson as the show's titular menace. To be fair, a Murphy and Paulson team-up rarely disappoints, so hopes are high here.
If horrifying nurses aren't your jam, tune into shows like the mystery series Young Wallander (Sept 3); Hilary Swank's mission-to-Mars drama Away (Sept 4); Julie and the Phantoms (Sept 10), a fantasy comedy about a boy band and a girl with a passion for music; The Duchess (Sept 11), a comedy series about a "disruptive single mother"; the Tituss Burgess-hosted karaoke competition Sing On! (Sept 16); the Jurassic World teen action-adventure spinoff Camp Cretaceous (Sept 18); the Sherlock-inspired Enola Holmes (Sept 23), which stars Stranger Things' Millie Bobby Brown; and Sneakerheads (Sept 25), a comedy about a sneaker-obsessed family man named Devin.
Not enough? Well, if you're looking for some at-home movie-theater quality entertainment instead, Netflix is releasing a solid lineup of originals across several genres, including Love, Guaranteed (Sept 3), a rom-com that stars Rachael Leigh Cook and Damon Wayans Jr.; Charlie Kaufman's psychological thriller I'm Thinking of Ending Things (Sept 4); Spanish thriller The Paramedic (Sept 16); and psychological thriller The Devil All the Time (Sept 16), which stars fan-favorites Tom Holland and Robert Pattinson.
Other new releases worth noting include Netflix exclusive Pokémon Journeys: The Series: Part 2 (Sept 11); K-dramas Record of Youth (Sept 7) and The School Nurse Files (Sept 25); the second season of the British police drama Criminal (Sept 16); the final season of The Good Place (Sept 26); Michelle Buteau's standup special Welcome to Buteaupia (Sept 29); and a plateful of food-related shows, like Chef's Table: BBQ (Sept 2), Taco Chronicles Volume 2 (Sept 15) and American Barbecue Showdown (Sept 18). Finally, the streaming giant is also targeting our nostalgia by adding all three Back to the Future films (Sept 1) and all six seasons of the sitcom Sister, Sister (Sept 1) to its extensive library.
Now Streaming: Hulu Brings Us a New Season of Pen15 and TV's Biggest (Awards) Night
Hulu certainly had a bit of a dry spell when it came to original content last month. Thankfully, September marks the return of one of the streaming platform's most acclaimed shows, Pen15 (Sept 18). The second season of this cringe comedy, which stars comics and show co-creators Maya Erskine and Anna Konkle as teenage versions of themselves, promises a darker (yet still hilarious) sophomore outing.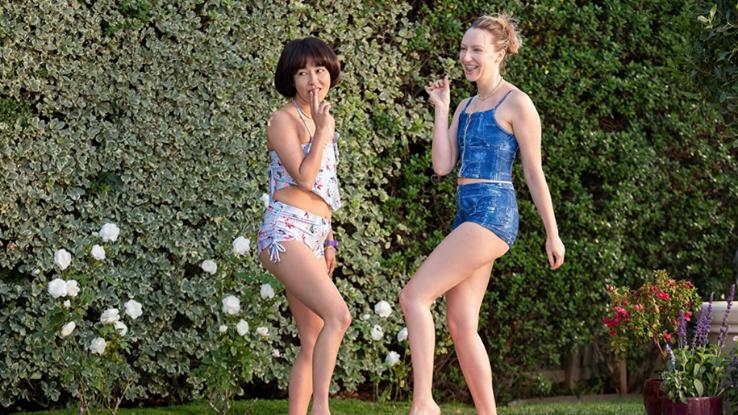 Earlier in the month, Hulu is set to debut Woke (Sept 9), a comedy about Keef (Lamorne Morris), a Black cartoonist on the verge of mainstream success when an unexpected event changes his life. Thanks to its Fox connection, Hulu will offer next-day streaming for new episodes of animated hits like Bob's Burgers, Family Guy and The Simpsons, all of which debut on September 28. Another great partnership? The streamer's FX team-up, which will allow customers to tune into big-name programs like the animated sitcom Archer (Sept 16), docuseries A Wildness of Error (Sept 26) and fan-favorite Fargo (Sept 28).
Rounding out Hulu's offerings are The Fight (2020; Sept 18), a documentary that tells the story of a team of ACLU lawyers who are battling for abortion rights, immigrant rights and LGBTQ+ rights; the entire Twilight saga (Sept 1); and on September 21, the broadcast of the 72nd Primetime Emmy Awards.
Now Streaming: HBO Max Gives Us Gripping New Series Like Lovecraft Country and Raised by Wolves
Last month, HBO Max was more than worth the price of admission for its gripping Perry Mason reboot, the incredibly well-made docuseries I'll Be Gone in the Dark and the streaming debut of the Harley Quinn (Margot Robbie)-helmed Birds of Prey (2020). This month, if you enjoy having something to look forward to every week — instead of the Netflix-style whole-season drop — you're in luck.
In late August, HBO debuted Lovecraft Country, Misha Green's reclamation of Lovecraftian horror that centers on Black characters in 1950's Jim Crow America, and the show will continue to drop every Sunday at 9PM EST during September. This month also has a few other (soon-to-be) hit series up its sleeve, including true-crime docuseries The Murders at White House Farm (Sept TBA); canine comedy competition series Haute Dog (Sept TBA); Canadian action-adventure series Detention Adventure (Sept 11); the drama miniseries The Third Day (Sept 14), which stars Jude Law and Naomie Harris; We Are Who We Are (Sept 14), a coming-of-age drama from Call Me By Your Name's Luca Guadagnino; British competition show The Great Pottery Throw Down (Sept TBA); and Ridley Scott's Raised by Wolves (Sept 3), a sci-fi drama about two androids who are tasked with raising human children on a strange planet.
If one-off viewings are more your speed, HBO Max also has you covered, from Michael B. Jordan's Just Mercy (Sept 26) and Elisabeth Moss' The Invisible Man (Sept 19) — two theatrical releases that didn't quite get their just rewards in light of the pandemic — to the captivating documentary Fandango at the Wall (Sept 25), which tells the story of Afro Latin Jazz Orchestra founder/conductor Arturo O'Farrill. The network's original films are also rather intriguing. There's Unpregnant (Sept 10), a women-helmed road movie, and Coastal Elites (Sept 12), a star-studded comedy that traces the lives of five New Yorkers and Los Angelenos as they navigate the COVID-19 pandemic. Luckily for us, those five characters are played by an incomparable cast that includes Bette Midler, Sarah Paulson, Kaitlyn Dever, Dan Levy and Issa Rae. Finally, families can tune into the live-action special Mo Willems: Don't Let the Pigeon Do Storytime! (Sept TBA), which is based on Willems' popular picture books.
Now Streaming: Content From Disney+, Apple TV+ and Starz Rounds Out the Month
Some things remain (as of yet) unimpacted by COVID-19 — like Keeping Up with the Kardashians (Sept 17), which returns for an 18th season on E!, Zoom and all. This show, however, is the exception. As the pandemic continues, the offerings from non-Netflix streaming entities continue to dwindle. Although Apple TV+ may have come out of the gate with a decent lineup of originals, the platform's September offerings, as of now, boil down to one new series: Tehran (Sept TBA), a spy thriller from Moshe Zonder, which also marks the streamer's first non-English language original.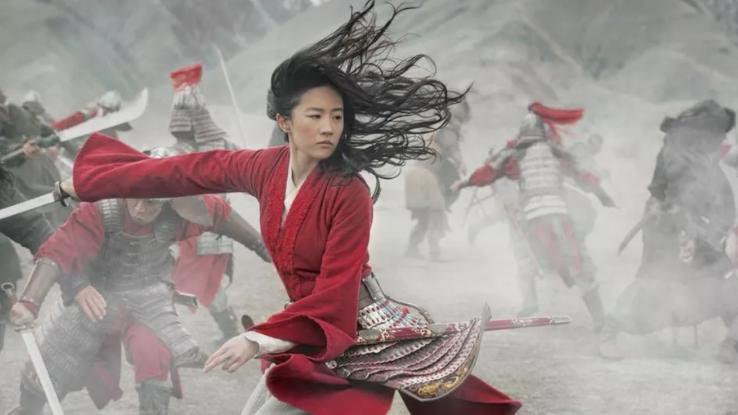 Meanwhile, over at Disney+, things are as quiet as the current COVID-times queue for Space Mountain. Episodes from current series, like behind-the-scenes docuseries One Day at Disney and Muppets Now, will continue to fill the queue, as will the streamer's newest LeBron James-executive produced original series Becoming (Sept 18), which traces the hometown-to-spotlight journeys of various now-successful athletes and celebrities.
The most exciting title dropping on Disney+, however, is far and away Mulan (2020), the would-be blockbuster that never saw a theatrical release in March due to the pandemic. Instead of delaying things further, Disney has decided to make the war epic available to stream on September 4 for an additional fee ($29.99) on top of your regular monthly subscription cost. If Mulan is successful, it could pave the way for more big-name releases on streaming platforms, but the decision has also drawn criticism for using one of very few blockbusters with an all-Asian cast as a test subject, effectively taking away its earning potential when theaters open up again.
If new-ish movies are your thing, be sure to get the most out of your Starz subscription this month. Although not as ubiquitous as HBO, this premier network-turned-streamer is featuring a bunch of recent hits from 2019 and 2020, including Sam Raimi's remake of The Grudge (2020), the Blum horror film Fantasy Island (2020), action-comedy movie Jumanji: The Next Level (2019), Greta Gerwig's Oscar-nominated remake of Little Women (2019), the Will Smith- and Martin Lawrence-helmed Bad Boys for Life (2020), the 2019 reboot of Charlie's Angels and the Vin Diesel fantasy drama Bloodshot (2020).
Grab a Controller and Join Earth's Mightiest Heroes, Like Captain America, Iron Man and Tony Hawk
Playing through the Last of Us: Part II on Permadeath mode? Same. But we all need a break from collecting trophies, and, luckily, this month promises to add some variety to your gaming lineup. Bonus: It's a great month for franchise fans and folks who love a good stroll down memory lane.
Here are our September picks:
Marvel's Avengers (PlayStation 4, Xbox One, PC, Stadia; September 4): Assemble your team of Marvel superheroes in this third-person action-adventure game from Crystal Dynamics and Square Enix. Featuring both single-player and multiplayer modes, the game lets players select heroes — like Captain America, Thor, Black Widow, Ms. Marvel, The Hulk, Iron Man and more — upgrade their character's powers through an RPG-like skill tree, and ultimately save the world from the dastardly M.O.D.O.K. If you're a Spidey fan, we recommend picking up the PS4 version since the webslinger is a Sony exclusive.
Tony Hawk's Pro Skater 1 and 2 (PlayStation 4, Xbox One, PC; September 4): If you have a Pro Skater itch to scratch, don't worry about dusting off your old PlayStation or Nintendo 64. This month, the first two installments of the Tony Hawk-helmed best-selling skateboard series will be made available — and completely remastered to take advantage of current-gen graphics. Grab your board, collect some S-K-A-T-E letters and prepare to be glued to your TV for hours, reliving your childhood memories to the tune of punk rock and ska hits.
Bounty Battle (PlayStation 4, Xbox One, PC, Nintendo Switch; September 10): Billed as "the ultimate indie fighting game," Bounty Brawl is kind of like Super Smash Bros. for smaller, studio-made properties. This 2-D fighter features more than 25 indie heroes from properties like Guacamelee!, Owlboy, Dead Cells and more, allowing these less-known but very beloved characters to duke it out. Best of all, it's great for social distancing, and up to four players can join in the fun!
Need a Screen Break? Here Are 5 Books to Delve into This Fall
Hit pause on Netflix and take a much-needed screen break this September by diving into one of these engrossing must-reads. From sweeping historical epics to chilling modern-day thrillers, the novels this month are sure to impress the bookworms who read them.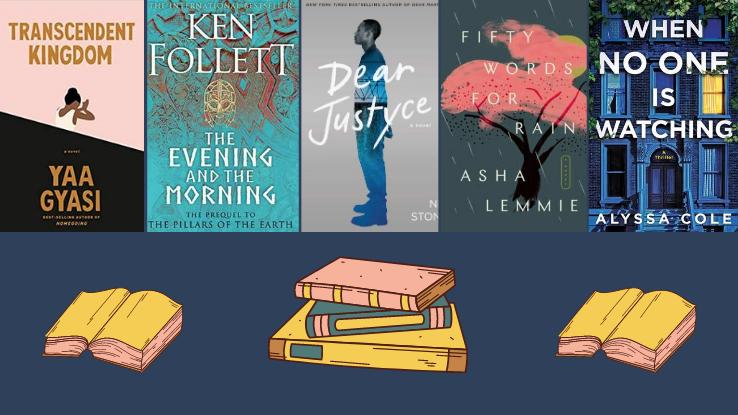 Here are our September picks:
Transcendent Kingdom by Yaa Gyasi (Sept 8): In this follow-up to her bestselling novel Homegoing, Gyasi draws a raw, intimate portrait of a Ghanaian family in Alabama grappling with grief, faith and addiction. Entertainment Weekly has noted that Transcendent Kingdom is "poised to be the literary event of the fall," while bestselling author Roxane Gay has called it a "gorgeously woven narrative… Not a word or idea out of place."
The Evening and the Morning by Ken Follett (Sept 15): Three decades ago, Follett published his ever-popular historical novel The Pillars of the Earth. Now, he's crafted an equally transportive prequel, which is set in England at the dawn of the Middle Ages. Despite being a tale of epic proportions, Pillars and its follow-up are extremely engrossing, thanks in part to what Kirkus notes as Follett's signature "razor-sharp storytelling."
When No One Is Watching by Alyssa Cole (Sept 15): Brooklyn born and raised protagonist Sydney Green can't believe how much — and how fast — her neighborhood is changing. But as Sydney delves deeper into the history of her home, the already malignant plight of gentrification takes on a menacing new meaning in what the book's own jacket copy calls a thriller that feels like "Rear Window meets Get Out."
Fifty Words for Rain by Asha Lemmie (Sept 22): "Do not question. Do not fight. Do not resist." Those are the last words eight-year-old Noriko remembers her mother saying before she abandoned her. Set in post-World War II Japan, this heartrending story has been hailed by author Mira T. Lee as a "wholly immersive coming-of-age epic from a talented young writer."
Dear Justyce by Nic Stone (Sept 29): Dear Justyce is Stone's sequel to her #1 New York Times bestseller Dear Martin and tells the story of Quan, an incarcerated teenager who writes letters to Justyce about his experiences in the juvenile justice system. In early review, Kirkus has praised the unflinching novel as a "powerful, raw, must-read told through the lens of a Black boy ensnared by our broken criminal justice system."