Written by Oscar-, BAFTA- and Golden Globe-winner Callie Khouri, Thelma & Louise (1991) is difficult to sum up with a single genre term. Reportedly, Khouri's screenplay stemmed from a rather vague, but then-revolutionary, note-to-self: "two women go on a crime spree." What starts out as a buddy adventure movie soon veers into American-road-picture-meets-feminist-crime film.
But that multiplicity — the fact that the film is many, varied things all at once — extends to its depiction of women on screen. At first glance, we think we know Thelma (Geena Davis), a submissive housewife tethered to an abusive marriage, and Louise (Susan Sarandon), a sharp-tongued waitress who refuses to take anyone's BS. But then the Ridley Scott-directed road trip takes a turn: When a man tries to rape Thelma in the parking lot of a roadhouse bar, Louise shoots him dead — and the titular duo flee the scene.
The best friends spend the rest of the film on the run, journeying across the American West. Although the Grand Canyon serves as a loose endpoint, there's nowhere for them to go, really. Or, at least, there isn't a destination that feels stable, safe or plausible. Hence that now-iconic ending.
When the Oscar-winning film first debuted, it stirred up some controversy. In a 2016 article in The Atlantic titled "Thelma & Louise Holds Up Well — a Little Too Well," writer Megan Garber notes that the film was "accused of everything from promoting casual sex to promoting casual misandry," but that it's also a "visionary feminist fable."
Nonetheless, we can't help but get hung up on the title of that article, which suggests that, maybe, things haven't changed in the radical way we hoped in the wake of Thelma & Louise's release. Not just in terms of the conversation surrounding rape culture, but in terms of representation in film. And, as it turns out, Geena Davis is right there with us.
What Is the Geena Davis Institute on Gender in Media?
In an interview with Parade, Davis, who received an Oscar nomination for her co-starring role, said Thelma & Louise proved "that it is possible to make a movie that's a cultural landmark starring women." Looking back, it helped affirm that women characters could be written with nuance and have complex inner lives. And between Thelma & Louise, Terminator 2 (1991), Silence of the Lambs (1991) and A League of Their Own (1992), among other women-helmed films, it was becoming increasingly clear that early '90s audiences were also hungry for stories that centered these characters.
But now, over 30 years later, Davis admits she isn't fully satisfied. "I believed all the press reaction about Thelma & Louise, that it was going to change everything and that there were now going to be far more [women] lead characters in movies, and I was thrilled," the actor said in an interview. "There have been a number of times that movies have come out and people [have said], 'This is going to change things,' and it didn't."
"I feel really awake. I don't recall ever feeling this awake. You know?" Davis' Thelma shouts to Sarandon's Louise as they drive, wind-blown. "Everything looks different now. You feel like that? You feel like you got something to live for now?" For Davis, personally, the film was an immediate awakening of sorts. Thelma & Louise changed her approach to choosing roles: She'd ask herself how women would receive her character before signing on.
But, at the same time, it's that representation in mainstream media has a long, long way to go. Eager to enact real, lasting change, the actor, who's also known for her starring role in another landmark feminist film, A League of Their Own (1992), founded the Geena Davis Institute on Gender in Media in 2004. The Institute's motto is "If she can see it, she can be it," a simple statement that underscores the way the Institute aims to empower girls and women.
At its core, the Institute is all about research, namely because, once Davis started watching shows with her young daughter, she was shocked to find so much gender bias in children's media. Davis told Vogue that the experience made her determined to bring up the imbalance in Hollywood. When folks in the industry didn't quite believe her findings, she leaned into collecting data, "spearhead[ing] the largest research project concerning gender depictions in TV and movies ever conducted" (via Looper).
Thelma & Louise Pushed Davis to Create the Change She Hoped to See
Initially, Davis has focused her efforts on applying pressure from within the entertainment industry, noting that public pressure may not create real change — but talking directly to those with decision-making power might do just that. Still, the research is all made public on the Institute's website. According to that very website, the Institute has "amassed the largest body of research on gender prevalence in family entertainment, spanning more than 28 years."
Moreover, the Institute's efforts have expanded in a few key ways since 2014: First, the organization has become a leader in education and outreach, in addition to research; second, efforts have been made to include other types of media, such as advertising; and, finally, the Institute has made it a mission to support and inform everyone from families and educators to studio heads, producers and discerning audience members.
Speaking of expansion, the Institute has made a concerted effort to "[examine] intersectional onscreen representation of six identities: gender, race, LGBTQ+, disability, age, and body size." In addition to conducting large-scale and meaningful research efforts, the Institute helps amplify opportunities in entertainment, hosts events and workshops, and spotlights empowerment efforts in other fields — for example, encouraging women and girls to pursue STEM opportunities.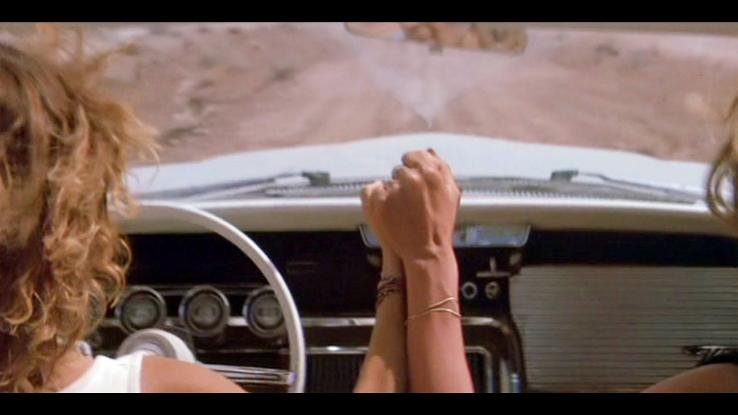 But is the Institute creating real, lasting change? "In a survey following the 2019 Symposium on Gender in Media, more than 90% of attendees stated that the information they learned would influence how they perceive gender balance and stereotypes in their work," the Institute shared, "and 98% would share and utilize our research findings with their peers and in their companies."
Outside of the Institute, Geena Davis has made other strides. On a personal level, she has recently stepped into roles in shows that have been lauded for their representation and visibility efforts, including Netflix's Alison Brie- and Betty Gilpin-led GLOW (R.I.P. to that fourth season) and Noelle Stevenson's GLAAD Media Award-Winning She-Ra and the Princesses of Power. And, in 2015, Davis co-founded the Bentonville Film Festival, a nonprofit festival for movies directed by women, people of color and LGBTQ+ folks.
So, while Thelma & Louise may not have generated the kind of lasting, far-reaching change Davis had hoped for — and really believed possible — over 30 years ago, it's clear that it has had an enduring impact. As a work of art, Thelma & Louise is a classic, but, perhaps even more importantly, it pushed Davis to use her platform more dynamically to champion inclusion. In the film, Sarandon's Louise says, "You get what you settle for," and it's clear that Davis isn't settling. In fact, darlin', look out — 'cause her hair is comin' down!