We already got the Hispanic Heritage Month celebrations kicked off with our list of 12 films that capture Hispanic American experiences. So now it's time to talk about some TV shows written, directed or starring people whose ancestors are from Spanish-speaking cultures.
We've used the same criteria we did with our movies selection, rather than including titles from Latin American or Spanish creators centering experiences from abroad, we focus on series set in the U.S. and that capture Latinx, Latine and Hispanic experiences.
Bear in mind that Latinidad is a very broad concept to represent within a single show — or even a dozen of them. We've tried to include stories from first-, second- and third-generation people with Latin roots who may not necessarily speak Spanish as well as a few immigrant tales, Chicana tales and those of people of Dominican, Puerto Rican and Cuban descent.
Ugly Betty (2006-2010), Hulu
This ABC dramedy that aired for four seasons between 2006-2010 was based on the Colombian soap opera Yo soy Betty, la fea. Silvio Horta developed this American adaptation with Salma Hayek serving as executive producer. The show stars Emmy winner America Ferrera as Betty Suarez, a frumpy but ambitious and smart young woman from New York who lands a job at a prestigious fashion magazine.
Ana Ortiz (Love, Victor) played her sister, the vivacious hairdresser Hilda; Mark Indelicato (Hacks) was Hilda's teenage son, Justin; and Tony Plana (The Good Fight) played the patriarch of this Mexican American family living in Queens. The show was culturally relevant in many ways. It centered a Hispanic family and offered a positive and non-stereotypical representation of the Suarezes. It also allowed for a nuanced conversation around the topic of body image. And Justin's coming-out story was praised by the LGBTQ+ community. The Gay & Lesbian Alliance Against Defamation (GLAAD) awarded the show with its Outstanding Comedy Series recognition on three occasions.
Devious Maids (2013-2016), Hulu
Executive produced by Eva Longoria, this Mark Cherry (Desperate Housewives) show aired for four seasons on the basic cable network Lifetime. The soapy drama stars Ana Ortiz, Dania Ramirez, Roselyn Sanchez and Judy Reyes. They play four Latina maids who work for wealthy employers in Beverly Hills.
Devious Maids features the personal lives of the protagonists and those of their employers. Each season centers around a mystery, with the first of them focusing on the death of Flora (Paula Garces), another maid. Ortiz's character, Marisol, decides to take an undercover job as a maid to investigate Flora's murder herself and clear her son's name.
Orange Is the New Black (2013-2019), Netflix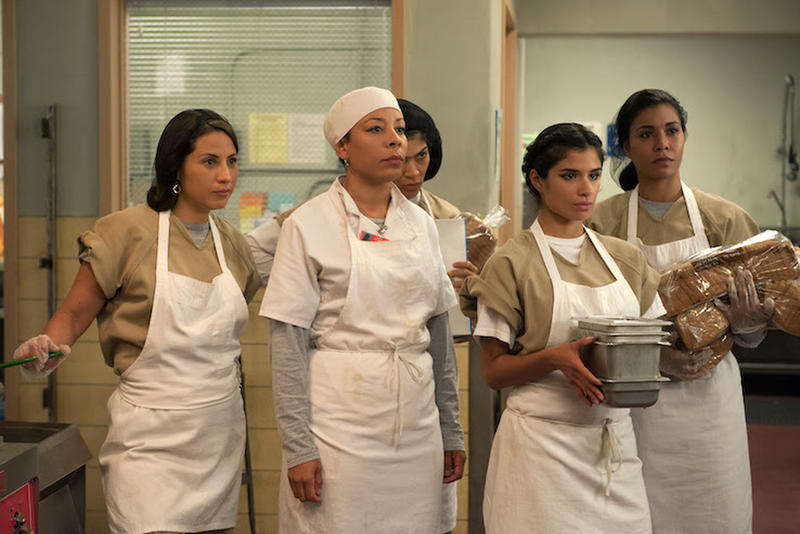 Even though this is hardly a show exclusively about Latinidad, but namely about the prison system and the many faces of womanhood, Jenji Kohan's (Weeds) Netflix dramedy featured a diverse Latin community of inmates inside Litchfield Penitentiary, most of them of Dominican descent.
The younger generation — Flaca (Jackie Cruz), Maritza (Diane Guerrero) and Dayanara (Dascha Polanco) — tended to prefer English to Spanish, but still peppered their dialogues with enough Spanglish slang. The slightly older generation — Maria (Jessica Pimentel), Aleida (Elizabeth Rodriguez), Gloria (Selenis Leyva) — embodied bilingualism at its best and the ability of a lot of Latines to switch from English to Spanish. Then there was Blanca (Laura Gómez), whose kinky conversations with her partner Diablo (Miguel Izaguirre) were entirely in Spanish and a sex phone masterclass to anyone interested in the subject.
Jane the Virgin (2014-2019), Netflix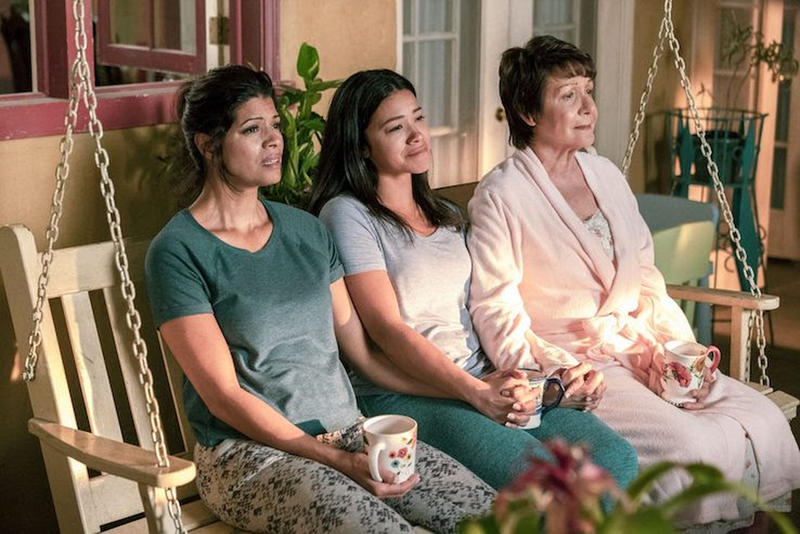 Inspired by the Venezuelan telenovela Juana, la virgen, this soapy dramedy originally aired on The CW for five seasons. Gina Rodriguez stars as the titular character. Jane is a young woman in her early twenties who wants to become a teacher. But besides being a virgin, Jane ends up pregnant after being artificially inseminated by mistake. Andrea Navedo plays Xiomara, Jane's mother. She had Jane at 16 and is one of the reasons why Jane listens to her religious grandmother Alba (Ivonne Coll) when it comes to refraining from sex outside of marriage. The show also stars Jaime Camil as Rogelio de la Vega, an over-the-top soap opera actor and Jane's biological dad.
Similar to what happened with Ugly Betty, Jane the Virgin was culturally very significant when it aired for centering a Venezuelan American family living in Miami and offering a multifaceted portrayal of them. Its storytelling also found ways of paying homage to its telenovela roots while still satirizing some of the genre's tropes.
Queen of the South (2016-2021), Netflix, USA
Brazilian actress Alice Braga plays the Mexican queenpin Teresa Mendoza in this USA Network English-language adaptation of sister network Telemundo's La reina del sur starring Kate del Castillo. Both shows are based on Arturo Pérez-Reverte's book of the same name.
The show follows Mendoza as she flees Mexico and ends up establishing herself as a successful drug-ring leader in the U.S. Even though it dwells on the stereotype of immigrants as drug dealers, the show distinguishes itself by putting a woman at the center of this criminal enterprise — a role that traditionally would have been played by a man. The Queen of the South has also been praised for its depiction of different Latinx groups. Offering distinctions between Mexicans, Cubans, Bolivians and Colombians as opposed to the non-existent "pan-Latin American experience."
One Day at a Time (2017-2020), Netflix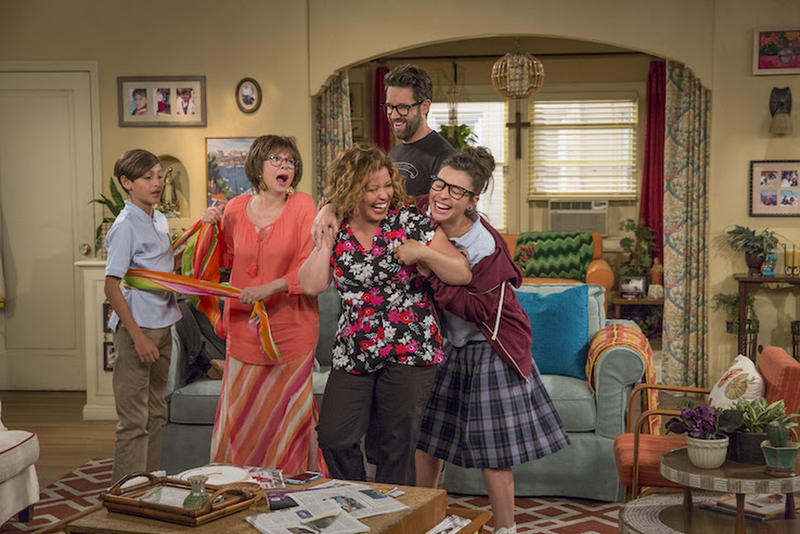 This Netflix sitcom about a Cuban American family is based on Norman Lear's 1975 show of the same name. The series premiered on Netflix, where it ran for three seasons before being unceremoniously canceled. The linear TV channel Pop TV rescued the show and aired a fourth and final season. But don't let all those misadventures steer you away from it, if you're into broad humor and laugh tracks, that is.
Newly-single mom and military veteran Penelope (Justina Machado) tries to hold it together while raising two teenage children (Marcel Ruiz, Isabella Gomez) and enlists the help of her mom, Lydia (Rita Moreno).
Vida (2018-2020), Starz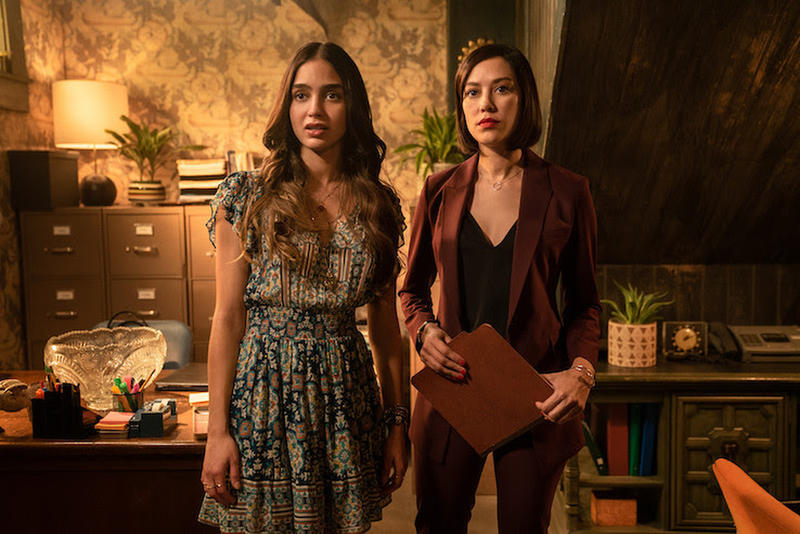 The premium cable channel Starz has been making a name for itself these past few years for putting people of color, and particularly women, in front of and behind the cameras in their original shows. P-Valley, Blindspotting and Run the World are a few examples of this. As is Vida.
Created by Tanya Saracho (Looking) the show tells the story of the Mexican American sisters Lyn (Melissa Barrera) and Emma (Mishel Prada). They couldn't be more different and end up being forced to move back to the East Los Angeles neighborhood of Boyle Heights when their mother dies. The show aired for three seasons and earned accolades for its depiction of queer women.
Pose (2018-2021), Netflix, FX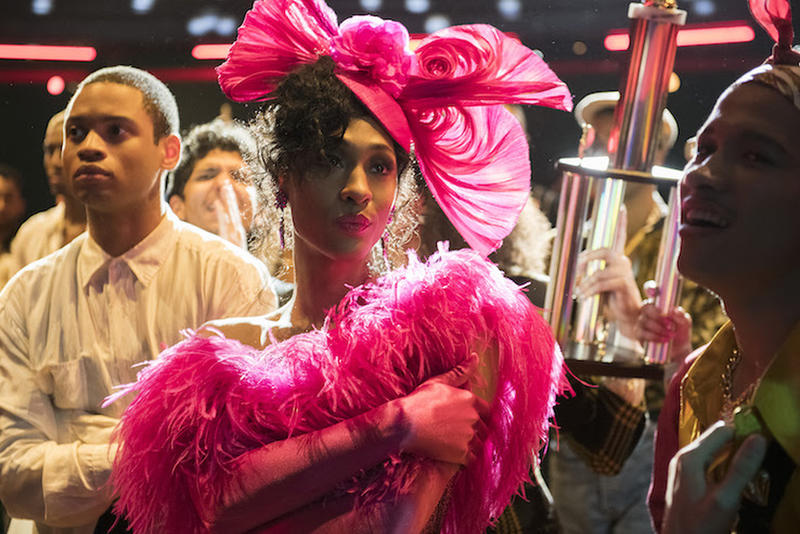 It's difficult to overstate the historical relevance of this FX show that just finished its third and last season. Not only did it provide a front-row seat to ballroom culture in New York, but the show is also set in the late '80s and '90s and depicts the lives of a group of Black, Afro-Latina and Latina transgender women and their gay friends. When it debuted, Pose was praised for having the largest transgender cast of any scripted series.
Star Mj Rodriguez, who plays one of the mothers in this found family, made history by becoming the first trans woman to be nominated for an Emmy in one of the major acting categories.
On My Block (2018-2021), Netflix
This Netflix coming-of-age comedy premieres its fourth and last season on October 4, 2021. On My Block stars Sierra Capri (Monse), Jason Genao (Ruby), Brett Gray (Jamal) and Diego Tinoco (Cesar). They're four childhood best friends who live in the fictional and rough neighborhood of Freeridge in South Central Los Angeles. They prepare to navigate their new lives as high school students, all while Cesar tries to stay away from the gang his brother joined.
The show portrays a very diverse cast of characters and manages to keep a comedic tone even when dealing with subjects like violence and crime.
Los Espookys (2018- ), HBO Max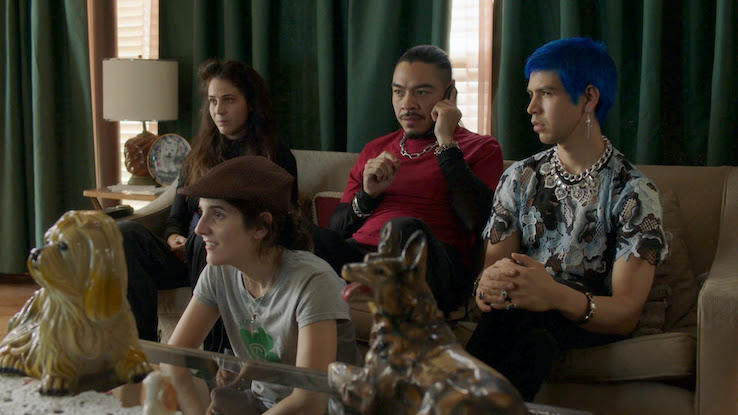 Even though Los Espookys is set in a fictional Latin American country with its fair share of magical realism, we've included it on this list because it couldn't be more American. The show is co-created by Fred Armisen (Portlandia), who you may not know is part Venezuelan; American comedian Ana Fabrega, whose parents are from Panama; and the Salvadorian Saturday Night Live writer Julio Torres.
All three have roles on the show, which also stars Mexican actors Cassandra Ciangherotti and Bernardo Velasco. Ciangherotti, Velasco, Torres and Fabrega play a group of friends who love horror and turn their taste for the obscure into a business. Armisen plays Bernardo's uncle in the show, a successful valet who works in Los Angeles. The show is mostly in Spanish. Each one of the performers speak with their own natural accent, which only adds to the surrealism of the whole premise of Los Espookys and, in a way, manages to capture some of the many faces Latinidad can have.
De viaje con los Derbez (2019- ), Pantaya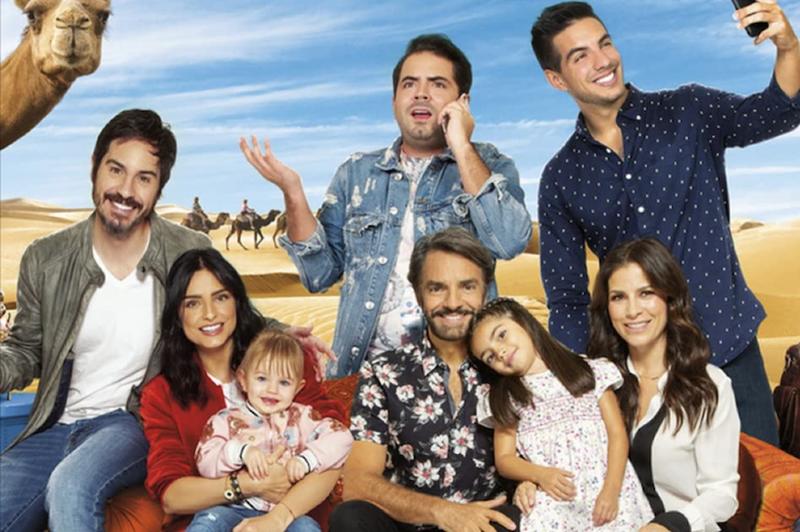 Everything else on this list is fiction so we thought we should add a reality documentary series. Mexican actor Eugenio Derbez (CODA) grew up in Mexico and has a successful career there but has been making a name for himself in the U.S. for years. He's based in Los Angeles and a good example of how to work between two countries. Derbez gathers his four children — all of them from different relationships and ranging in age in almost 30 years between the oldest and youngest — and hits the road.
There are two seasons of this mostly funny travel show that'll make you reconsider the idea of traveling with your whole family. The series sees the Derbezes going to Morocco in its first season and touring the U.S. Northwest in the second one. The show is available in the U.S. on the Spanish-language streaming service Pantaya.
Love, Victor (2020- ), Hulu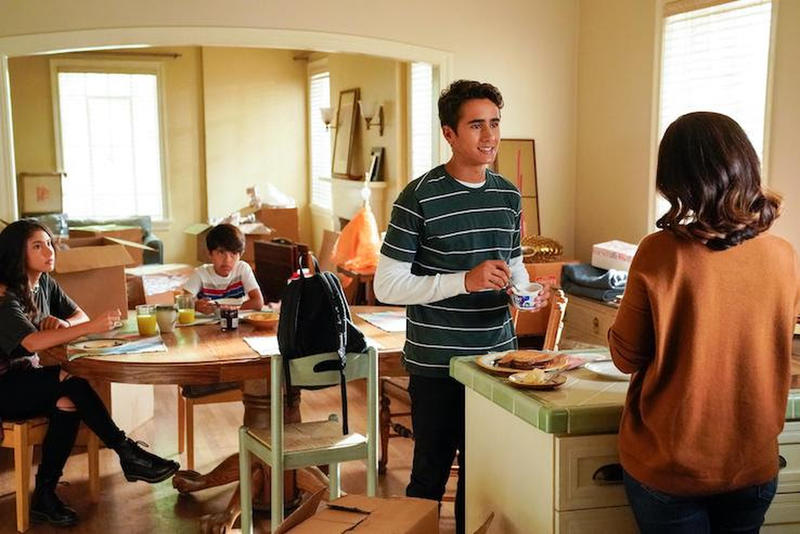 We've already told you how much we enjoyed the second season of this Hulu teen dramedy portraying a half Puerto Rican American, half Colombian American family living in Atlanta and based in the same universe as the Love, Simon movie and book. Michael Cimino plays the titular Victor, a teenager grappling with his sexual orientation and figuring out how to tell his family and friends about it.
The second season sees Victor balancing his relationship with Benji (George Sear), finding a new friend and fellow gay person in Rahim (Anthony Keyvan) and trying to reconnect with his mother after he came out. Other than its positive and nuanced portrayal of a Latine family, the show is also a good window into the lives of a group of very woke Gen-Zers.