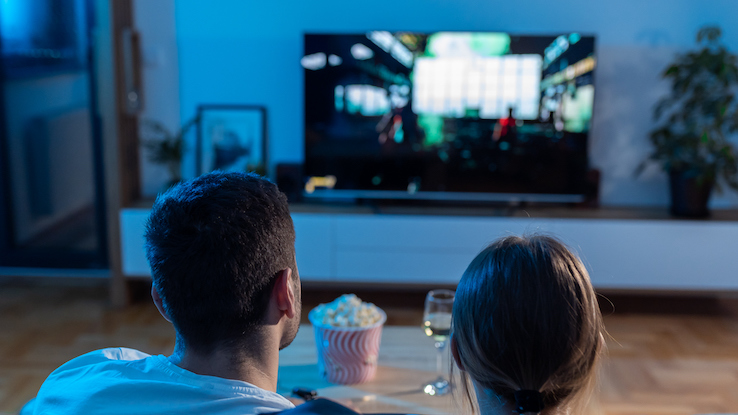 We've already told you about how films and TV shows are being made in COVID times, with social distancing, masking, production bubbles and frequent testing measures put in place. Let's talk about some of the scripted series that have actually tackled the last year of our reality and have incorporated the pandemic into their storylines.
For some shows — like network medical dramas Grey's Anatomy (ABC), New Amsterdam (NBC), Chicago Med (NBC) and The Good Doctor (ABC) — writing the pandemic into their current seasons and portraying overwhelmed hospitals and overworked health professionals made sense. Not only that, but opting for a virus-free environment also would have detached these contemporary dramas from the reality they're trying to illustrate.
The veteran Grey's Anatomy opened season 17 with the Grey Sloan hospital hit hard by the virus. The show's titular character — doctor Meredith Grey (Ellen Pompeo) — would end up contracting COVID-19 and having to be hospitalized. As she falls in and out of consciousness during her illness, her character has a recurring dream in which she reunites with her late lover Derek (Patrick Dempsey). In a way, the pandemic created the perfect storm to bring back a beloved character for a few episodes.
But medical procedurals haven't been the only shows to make pandemic struggles part of their plots — other network shows have also done it. We're talking about ABC's Black-ish and CBS's NCIS: New Orleans, for instance. In the case of Kenya Barris' sitcom, the show has bet on the fact that the matriarch of the family, Tracee Ellis Ross' Rainbow, is a doctor. Season seven of Black-ish portrayed the beginning of the pandemic and how it affected the hospital where Rainbow works.
In the case of NCIS: New Orleans, the police procedural also went back to the early days of the pandemic in its seventh season to expose its devastation from the perspective of overburdened coroner Loretta Wade (CCH Pounder).
How Non-Medical TV Shows Are Tackling the Pandemic
ABC's sitcom The Conners also decided to reflect today's reality and show how a pandemic with these characteristics would affect the working family at its heart. Season three of The Conners starts with Jackie (Laurie Metcalf) trying to keep the Lunch Box restaurant afloat with take-out orders. The season also tackles layoffs and the ways one member of the family being infected with COVID can affect everyone else.
NBC's This Is Us also deals with COVID-19 in the contemporary timeline of its fifth season. The family drama has weaved in the pandemic subtly by showing characters wearing masks. The quarantine caused by the virus even prompts characters Kevin (Justin Hartley) and Madison (Caitlin Thompson) to live together and commit to one another.
But if there's a network show that's been praised for its treatment of the current COVID-19 epidemic and the inclusion of it in its storyline, it's NBC's single-camera comedy Superstore. The show, which just aired its season finale, is set in a big-box store in Louisville, Missouri. The setting afforded Superstore's writers a unique opportunity to show how the pandemic has hit essential workers in the retail industry. From the beginning of its sixth season, Superstore dealt with the need for workers to keep 6 feet apart from each other, toilet paper shortages and COVID self-quarantines in case of possible infection.
Pandemic Storylines Have Also Appeared in Cable TV and Streaming
It isn't only network TV that's managed to have a go at the current health crisis in the latest seasons of its shows. The animated South Park was also quick to incorporate the new situation — and satirize it. South Park released a special episode in September 2020 in which the kids find ways of skipping Zoom classes and Cartman is not especially happy when the school reopens. The Comedy Central show released another special episode about vaccination in March of this year.
Showtime's Shameless incorporated the subject of the pandemic into its eleventh (and final) season. The often over-the-top dramedy focuses on how the working-class Gallaghers face financial repercussions because of the current circumstances. The show tackles gentrification, police brutality, COVID-related budget cuts for schools and the fact that Veronica (Shanola Hampton) and Kevin (Steve Howey) have to resort to selling marijuana after they're forced to close their bar.
Then there's Apple TV+'s special episode of the workplace comedy-satire Mythic Quest: Raven's Banquet. The special was released in May 2020, and it features the show's characters in several work-related Zoom-like meetings. The inability to start meetings on time even though commuting has quit being an issue, the impossibility to disconnect from work or even shower some people have experienced and some of the technical difficulties a non-tech-savvy person could encounter in a virtual work environment were handled in the episode.
I don't know if all this hits too close to home for you as a viewer. I haven't personally been seeking out these types of shows. On the contrary, I feel like I've been trying to avoid scripted plots that touched on the pandemic as much as possible. TV still needs to be a form of escape right now for me instead of a reminder of the grim situation we're in.
That being said, there are two shows I look forward to taking a turn towards pandemic territories: Starz's P-Valley and Paramount+'s The Good Fight. Season five of The Good Fight has already been confirmed, but its creators haven't talked yet about whether they'll include a COVID-19 plot in the show. "The value of our show is it's a thinking person's show, and it pulls you back and makes you say, 'Wow, these are characters that are living through what we are living through,'" The Good Fight's star Christine Baranski told Variety back in April 2020. "It's going to be very hard to ignore this," she added, referring to the pandemic. So chances are we might get a glimpse of her character working from home. One thing is clear: We can't picture the always smartly dressed Diane in business on the top and casual comfort on the bottom.
As for P-Valley, creator Katori Hall has already confirmed the second season of her show set in a Mississippi strip club will explore the consequences of COVID and explore how Black people are affected by the disease. "Our show will definitely be in conversation with what is happening in our world right now, [and] I cannot wait to see Uncle Clifford in a rhinestone mask and lace gloves. I cannot wait to see her," Hall told Entertainment Weekly. I cannot wait to see her either.