Say what you will about medical dramas, but the facts don't lie: Grey's Anatomy has 18 seasons under its belt with Season 19 debuting in the fall of 2022. The Shonda Rhimes hit has been described as a "sensation" and "revolutionary" since its scandalous pilot episode, which came to ABC back in 2005.
Loyal fans remember those early days well — when the campy theme song promised raunchy scenes between interns and attendings. Now that the 18th season has made it to Netflix, is it time to catch up? And, moreover, is it worth hopping on the Grey's Anatomy train now? After all, 18 seasons is quite the undertaking.
Here, we're taking a look at why Grey's Anatomy achieved such success, how it changed the TV landscape and if becoming a devotee of this pop cultural phenomenon so late in the game is worth your while.
Why Is Grey's Anatomy So Successful?
Dedicated fans have followed Dr. Meredith Grey (Ellen Pompeo) and co. for nearly two decades. In fact, it's the longest-running show on ABC — and one of the longest-running TV shows of all time. But why?
Grey's Anatomy has certainly had its highs and lows. Even long-time fans admit to slogging through certain seasons of the show. But it has also taken on a life of its own and made a lasting mark on pop culture at large. From the well-rounded characters you can't help but invest your soul into to the soapy storylines punctuated with both romance and comedy, Grey's Anatomy has breathed new life into beloved TV tropes and the medical drama genre. Not to mention, the show has evolved in step with the trends, perspectives and current events of the day.
If nothing else, Ellen Pompeo's complex but steady Meredith Grey has helmed this ship through heartbreak; malpractice lawsuits; plane, car and ferry crashes; honest-to-god miracles; and more. The cast — whether the characters are still on the show or not — feel a bit like family, too. Grey's Anatomy is a comfort show. It's both familiar and surprising, and it has the means of cashing in on the world it has spent years and years cultivating.
Despite being a constant, Grey's has also changed television for the better by consistently moving the bar in terms of inclusivity and representation. The show has a diverse cast that features people of color and LGBTQ+ folks — and there's a real effort made to make all of these characters well-rounded. Grey's Anatomy has taken strides to highlight the importance equal pay — it's made sex, and talking about sex, less taboo. It's even helped demystify death.
Whether you think Rhimes and Pompeo deserve their numerous accolades or not doesn't change the fact that they've helped shift the narrative — especially for women in television — by providing equitable pay, regardless of gender, and offering women more opportunities both on the screen and behind the scenes.
So Should You Watch Grey's Anatomy — All the Seasons?
Yes! Although you don't have to embark on an 400+-episode emotional roller coaster to enjoy the show. Just get started and see where it takes you.
For those who don't know, let's set the scene: Meredith Grey (Pompeo) enrolls in the residency program at Seattle Grace Hospital. As an intern, she works under resident Dr. Miranda Bailey (Chandra Wilson). Meredith's fellow interns include the brusque and competitive Cristina Yang (Sandra Oh), the bumbling but sweet George O'Malley (T.R. Knight), the hottie with a heart of gold, Izzie Stevens (Katherine Heigl), and the jerk with a troubled past, Alex Karev (Justin Chambers).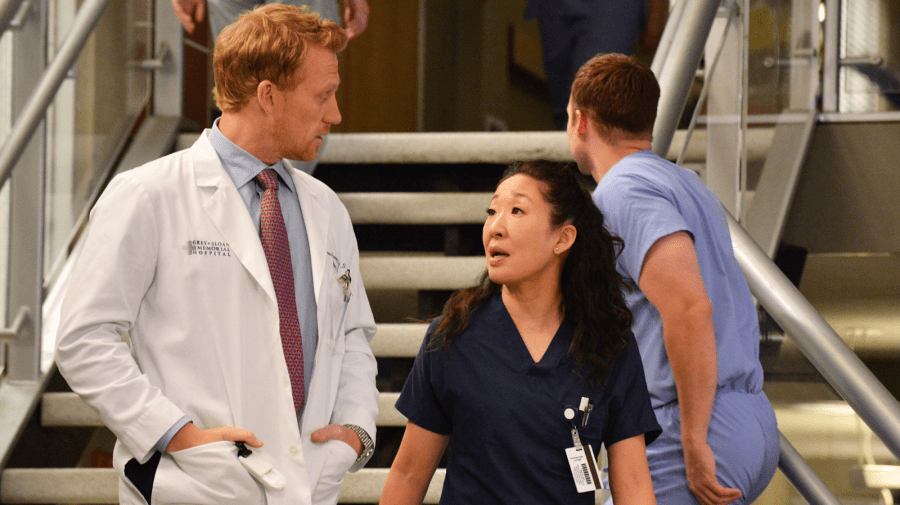 But Grey's Anatomy wouldn't be the show it is without older, more experienced mentors — and love interests. Dr. Preston Burke (Isaiah Washington) is a cardio attending physician, and Derek Shepherd (Patrick Dempsey) is a neuro attending physician. Wondering why the show is seemingly named after the main character? Meredith Grey's mother is Ellis Grey (Kate Burton), a renowned surgeon who's now living with Alzheimer's.
Tips for a Marathon Viewing
Now, before you officially hop on the Grey's Anatomy train, here are seven things you should keep in mind:
1. Start with the first season. Grey's Anatomy isn't just another medical, legal or crime drama. Don't just jump in at Season 10. You won't experience the full impact of the show's emotional blows. It's essential to follow the characters from the beginning. 
2. Be prepared for total upheaval. No one is safe on Grey's Anatomy. Not your favorite character or couple. No one. The cast has almost completely changed throughout the show's 18 seasons. Meredith's fellow interns serve as the core cast for a while, but then the show introduces new characters and gets rid of old ones. It's an 18-season drama, after all! Characters die, and actors leave the show for other opportunities.
3. Some songs might trigger emotional breakdowns if you ever hear them in public. Namely Snow Patrol's "Chasing Cars," which the show uses three times. You know things aren't going to be good when you hear the opening notes of that song.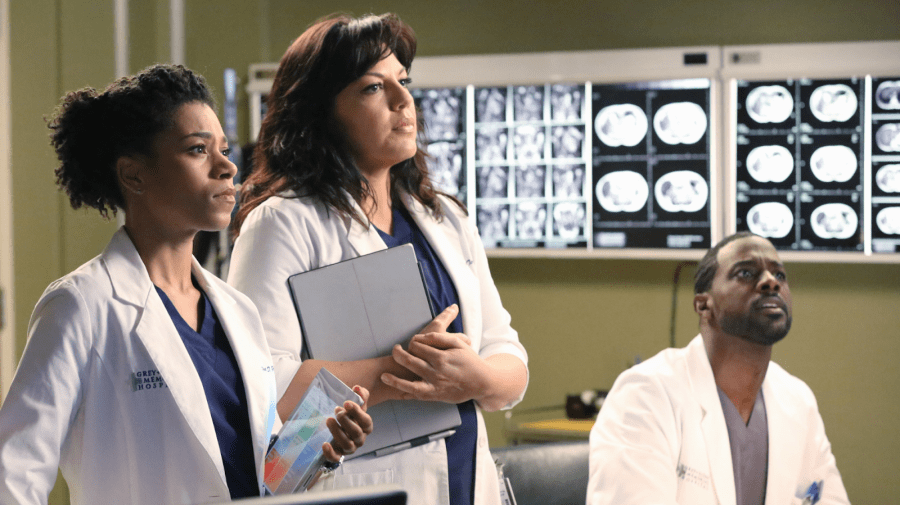 4. Order tissues in bulk. What's that? You don't cry during TV shows? Well, you will now. The soundtrack is super sappy, but somehow it always manages to wrench tears from your eyes. While they don't kill off the main characters left and right, it is a medical drama. People die. And you'll be surprised at how attached you get to characters you met just an episode before they pass away. 
5. Take breaks in between eras. With 18 full seasons out there, you'll want to break the show up into more manageable chunks. We'll call them "eras" here. These eras are separated according to storylines, catastrophic events, core cast shifts, deaths and more: Seasons 1–5, Seasons 6–8, Seasons 9–11, Seasons 12–14, and Seasons 15–present. Just an FYI: you'll need time to recover, especially after the finales of the fifth, eighth and eleventh seasons. 
6. You'll either appreciate your friends more — or realize you need better friends. Do you have a Meredith or Cristina in your life? You know, someone you can count on no matter what. If not, you'll realize pretty quickly how badly you need one.
7. You'll get frustrated — but you'll also come back for more. Grey's Anatomy is phenomenal for so many seasons, so, by the time you start to feel rage quit-level frustrated, you're in too deep. Sorry, not sorry. That's the real magic of Grey's Anatomy. The relationships are unlike any others on TV — they're volatile, passionate and constantly changing, but they're ultimately unbreakable. Not to mention, you'll spend years with some characters. So, odds are, you'll always come back for more.