When Axios correspondent Jonathan Swan's tense interview with President Trump aired on HBO on August 3, it was met with mockery — so much so that it reminded viewers of another HBO mainstay. "'Oh my god, it's just like VEEP!' I shouted as I plunged to my death," comedian Billy Eichner (@billyeichner) tweeted.
And Eichner wasn't alone in comparing the interview to HBO's hit political satire. The following day, the show's six-time Emmy-winning star Julia Louis-Dreyfus (@OfficialJLD) shared a viral video that depicted the broadcast after it had been dubbed over with Veep's iconic theme song and credits. "God," the Seinfeld alum tweeted, "I wish this was just a dumb show like ours." This isn't the first time the current POTUS has been compared to Veep's Selina Meyer (Louis-Dreyfus) and co. As the 2020 Election draws nearer, it likely won't be the last. So, is now the perfect time for a rewatch?
Is "Veep" Worth a Rewatch Ahead of the 2020 Election?
Without a doubt, Veep can be a kind of catharsis for some. You know how we're all consuming pandemic movies and books in mass quantities right now? Well, Veep is that, but for political angst. Whether you're frustrated by the constant political gridlock, the lack of empathy (and the boon of narcissism) or the mishandling of life-altering events like the COVID-19 pandemic, watching Selina and her team bungle talking points and learn absolutely nothing from previous (selfish) indiscretions is undeniably exorcising.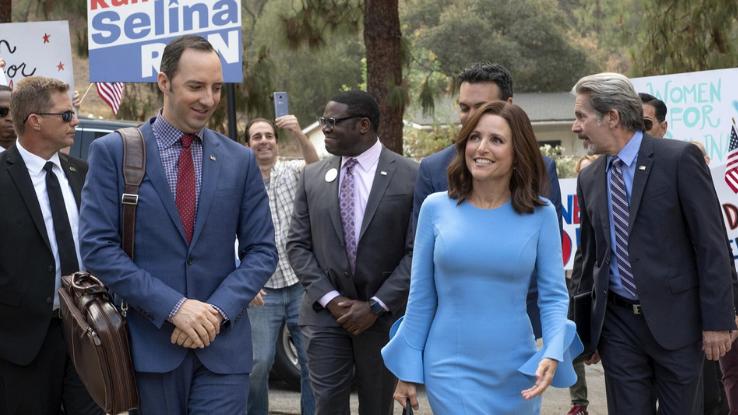 That is, it's hard to laugh at what's actually going on around us — even in SNL form — but something about the fictional, sharp-witted cringe-comedy allows us to laugh, even if it's just for 30 minutes. In an article for Primetimer, writer Joe Reid notes that the show allows us to witness how "the most error-prone team of venal bumblers in history can fall ass-backwards into a position to lead the free world without a single idea or good intention towards what to do once they get there." Sound familiar? Even before the Trump era, Washington insiders dubbed the cynical show an extremely accurate portrayal, something Reid has called "a compliment to Veep and a smack to American democracy at the same time."
On the other hand, showrunner David Mandel doesn't necessarily think it's quite the tonic we need. "As far as I'm concerned, the show we need right now is a sort of a second coming of The West Wing," Mandel told The Washington Post in the wake of Trump's Axios interview. "I'm as cynical as they come, but at this point, I would like to see a show that reminds people [that the] government can occasionally do well and be good, because I think certainly the Trump administration's forgotten that."
Variety writer Daniel D'Addario echoes this sentiment in a sense, noting that when Veep did try to parody the Trump era too closely, it didn't quite hit the mark. In earlier seasons, the show (wisely) tried to distance itself from SNL-style commentary by eschewing the famous real-world news anchor cameos and not mentioning too many recent or contemporary politicians. In this way, the show could make jokes without bias, without complications. That is, everyone in Veep's not-quite-our-world was ripe for being dragged — and the results were often hilarious.
The Best "Veep" Episodes to Get You Through the Election
With all of this in mind, we've combed through Veep's outstanding, Emmy and Peabody Award-winning seven seasons to curate a list of the best episodes. These re-watchable, instant classics stray far enough from reality — but not too far — and, in doing so, provide a much-needed catharsis. And that's something we all need during this harrowing election cycle, to say the least.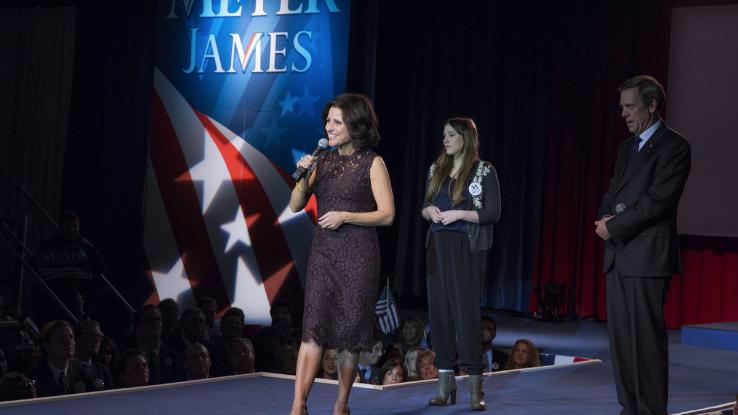 Here are our top 10 picks:
10. "First Response" (Season 2, Episode 8): In the wake of a hostage crisis, Selina preps for a "puff piece" interview, hoping to distract from any scrutiny. However, Janet Ryland (Allison Janney), the journalist tasked with interviewing her, has prepared an onslaught of "gotcha" questions. As expected, chaos ensues. This one is full of memorable Selina lines, but we also love it because of Janney. (It's the closest we're getting to some sort of Veep-meets-West–Wing moment, after all.)
9. "C**tgate" (Season 5, Episode 6): While the main plot here is rife with comedic moments from Selina and her aide Amy (Anna Chlumsky), who is tasked with finding out who allegedly called Selina the C-word, the real star of the episode is Jonah Ryan (Timothy Simmons). The oft-hated, bumbling White House-liaison-turned-Congressman releases a political ad to a focus group and… they absolutely trash him. (Warning: The language in the video is NSFW.) This hilarious take on the election cycle's insincere ads will be a welcome reprieve for folks who can't stand to see another political commercial.
8. "Tears" (Season 1, Episode 8): In this memorable episode, Selina travels to the great state of Ohio to endorse the Democratic candidate for governor, but, as it turns out, he's not interested in her endorsement at all. All of this upsets Selina greatly — it's a blow to her ego — and she ends up crying during an interview (again, because of her bruised ego, not for any legitimate, heartfelt reason), which inadvertently boosts her popularity with constituents. Louis-Dreyfus nabbed one of her six Veep Lead Actress Emmys for this performance.
7. "Signals" (Season 2, Episode 2): If you love the relationship between Selina and her codependent bag-handler/lifesaver Gary (Tony Hale) as much as we do, then this episode will bring on the laughs. When the press decodes Selina and Gary's allegedly covert hand signals, Selina is left adrift without her assistant's help, meaning she's forced to improvise during conversations with "real Americans." The result is cringey and all too real. We wouldn't want to grab a beer with her.
6. "Helsinki" (Season 2, Episode 5): Even if you've never seen a single episode of Veep before, "Helsinki" is laugh-out-loud funny. It's a classic comedy setup: Selina and co. travel to Helsinki to finalize a trade agreement, and, while there, she has an awkward moment with the Finnish Prime Minister, Minna (Sally Phillips), a woman Selina just… doesn't like. The best part? Selina's team also can't stand Minna's gross hubby. The ensuing verbal pile-on is harsh, but epic.
5. "Testimony" (Season 4, Episode 9): When a House Committee investigates Selina and her staff due to data breach, things get tense. Watching the incompetence of these out-for-themselves characters as they squirm is TV at its finest.
4. "Mother" (Season 5, Episode 4): When Selina's mother suffers a stroke, the matriarch ends up on life support. As a result of the sad turn of events, Selina gets an approval rating bump, because, you know, sympathy is a hell of a thing. Here, we see Selina at her most sociopathic when she decides to take her mother off life support in order to capitalize on the rising approval ratings trend. We won't spoil the rest, but there's a reason Louis-Dreyfus won an Emmy for this one.
3. "Crate" (Season 3, Episode 9): This one marks another Emmy win for Louis-Dreyfus as well as Emmy nominations for Tony Hale and guest actor Gary Cole. The premise feels all too accurate, especially in the wake of our own primaries. In the episode, Selina loses the Iowa Caucuses and, in an attempt to connect with the public, starts giving speeches on, well, a crate. This ploy works out quite well — until a reporter catches Selina and her staff trashing her donors. This one is full of twists and turns and, as always, laughs.
2. "Kissing Your Sister" (Season 5, Episode 9): This episode, which marked the finale of season five, helped the series pick up an Emmy win for Best Comedy Series. Presented as Selina's daughter Catherine's (Sarah Sutherland) documentary, the episode chronicles Selina's team as they watch the House of Representatives vote for the next president. The whole thing is punctuated by Catherine and Marjorie's slowly developing relationship, which is both clever and (surprisingly, for this show) sweet. Also, we give a shoutout to Jonah's unhinged and inappropriate elementary school Q&A session.
1. "Election Night" (Season 4, Episode 10): Perfect for helping to stave off that Election Night 2020 anticipation and anxiety, this one sees Selina and co. through all the ups and downs that come along with election results. "Election Night" won an Emmy for Best Comedy Writing, and Louis-Dreyfus picked up another Lead Actress award — but, as far as winning results go, that's where the victories end. We won't spoil the outcome. Now, go register to vote!