Laura Dern is Hollywood royalty. An Academy Award-winner herself — after two previous nominations she finally won for Best Supporting Actress for Marriage Story in 2020 — she's also the daughter of screen legends Bruce Dern (Nebraska) and Diane Ladd (Wild at Heart). She's spent her whole life in and around Hollywood. You might think, based on her history and her enduring fame, that Laura Dern's had something of a normal movie-star career. But you'd be wrong.
Through the nearly 40 years that Laura Dern has been making films and TV shows, she's been the rare Hollywood star whose popularity is based on uniqueness, authenticity and a willingness to wink at her own fame. After writer Jordan Firstman organized a tribute to Dern by the Gay Men's Chorus of Los Angeles at the Independent Spirit Awards in 2020, he articulated the importance of her career perfectly, saying, "She's just constantly had this fearlessness in her career to do weird [stuff] and make mainstream [stuff] feel weird."
And it's true. Dern has played an incredibly wide range of characters, from the sweet and innocent to the chaotic and destructive. She's been in small indie movies and gigantic blockbusters. She can be over-the-top and profoundly subtle. She's even been blacklisted — after she appeared on the famous 1997 episode of Ellen in which Ellen DeGeneres' came out as gay, Dern didn't work for nearly a year right at the height of her fame. Still, she came out the other side more than alright by continuing to be herself.
This month, she's appearing in her latest blockbuster, Jurassic World: Dominion, in which she reprises probably her most famous role as Dr. Ellie Sattler from Steven Spielberg's Jurassic Park (1993). In honor of the return of the beloved Dr. Sattler, let's look back at some of Laura Dern's most iconic roles and moments.
Breakout Role as Diana Adams in Mask (1985)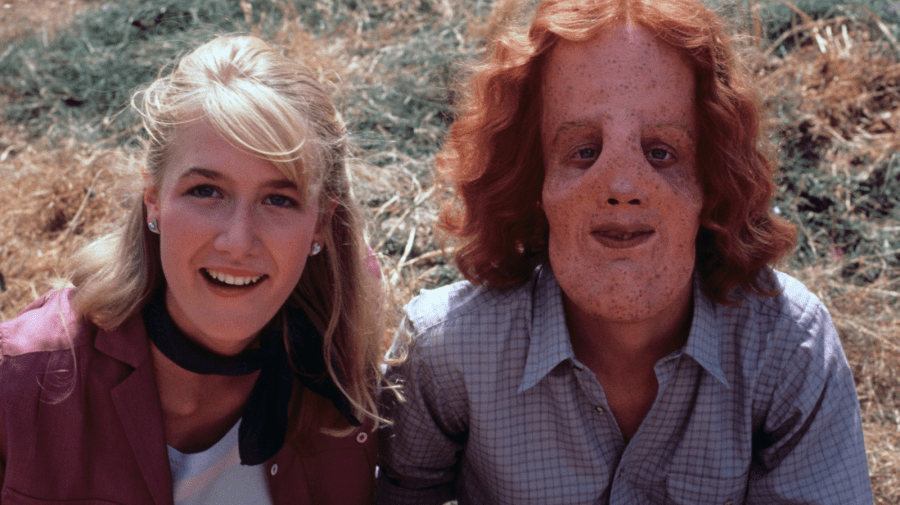 Dern had appeared in a handful of films and TV shows prior to 1985, but she really broke onto the scene with a supporting role in Peter Bogdanovich's Mask — a film based on the real life story of Rocky Dennis, a boy who died at the age of 16 after living with craniodiaphyseal dysplasia. Performing alongside Cher, Sam Elliott and Eric Stoltz, Dern plays Diana, a blind girl who meets Rocky at summer camp and loves him for who he is.
It's all very sweet and maybe even a little saccharine, but Dern, as a teenager, took on a role that could have been pure cliche and gave it an incredible amount of depth and warmth. She's not at the center of the movie, but the movie couldn't work without Dern making us believe Diana really loves Rocky. Dern's performance makes that happen, and sets her up for the varied roles she would play over the coming years.
Working With David Lynch
Since the 1986 mystery/thriller Blue Velvet, Laura Dern has been one of director David Lynch's most frequent collaborators over the course of the past few decades. She's played an incredible range of roles within those movies, too — from the innocence of Sandy Williams in Blue Velvet to her spiraling performance as Nikki Grace in Inland Empire (2006).
In total, Dern has been a part of five Lynch projects — the two mentioned above as well as the film Wild at Heart (1990), the television season Twin Peaks: The Return (2017) and Industrial Symphony No. 1, an avant-garde musical in which Dern plays a heartbroken woman. Being such a pivotal force in the career of such a beloved director is a key factor in Dern's ongoing popularity. It also speaks to the fearlessness that Jordan Firstman described when he praised Dern in 2020. Working with David Lynch generally means taking some pretty wild swings, and Dern's never been afraid of doing that.
The '90s: Dr. Ellie Sattler in Jurassic Park & More
When you're a main character in one of the biggest movies ever made, that tends to become the thing people remember. It would be untrue, though, to suggest that Laura Dern just got lucky to be in Steven Spielberg's Jurassic Park in 1993. Rewatching the movie over the years, it's become crystal clear to me that she's a huge piece of why the movie was such a big hit.
Pay attention to the khaki shorts all you like, but what's really amazing about Dern's performance in Jurassic Park is that it all feels totally true. That's pretty wild when you consider that it's a movie about dinosaurs. It's her face that we're seeing at the key moment early in the movie when the score swells and we see the dinosaurs for the first time. Her ability to express that wonder is what allows us, as the audience, to feel that wonder as well.
The success of Jurassic Park — it was the second-highest grossing film of the '90s, behind Titanic — overshadows some of Dern's other excellent performances from the decade. She is incredible as the title character in the Martha Coolidge-directed drama Rambling Rose (1991), for which she received her only Best Actress Oscar nomination. She's also wonderful in an over-the-top performance as the title character in Alexander Payne's 1996 black comedy Citizen Ruth, in which she plays a pregnant woman addicted to drugs who becomes the center of a national abortion rights debate.
Appearance on Ellen
These critically-acclaimed performances in smaller movies — coupled with her fame from Jurassic Park — should have made Laura Dern a sought-after star over the next decade, but that's not exactly what happened. In 1997, Dern appeared on "The Puppy Episode" of Ellen DeGeneres' sitcom, Ellen. Famously, it was the episode in which Ellen finally came out as gay.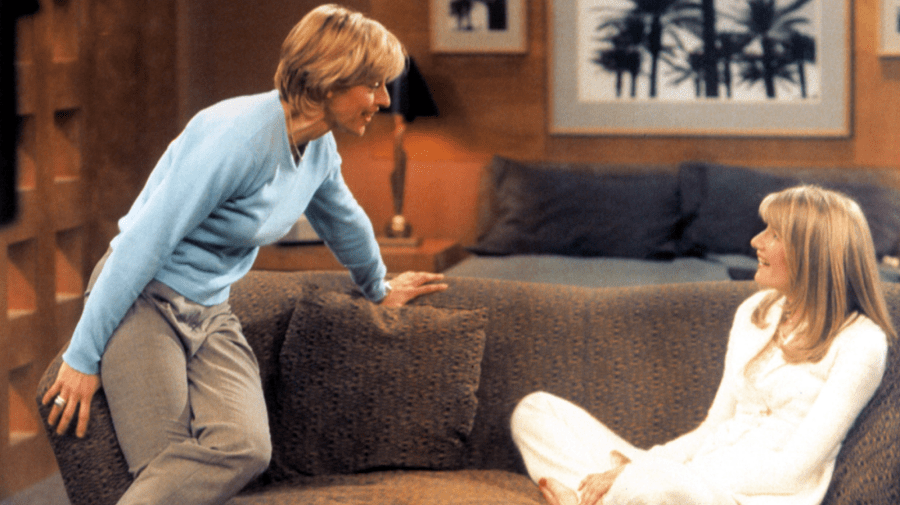 At the time, this was a life-altering moment. Dern said years later that after she took the role, out gay men in Hollywood advised her to turn it down. Of course, she did it anyway. Although it was a huge and important cultural moment, it impacted Dern's career negatively at the time. Not only did she lose out on work over the coming years, but she received death threats and even needed a security detail at one point.
In some ways, Dern's story around "The Puppy Episode" is illustrative of how times have changed in the decades since. It's remarkable to realize that a huge part of Dern's enduring appeal is her association with that episode's cultural significance and everything that comes with it. It's hard to imagine the 2020 tribute from the Gay Men's Chorus of Los Angeles without that moment in her past.
Recent and Ongoing Popularity
Laura Dern might be just as popular today as ever. She appeared as the heroic Vice Admiral Holdo in Rian Johnson's Star Wars: Episode VIII—The Last Jedi in 2017, and I remember hearing the audience around me in the movie theater literally gasp from excitement when they saw her. People just love when Laura Dern shows up on their screen.
Dern finally won an Oscar for her supporting role in Marriage Story in 2019 and appeared in Greta Gerwig's acclaimed adaptation of Little Women that same year. Over the past decade she's starred in major television shows like Enlightened (2011–2013) and Big Little Lies (2017–2019). She won Golden Globes for Best Actress and Best Supporting Actress, respectively, for those shows. (And, thanks to the latter, she gave us so many great memes.)
Jurassic World: Dominion, which finally hits theaters this month, will give fans a chance to go back to their roots with Dern. Personally, I'm psyched to have that experience. The original Jurassic Park came out when I was a kid, and it's one of the movies that made me fall in love with what movies can do. Laura Dern's performance was a huge part of that, and I can't wait to see what she has in store for us next.