Each May, theaters kick off the summer blockbusters, with Memorial Day Weekend serving as one of the most lucrative movie-going times of the year. As with most things, the COVID-19 pandemic has thrown a wrench into Hollywood's release schedule. The newest (and 25th) James Bond film, No Time to Die, had to learn to die (well, debut) another day, with MGM and Universal pushing its release from April to Thanksgiving 2020.
Other big-budget blockbusters, like Disney's Mulan, Marvel's Black Widow and the DC Comics/Warner Bros. sequel Wonder Woman 1984, have all been pushed back. Needless to say, the summer release schedule is looking a little bleak — at least for now. The Great Rescheduling™ started in early March, just as the novel coronavirus reached pandemic status and followed the shuttering of China's 70,000 theaters — a.k.a. the world's second-biggest box-office territory. But the impact of the novel coronavirus extends much further than some scheduling issues. In fact, it has resulted in surprise video-on-demand blockbusters, Hollywood feuds and, perhaps most surprisingly, the notoriously slow-to-change Academy of Motion Picture Arts and Sciences' loosening of the qualifications for the Oscars.
Hollywood Pushes "Onward" Amid the Novel Coronavirus Pandemic
Thanks to highly anticipated films like Avengers: Endgame and Star Wars: Episode IX—The Rise of Skywalker, Disney set a global box-office record in 2019, pulling in over $11 billion. While 2020 may not have had the same lineup as last year, the entertainment giant was still debuting some real blockbusters, including the live-action remake of Mulan, which had nabbed a simultaneous rollout in Asia and North America — that is, until the pandemic unfolded, causing Disney to push the release date from March to (potentially) July.
Meanwhile, the Disney/Pixar film Onward, an urban fantasy-adventure about two elf brothers who embark on a magical quest to resurrect their dad, hit theaters in early March, just before California's statewide shelter-in-place directives and theater closures. Needless to say, the film tanked financially, resulting in layoffs at Pixar (which have gone fairly under the radar compared to Disney's other layoffs and furloughs) and an early digital release of Onward on Disney+. When stacked against Pixar's other offerings, like Toy Story 4 and Inside Out, Onward was a very middle-of-the-road movie, so the novel coronavirus isn't completely to blame for its lackluster debut. Nonetheless, it's clearly a factor — and it's hitting Hollywood on the whole in a huge way.
From The Invisible Man and The Hunt to Emma., other (non-Disney) films that had just started their theater runs when the pandemic hit also pivoted to digital release platforms to salvage earnings. While these films were all receiving pretty solid reviews, they weren't necessarily the sorts of movies that would convince folks to brave the growing novel coronavirus concerns, so tossing them onto streaming and rental services, amidst the theater closures, made quite a bit of sense. Unfortunately, most other films, regardless of caliber or anticipation, pushed release dates to later in 2020, unwilling to squander box office earnings or Oscar potential. However, one film dared to take a different approach — and won big for it.
The Fantabulous Emancipation of One "Trolls World Tour"
Animated jukebox musical Trolls World Tour is a sequel to 2016's surprise hit Trolls, which garnered $346 million worldwide against its $125 million budget and nabbed an Academy Award nomination for Best Original Song. Despite this success, the Anna Kendrick- and Justin Timberlake-starring franchise didn't have the same fanbase as, say, a Pixar film or the Despicable Me series.
Nonetheless, DreamWorks and Universal geared up for a money-making sequel, adding big names like Rachel Bloom, James Corden, Ron Funches, Kelly Clarkson, Anderson Paak and Mary J. Blige to the impressive voice cast. Released in the United States on April 10 in a few still-open theaters, Trolls World Tour was facing an uphill battle in terms of making it big at the box office, causing Universal to release it for same-day digital rental. In the end, Trolls World Tour set several streaming records, including Universal's most successful day-one rental. The fun follow-up film made roughly $60,000 on its opening weekend from the 20-something drive-in theaters that debuted it; comparatively, Trolls World Tour clinched the number-one spot on top rental services Apple TV, YouTube, DirecTV Now, Comcast, Vudu and Amazon Prime — and it was purchased a reported 10 times more than blockbuster Jurassic World: Fallen Kingdom was on its first day. When all was said and done, Trolls World Tour made a whopping $40 million over its debut weekend and, in the first two and a half weeks of its release, it grossed about $95 million. About $77 million of that went straight into the studio's pockets, meaning Universal nabbed more revenue than it would have had the film just been released theatrically.
A Feud Is Born
The only problem? Universal didn't give theater owners a heads up about the digital release, and NBCUniversal CEO Jeff Shell even suggested that, in the future, Universal films would have more simultaneous releases. In response, AMC Theatres stated that the chain would no longer play the studio's films if that were the case and, not long after, Regal Cinemas jumped on the bandwagon, claiming that the chain would not be showing films that "fail to respect the [theatrical] windows."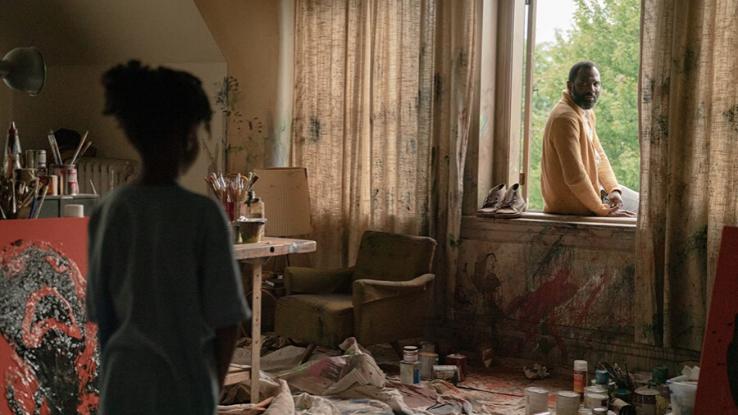 The spat between AMC and Universal went viral pretty quickly, but the feud is much more than an engaging tabloid headline. In fact, the debacle seems symptomatic of a larger elephant in the room when it comes to movies and how audiences watch them. There's nothing like going to a theater, sticky floors and all, and experiencing a film alongside an audience. At the same time, it's no secret that, Marvel and Star Wars-level films notwithstanding, it's rare to find a theater consistently sold-out or even full. These days, on-demand services have made it easy to let theatrical releases slip by, unless it's a film that feels theater-worthy — A Quiet Place comes to mind, as there's something novel about experiencing the suffocating silence in a packed theater of moviegoers who are also trying to keep quiet.
After following shelter-in-place directives and practicing social distancing for months, many of us are itching for interactions, eager to grab a drink at a bar or catch a movie with friends. Despite that eagerness, there's no doubt that the COVID-19 pandemic will impact the way we consume movies. "This is where streaming becomes normalized for the world and it's going to be disastrous for the entire industry," chief executive of Artist International Group David Unger told Vulture. "As far as production blackouts and all that stuff, it's too early to tell. But who wants to go to the theater right now? Do you want to go sit in a room with a bunch of people that are coughing? It's going to change viewing patterns. It's going to change behavior. It's going to change the way people consume entertainment."
To Release or Not to Release? That Is the Question
Amid the COVID-19 pandemic, digital releases for movies like Harley Quinn: Birds of Prey and Frozen II were pushed up. Of course, those films had been out for months, meaning their theatrical runs had essentially ended. Pushing up digital drops is one thing, but same-day releases becoming the new norm is something entirely different. Without a doubt, that sort of trend would reshape the film industry, not just for audiences, but for all those involved in making movies. If studios get a larger cut from digital releases, why wouldn't they go for it? And then there are certain studios, like Disney and Netflix, that can encourage folks to buy subscriptions to their streaming platforms by offering same-day digital and theatrical content.
On May 15, Scoob!, an animated comedy-adventure entry in Warner Bros.' Scooby-Doo franchise, is set to take the Trolls World Tour route and release digitally. But most other films, from Wonder Woman 1984 to the Janelle Monáe vehicle Antebellum, have been pushed back for one of two reasons: A) studios feel certain films would perform better in theaters and want to grab that box-office cash, or B) studios feel certain films are Oscar contenders and need to abide by the Academy's long-standing rule that in order to be considered for an Oscar nomination, a film must play in a theater for at least a week.
So long as a film meets all other eligibility criteria and is made available to the Academy on their member-only streaming site within 60 days of a streaming or video-on-demand release, it can qualify for an Oscar nomination and bypass the theaters altogether. "Until further notice, and for the 93rd Awards year only, films that had a previously planned theatrical release but are initially made available on a commercial streaming or VOD service may qualify in the Best Picture, general entry and specialty categories for the 93rd Academy Awards," the Academy stated in a press release on April 28. In short, if a film can still gain awards traction and make money with a digital release, there's now less incentive to hold certain films back or push release dates.
It may be too early to tell, but if the COVID-19 pandemic closures continue for the bulk of 2020, all these postponements might shift yet again. As of mid-May, Los Angeles, the movie-making epicenter, has extended shelter-in-place directives through July. With filming virtually shut down, production schedules halted and currently airing TV shows ending before they were meant to, the future of film and television remains unclear. Things won't "get back to normal." There's always going to be the pre- and post-COVID-19 worlds. But what, exactly, that means for entertainment — for how we consume it and how it is made — remains TBD.