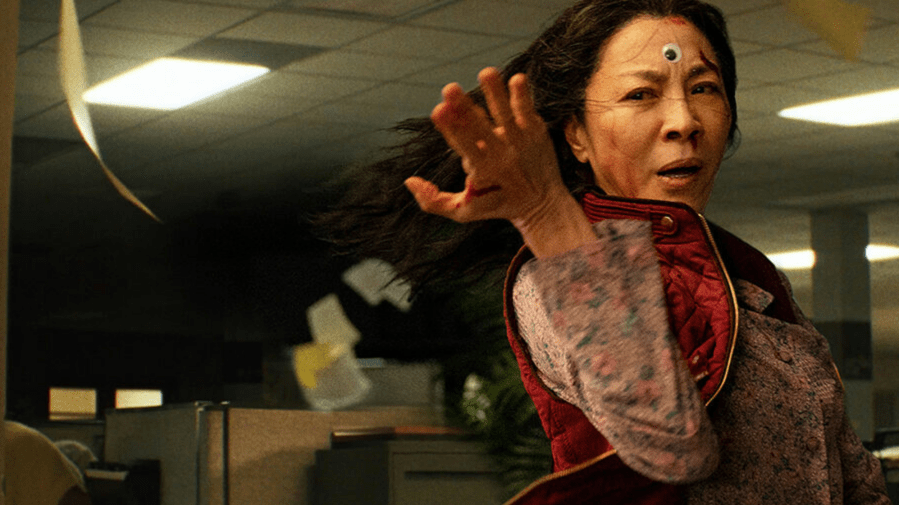 In 2021, several pandemic-waylaid superhero films finally hit the big (and small) screens. From Shang-Chi and the Legend of the Ten Rings, Eternals and Spider-Man: No Way Home to The Suicide Squad and the infamous "Snyder Cut" of Justice League. Not to mention the plethora of Marvel miniseries — WandaVision, The Falcon and the Winter Soldier, Loki and Hawkeye — that flooded Disney+. And, for DC fans, there's always the Arrowverse's numerous shows — Batwoman, The Flash, and so on — on The CW as well as new seasons of Doom Patrol and Titans on HBO Max.
While Marvel fare looms on the horizon, DC's The Batman just hit theaters — and Peacemaker is making waves on HBO Max. All of this to say, there's clearly no shortage of Marvel and DC content, and, while big-budget superhero flicks and limited series can make for great weekend marathons, it can also lead to some genre fatigue.
Don't get us wrong — we love superhero stories. But sometimes digging into graphic novel adaptations or completely original no-capes-involved dramas that don't center on the Marvel Cinematic Universe's (MCU) cavalcade of heroes is refreshing, to say the least. Not sure where to start? Here are 12 of the best superhero films that fall outside of the popular Marvel and DC canons.
Everything Everywhere All at Once (2022)
While A24's upcoming Everything Everywhere All at Once is billed more as a sci-fi adventure than a superhero film, the mind-bending movie seems to incorporate quite a few of the genre's most compelling elements. Not to mention, it stars screen legend Michelle Yeoh, and that's enough to get us to the theater.
We don't yet know too many plot specifics, but it's sure to be a unique film. Directed by "Daniels" — that is, Daniel Kwan and Daniel Scheinert of Swiss Army Man (2016) fame — the story centers on Evelyn Wang (Yeoh), a Chinese American woman who finds herself swept up in some multiverse madness. (After all, multiverses are all the rage right now — just ask the MCU.) In order to save the world, Evelyn must explore these other universes and discover the alternative lives she could've led. Everything Everywhere All at Once hits theaters March 25, so, for now, be sure to feast your (googly) eyes on this equally mind-bending poster for the flick.
The Crow (1994)
Written by David J. Schow and John Shirley and directed by Alex Poyas, The Crow is based on the James O'Barr comic book of the same name. The story centers on Eric Draven, a rock musician who is revived in order to avenge not only his own death, but the rape and murder of his fiancée as well. These days, you'd be hard-pressed to find a more celebrated superhero cult classic.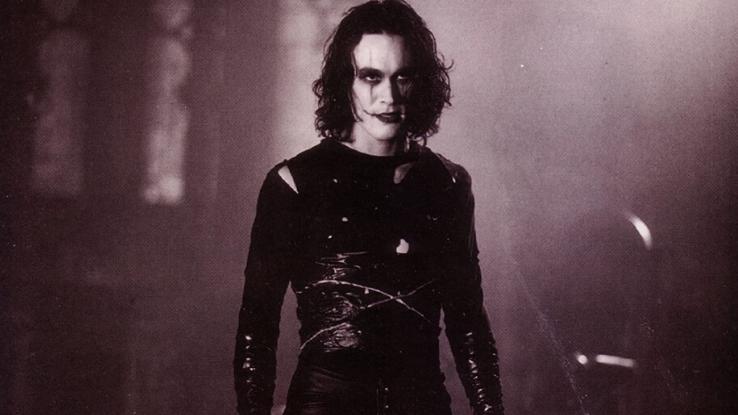 Memorably, Rolling Stone dubbed The Crow a "dazzling fever dream of a movie," praising its unique style, stunning visuals and atmospheric feel. But, above and beyond all else, the film is perhaps best remembered for being the final appearance of its late star, actor/martial artist Brandon Lee. Undeniably, Lee's presence permeates the film, with a critic for The Washington Post writing it's "a case of 'art imitating death,' and that specter will always hang over The Crow."
The Old Guard (2020)
As one of the few summer blockbusters to come out during the pandemic, The Old Guard made quite the splash: A few days into its release it cracked the top-10 most-popular Netflix movies ever, and it's on track to reach 72 million households in its first four weeks. Adapted from Greg Rucka and Leandro Fernández's acclaimed comic series and directed by Gina Prince-Bythewood (Love & Basketball), The Old Guard deserves all that acclaim and more.
The film stars Charlize Theron as Andy, an invulnerable warrior who has led a group of tight-knit mercenaries — also invulnerable — for centuries. But fighting the good fight takes a dark turn when a pharmaceutical company learns of their "immortal" statuses and aims to make them lab rats. Luckily for Andy, whose abilities are waning, a new "immortal" named Nile (Kiki Layne) joins their ranks. This gritty, action-packed film also does something Marvel and DC haven't dared: It's undeniably queer and centers multiple queer characters.
Dredd (2012)
Hailed as a "darkly funny blood-soaked romp" by Entertainment Weekly, Dredd eases the pain of the '90s-era Judge Dredd. (Sorry, Sylvester Stallone, we're still not sure if that one was a serious action flick or a parody.) Unfamiliar with the 2000 AD comic strip? No sweat. The series' eponymous character is a law enforcer with the power of judge, jury and executioner in a place called Mega-City One, a dystopian metropolis that lies in a wasteland.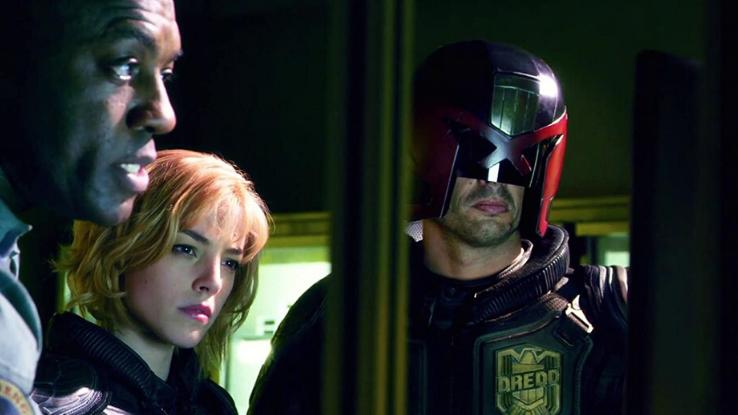 Dredd (Karl Urban) and his apprentice, Anderson (Olivia Thirlby), are tasked with bringing order to a block of high-rises and bringing its resident drug lord (Lena Headey) to justice. Between Urban's incredible performance and Alex Garland's (Annihilation, Ex Machina) superb writing, Dredd is bombastic and violent and gritty and in your face, but it also finds humor in self-satire. Who could ask for more?
Fast Color (2018)
Best known for her roles in the Emmy-winning "San Junipero" episode of Black Mirror and, these days, the hard-to-trust Ravonna in the MCU limited series, Loki, Gugu Mbatha-Raw has gone on to star in plenty of more grounded dramas and thrillers. However, one of her most standout performances is as Ruth in Fast Color, another film with a sci-fi bent.
In this more grounded and less comic book-y film, Ruth, a woman with supernatural powers, is not interested in being controlled or studied, so she goes on the lam. Directed by Julia Hart and co-starring Lorraine Toussaint, Fast Color is a restrained, genre-juggling film — a compelling look at three generations of Black women and their gifts and agency. Bonus: Fast Color is being adapted for TV by Amazon Studios, so here's hoping we see more of it in the future.
Hellboy II: The Golden Army (2008)
Although you might want to first watch Hellboy (2004), Guillermo del Toro's initial entry in what was planned to be a trilogy, there's no doubt that Hellboy II: The Golden Army is the superior film. Ron Perlman plays the titular character, a well-meaning half-demon who spends his time hunting down the Nazi occultists who summoned him from Hell and investigating mysteries that feel plucked straight from a Lovecraftian horror tale.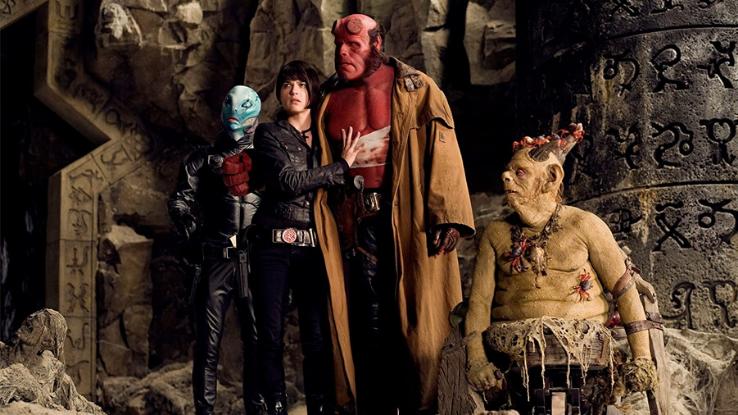 With Oscar-worthy makeup and an immersive fantasy atmosphere and characters, Hellboy II retains that B-movie feel of the first film but packs in more wit, creativity and spectacle. Long story short: If you've ever wanted to wash away the self-importance of Christopher Nolan's Dark Knight trilogy, this Dark Horse Comics superhero romp is for you.
The Rocketeer (1991)
Before Iron Man soared onto the silver screen in 2008, there was The Rocketeer. The Art Deco design stems from the fact that it's a period piece set in Los Angeles of the late 1930s, and the film certainly embraces that pulp, adventure-story feel. Instead of building his tech in a cave, however, stunt airplane pilot Cliff Secord (Billy Campbell) stumbles upon a rocket-powered jetpack and takes it for a spin.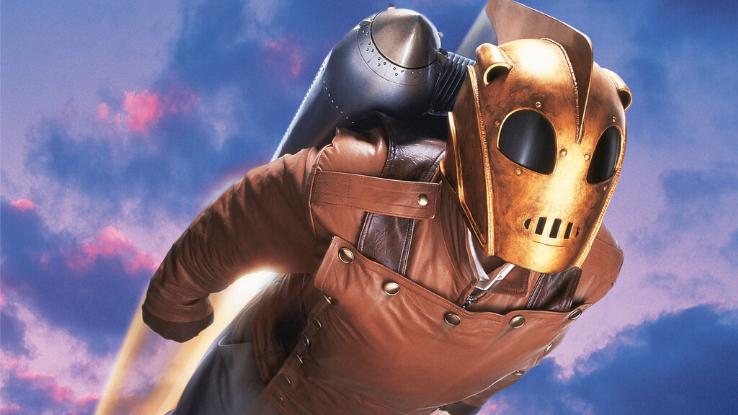 While the self-proclaimed Rocketeer uses his jetpack skills for good, he ends up becoming a target: The FBI are searching for Howard Hughes' stolen jetpack, and Nazi operatives are trying to resteal the tech. Speaking of tech, Industrial Light & Magic (ILM), the special effects studio behind the Star Wars films, was called in to create incredible stop-motion animation sequences for the Rocketeer's flight scenes — and, like the effects in the original Star Wars trilogy, everything holds up in that charming, movie-magic sort of way.
Incredibles 2 (2018)
Look, we know Brad Bird's 2004 film The Incredibles is a classic — that's why Pixar fans were clamoring for a sequel in the first place — but hopefully it's not too much of a stretch (insert Elastigirl joke here) to say that the sequel might be even more worth the watch. While the first Incredibles film showed us what supers look like when they try to settle down, blend in and lead a normal life, the sequel spotlights the difficulties inherent in living openly.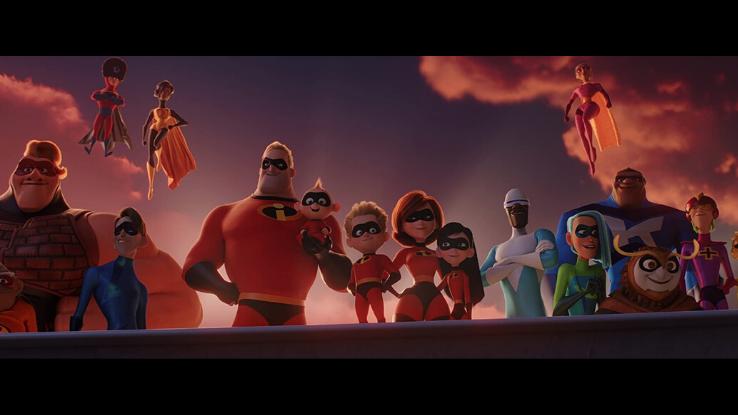 Unlike in the first film, Elastigirl takes center stage as the family's main crimefighter (and breadwinner), while Mr. Incredible stays at home with their superpowered kids, handling the "heroics" of the day-to-day. Although the gorgeously animated Incredibles 2 is chock full of humorous moments, it also gets at something very real: The way a family — who may not always understand each other, who may feel jealous of one another — can splinter under the weight of their individual traumas. In the end, the Incredibles are tasked with finding their footing, with one another and with a whole slew of other supers, in order to save the day.
Kick-Ass (2010)
Technically Mark Millar and John Romita's Kick-Ass comic book was published by Marvel Comics, but we're going to grant this film a special pass. For one, there are no Marvel Cinematic Universe characters to be found here and, more importantly, Marvel Entertainment wasn't involved in the film's production. (That honor goes to director Matthew Vaughn's Marv Films and producer Brad Pitt's Plan B Entertainment.) Okay, enough with the formalities.
This humorous, self-aware ode to all things comic books tells the story of ordinary teen Dave Lizewski (Aaron Taylor-Johnson), who decides he wants to become a real-life hero named Kick-Ass. Things get complicated when Dave meets Big Daddy (Nicolas Cage), a former-cop-turned-caped-crusader who has transformed his 11-year-old daughter, Hit-Girl (Chloë Grace Moretz), into a ruthless, foul-mouthed vigilante intent on taking down a crime boss. When Kick-Ass hit theaters, there was nothing else like it — and there's a reason it has become a cult classic.
Chronicle (2012)
Chronicle puts an interesting spin on the superhero genre, blending it with found-footage horror when one of its main characters, the oft-bullied Andrew (Dane DeHaan), starts videotaping his life. Although they seem like unlikely friends at first, Andrew, his cousin Matt (Alex Russell) and popular kid Steve (Michael B. Jordan) are brought together once a strange object bestows them with telekinetic powers.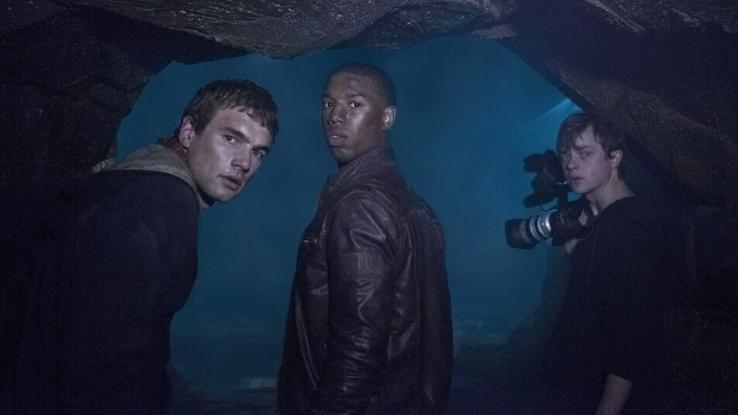 At times, Chronicle is a bit paint-by-numbers, following the beats of a generic superhero origin story. However, all of the fun and games with superpowers dissipate when Andrew starts using his powers in increasingly sinister and disturbed ways. In a strange twist of fate, Chronicle was nominated for Best Sci-Fi Film at the Saturn Awards, but lost to — you guessed it — The Avengers (2012). (They don't call them "Earth's Mightiest Heroes" for nothing.)
Scott Pilgrim vs. the World (2010)
This one might be a little more superhero adjacent than the others on the list, but, without a doubt, Scott Pilgrim vs. the World is a bonafide classic. The action rom-com was adapted from Bryan Lee O'Malley's much-loved graphic novel series and, to this day, hardly any comic-book adaptation captures the feeling of reading panels, or BAM! and POW! video game-style fight sequences. It's all brightly colored, saturated in sound effects and catchy music and full of a self-aware bite.
For the uninitiated, director Edgar Wright's adaptation centers on slacker musician Scott Pilgrim (Michael Cera) who, along with his band, is eager to nab a record deal. Unfortunately, things take a turn when Scott's new sort-of girlfriend, Ramona Flowers (Mary Elizabeth Winstead), reveals that he must battle her seven evil exes in order to be with her. And, as fate would have it, one of those evil exes just so happens to be record producer Gideon (Jason Schwartzman). Needless to say, it's a real K.O.
Unbreakable (2000)
What a twist! An M. Night Shyamalan film on the best superhero movies list. Look, if you just know Shyamalan for his thrilling (and twisty) horror films, like The Sixth Sense (1999) and Signs (2002), then you're missing out. Between those two landmark films, the masterful director teamed up with Bruce Willis for a second time in Unbreakable, which gained a cult following but, perhaps, a less-mainstream audience than some of Shyamalan's other hits.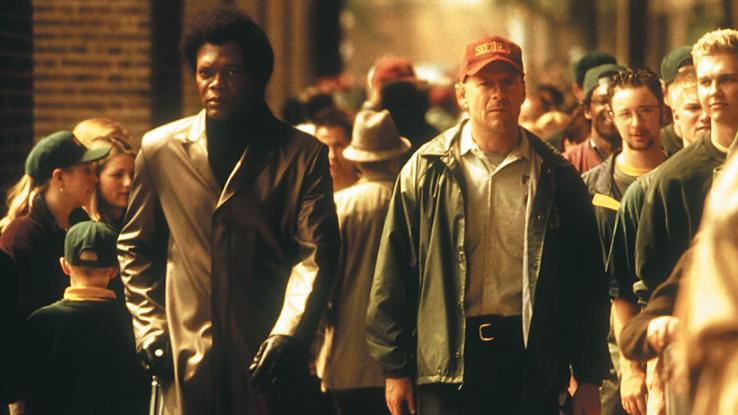 Willis plays David Dunn, a security guard who walks away from a horrific train crash without any injuries. He embarks upon a superhero origin story of sorts and, in doing so, meets comic book store owner Elijah Price (Samuel L. Jackson). Sure, it's been 20 years since the film debuted, but we'll still avoid spoilers. (You're welcome.)
Recently, Unbreakable became part of Shyamalan's Eastrail 177 Trilogy, which is rounded out by his more recent films, Split (2016) and Glass (2019). Not interested in a Shyamalan Cinematic Universe? No worries. This genre-deconstructing film stands on its own and, without a doubt, is one of the best superhero movies ever made.